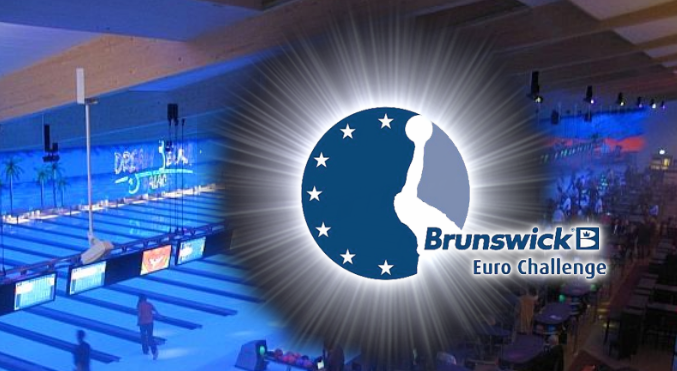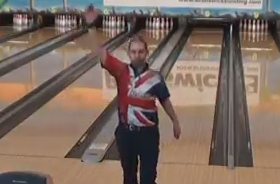 Track and England's Barrett defeated Thailand's Yannaphon Larp-Apharat to claim his 15th EBT title and just two now behind all time leader Paul Moor also from England.
Barrett opening with a double took a two pin lead by frame 3 and an open frame by the Thai star in frame four opened a door for Barrett. A fourbagger after the open gave the Thai some hope as Barrett looked to close out the match. Barrett trailing by seven pins going into the 7th frame both players were on strikes. Barrett then found himself needing to keep striking as Yannaphon took the string of strikes to five. Disaster struck in frame 10 for the Thai with a split to end with 221 handing the title to barrett who needed a mark at least. The Englishman hit the first and punch the air in delight rounding out with 237-221.
The 14th Brunswick Euro Challenge is the third stop on the 2017 European Bowling Tour and the second and last EBT "Platinum" events this season, the highest of the five EBT tournament categories (platinum, gold, silver, bronze and satellite).
The BEC, which also kicks off the World Bowling Tour 2017, will be held from March 18-26 at Dream-Bowl Palace in Unterföhring in suburban Munich, Germany, the biggest bowling center in Europe with 52 lanes.
Players will compete for total prize fund of 104,000 Euro with 11,400 Euro going to the winner, 8,500 Euro to the first runner-up and 5,500 Euro to the third place finisher. Low to cash is 64th place, worth 800 Euro.
Women receive 8 pins handicap each game (up to 292 – maximum score is 300), an equality handicap provided to women in all EBT events. The top three women after qualifying receive 1,200, 700 and 500 Euro bonuses, respectively.
Final Step 5
| | | | | | | | |
| --- | --- | --- | --- | --- | --- | --- | --- |
|   | NAME | NAT | GEN | 1 | HCP | SCORE | HAND |
| 1. | Barrett, Dom | ENG | M | 237 | 0 | 237 | R |
| 2. | Larp-Apharat, Yannaphon | THA | M | 221 | 0 | 221 | R |
Final Step 4
| | | | | | | | |
| --- | --- | --- | --- | --- | --- | --- | --- |
|   | NAME | NAT | GEN | 1 | HCP | SCORE | HAND |
| 1. | Larp-Apharat, Yannaphon | THA | M | 204 | 0 | 204 | R |
| 2. | Williams, Stuart | ENG | M | 204 | 0 | 204 | R |
Final Step 3
1.
Barrett, Dom
228
256
228
256
226
299
205
150
0
1848
1373
3221
2.
Larp-Apharat, Yannaphon
215
205
246
257
254
254
211
105
0
1747
1471
3218
3.
Williams, Stuart
195
220
221
279
254
268
193
105
0
1735
1403
3138
4.
Lousdal, Anders
257
237
192
236
219
217
207
120
0
1685
1380
3065
5.
Rash, Sean
204
246
254
256
214
190
203
120
0
1687
1372
3059
6.
Pöppler, Birgit
228
215
200
196
236
205
161
120
56
1617
1402
3019
7.
Warming Hansen, Carsten
193
193
238
258
213
200
182
60
0
1537
1413
2950
8.
Larsen, Martin
170
212
213
215
191
242
215
60
0
1518
1382
2900
Final Step 2
NAME
NAT
GEN

1

2

3

4

5

6
HCP
SCORE
HAND
1.
Larp-Apharat, Yannaphon
THA
M
245
209
236
258
279
244
0
1471
R
2.
Warming Hansen, Carsten
DEN
M
252
228
219
290
235
189
0
1413
R
3.
Williams, Stuart
ENG
M
247
201
237
225
245
248
0
1403
R
4.
Pöppler, Birgit
GER
F
255
196
248
203
237
215
48
1402
R
5.
Larsen, Martin
SWE
M
228
221
249
225
224
235
0
1382
R
6.
Lousdal, Anders
DEN
M
255
203
215
245
259
203
0
1380
R
7.
Barrett, Dom
ENG
M
259
237
182
195
245
255
0
1373
R
8.
Rash, Sean
USA
M
199
256
256
233
180
248
0
1372
R
9.
Tan, Daphne
SIN
F
227
208
270
202
193
217
48
1365
R
10.
Kent, Marshall
USA
M
204
221
241
210
223
265
0
1364
R
11.
Andersson, Pontus
SWE
M
225
246
201
212
203
257
0
1344
R
12.
Louw, Francois
RSA
M
213
215
169
211
234
298
0
1340
R
13.
Tan, Cherie
SIN
F
195
184
213
216
237
247
48
1340
L
14.
Mak, Michael
HKG
M
217
213
241
159
269
240
0
1339
R
15.
Fransson, Daniel
SWE
M
223
258
226
181
223
225
0
1336
R
16.
Stampe, Mik
DEN
M
199
193
241
225
220
233
0
1311
R
17.
Macek, Jan
CZE
M
167
257
214
288
173
204
0
1303
R
18.
Muaz, Ahmad
MAS
M
246
212
208
170
252
213
0
1301
R
19.
Fiorentino, Antonino
ITA
M
196
289
210
235
175
195
0
1300
R
20.
Ridhwan, Syafiq
MAS
M
199
236
234
227
195
205
0
1296
R
21.
Mortensen, Jimmy Dan
DEN
M
180
231
215
234
203
231
0
1294
R
22.
Paulsson, Martin
SWE
M
223
193
178
228
244
208
0
1274
R
23.
Ng, Shayna
SIN
F
194
194
202
171
205
247
48
1261
R
24.
Tan, Timmy
MAS
M
182
225
233
214
180
225
0
1259
R
25.
Yeung, Wicky
HKG
M
172
199
223
213
246
204
0
1257
R
26.
Ahlgren, Anton
SWE
M
215
216
226
206
181
212
0
1256
R
27.
Harles, Mike
GER
M
199
199
203
182
172
264
0
1219
R
28.
Käyhkö, Tomas
FIN
M
245
228
172
186
179
207
0
1217
R
Final Step 1
 
NAME
NAT
GEN

1

2

3

4

5

6
HCP
SCORE
HAND
1.
Lousdal, Anders
DEN
M
260
279
226
257
245
191
0
1458
R
2.
Paulsson, Martin
SWE
M
225
235
226
258
266
245
0
1455
R
3.
Tan, Daphne
SIN
F
215
234
215
215
279
246
48
1452
R
4.
Macek, Jan
CZE
M
268
247
300
263
181
181
0
1440
R
5.
Stampe, Mik
DEN
M
215
268
244
257
241
213
0
1438
R
6.
Mortensen, Jimmy Dan
DEN
M
300
212
237
224
234
215
0
1422
R
7.
Harles, Mike
GER
M
258
223
159
244
258
279
0
1421
R
8.
Tan, Cherie
SIN
F
214
249
248
203
236
210
48
1408
L
9.
Tan, Timmy
MAS
M
248
215
257
245
230
208
0
1403
R
10.
Ahlgren, Anton
SWE
M
269
211
255
234
187
234
0
1390
R
11.
Mak, Michael
HKG
M
267
202
223
255
225
212
0
1384
R
12.
Pöppler, Birgit
GER
F
181
222
204
215
257
246
48
1373
R
13.
Barrett, Dom
ENG
M
279
232
203
246
205
202
0
1367
R
14.
Yeung, Wicky
HKG
M
248
199
223
213
279
201
0
1363
R
15.
Kent, Marshall
USA
M
233
194
233
189
227
279
0
1355
R
16.
Rash, Sean
USA
M
194
257
300
224
178
202
0
1355
R
17.
Li Jane, Sin
MAS
F
268
215
193
204
223
203
48
1354
R
18.
Moor, Paul
ENG
M
242
233
200
215
216
245
0
1351
L
19.
Manuwong, Surasak
THA
M
228
223
245
224
216
215
0
1351
R
20.
Jähi, Joonas
FIN
M
229
232
216
245
230
190
0
1342
R
21.
Jaris, Muhd
SIN
M
236
234
221
207
203
238
0
1339
R
22.
Persson, Anton
SWE
M
245
258
220
194
165
256
0
1338
R
23.
Bolleby, Kim
THA
M
223
213
224
222
224
228
0
1334
L
24.
Zavjalova, Diana
LAT
F
236
201
237
204
222
184
48
1332
R
25.
Arromsaranon, Annop
THA
M
230
239
182
239
201
240
0
1331
R
26.
Tham, Timothy
SIN
M
237
221
232
217
214
204
0
1325
R
27.
Sloan, Christopher
IRL
M
215
224
192
228
204
258
0
1321
R
28.
Wong, Tony
HKG
M
214
249
244
209
233
172
0
1321
R
29.
Quintero, Arturo
MEX
M
207
247
245
194
192
234
0
1319
R
30.
Timter, Vanessa
GER
F
217
219
210
191
187
237
48
1309
R
31.
Michow, André
GER
M
236
216
223
217
236
179
0
1307
R
32.
Weier, Cameron
USA
M
192
258
195
214
235
202
0
1296
R
33.
Zulkifli, Shalin
MAS
F
198
182
223
208
226
210
48
1295
R
34.
Larsen, Thomas
DEN
M
192
219
240
206
234
198
0
1289
R
35.
Kam, Rickle
HKG
M
206
203
180
223
223
247
0
1282
R
36.
Wu, Siu Hong
HKG
M
289
194
211
186
199
191
0
1270
R
37.
Andersson, Kim
SWE
M
202
202
212
232
221
192
0
1261
R
38.
Van Hees, Jonathan
USA
M
169
207
159
223
278
224
0
1260
R
39.
Jansson, Markus
SWE
M
181
245
177
227
178
223
0
1231
R
40.
Albarqi, Adel
KSA
M
276
171
201
179
190
203
0
1220
R
41.
Tan, Joel
SIN
M
205
202
180
233
200
199
0
1219
R
42.
Dulijan, Abdullah
KSA
M
179
190
225
246
179
194
0
1213
R
43.
Ramirez Perea, Anggie
COL
F
219
169
176
205
204
184
48
1205
L
44.
Ray, Cheah
SIN
M
213
222
181
171
216
200
0
1203
R
45.
Tan, Jazreel
SIN
F
187
205
200
191
210
154
48
1195
R
46.
Puharinen, Pyry
FIN
M
189
204
221
202
157
211
0
1184
R
47.
McEwan, Danielle
USA
F
186
194
178
183
182
196
48
1167
R
48.
Lüttke, Christopher
SWE
M
220
210
204
235
165
133
0
1167
R
49.
Teece, Raymond
ENG
M
238
160
192
195
157
193
0
1135
R
50.
Bösiger, Andreas
SUI
M
201
201
179
203
184
165
0
1133
R
51.
Liew, Alex
MAS
M
215
175
219
196
188
137
0
1130
L
52.
Juliusson, Andres
ISL
M
201
203
165
184
157
167
0
1077
R
Qualifying
Qualified directly to final step 2 (Position 1 – 12)

RANK
NAME
NAT
GEN
BEST
PINS
SQUAD #
SQUAD
COUNT
HAND
1
Ng, Shayna
SIN
F
1539
05
3
R
2
Muaz, Ahmad
MAS
M
1533
09
3
R
3
Louw, Francois
RSA
M
1524
06
3
R
4
Andersson, Pontus
SWE
M
1522
09
3
R
5
Ridhwan, Syafiq
MAS
M
1500
08
3
R
6
Käyhkö, Tomas
FIN
M
1489
12
3
R
7
Warming Hansen, Carsten
DEN
M
1483
09
2
R
8
Williams, Stuart
ENG
M
1478
12
4
R
9
Fransson, Daniel
SWE
M
1469
13
3
R
10
Larsen, Martin
SWE
M
1465
17
5
R
11
Fiorentino, Antonino
ITA
M
1464
17
3
R
12
Larp-Apharat, Yannaphon
THA
M
1460
03
5
R

Qualified to final step 1 (Position 13 – 50)

RANK
NAME
NAT
GEN
BEST
PINS
SQUAD #
SQUAD
COUNT
HAND
13
Juliusson, Andres
ISL
M
1457
17
2
R
14
Pöppler, Birgit
GER
F
1453
13
2
R
15
Quintero, Arturo
MEX
M
1453
10
1
R
16
Jansson, Markus
SWE
M
1449
13
5
R
17
Jähi, Joonas
FIN
M
1446
12
3
R
18
Stampe, Mik
DEN
M
1446
17
3
R
19
Sloan, Christopher
IRL
M
1445
13
5
R
20
Mortensen, Jimmy Dan
DEN
M
1445
10
2
R
21
Kent, Marshall
USA
M
1444
05
2
R
22
Kam, Rickle
HKG
M
1442
06
4
R
23
Bolleby, Kim
THA
M
1441
09
2
L
24
Teece, Raymond
ENG
M
1441
15
4
R
25
Lüttke, Christopher
SWE
M
1439
13
1
R
26
Lousdal, Anders
DEN
M
1439
15
3
R
27
Puharinen, Pyry
FIN
M
1437
06
4
R
28
Zavjalova, Diana
LAT
F
1437
13
4
R
29
Zulkifli, Shalin
MAS
F
1435
12
5
R
30
Persson, Anton
SWE
M
1435
15
2
R
31
Wong, Tony
HKG
M
1432
08
4
R
32
Ray, Cheah
SIN
M
1431
09
5
R
33
Bösiger, Andreas
SUI
M
1430
09
3
R
34
Tan, Cherie
SIN
F
1430
15
6
L
35
Albarqi, Adel
KSA
M
1428
09
6
R
36
Mak, Michael
HKG
M
1427
14
3
R
37
Tan, Timmy
MAS
M
1427
09
3
R
38
Jaris, Muhd
SIN
M
1426
05
5
R
39
Timter, Vanessa
GER
F
1426
16
5
R
40
Liew, Alex
MAS
M
1426
08
3
L
41
Barrett, Dom
ENG
M
1426
11
3
R
42
Andersson, Kim
SWE
M
1423
11
3
R
43
Paulsson, Martin
SWE
M
1423
18
6
R
44
Tham, Timothy
SIN
M
1423
15
5
R
45
Tan, Jazreel
SIN
F
1422
05
4
R
46
Larsen, Thomas
DEN
M
1421
11
4
R
47
Weier, Cameron
USA
M
1420
08
3
R
48
Ahlgren, Anton
SWE
M
1417
16
4
R
49
Li Jane, Sin
MAS
F
1415
12
7
R
50
Van Hees, Jonathan
USA
M
1415
13
3
R

Players from squads conducted on 21-22 March (Position 51 – 55)

The best 5 players from the squads conducted on 21-22 March not already qualified for the finals are shown here. These names can change until the last qualifying squad has been played.

RANK
NAME
NAT
GEN
BEST
PINS
SQUAD #
HAND
51
Yeung, Wicky
HKG
M
1408
06
R
52
Ramirez Perea, Anggie
COL
F
1407
05
L
53
Rash, Sean
USA
M
1406
08
R
54
Tan, Daphne
SIN
F
1406
05
R
55
McEwan, Danielle
USA
F
1405
07
R

Players from squads conducted on 18-19 March (Position 56 – 60)

The best 5 players from the squads conducted on 18-19 March not already qualified for the finals are shown here. These names can change until the last qualifying squad has been played.

RANK
NAME
NAT
GEN
BEST
PINS
SQUAD #
HAND
56
Arromsaranon, Annop
THA
M
1411
03
R
57
Tan, Joel
SIN
M
1399
02
R
58
Michow, André
GER
M
1392
04
R
59
Manuwong, Surasak
THA
M
1387
02
R
60
Harles, Mike
GER
M
1386
01
R

Players from the Desperado (Position 61 – 64)

The best 4 players from the Desperado on Saturday night will qualify for the final step 1.

RANK
NAME
NAT
GEN
BEST
PINS
HAND
61
Wu, Siu Hong
HKG
M
268
R
62
Dulijan, Abdullah
KSA
M
267
R
63
Macek, Jan
CZE
M
266
R
64
Moor, Paul
ENG
M
246
L

Position 65 –

RANK
NAME
NAT
GEN
BEST
PINS
SQUAD #
SQUAD
COUNT
HAND
65
Wegner, Jenny
SWE
F
1414
13
5
R
66
Safiyah Amirah, Siti
MAS
F
1412
09
6
R
67
Hultin, Isabelle
SWE
F
1408
15
3
R
68
Drevenstedt, Frank
GER
M
1407
17
3
R
69
Yngström, Stefan
SWE
M
1405
15
3
R
70
Cheah, Esther
MAS
F
1402
09
7
R
71
Krämer, Michael
GER
M
1402
08
5
R
72
Sermand, Julien
FRA
M
1397
16
4
R
73
Simonsen, Anthony
USA
M
1396
11
11
R
74
Hulsch, Tina
GER
F
1395
14
2
R
75
Tseng, Eric
HKG
M
1395
16
5
R
76
Ong, Darren
SIN
M
1395
09
9
R
77
Wegner, Cajsa
SWE
F
1394
15
4
R
78
Yeo, Joey
SIN
F
1393
12
5
R
79
De Rooij, Maxime
NED
F
1392
08
4
R
80
Thelander, Filip
SWE
M
1391
13
3
R
81
Persson, Filippa
SWE
F
1391
12
5
R
82
Johnson, Adam
USA
M
1390
18
8
R
83
Tahvanainen, Santtu
FIN
M
1388
15
6
R
84
Kiew, Marcus
SIN
M
1388
05
9
R
85
Edvall, Rasmus
SWE
M
1386
11
5
R
86
Palermaa, Osku
FIN
M
1385
10
6
R
87
See, Tracy
SIN
F
1385
16
8
R
88
Roslan, Natasha
MAS
F
1385
15
7
R
89
Maggi, Mats
BEL
M
1384
12
4
R
90
Friedrichs, Tim
GER
M
1381
02
3
R
91
Talpa, Marek
CZE
M
1375
13
2
R
92
Geissler, Nadine
GER
F
1375
03
4
R
93
Byrne, Aidan
IRL
M
1373
10
4
R
94
Luoto, Patricia
GER
F
1371
16
3
R
95
Koivuniemi, Mika
FIN
M
1370
14
2
R
96
Svensson, Jesper
SWE
M
1370
13
6
L
97
Richardson, Glen
ENG
M
1369
07
5
L
98
Lindberg, Robert
SWE
M
1369
13
4
R
99
Ang, Adrian
MAS
M
1368
09
5
R
100
Tang, Darren
USA
M
1368
08
6
R
101
Petersen, Tommy
SWE
M
1368
05
4
R
102
Berggren, Alfred
SWE
M
1367
14
5
R
103
Kuttig, Christian
GER
M
1367
06
4
R
104
Eklund, Dennis
SWE
M
1367
17
4
R
105
Morig, Oliver
GER
M
1365
03
4
R
106
Pedersen, Glenn Morten
NOR
M
1365
13
4
R
107
Nathan, Jasmine Yeong
SIN
F
1363
05
7
R
108
Persson Planefors, Joline
SWE
F
1363
15
4
R
109
Teece, Richard
ENG
M
1363
17
6
R
110
Purnell, Adam
ENG
M
1362
12
5
R
111
Stigter- Van Der Tol, Ghislaine
NED
F
1361
18
3
L
112
Elliott, Jamie
ENG
M
1358
12
3
R
113
Zulkifli, Zulmazran
MAS
M
1357
16
6
R
114
Cain, Andrew
USA
M
1357
05
8
L
115
Ismail, Rafiq
MAS
M
1356
08
6
R
116
Santu, Alessandro Walter
ITA
M
1353
17
3
R
117
Witura, Jaqueline
AUT
F
1352
02
2
R
118
Moreno, Javier
ESP
M
1352
14
3
R
119
Salonen, Petteri
FIN
M
1351
17
4
R
120
Lorenc, Jaroslav
CZE
M
1350
05
3
L
121
Sterner, Jason
USA
M
1349
13
4
R
122
Lehtonen, Kimmo
FIN
M
1348
10
3
L
123
Kulick, Kelly
USA
F
1347
07
4
R
124
Andersson, Sandra
SWE
F
1347
17
4
R
125
Nur Najwa, Radin
MAS
F
1346
15
6
R
126
Pajari, Olli-Pekka
FIN
M
1346
05
3
R
127
Andersson, Ida
SWE
F
1346
18
5
R
128
Brondsted, Britt
DEN
F
1345
12
2
R
129
Schurian, Christoph
GER
M
1344
12
4
R
130
Johansson, Victoria
SWE
F
1341
18
3
R
131
Afifah, Syaidatul
MAS
F
1341
08
8
R
132
Qi, Kuek
SIN
M
1341
01
8
R
133
Alshaikh, Bader
KSA
M
1340
08
5
R
134
Almqvist, Peter
SWE
M
1340
16
3
R
135
Lui, James
HKG
M
1339
10
5
R
136
Bergendorff, Markus Jens
DEN
M
1339
17
5
R
137
Ratia, Jari
FIN
M
1338
15
3
R
138
Reinhard, Thomas
GER
M
1337
01
2
R
139
Selvåg, Frank
NOR
M
1336
13
2
R
140
Alshaikh, Hassan
KSA
M
1336
06
5
R
141
Lindbäck, Lars
SWE
M
1335
13
3
R
142
Sennevall, Allan
SWE
M
1335
16
2
R
143
Nolan, Pat
USA
M
1335
06
4
R
144
Ruest-Lajoie, Nathan
CAN
M
1335
07
3
R
145
Barriopedro, Pablo
ESP
M
1334
18
4
R
146
Radi, Tommaso
ITA
M
1333
12
4
R
147
Svensson, Par
SWE
M
1333
12
3
R
148
Stenko, Nino
SLO
M
1331
15
2
R
149
Konsteri, Sami
FIN
M
1329
12
2
R
150
Torgersen, Tore
NOR
M
1325
15
4
R
151
Hellström, Peter
SWE
M
1325
16
4
R
152
Wetterberg, Mattias
SWE
M
1325
17
4
R
153
Schuetz, Martina
GER
F
1325
13
3
R
154
Chan, Yat Long
HKG
M
1323
12
5
L
155
Sahar, Nur Syazwani
MAS
F
1322
09
7
R
156
Koštric, Aleksander
SLO
M
1322
07
2
R
157
Tarrad, Ammar
KSA
M
1321
09
5
R
158
Roos, Mikael
SWE
M
1319
15
3
R
159
Mack, Tim
USA
M
1319
12
4
R
160
Börding, Tobias
GER
M
1319
06
4
R
161
Gruffman, James
SWE
M
1319
17
3
L
162
Parshukov, Aleksei
RUS
M
1319
17
5
R
163
Tonteri, Juhani
FIN
M
1317
12
3
R
164
Pirzer, Robert
GER
M
1317
06
1
R
165
Hultsten, Robin
SWE
M
1313
13
2
R
166
Østergaard-Poulsen, Dan
DEN
M
1313
12
4
R
167
Freitag, Dominik
GER
M
1312
10
1
R
168
Ng, Basil
SIN
M
1312
09
9
R
169
Karlsson, Kevin
SWE
M
1312
18
4
R
170
Al Saud, Mohammed
KSA
M
1309
08
5
R
171
Ågren, Emil
SWE
M
1309
13
3
R
172
Hermansen, Kenneth
NOR
M
1309
16
3
R
173
Ruest-Lajoie, Cédérick
CAN
M
1308
07
3
R
174
Hauenstein, Swen
GER
M
1307
18
3
R
175
Andersson, Daniel
SWE
M
1307
13
3
R
176
Gripp, Andreas
GER
M
1306
17
4
R
177
Baade, Marco
GER
M
1306
14
2
R
178
Persson, Robin
SWE
M
1305
11
4
R
179
Weichert, Patrick
GER
M
1304
18
2
R
180
Hernitschek, Andreas
GER
M
1303
04
3
R
181
Lau, Kwun Ho
HKG
M
1302
12
4
R
182
Sanders, Nicole
NED
F
1301
11
3
L
183
Bäck, Mattias
SWE
M
1300
17
2
R
184
Branezac, Damir
SUI
M
1300
05
2
R
185
Mattsson, John
SWE
M
1300
15
2
R
186
Winternheimer, Pascal
GER
M
1298
12
2
R
187
Vrabec, Tomas
SVK
M
1294
17
2
R
188
Balsom, Dan
ENG
M
1294
16
4
R
189
Hübner, Felix
GER
M
1293
15
2
R
190
Kloos, Fabian
GER
M
1292
04
3
R
191
Flack, Nina
SWE
F
1292
13
4
R
192
Janovsky, Michal
CZE
M
1292
13
2
R
193
Lindner, Eva
GER
F
1291
02
3
L
194
Boström, Linus
FIN
M
1290
12
4
R
195
Jonsson, Arnar David
ISL
M
1290
14
2
R
196
Tjernes, Fredrik
NOR
M
1287
17
3
R
197
Kempgens, Pascal
GER
M
1287
15
2
R
198
Wells, John
ENG
M
1286
16
2
R
199
Schroschk, Sidney
GER
M
1285
15
2
R
200
Konieczny, Bodo
GER
M
1284
04
3
R
201
Schroeder, Timo
GER
M
1284
14
2
R
202
Mlynar, Ondrej
CZE
M
1282
17
2
R
203
Haas, Christian
GER
M
1282
15
2
R
204
Wimmer, Hermann
GER
M
1281
05
2
R
205
Olsson, Mattias
SWE
M
1279
15
5
L
206
Gabel, Janine
GER
F
1279
16
3
R
207
Laub, Harald
GER
M
1278
05
4
R
208
Ek, Svein Åke
NOR
M
1276
17
4
R
209
Lim, Bernice
SIN
F
1275
12
5
R
210
Pongolini, Nicola
ITA
M
1274
12
4
R
211
Bohn III, Parker
USA
M
1273
08
4
L
212
Sigurdsson, Bjorn
ISL
M
1272
05
3
R
213
Ulber, Helmut
GER
M
1270
01
3
R
214
Bräutigam, Kai
GER
M
1269
03
1
R
215
Sipilä, Lauri
FIN
M
1268
05
3
R
216
Hurt, Ron
USA
M
1267
02
3
R
217
Hofbauer, Karlheinz
GER
M
1266
03
4
L
218
Stampe, Tim
DEN
M
1266
15
3
R
219
Osella, Luca
ITA
M
1265
17
3
R
220
Celli, Massimiliano
ITA
M
1265
16
3
R
221
Aiman, Mohd Nur
MAS
M
1258
16
4
L
222
Beuthner, Laura
GER
F
1258
18
2
L
223
Bruhn, Sascha
GER
M
1257
01
2
R
224
Gäbler, Tobias
GER
M
1257
13
3
R
225
Schröder, Andre
GER
M
1256
14
2
R
226
Jehkinen, Joonas
FIN
M
1255
16
2
L
227
Holmqvist, Anders
SWE
M
1254
13
2
R
228
Dorfmeister, Daniel
GER
M
1254
02
2
R
229
Ancarani, Sandro
SUI
M
1250
13
2
R
230
Janetzki, Tom
GER
M
1249
02
2
R
231
Dragon, Ralf
GER
M
1248
14
1
R
232
Sevgi Michajlow, Adile
GER
F
1246
14
1
R
233
Bjornsson, Gustaf Smari
ISL
M
1245
14
3
R
234
Cardona, Alvar
CAT
M
1243
16
3
R
235
Knopp, Peter
GER
M
1242
10
2
R
236
Laub, Sabrina
GER
F
1241
15
4
R
237
Vallons, Melissa
BEL
F
1240
11
4
R
238
Bohnenberger, Timo
GER
M
1237
13
2
R
239
Hannan, Samantha
ENG
F
1236
17
3
R
240
Blasits, Ernst
GER
M
1233
15
6
R
241
Valgeirsson, Guðlaugur
ISL
M
1232
14
2
L
242
Morgan, Selwyn
ENG
M
1231
16
2
R
243
Bagnolini, Monica
ITA
F
1229
16
2
R
244
Yaremchuk, Maksym
UKR
M
1227
18
4
R
245
Andrik, Cédric
GER
M
1225
16
2
R
246
Grünheid, Dennis
GER
M
1223
14
2
L
247
Skutta, Simon
GER
M
1221
04
2
R
248
Mrosek, Manuel
GER
M
1219
11
3
R
249
Ribguth, Janin
GER
F
1218
15
2
R
250
Jonsson, Emanuel
SWE
M
1217
15
4
R
251
Vallons, Robert
BEL
M
1216
02
2
R
252
Claessen, Stefán
ISL
M
1215
17
3
R
253
Mathiesen, Jens
NOR
M
1214
17
2
R
254
Harman, Vicki
ENG
F
1214
17
2
R
255
Fricke, Dirk
GER
M
1213
03
4
L
256
Chow, Joshua
HKG
M
1211
10
5
R
257
Fischer, Oliver
GER
M
1211
15
2
R
258
Al Nanih, Sulimami
KSA
M
1211
09
6
R
259
Kulseng, Øyvin
NOR
M
1210
13
2
R
260
Fruen, Matt
ENG
M
1209
16
1
R
261
Aniz, Mark Anthony
ITA
M
1207
17
2
R
262
Barriopedro, Teresa
ESP
F
1207
14
2
R
263
Stankova, Petra
SVK
F
1207
16
2
L
264
Marchese, Giuseppe
ITA
M
1207
05
2
L
265
Grabrijan, Anže
SLO
M
1206
08
3
L
266
Bartaire Jimenez, Wendy
FRA
F
1204
12
2
R
267
Runbom, Jesper
SWE
M
1202
11
3
R
268
Petakova, Anna
CZE
F
1202
10
1
R
269
Alkheliwi, Ziyad
KSA
M
1199
09
6
R
270
Marval, Michal
CZE
M
1199
17
2
R
271
Ryzhikov, Andrey
RUS
M
1198
09
5
R
272
Solger, Tessa
GER
F
1197
15
2
R
273
Kemnitz, Andreas
GER
M
1196
07
4
R
274
Gruber, Wolfgang
GER
M
1195
02
3
R
275
Strasser, Jürgen
GER
M
1192
04
2
R
276
Egel, Alena
RUS
F
1189
09
2
R
277
Hergenröder, Dominik
GER
M
1188
03
2
R
278
Öing, Frank
GER
M
1188
04
4
L
279
Tieck, Christian
GER
M
1186
10
3
R
280
Jakobsson, Bjarni Pall
ISL
M
1185
07
2
R
281
Shovkun, Andrii
UKR
M
1184
15
3
R
282
Schirmaier, Maikel
GER
M
1184
04
2
R
283
Blepp, Gregory
GER
M
1184
02
1
R
284
Thuery, Daniel
GER
M
1184
08
2
R
285
Schmidt, Alina
GER
F
1182
18
2
R
286
Castle, Alex
ENG
M
1181
11
3
L
287
Plechata, Tomas
CZE
M
1179
13
2
R
288
Homola, Lukas
CZE
M
1178
16
2
R
289
Kraft, Marcel
GER
M
1176
03
2
R
290
Thompson, Sophie
ENG
F
1174
16
2
R
291
Stronskiy, Eduard
UKR
M
1173
16
3
R
292
Shcherbinin, Oleksandr
UKR
M
1171
18
4
R
293
Strasser, Thomas
GER
M
1167
04
2
R
294
Lindbladh, Kevin
SWE
M
1167
13
3
L
295
Wiemken, Bernd
GER
M
1166
04
2
R
296
Sramkova, Kristina
SVK
F
1166
17
2
R
297
Laub, Angela
GER
F
1164
05
2
R
298
Hamilton, Kevin
USA
M
1163
02
1
R
299
Felger, Lisa-Marie
GER
F
1163
18
2
R
300
Kabel, Matthias
GER
M
1163
03
3
L
301
Acin, Ion
ESP
M
1162
11
3
R
302
Pietschner, Marco
GER
M
1159
12
3
R
303
Müsel, Christian
GER
M
1158
08
2
R
304
Highgate, Neil
ENG
M
1157
14
2
R
305
Jonasson, Kim
SWE
M
1156
12
3
L
306
Lujan, Gil
GUM
M
1154
01
1
R
307
Adler, Tamara
AUT
F
1152
01
2
R
308
Härtel, Daniel
GER
M
1151
15
1
R
309
Peetz, Manuela
GER
F
1150
07
3
L
310
Boschi, Alessandro
ITA
M
1150
17
2
R
311
Trögl, Nico
GER
M
1147
03
1
R
312
Wiemken, Frank
GER
M
1146
04
2
R
313
Wiemken, Max
GER
M
1145
03
1
R
314
Günther, Markus
GER
M
1144
15
1
R
315
Bösl, Sabrina
GER
F
1143
03
1
R
316
Tore, Rokkones
NOR
M
1139
13
2
R
317
Wagener, Jaqueline
GER
F
1136
18
2
R
318
Franke, Sebastian
GER
M
1135
01
2
R
319
Kehrle, Stefan
GER
M
1132
02
3
R
320
Yakubov, Utkir
UZB
M
1132
12
3
R
321
Steinhilber, Thomas
GER
M
1131
17
2
R
322
Reynolds, William
USA
M
1128
03
1
R
323
Pescher, Oliver
GER
M
1128
11
1
R
324
Zölgert, Stefanie
GER
F
1125
17
1
R
325
Syuleyman, Birdzhan
TUR
M
1125
12
5
R
326
Bormann, Benjamin
GER
M
1120
07
1
R
327
Fitzpatrick, James
ENG
M
1115
13
2
R
328
Reinhardt, Torsten
GER
M
1114
04
1
R
329
Wegenast, Robert
AUT
M
1106
04
3
R
330
Friman, Judith
SWE
F
1106
16
2
R
331
Servadio, Dario
ITA
M
1105
05
2
R
332
De Luca, Samuel
ITA
M
1104
16
2
R
333
Glatzer, Daniel
GER
M
1101
18
1
R
334
Fehr, Patrick
SUI
M
1095
17
1
R
335
Purps, Paul Sullivan
GER
M
1094
13
2
R
336
Pietraszek, Janusz
POL
M
1094
15
2
R
337
Pasini, Furio
ITA
M
1092
14
2
R
338
Schiemenz, Torsten
GER
M
1091
12
1
R
339
Schaschl, Margit
GER
F
1086
04
1
R
340
Groll, Natalie
GER
F
1086
03
1
R
341
Lehmann, Lukas
GER
M
1085
03
1
R
342
Larsen, Alexander
NOR
M
1085
09
5
R
343
Häfner, Thomas
GER
M
1085
16
2
R
344
Guigon, Daniele
FRA
F
1083
05
2
R
345
Martinez, Joaquin
ESP
M
1083
14
2
R
346
Kammermeier, Klaus
GER
M
1082
04
2
R
347
Tsorbatzoudis, Evangelos
GER
M
1079
10
1
R
348
Marziniak, Roy
GER
M
1077
17
1
R
349
Hübsch, Alex
GER
M
1075
03
1
R
350
Rich, Michael
ENG
M
1072
14
1
R
351
Buder, Gerald
GER
M
1071
08
3
R
352
Raeder, Andreas
GER
M
1071
04
1
L
353
Hammer, Simon
GER
M
1069
17
1
R
354
Schulz, Carolin
GER
F
1067
15
2
R
355
Schmitt, Bruno
FRA
M
1064
05
2
R
356
Reber, Daniel
GER
M
1060
16
2
R
357
Holthausen, Dennis
GER
M
1052
16
1
R
358
Ciceu, Augustin
ROU
M
1052
07
2
R
359
Bzik, Andrè
GER
M
1045
16
3
R
360
Mayer, Pascal
GER
M
1042
11
1
R
361
Neumann, Tim
GER
M
1036
17
1
R
362
Kozak, Michael
USA
M
1029
04
3
L
363
Hölzl, Andi
GER
M
1024
16
2
R
364
Luu, Vinh Duc
GER
M
1015
12
1
R
365
Lust, Roland
GER
M
1015
17
1
R
366
Taylor, Kirk
ENG
M
1013
16
1
R
367
Kohlschütter, Robert
GER
M
1010
18
1
R
368
Louia-Kretz, Jürgen
GER
M
1007
16
3
R
369
Kaiser, Rene
GER
M
1001
01
1
R
370
Czech, Franziska
GER
F
999
03
1
R
371
Tarsoly, Alexander
HUN
M
993
04
1
R
372
Wiemken, Moritz
GER
M
990
03
1
R
373
Kammermeier, Maximilian
GER
M
977
04
1
L
374
Knorr, Mathias
GER
M
975
17
1
R
375
Müller, Maik
GER
M
969
02
2
R
376
Weiske, Niklas
GER
M
956
03
1
R
377
Landicho, Albert John
GER
M
949
18
1
R
378
Landicho, Clodualdo
GER
M
942
16
2
R
379
Schröder, Linus
GER
M
920
03
1
R
380
Wiemken, Dieter
GER
M
604
15
1
R