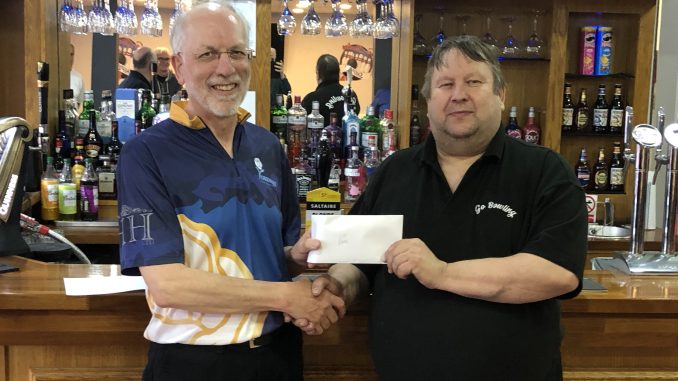 Greatest Day for Gary Barlow as he wins Resdev Senior Tour stop in Shipley.
And a little patience shown with a perfect 300 game too.
The second stop on this year's tour took place at Go Bowling Shipley on 28th/29th May. Due to increasing numbers we once again had a Saturday afternoon squad, due to late dropout this meant 11 bowlers took to the lanes to try and secure a top 24 place for round 2, at this stop all scores carried forward throughout the tournament so posting a good score was imperative to maybe see you to the final.
On a fairly tough pattern high scores would be at a premium. Leading the way would be previous Shipley winner Kevin Lamb with 1371 inc bonus, closely followed by Suren Johanssen 1363 and newcomer and recent BTBA Nationals champion Steve Jeeves 1318, these score looked safe for next round but waiting to see if there scores would be enough were Frank Lindsay 1246, Neil Highgate 1245 and Paul Hewitt 1231.
With some more absences from the Sunday morning squad a field of 17 tried to see if they could beat the Saturday scores. Only one person could beat the top 3 from the Saturday and that would be Yorkshire's Gary Barlow a multiple RST winner with 1420 foloowed by senior legend Ron Oldfield 1291, Les Taylor 1283, Colin Grose 1271 and Carole Orange 1254. Onto the 12.30 squad and this was happily full of 24 bowlers vying for the top 24 and aiming to oust Gary from top spot, only one man coming close and that would be Robert Bruce with 1401 and zero bonus, folowed by Nev Robinson 1315, Trevor Lamprell 1312, Paul Loberman 1312, John Strettle 1268 and Carl Taylor 1260 rounding out the top 6, these would all be safe as the cut fell at 1226 and we had a 3 way tie which meant Martin Bishop unfortunately missing out as he had the lowest scratch score.
Round 2 and the 24 bowlers would bowl a further 3 games and cut to the top 12 for round 3. This would be a pivotal round as Gary Barlow extended his lead by bowling 750 scr including a perfect 300 game in game 3 for a 2200 inc bonus, Robert Bruce retained 2nd on 2022, Trevor Lamprell now 3rd on 1977, Nev Robinson 1945, Ron Oldfield 1943 and Steve Jeeves 1933. The cut for round 3 was Cliff Dew 1899 moving up from 24th place. Again in round 3 bowlers would bowl 3 games to make the top 6 for the final.
Robert Bruce closed the gap on Gary who now had 2806, Robert 2664, Ron O into 3rd 2631, Steve Jeeves 2627, Scotland's Andy Gillespie 2609 and 6th and final place Paul Loberman 2577. The final round and could anyone get near to Gary and the answer was no as Gary increased his lead to 180 in the end with a total 3495, Robert hitting 256 last game to consolidate 2nd 3315, Andy 3288, Paul 3257, Steve 3249, and Ron 3236.
So another stop finished and the usual thanks to Jeff Taylor and all his staff at Go Bowling for their sterling work at keeping the bowlers fed and watered and for the good bowling conditions which although challenging provided a lot of entertainment. The next stop is at Mansfield Superbowl on 26th June.
If there is any bowlers who cannot make it and have their names down to play, can they let me know asap as I have a waiting list of  bowlers. The usual contact either jgs833@outlook.com or 07905163353.
Many thanks Jack G Smith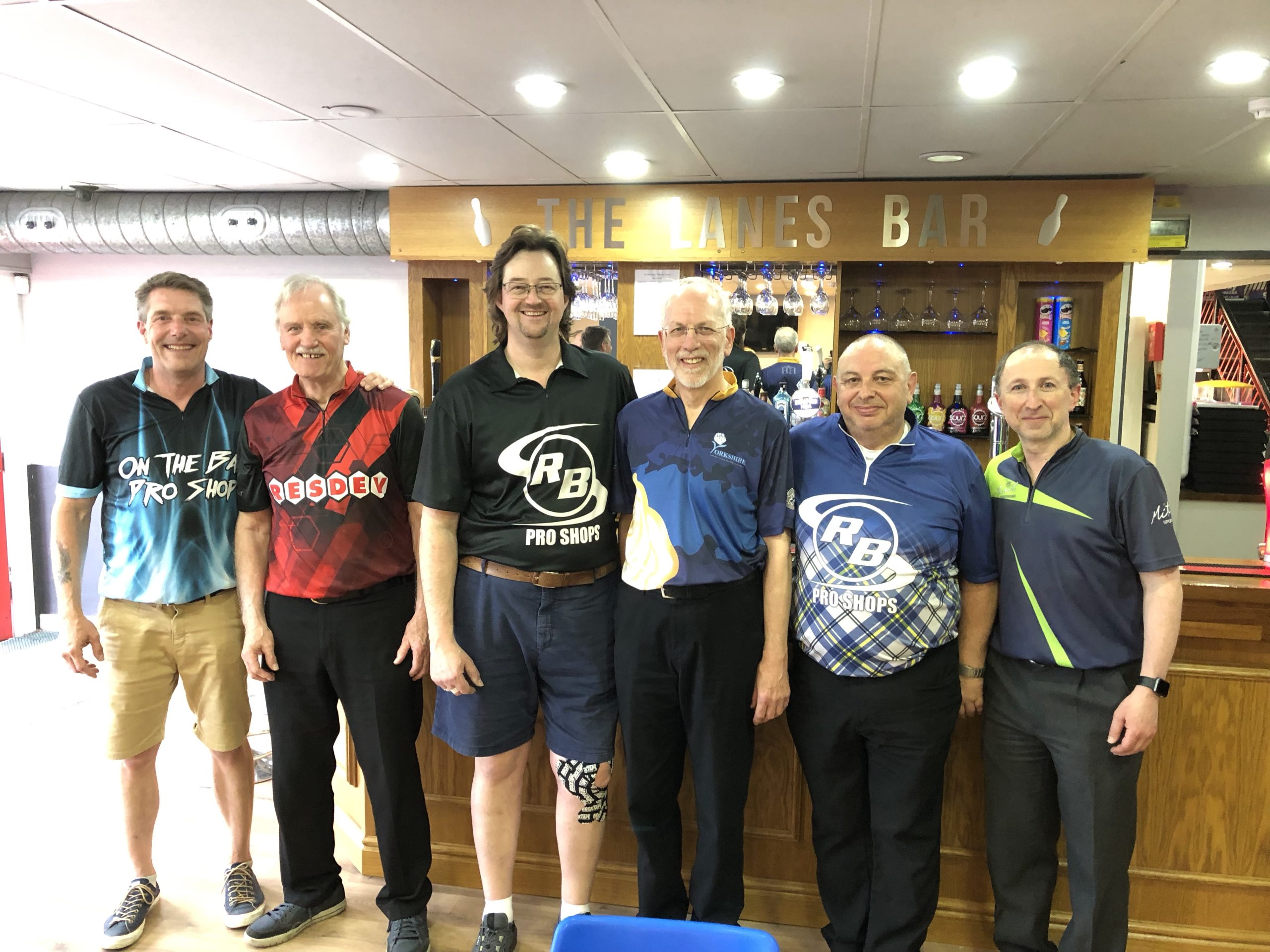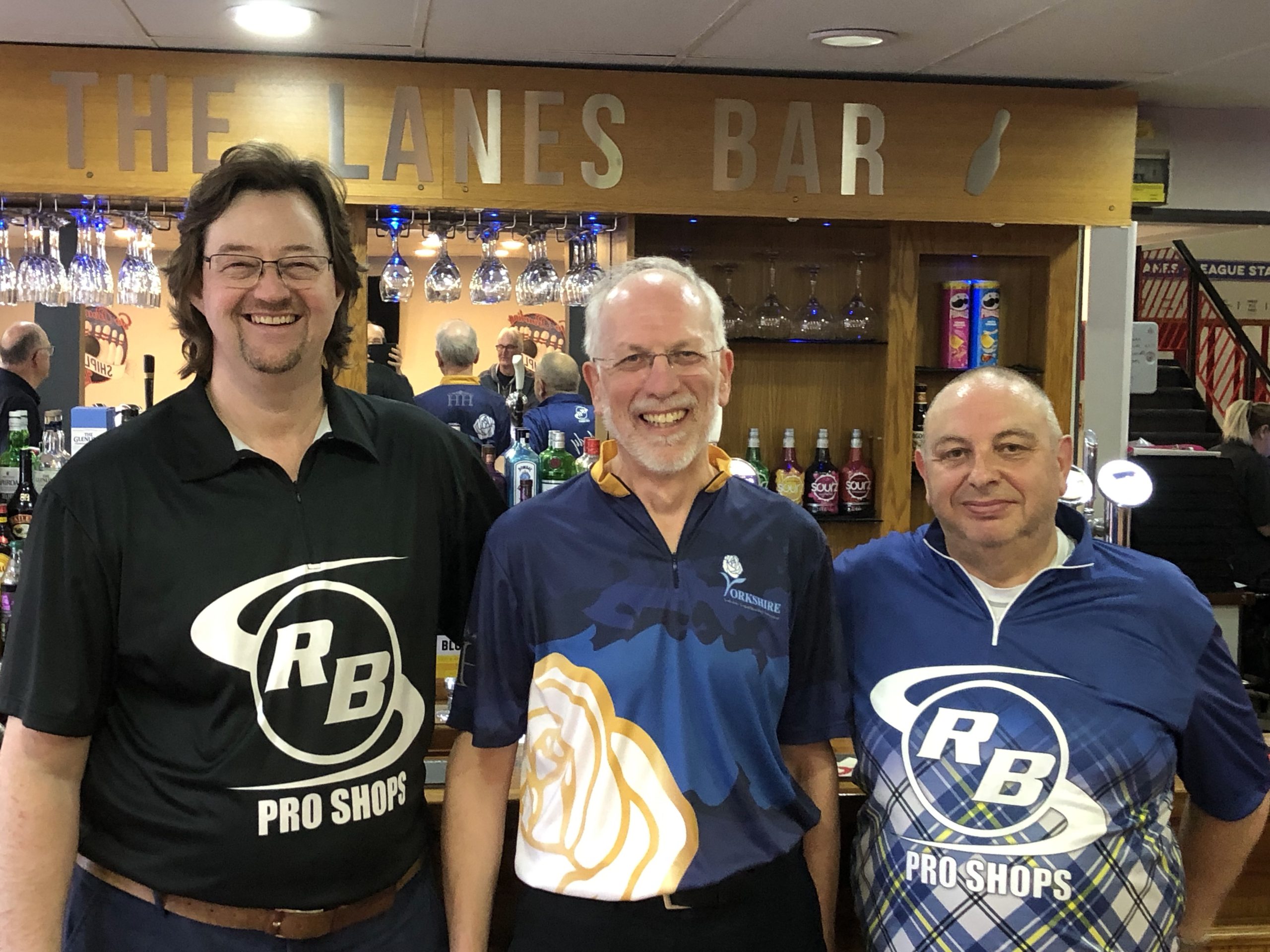 Report and full results to follow
Final Round 4
| | | | | | | | | |
| --- | --- | --- | --- | --- | --- | --- | --- | --- |
| | NAME | C/FWD | BONUS | 1 | 2 | 3 | BONUS X 3 | TOTAL |
| 1 | GARY BARLOW | 2806 | 10 | 234 | 207 | 218 | 30 | 3495 |
| 2 | ROBERT BRUCE | 2664 | 0 | 199 | 196 | 256 | 0 | 3315 |
| 3 | ANDY GILLESPIE | 2609 | 5 | 246 | 223 | 195 | 15 | 3288 |
| 4 | PAUL LOBERMAN | 2577 | 0 | 259 | 195 | 226 | 0 | 3257 |
| 5 | STEVE JEEVES | 2627 | 5 | 203 | 181 | 223 | 15 | 3249 |
| 6 | RON OLDFIELD | 2631 | 15 | 204 | 165 | 191 | 45 | 3236 |
Final Round 3
| | | | | | | | | |
| --- | --- | --- | --- | --- | --- | --- | --- | --- |
| | NAME | C/FWD | BONUS | 1 | 2 | 3 | BONUS X3 | TOTAL |
| 1 | GARY BARLOW | 2200 | 10 | 202 | 172 | 202 | 30 | 2806 |
| 2 | ROBERT BRUCE | 2022 | 0 | 217 | 189 | 236 | 0 | 2664 |
| 3 | RON OLDFIELD | 1943 | 15 | 213 | 225 | 205 | 45 | 2631 |
| 4 | STEVE JEEVES | 1933 | 5 | 258 | 207 | 214 | 15 | 2627 |
| 5 | ANDY GILLESPIE | 1928 | 5 | 205 | 215 | 246 | 15 | 2609 |
| 6 | PAUL LOBERMAN | 1919 | 0 | 224 | 207 | 227 | 0 | 2577 |
| | | | | | | | | |
| 7 | TREVOR LAMPRELL | 1977 | 15 | 145 | 185 | 202 | 45 | 2554 |
| 8 | CLIFF DEW | 1899 | 5 | 206 | 176 | 257 | 15 | 2553 |
| 9 | NEV ROBINSON | 1945 | 15 | 170 | 203 | 165 | 45 | 2528 |
| 10 | CAROLE ORANGE | 1932 | 20 | 149 | 194 | 191 | 60 | 2526 |
| 11 | SUREN JOHANSSEN | 1914 | 10 | 187 | 195 | 174 | 30 | 2500 |
| 12 | KEVIN  LAMB | 1931 | 15 | 194 | 194 | 135 | 45 | 2499 |
Final Round 2
| | | | | | | | | |
| --- | --- | --- | --- | --- | --- | --- | --- | --- |
| | NAME | C/FWD | BONUS | 1 | 2 | 3 | BONUS X 3 | TOTAL |
| 1 | GARY BARLOW | 1420 | 10 | 214 | 236 | 300 | 30 | 2200 |
| 2 | ROBERT BRUCE | 1401 | 0 | 216 | 199 | 206 | 0 | 2022 |
| 3 | TREVOR LAMPRELL | 1313 | 15 | 214 | 193 | 212 | 45 | 1977 |
| 4 | NEV ROBINSON | 1315 | 15 | 200 | 196 | 189 | 45 | 1945 |
| 5 | RON OLDFIELD | 1291 | 15 | 158 | 206 | 243 | 45 | 1943 |
| 6 | STEVE JEEVES | 1318 | 5 | 187 | 197 | 216 | 15 | 1933 |
| 7 | CAROLE ORANGE | 1254 | 20 | 255 | 182 | 181 | 60 | 1932 |
| 8 | KEVIN  LAMB | 1371 | 15 | 159 | 178 | 178 | 45 | 1931 |
| 9 | ANDY GILLESPIE | 1246 | 5 | 236 | 196 | 235 | 15 | 1928 |
| 10 | PAUL LOBERMAN | 1312 | 0 | 225 | 197 | 185 | 0 | 1919 |
| 11 | SUREN JOHANSSEN | 1363 | 10 | 156 | 153 | 212 | 30 | 1914 |
| 12 | CLIFF DEW | 1226 | 5 | 221 | 210 | 227 | 15 | 1899 |
| | | | | | | | | |
| 13 | COLIN GROSE | 1271 | 0 | 209 | 179 | 221 | 0 | 1880 |
| 14 | LES TAYLOR | 1283 | 20 | 194 | 143 | 178 | 60 | 1858 |
| 15 | PAUL HEWITT | 1231 | 10 | 158 | 171 | 244 | 30 | 1834 |
| 16 | CARL TAYLOR | 1260 | 0 | 177 | 177 | 216 | 0 | 1830 |
| 17 | JOHN STRETTLE | 1268 | 15 | 185 | 203 | 128 | 45 | 1829 |
| 18 | ROBIN TOMPKINS | 1258 | 15 | 137 | 203 | 179 | 45 | 1822 |
| 19 | ANDREW MERCER | 1253 | 15 | 167 | 189 | 165 | 45 | 1819 |
| 20 | FRANK LINDSAY | 1246 | 10 | 203 | 148 | 163 | 30 | 1790 |
| 21 | LOUISE ROBERTS | 1249 | 10 | 163 | 196 | 150 | 30 | 1788 |
| 22 | PAUL NEWTON | 1242 | 15 | 166 | 182 | 130 | 45 | 1765 |
| 23 | GAV BODEN | 1226 | 0 | 184 | 167 | 170 | 0 | 1747 |
| 24 | NEIL HIGHGATE | 1245 | 0 | 194 | 152 | 144 | 0 | 1735 |
Qualifying
| | | | | | | | | | | | |
| --- | --- | --- | --- | --- | --- | --- | --- | --- | --- | --- | --- |
| | NAME | BONUS | 1 | 2 | 3 | 4 | 5 | 6 | SCR TOTAL | BONUS X6 | TOTAL |
| 1 | GARY BARLOW | 10 | 194 | 226 | 266 | 225 | 258 | 191 | 1360 | 60 | 1420 |
| 2 | ROBERT BRUCE | 0 | 243 | 259 | 225 | 215 | 224 | 235 | 1401 | 0 | 1401 |
| 3 | KEVIN  LAMB | 15 | 191 | 220 | 230 | 247 | 193 | 200 | 1281 | 90 | 1371 |
| 4 | SUREN JOHANSSEN | 10 | 236 | 179 | 238 | 204 | 225 | 221 | 1303 | 60 | 1363 |
| 5 | STEVE JEEVES | 5 | 189 | 248 | 218 | 169 | 236 | 228 | 1288 | 30 | 1318 |
| 6 | NEV ROBINSON | 15 | 172 | 222 | 221 | 174 | 193 | 243 | 1225 | 90 | 1315 |
| 7 | TREVOR LAMPRELL | 15 | 195 | 201 | 212 | 219 | 164 | 232 | 1223 | 90 | 1313 |
| 8 | PAUL LOBERMAN | 0 | 195 | 183 | 259 | 270 | 226 | 179 | 1312 | 0 | 1312 |
| 9 | RON OLDFIELD | 15 | 210 | 129 | 258 | 208 | 223 | 173 | 1201 | 90 | 1291 |
| 10 | LES TAYLOR | 20 | 158 | 171 | 175 | 198 | 224 | 237 | 1163 | 120 | 1283 |
| 11 | COLIN GROSE | 0 | 248 | 212 | 198 | 240 | 191 | 182 | 1271 | 0 | 1271 |
| 12 | JOHN STRETTLE | 15 | 187 | 179 | 213 | 182 | 203 | 214 | 1178 | 90 | 1268 |
| 13 | CARL TAYLOR | 0 | 220 | 198 | 210 | 189 | 236 | 207 | 1260 | 0 | 1260 |
| 14 | ROBIN TOMPKINS | 15 | 221 | 197 | 190 | 172 | 164 | 224 | 1168 | 90 | 1258 |
| 15 | CAROLE ORANGE | 20 | 169 | 161 | 204 | 189 | 208 | 203 | 1134 | 120 | 1254 |
| 16 | ANDREW MERCER | 15 | 191 | 190 | 199 | 209 | 204 | 170 | 1163 | 90 | 1253 |
| 17 | LOUISE ROBERTS | 10 | 184 | 223 | 168 | 215 | 233 | 166 | 1189 | 60 | 1249 |
| 18 | FRANK LINDSAY | 10 | 150 | 213 | 182 | 222 | 214 | 205 | 1186 | 60 | 1246 |
| 19 | ANDY GILLESPIE | 5 | 201 | 214 | 192 | 193 | 234 | 182 | 1216 | 30 | 1246 |
| 20 | NEIL HIGHGATE | 0 | 195 | 178 | 211 | 182 | 233 | 246 | 1245 | 0 | 1245 |
| 21 | PAUL NEWTON | 15 | 197 | 202 | 213 | 212 | 147 | 181 | 1152 | 90 | 1242 |
| 22 | PAUL HEWITT | 10 | 165 | 266 | 194 | 168 | 219 | 159 | 1171 | 60 | 1231 |
| 23 | GAV BODEN | 0 | 222 | 160 | 232 | 231 | 195 | 186 | 1226 | 0 | 1226 |
| 24 | CLIFF DEW | 5 | 157 | 244 | 146 | 200 | 184 | 265 | 1196 | 30 | 1226 |
| | | | | | | | | | | | |
| 25 | MARTIN BISHOP | 10 | 218 | 150 | 198 | 233 | 162 | 205 | 1166 | 60 | 1226 |
| 26 | MARK A SMITH | 0 | 179 | 217 | 220 | 212 | 183 | 211 | 1222 | 0 | 1222 |
| 27 | FROSTY | 10 | 171 | 194 | 174 | 226 | 206 | 190 | 1161 | 60 | 1221 |
| 28 | JAN HODGE | 25 | 200 | 182 | 177 | 165 | 191 | 146 | 1061 | 150 | 1211 |
| 29 | AL JENKINS | 15 | 160 | 249 | 206 | 159 | 156 | 191 | 1121 | 90 | 1211 |
| 30 | KEITH BOWEN | 10 | 210 | 156 | 204 | 171 | 223 | 170 | 1134 | 60 | 1194 |
| 31 | IAN MCDONALD | 20 | 170 | 180 | 168 | 154 | 188 | 214 | 1074 | 120 | 1194 |
| 32 | PAUL RHODES | 5 | 228 | 204 | 170 | 172 | 178 | 202 | 1154 | 30 | 1184 |
| 33 | IAN BUCKLAND | 10 | 159 | 189 | 226 | 216 | 181 | 147 | 1118 | 60 | 1178 |
| 34 | BARRY WALKER | 5 | 194 | 178 | 210 | 177 | 197 | 192 | 1148 | 30 | 1178 |
| 35 | MARTIN GREEN | 15 | 223 | 149 | 161 | 176 | 163 | 213 | 1085 | 90 | 1175 |
| 36 | GEOFF BROWN | 10 | 202 | 168 | 140 | 186 | 210 | 196 | 1102 | 60 | 1162 |
| 37 | KEITH HODGE | 15 | 192 | 193 | 169 | 145 | 169 | 202 | 1070 | 90 | 1160 |
| 38 | SIMON HOGG | 5 | 210 | 186 | 222 | 183 | 163 | 165 | 1129 | 30 | 1159 |
| 39 | AL TURNER | 20 | 143 | 150 | 133 | 202 | 238 | 173 | 1039 | 120 | 1159 |
| 40 | GARY CHRISTOPHER | 0 | 157 | 208 | 190 | 191 | 217 | 196 | 1159 | 0 | 1159 |
| 41 | JOHN LAWLESS | 15 | 162 | 182 | 193 | 156 | 147 | 215 | 1055 | 90 | 1145 |
| 42 | KEN BURTON | 20 | 212 | 182 | 153 | 170 | 144 | 163 | 1024 | 120 | 1144 |
| 43 | LES GRANT | 20 | 189 | 190 | 165 | 168 | 170 | 114 | 996 | 120 | 1116 |
| 44 | JANE KING | 30 | 148 | 201 | 164 | 132 | 123 | 168 | 936 | 180 | 1116 |
| 45 | DAVE BROOMFIELD | 5 | 190 | 171 | 171 | 223 | 159 | 168 | 1082 | 30 | 1112 |
| 46 | JENNY SWIFT | 15 | 182 | 181 | 174 | 150 | 166 | 162 | 1015 | 90 | 1105 |
| 47 | PAULINE MCDONALD | 30 | 141 | 156 | 150 | 152 | 145 | 181 | 925 | 180 | 1105 |
| 48 | TREVOR GREEN | 5 | 187 | 159 | 169 | 173 | 165 | 180 | 1033 | 30 | 1063 |
| 49 | STEVE COATES | 5 | 165 | 137 | 186 | 197 | 173 | 151 | 1009 | 30 | 1039 |
| 50 | LOUISE GILLESPIE | 25 | 128 | 185 | 132 | 156 | 145 | 141 | 887 | 150 | 1037 |
| 51 | JULIE JOHANSSEN | 25 | 135 | 139 | 146 | 141 | 156 | 161 | 878 | 150 | 1028 |
| 52 | ANDY CLOUGH | 15 | 190 | 192 | 168 | 179 | 0 | 0 | 729 | 90 | 819 |