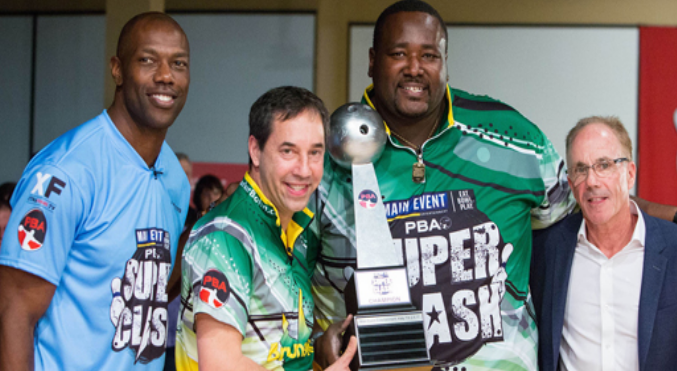 PBA Hall of Famer Parker Bohn III and actor Quinton Aaron teamed up to win three straight matches to take home the Main Event Terrell Owens PBA Super Clash title Sunday at Main Event in Katy, Texas.
NFL stars Terrell Owens, Chad "Ochocinco" Johnson and Devin Hester, along with Aaron, who portrayed NFL star Michael Oher in the hit movie "The Blind Side," headlined the all-star lineup. PBA stars competing in addition to Bohn were three-time PBA Player of the Year Jason Belmonte, Hall of Famer Norm Duke and eight-time PBA Tour winner Bill O'Neil.
In the title match, which aired live on ESPN Sunday afternoon, Aaron and Bohn were never challenged beating the Belmonte/Ochocinco team 204-118.
The stepladder seedings for the alternate frame doubles finals were determined by a 'kickoff round' where the teams had to bowl as many strikes as possible in 90 seconds.
In the opening match, Bohn and Aaron defeated Duke and Owens, 247-211. In the semifinal, Bohn and Aaron beat Hester and O'Neill 230-180 to advance to the title match against top seed Belmonte and Ochocinco.
The show also featured a segment with Duke, Bohn, O'Neill and Belmonte performing some of their remarkable trick shots. Announcers Dave LaMont and Randy Pedersen also showed their trick shot prowess.
During the telecast PBA Commissioner Tom Clark announced E.J. Tackett as the 2016 GEICO Chris Schenkel PBA Player of the Year. Also announced were Francois Lavoie of Canada as Harry Golden Rookie of the Year, Tom Smallwood as Steve Nagy Sportsmanship Award winner and Rhino Page as the winner of the Tony Reyes Community Service Award.
Two rising stars in youth bowling, 2016 Teen Masters U14 Boys' and Girls' Division champions, Kirk Mowl of Ormond Beach, Fla., and Mabel Cummins of Elburn, Ill., participated in a special doubles exhibition where they were paired with a pro. Cummins and Belmonte, representing the New England Patriots, defeated Mowl and Tackett, representing the Atlanta Falcons, 19-18, in a four-frame match that used a special 'football' scoring system.
Earlier in the telecast Cummins substituted for the late-arriving Ochocinco in the kickoff round to help the that team earn the top seed for the Super Clash.
PBA's Big February on ESPN continues with live telecasts of three majors on consecutive Sundays at 1 p.m. ET. The Barbasol PBA Players Championship will air Sunday, Feb. 12; the FireLake PBA Tournament of Champions on Feb. 19, and back-to-back telecasts of the USBC Masters finals and World Bowling Tour Men's and Women's Finals presented by the PBA on Feb. 26.
In addition to the lineup of live telecasts, the State Farm CP3 PBA Celebrity Invitational which was taped on Jan. 17 at Lucky Strike L.A. Live in Los Angeles will air on Friday, Feb. 17, at 9 p.m. ET as part of the NBA All-Star weekend.