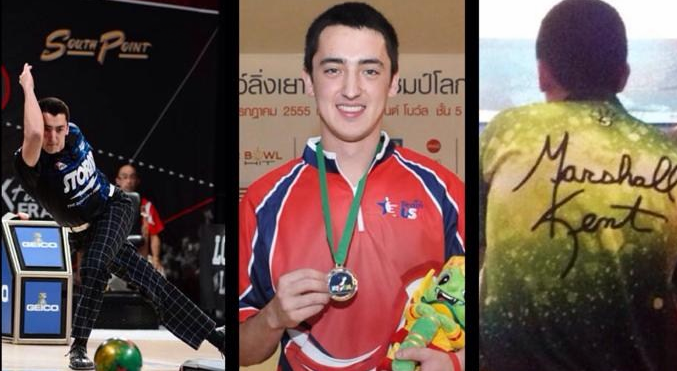 "Hearing that I was picked for the Weber Cup is an absolute dream come true! I've watched the competition since I was a little kid, and I never would have imagined having the chance to compete in the event. It is the most surreal feeling ever."
2016 is quite a year for Marshall Kent, In August he is a new entry into the Trans-Atlantic Weber Cup and in October he tries to avenge his biggest disappointment in bowling. Leading the 2012 Bowling World Cup in Poland tournament for almost the entire week, Marshall went on to lose in the final.
That loss changed him, made him better and that is a scary thought. This guy can bowl, We mean, really bowl. Versatility and ability to feel a shot makes him a dangerous player in any field. Ahead of the Weber Cup and QubicaAMF Bowling World Cup, we got a chance to speak with this amazing young American.
"Marshall, would you like to bowl in the Weber cup" Can you talk us through hearing the news and what does it mean to you?
Hearing that I was picked for the Weber Cup is an absolute dream come true! I've watched the competition since I was a little kid, and I never would have imagined having the chance to compete in the event. It is the most surreal feeling ever.
How well do you know your new team mates for the Trans-Atlantic tussle in Manchester, England in August?
I've spent time outside of the bowling center with each of my teammates before, and I am very comfortable around all of them. Especially with Parker. His personality makes him the perfect fit for the position as our team captain.
You do not just have the Weber Cup coming up, an already busy year will see you represent USA in the QubicaAMF Bowling World Cup in Shanghai, China in October. Are you excited to visit China? Time to avenge your second place in Poland in 2012?
I am thrilled to be going to Shanghai this year, it is a place I've always wanted to visit. What makes it even more special is being able to go and compete with Danielle. I still have the bitter taste in my mouth from finishing 2nd that year after leading the tournament for almost the entire week. Hoisting that trophy has been on my mind ever since then, and now I get a second chance.
Time to avenge your second place in Poland in 2012, That match at Sky bowling was very close and was it not for an open frame in the 10th in game 1 and single pin leaves towards the end of the second, it could have been a much different story, How disappointed were you at the time?
It was one of the most disappointing feelings I've ever felt. But it was also one of the best things that could have happened to me, because it made me hungry to win again, and work even harder from that point on. If I would have won that week, I'm not sure I would be the bowler I am today, simply because of the inspiration from that week to work hard on my game and come back even stronger.
Shanghai with Danielle will be epic, A trip together, I guess that does not happen too many times? As a bowling couple how do you manage the time apart?
We usually do pretty well at seeing each other as often as we can. Even with her bowling on the women's tour now, we still manage to meet up after our tour stops and hang out for a few days in between. But for the most part, we bowl the same events so we see each pretty often that way as well.
When and where did you first pick up a bowling ball?
I picked up my first bowling ball at Nob Hill Bowl when I was just over 1 year old. My parents purchased the bowling center in 1989, before I was born, and growing up it was the place I spent all of my spare time.
Now a five time Team USA player already at a young age, How did you get to this point, Where did you start and when did you decide bowling was for you?
My first bit of inspiration was winning my first Junior Bowlers Tour title years ago. It gave me confidence in my game, and let me know that I can actually compete. Then it slowly grew from there, winning more JBT titles, winning other events locally, then it really took off when I won the Junior Gold National Championship, and earned my first berth onto Junior Team USA. I've always wanted to be a Professional Bowler since I was a little kid watching it on TV, but after winning Junior Gold, I knew that i could make that dream a reality.
Two-time Collegiate Player of the Year (2011-12 and 2012-13) bowling for Robert Morris University were just two of your achievements in collegiate bowling, How much did bowling at college improve you as a bowler and person?
College bowling was definitely a huge stepping stone in my bowling career. I grew as a bowler and as a person as quick as I did not only because I had a great coach while i was there (DJ Hayes), but I had the best teammates imaginable as well. We had such a talented group of bowlers, that we were learning so much from each others experiences and applying them to our own games and mental databases.
When we won the Collegiate National Championship in 2013, we had a line-up that consisted of two Team USA members, 8 members of Junior Team USA, a PBA Regional titleist, a USBC Championships Eagle winner, and two of us would go on to eventually win PBA National titles. The amount of knowledge and experience on that team was unimaginable, and that program is a big reason that I am the bowler that I am today.
Having just interviewed Marisa Belmonte, she mentioned Jason taking 'Baby steps' in bowling going from domestic play through to competition in Asia, Europe, USA. You have done the same and have ventured outside the USA for experience. How much has it helped playing on the World circuit?
Baby steps' is a great way to put it. Each environment is a different animal, between youth bowling, collegiate bowling, Team USA, PBA tour, and the World Tour. The players are different, the patterns are different, and learning how to tackle each environment has been an amazing learning experience.
The more events I bowl, the more I learn, and I've noticed that because of it, my performances have been consistently getting better and better. To me, its like a nonstop problem solving game. Given all of the variables and information (pattern, format, location, lane surface, who I'm following, which balls i have with me, etc.), I have to find the correct solution to the 'problem' that is being presented.
Wins in Russia on the EBT and in the Kingdom of Saudi Arabia where you claimed your first PBA title. What is it about international play you enjoy so much?
The travel and having the opportunity to see different places around the world, places I never thought I would ever see in my life, is what makes it so enjoyable. I also enjoy the formats overseas as well. It makes it a little easier to bowl knowing that I can bowl multiple squads to try to make the finals, rather than having just one single qualifying block to try to make a cut. It takes some of the pressure off, especially when traveling that far to an event.
You have some great sponsors now, How important have they been in helping shape your progress since you joined and what things stand out in terms of knowing you could not get that help without them?
Not only have my sponsors given me access to some of the greatest products in the bowling industry, but they have also helped me develop relationships with the ball reps, and they have been extremely helpful in helping me attack the lanes at different tour stops, and coming up with solutions that I never would have thought of on my own.
Over the range of equipment you have access to, which set are your main go to balls for versatility?
My go-to bowling balls that I take everywhere right now are the Roto Grip Haywire, Storm IQ Tour Solid, and Storm Hyroad. These balls have proven themselves to be winners in my bag over and over again. I feel very comfortable having at least one of each in my bag everywhere I go.
Talking of versatility, Seen at the NAIA Championships you lofted the ball and struck with a shot not all players could make (https://youtu.be/GTdb6vAcbRw). Would it be fair to compare you with a young Chris Barnes in the control you have over a bowling ball?
I'm not sure I could compare myself to Chris Barnes just yet, but I do feel like I have become very creative in what I can do with a bowling ball. I don't believe in the whole idea of waiting for a shot to favor your game. I can't see why a bowler can't find a shot on every pattern they bowl on. It may not be the reaction that is good enough to win the tournament, but I think you can always find a look to at least be competitive and give yourself a chance to place as high as you can.
Which bowlers did you follow growing up and how surreal was it to find yourself on the lanes with some of them later?
I saw Chris Barnes, Tommy Jones, and Wes Mallott quite a bit growing up. I remember my first ever PBA tournament (US Open in 2012), and seeing literally every bowler that I have ever watched on TV before, and it was the most amazing experience of my life.
Seeing them in person is completely different than watching them on TV. I ended up making the round of 24 that week, and that tournament was what gave me the confidence to know that I can compete at that level.
I am sure a question you get a lot is, what is it like playing on the PBA tour?
It's challenging, and exciting. It is a constant test of my ability against the best bowlers in the world. Not only that, but it is a great way to meet some great people, and create some close friendships as well. I wouldn't trade it for anything in the world.
Just because your progress has been good in bowling does not mean playing and earning will always be there for you, What back up plans have you put in place for a career and if you were not a bowler, what would you be?
I graduated with my degree in Business Administration from Robert Morris University, so that was the start of my backup plan. I do have some connections that have already offered me jobs if I decide that bowling gets old or boring (which I don't see happening any time soon), so its nice to know that if bowling doesn't work out, I always have some other options in place.
You now have a chance to thank a few people who helped you become the talent you have become, Who gets a shout out Marshall?
The biggest contribution to my career has definitely been my family. My parents (Jim and Susan) have always been supportive of my bowling since the very beginning, and without them I wouldn't be where i am today.
Harry Mickelson has been a great mentor to me and has given me great advice for a long time.
My Robert Morris teammates who have always pushed me to be the best I can be, my coaches DJ Hayes and Mike Jasnau who have helped me with my game a great amount and have helped me stay competitive even when I am not at my best.
I have to thank Diandra Asbaty as well, because she played a big role in helping me get my first Storm contract, and got my foot in the door.
And finally my sponsors Storm, Turbo, and Apparel EFX for providing me with the greatest products in the industry and believing in me as a player, and as a person.
Finally Marshall, pretty much the same question everyone gets, Why should people try bowling?
People should bowl because of the opportunities it presents. You can start competing for scholarships as soon as 3 years old, all the way until you turn 21. The opportunity to compete at the collegiate level, and earn even more scholarships through school programs.
The opportunity to earn money, and travel not only at the amateur level, but at the professional level as well. I have done more traveling in the past 3 years than I would have ever imagined doing in my entire life. The opportunities bowling presents are endless, and that is why people should bowl.