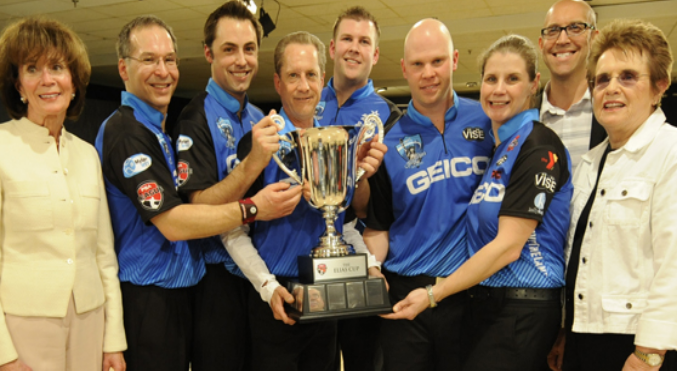 CHICAGO –
Peggy Elias, the wife of the Professional Bowlers Association founder Eddie Elias, died Tuesday in Akron, Ohio. She was 72.
Eddie and the former Margaret (Peggy) Emerson both were Akron natives. She was not only renowned for her beauty, but had a wonderful singing voice that attracted a talent scout after she represented Ohio in the 1964 Miss America pageant. She eventually landed a spot with the singing group, the Pennsylvanians.
In an article by the late hall of fame bowling writer Dick Evans in 2008, Evans wrote that Peggy called Eddie, who had already established a reputation as one of the nation's leading personal representation agents and career managers for several well-known athletes and show business personalities, to see if he could help her jump start her career in New York.
Eddie arranged a meeting with the William Morris Agency which led Peggy to a successful career in modeling and commercials. What started as a professional relationship soon turned into a romance and the couple soon began dating. They were married on Nov. 21, 1968, in New York City, and they reigned as one of Akron's most celebrated couples for nearly 30 years until Eddie's death in November 1995, six months after he suffered a major stroke.
After returning to her hometown, Peggy started her second career as a devoted mother of the couple's two daughters, Rainy Margaret (born in 1971) and Annie Marlo (born in 1974), and as a community volunteer.
Peggy was a tireless supporter of The University of Akron, which named her an honorary alumna in 1997 in recognition of her outstanding service and dedication. She served UA as president of the Buchtelles, raising money for student scholarships, and was featured as a guest soloist on the University's 1979 Christmas album, considered to be one of the best albums of the season. She also served as a member of the Stewardship Committee of The University of Akron Foundation, was a generous donor to the College of Business Administration, and was instrumental in creating the Edward G. Elias Bowling Center in the Student Union, which houses important memorabilia from Eddie's years with the PBA and Peggy's career as a spokeswoman and model. Most recently, she was deeply committed to helping UA students through the annual Edward G. Elias Bowling
Tournament.
She also served as a longtime member of Witan (Women in Touch with Akron's Needs), volunteered with the Surgery Department at Akron Children's Hospital, Mobile Meals, the Tuesday Musical Association and she taught Sunday school.
She is survived by her daughters, Rainy (Chris Staniszewski) of West Palm Beach, Fla., and Annie (Adrian Garcia) of Columbus, Ohio; grandchildren Edie Staniszewski, and Emerson and Alec Garcia; aunt Mary Lou Conn and sister Linda Williams, both of Terra Alta, W.Va.; and numerous other relatives and friends.
In Eddie's absence, Peggy made occasional appearances at important PBA events, including the organization's 50th Gala celebration in Las Vegas and the 2013 PBA League Elias Cup finals in Indianapolis where she presented the trophy named in her husband's honor to Billie Jean King and her GEICO New York City WTT KingPins team.
In lieu of flowers, donations may be made to the Edward G. Elias Bowling Tournament or
St. Jude Children's Research Hospital
. Gifts to the tournament can be made at
www.uakron.edu/donate
or mail a check (payable to the UA Foundation) to The University of Akron, Department of Development, Akron, OH 44325-2603. Gifts to St. Jude can be made at
www.stjude.org/give
or mail a check to 501 St. Jude Place, Memphis, TN 38105.