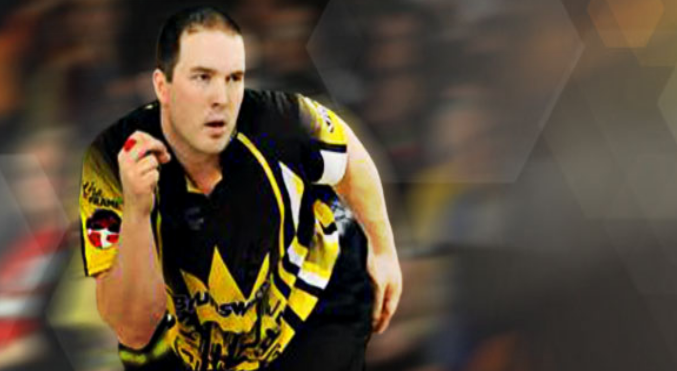 "I would be honored to compete in the Weber Cup. I have been told I would a few times and then a few times I was told only for Team USA members when I wasnt on the team. If it was Team USA only, Myself, TJ, Barnes, Kent or mix in a few others but I think the 4 of us could handle our own."
Sean Rash first burst onto our screens in a bright yellow shirt and tearing up the lanes. We got a chance to meet with Sean during this excitement and early in Talk Tenpin's career at a clinic in Selby, England. He also joined us for one of our first live chats on the website. Almost 10 years later it was time to catch up with him just as he had finished a fine fourth in the Japan Cup.
---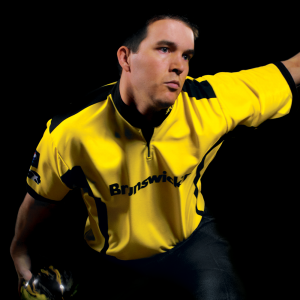 2008 was the last time you spoke with talk tenpin. Well not quite speaking but a live chat with our viewers back in the days before Facebook. A lot has happened since then, not least 11 PBA titles, Player of the year, Medals for Team USA or so much more in your personal life. Looking back at those eight years, what was your standout moment?
I think getting married and having a child and realizing so much more to life. It has changed the way I handle things and look at things also. On the bowling side, it is easily winning POY.
When we first met you in 2007 at clinics in the UK you were a raw young talent who wore a cool yellow shirt. Now you are an accomplished pro with a lot still ahead of you, What goals do you still have?
I have plenty of goals, would like to win every single major offered. Would be nice to win POY a few more times. Win Gold Medal Team Event at the Worlds with Team USA. Help grow bowling worldwide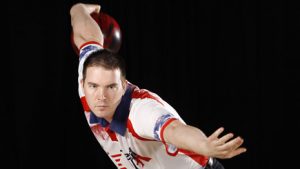 Weber Cup, For whatever reason you have not made the line up yet. What would it mean to you to play in this spectacle? Also, assuming you pick yourself, who would be the team you knew could defeat the Europeans?
I would be honored to compete in the Weber Cup. I have been told I would a few times and then a few times I was told only for Team USA members when I wasnt on the team. If it was Team USA only, Myself, TJ, Barnes, Kent or mix in a few others but I think the 4 of us could handle our own.
Part of the Brunswick Family for some time now, I say family as you really are a close staff unit having seen this for myself at the Italia Challenge back in 2012. Can you see yourself staying with the brand forever like Parker?
I have been blessed and been with Brunswick for 16 years now. I do not plan on going anywhere anytime soon. Loyalty, history and family mean everything to me.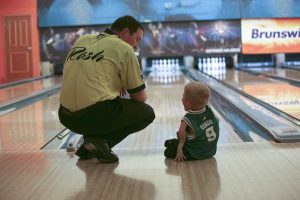 It seems now that the youth players are making a strong push on tour, As you get older, is the body taking the battering well like it did when you were younger and what things do you do to keep fitness levels up?
The body is getting older. I have started to try and train and get in better shape. I also had a hand injury and had to deal with making adjustments that way. Younger players just have no fear on getting hurt. Be interesting to see how there feel when they are my age.
A good finish recently in Japan, How are you feeling about the upcoming season?
The 2017 season is off to a good start making the TV show in Japan and finishing 4th. I am excited about the majors coming up and all of the events I am scheduled in competing this year.
With all the travel and a young family, how difficult is is saying Daddy has to go to work for a few weeks?
I think we forget sometimes that being away from home and focused on winning can be difficult, especially when kids get ill. It is extremely difficult. I spend over 200 nights a year on the road but my wife Sara understand and eventually my daughter Kaylee will as well. I am lucky they get to travel every now and then to events.
Equipment wise, are you excited about any of the new releases and whats the oldest Brunswick ball in your arsenal that still gets a showing?
I am definitely excited about the True Nirvana and Fanatic SS. I have never been a player to keep a lot of old balls in the bag. My oldest is probably a Melee Jab.
Of all the patterns played today, which ones are you comfortable on and which do you know you will just have problems with?
The patterns are all relative on how the field plays them. I love to strike but I don't mind a grind every now and then.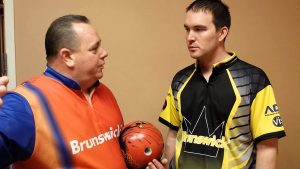 Chuck Gardner, I see him whispering in your ear at events, how valuable are his eyes to you?

Chuck has been a big help for years now along with many of our R&D guys and Team USA coaches etc. We have more than just a player/coach relationship and that is what makes it so good. Having someone to just talk to is big. His eyes def help not only me but our entire team. People forget how hard it is to work with so many players, personalities and games.
As a player now seasoned and seeing the young guns so fearless, what advice do you have for them as someone who has already lived that expectation?
Learn as much as you can but also pay respect to those who have paved the way. Dont feel like you are entitled to everything and earn what you get and be thankful we play a game.
I know we have the PBA League but is it time we had another PBA brand Shootout event and we see who has the best staff team over various patterns each year, or maybe even tagged onto WSOB for another TV special?
The PBA Summer Shootout was a Brand event on 1 pattern a few years back. It did show case the teams, etc. I like doing it as a total team deal but need funding for an event like this. Pick so many players, etc.
How famous have you become when you travel or around town and does you little one understand Daddy is kinda a big deal in bowling?
I try and tell myself I am not famous at all. People and the media dictate that. MY daughter is still to young to understand what being a star is or why I travel so much.
We will see you soon in the Brunswick Euro Challenge, what other international events are pegged for 2017?
I will be in Germany for the Brunswick Euro Challenge. I am going to Greece, Italy and Amsterdam for Brunswick events and clinics to help spread the love of the game before I compete in such a great event.
Other International Events for sure will be Thailand in October. I am hoping to represent Team USA at the World Championships in Kuwait at the end of the year. Not sure what else as of right now.
Finally Sean, Good luck and continued success, A simple question to end with. Why should people try bowling?
People should go out and bowl because anyone can do it. It is a fun game that challenges you every single shot. It doesn't matter what gender you are, size, age, race, age, height, athletic ability, etc. Plus, it is a game you can find all over the world to play.