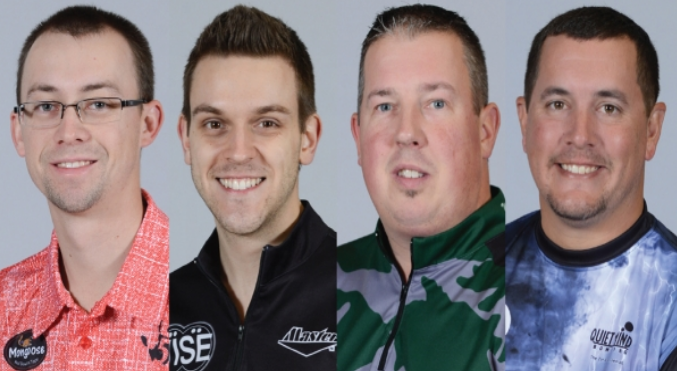 KATY, Texas (Feb. 5, 2017)
– Thanks in part to a commanding performance in the end-of-season GEICO PBA World Series of Bowling in Reno, which included his first major title in the PBA World Championship, 24-year-old E.J. Tackett of Huntington, Ind., was the overwhelming choice as the 2016 GEICO Chris Schenkel Professional Bowlers Association Player of the Year.
The results of voting by his fellow PBA members and international bowling news media representatives was announced by PBA CEO and Commissioner Tom Clark during Sunday's Main Event Terrell Owens PBA Super Clash which aired live on ESPN.
Clark also announced that 23-year-old Quebec City native Francois Lavoie was selected as the 2016 Harry Golden Rookie of the Year, becoming the first Canadian ever to win that award. The 2016 Steve Nagy Sportsmanship Award, selected by PBA Tour players, went to Tom Smallwood of Saginaw, Mich., and the 2016 Tony Reyes Community Service Award winner for exceptional community or charitable activities was Rhino Page of Orlando, Fla.
Tackett, PBA's only four-time title winner in 2016, was involved in a highly-competitive Player of the Year race coming into the World Series where he not only won the PBA World Championship for his fourth title of the year and he was one of three players to qualify for the match play finals in all four PBA animal pattern championships (Cheetah, Chameleon, Scorpion and Shark) that are part of the WSOB. He ended the year as the PBA's earnings leader ($154,900) and finished third in scoring average (224.49 for 490 games).
In addition to the PBA World Championship, Tackett won titles in the 2016 Xtra Frame Storm Open, Xtra Frame PBA Team Challenge and the Bear Open during the PBA Fall Swing.
At age 24, he became the second-youngest player to win PBA's top annual individual honor. Only the late Billy Hardwick was younger when he was selected as PBA's first Player of the Year in 1963 at age 22.
"It's absolutely amazing," Tackett said. "I switched to 16 pounds at the end of the 2015 season, had some success and just kept doing what I do. I got the ball rolling the right way and kept it going all year. Winning on television gave me a boost in confidence. I always knew I could do that, but to actually win on TV was something else.
"One thing I've always noted about the (Player of the Year) award is it's named for Chris Schenkel (the PBA Hall of Fame announced for years on ABC-TV). Most people don't know he was from my home town."
Tackett also is off to a great start in 2017, winning the PBA Tour's first event, the DHC PBA Japan Invitational in Osaka, Japan.
"I'm going to stay in the same mindset and try to make TV shows and win," he said. "That's why I do what I do – try to win."
Lavoie, who joined the PBA following a successful collegiate bowling career at Wichita State University, made four television finals during his first year, but none was more impressive than the U.S. Open where he not only won his first title – and a major at that – but also bowled the first nationally-televised 300 game in the prestigious tournament's colorful history. The sport's oldest major championship began as the BPAA All Star in 1942.
Lavoie was involved in a Canadian-dominated Rookie of the Year race with Ontario's Graham Fach, his Team Canada teammate, who drew first blood when he won the Barbasol PBA Players Championship early in the year to become the first Canadian to win a PBA Tour title (also a major). After winning the U.S. Open, Lavoie broke open the race in the World Series, winning his second title in the PBA Shark Championship and finishing the season fifth among the PBA's average leaders (222.79 for 330 games) and seventh in earnings ($79,920).
"Usually there aren't multiple rookies who win titles, but I was fortunate to have a strong finish and that's kind of what sealed the deal," Lavoie said. "I'm sure Graham had the same goal, but only one of us can win. To finally have it official is great.
"(Winning Rookie of the Year) was a goal," Lavoie said. "Every year on Team Canada our coach tries to help us set goals and that's one of the goals I set for myself. You try to aim high, but also set a goal that's feasible. It justifies all of the hard work I've put in.
"It's been a great year for Canadian bowling."
Smallwood, 39, has been a popular competitor since joining the PBA Tour in 2009. After losing his job with General Motors during the economic downturn, Smallwood decided to pursue his childhood dream of competing on the PBA Tour. He entered the former PBA "exempt tour" qualifier in Allen Park, Mich., and won an exemption to bowl full-time the following season. But he then pulled off a dream victory, winning the
PBA World Championship for $50,000 and his first Tour title, resulting in enormous national media attention that included a feature in Sports Illustrated, network television exposure and major national newspaper features.
Smallwood won a second title in the 2013 PBA Scorpion Championship and he has made 11 additional championship round appearances, including runner-up finishes in the 2011 PBA Tournament of Champions and the 2016 PBA World Championship.
"It's a really a good deal," Smallwood said, adding with a grin, "When you don't say much, people think you're nice, but it's nice to be thought of as a good guy. I spend a lot of time with (three-time Nagy award winner) Parker Bohn, and I know what kind of guy he is. To be in the group with him, and the other winners, is pretty cool."
Other nominees for the Nagy award included 2015 winner Josh Blanchard of Mesa, Ariz.; Lavoie; Brad Miller of Raytown, Mo., and Jon Van Hees of Charlestown, R.I.
Page is the fourth recipient of the Tony Reyes Community Service Award, honoring the popular PBA Tour champion who lost his life following a traffic accident in 2012.
Joining previous recipients Parker Bohn III, Missy Parkin and Ed Godbout, Page was nominated for his involvement over the past eight years with the Thomas Cacioppo family in New York in raising money to combat Crohns and Colitis. The Rhino Page Strike Out Crohns and Colitis fund-raisers have generated more than $225,000 to help combat the debilitating digestive tract disorders.
In March, Page will expand his involvement by hosting the PBA Strike Out Crohns and Colitis South Open at Boardwalk Bowl in his adopted hometown, Orlando, Fla.
The 2016 PBA award winners will receive their awards during the PBA Hall of Fame and Awards ceremonies at the Grand Casino in Shawnee, Okla., on Monday, Feb. 13. The hall of fame ceremonies will be live streamed on PBA's Xtra Frame online bowling channel, beginning at 8 p.m. EST.
The public is invited to attend the dinner. Tickets are $100 plus tax, and can be purchased in advance online (visit pba.com/tickets).