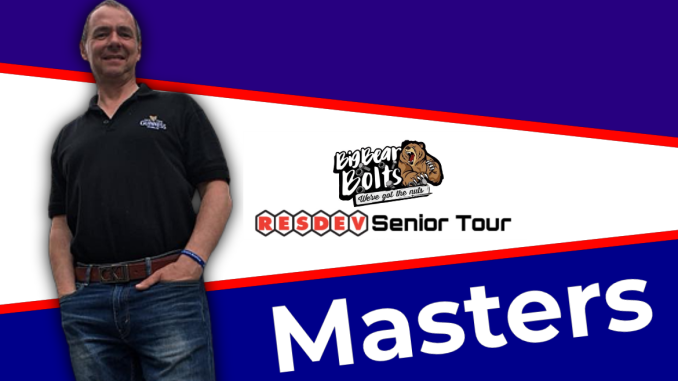 Well, another tour over and what a masters we had to finish the year, amazing bowling by the 4 finalists who all averaged over 230 all day on a very challenging pattern.
Congratulations to Scotlands Alan Keddie on his victory to be this years masters champion, narrowly defeating Team England senior Paul (lobbers)Loberman in an epic final 765 to 721, it was amazing to watch them going at each other. Congratulations also to Cliff Dew in 3rd and Mark (smig) Smith in 4th.
Now I need to do a lot of thank you's, firstly to Altrincham Bowl for the way they looked after us all day.
Thanks to all the bowlers for the respect in the silence we had for remembrance Sunday. It was an honour to be there. My personal thanks to Thomas Grose of Riding the Ditch for the livestreaming he has done for the tour this year. I sincerely hope the bowlers appreciate this as much as I do.
Thanks also to Al Turner for all the brillaint pictures he has taken at all the stops .Now to the Sponsors Nick Wright of Resdev who believed in me 10 years ago to sponsor the tour and make it what it is today and by no means any less Stuart England of Big Bear Bolts who joined this year and again I cannot thank him enough for all his help.
Thanks to all the centres that have hosted us this year. It has been a privilege for me for all the help they have given me in arranging everything. Right that's enough from me for now. I will be confirming dates and Venues in the next few days. To all bowlers I hope you have enjoyed this year and I look forward to seeing you next year.
Jack Smith
Final
| | | | | | | |
| --- | --- | --- | --- | --- | --- | --- |
| NAME | Bonus | 1 | 2 | 3 | BONUS | TOTAL |
| ALAN KEDDIE | 5 | 278 | 235 | 237 | 15 | 765 |
| PAUL LOBERMAN | 0 | 227 | 267 | 227 | 0 | 721 |
| CLIFF DEW | 5 | 235 | 189 | | 10 | 434 |
| MARK A SMITH | 0 | 172 | | | 0 | 172 |
Round 3
| | | | | | | |
| --- | --- | --- | --- | --- | --- | --- |
| Seed | NAME | Bonus | 1 | 2 | BONUS X 2 | TOTAL |
| 1 | MARK A SMITH | 0 | 248 | 217 | 0 | 465 |
| 8 | NEV ROBINSON | 15 | 227 | 207 | 30 | 464 |
| | | | | | 0 | 0 |
| 2 | CLIFF DEW | 5 | 237 | 278 | 10 | 525 |
| 7 | MIKE HALLIWELL | 10 | 177 | 203 | 20 | 400 |
| | | | | | 0 | 0 |
| 3 | ALAN KEDDIE | 5 | 223 | 279 | 10 | 512 |
| 6 | GEOFF BROWN | 10 | 226 | 201 | 20 | 447 |
| | | | | | 0 | 0 |
| 4 | PAUL LOBERMAN | 0 | 210 | 269 | 0 | 479 |
| 5 | KEVIN LAMB | 15 | 181 | 158 | 30 | 369 |
Round 2
| | | | | | | | | |
| --- | --- | --- | --- | --- | --- | --- | --- | --- |
| | NAME | CFWD | BONUS | 1 | 2 | 3 | BONUS X 3 | TOTAL |
| 1 | MARK A SMITH | 1444 | 0 | 223 | 248 | 257 | 0 | 2172 |
| 2 | CLIFF DEW | 1439 | 5 | 208 | 258 | 228 | 15 | 2148 |
| 3 | ALAN KEDDIE | 1221 | 5 | 279 | 255 | 220 | 15 | 1990 |
| 4 | PAUL LOBERMAN | 1262 | 0 | 234 | 223 | 221 | 0 | 1940 |
| 5 | KEVIN LAMB | 1269 | 15 | 180 | 213 | 209 | 45 | 1916 |
| 6 | GEOFF BROWN | 1210 | 10 | 185 | 235 | 234 | 30 | 1894 |
| 7 | MIKE HALLIWELL | 1184 | 10 | 222 | 214 | 224 | 30 | 1874 |
| 8 | NEV ROBINSON | 1237 | 15 | 190 | 202 | 177 | 45 | 1851 |
| | | | | | | | | |
| 9 | TREVOR LAMPRELL | 1205 | 15 | 176 | 194 | 209 | 45 | 1829 |
| 10 | MARK LOUGHBOROUGH | 1285 | 5 | 182 | 166 | 173 | 15 | 1821 |
| 11 | ANDY GILLESPIE | 1174 | 10 | 161 | 205 | 193 | 30 | 1763 |
| 12 | GARY BARLOW | 1183 | 10 | 180 | 170 | 196 | 30 | 1759 |
| 13 | FRANK LINDSAY | 1186 | 10 | 171 | 183 | 171 | 30 | 1741 |
| 14 | ANDY PREECE | 1171 | 10 | 160 | 168 | 157 | 30 | 1686 |
| 15 | AL TURNER | 1162 | 20 | 132 | 162 | 163 | 60 | 1679 |
| 16 | COLIN GROSE | 1182 | 0 | 170 | 0 | 0 | 0 | 1352 |
Round 1
| | | | | | | | | | | | |
| --- | --- | --- | --- | --- | --- | --- | --- | --- | --- | --- | --- |
| | NAME | bon | 1 | 2 | 3 | 4 | 5 | 6 | SCR | bon x 6 | TOTAL |
| 1 | MARK A SMITH | 0 | 245 | 236 | 227 | 211 | 268 | 257 | 1444 | 0 | 1444 |
| 2 | CLIFF DEW | 5 | 218 | 246 | 216 | 266 | 237 | 226 | 1409 | 30 | 1439 |
| 3 | MARK LOUGHBOROUGH | 5 | 175 | 246 | 235 | 222 | 211 | 166 | 1255 | 30 | 1285 |
| 4 | KEVIN LAMB | 15 | 182 | 267 | 154 | 160 | 203 | 213 | 1179 | 90 | 1269 |
| 5 | PAUL LOBERMAN | 0 | 180 | 181 | 223 | 247 | 227 | 204 | 1262 | 0 | 1262 |
| 6 | NEV ROBINSON | 15 | 186 | 187 | 203 | 184 | 206 | 181 | 1147 | 90 | 1237 |
| 7 | ALAN KEDDIE | 5 | 151 | 189 | 166 | 227 | 194 | 264 | 1191 | 30 | 1221 |
| 8 | GEOFF BROWN | 10 | 177 | 208 | 180 | 202 | 183 | 200 | 1150 | 60 | 1210 |
| 9 | TREVOR LAMPRELL | 15 | 192 | 203 | 168 | 174 | 180 | 198 | 1115 | 90 | 1205 |
| 10 | FRANK LINDSAY | 10 | 174 | 191 | 161 | 210 | 189 | 201 | 1126 | 60 | 1186 |
| 11 | MIKE HALLIWELL | 10 | 170 | 165 | 192 | 193 | 200 | 204 | 1124 | 60 | 1184 |
| 12 | GARY BARLOW | 10 | 179 | 149 | 191 | 213 | 191 | 200 | 1123 | 60 | 1183 |
| 13 | COLIN GROSE | 0 | 224 | 206 | 185 | 214 | 181 | 172 | 1182 | 0 | 1182 |
| 14 | ANDY GILLESPIE | 10 | 218 | 194 | 202 | 190 | 185 | 125 | 1114 | 60 | 1174 |
| 15 | ANDY PREECE | 10 | 202 | 181 | 188 | 158 | 230 | 152 | 1111 | 60 | 1171 |
| 16 | AL TURNER | 20 | 171 | 172 | 192 | 199 | 149 | 159 | 1042 | 120 | 1162 |
| | | | | | | | | | | | |
| 17 | MARTIN CLEMENTS | 15 | 164 | 161 | 181 | 200 | 150 | 208 | 1064 | 90 | 1154 |
| 18 | HELEN CATON | 15 | 190 | 163 | 219 | 162 | 152 | 176 | 1062 | 90 | 1152 |
| 19 | DAVE BROOMFIELD | 10 | 201 | 172 | 190 | 159 | 176 | 189 | 1087 | 60 | 1147 |
| 20 | BILL BROWN | 15 | 184 | 173 | 180 | 183 | 140 | 192 | 1052 | 90 | 1142 |
| 21 | AL JENKINS | 15 | 158 | 144 | 169 | 203 | 196 | 181 | 1051 | 90 | 1141 |
| 22 | STEVE LAYCOCK | 10 | 161 | 213 | 147 | 162 | 169 | 215 | 1067 | 60 | 1127 |
| 23 | RON OLDFIELD | 15 | 185 | 173 | 173 | 167 | 161 | 167 | 1026 | 90 | 1116 |
| 24 | CAROLE ORANGE | 25 | 165 | 182 | 166 | 157 | 157 | 135 | 962 | 150 | 1112 |
| 25 | STEVE COATES | 10 | 152 | 163 | 163 | 210 | 167 | 194 | 1049 | 60 | 1109 |
| 26 | GRAHAM HEPWORTH | 5 | 139 | 161 | 234 | 159 | 181 | 148 | 1022 | 30 | 1052 |
| 27 | JOHN COOK | 0 | 176 | 192 | 167 | 182 | 163 | 161 | 1041 | 0 | 1041 |
| 28 | CARL TAYLOR | 5 | 147 | 182 | 143 | 213 | 132 | 146 | 963 | 30 | 993 |