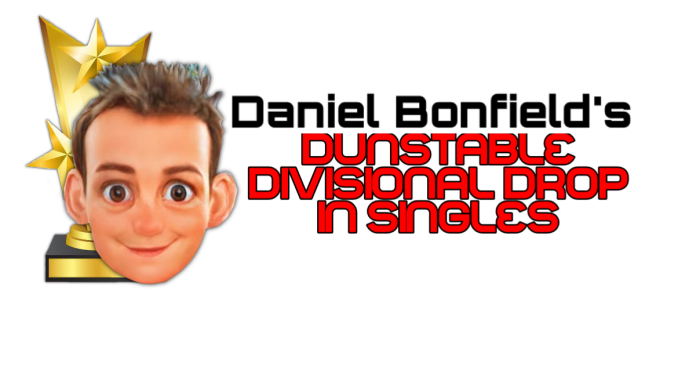 The final week of season 11. The Premiership title all wrapped up which Lee Miller dominated. But there was still a lot to play for in the Championship. Will Jamie Hayes hold and claim the title ?, or will Matt Nash come up from behind – he's preferred method of approaching anything… stealthily from the rear.
Firstly a big congratulations to Jack Stone who after 8 months finally caught a FISH ! – well done… him and mark couldn't stop looking at pictures of it… I even over heard mark say "cor will you look at the gills on that, and the fins aren't bad either"
So lets get into it shall well..
Championship
Not one, but 2 900+ series. Jackie Wyatt had a nice set – and her bowling weren't bad either (boom, boom). Sexy Jackie putting together games of 231,200,267,244 for a 942 set and the high series pot. Nash starting off well with 2 200 games… But Jamie was having a good week and he rounded his set off with a 268 for a 930 and the high game pot.
Overall
The 930 set from Jamie gave him the title, With Matt Nash in 2nd and sexy Jackie moving up into 3rd, with young Alfie slipping down to 4th after having a bad final week, but still finishing off with a 185 average which was his best performance so far in the league.
Them two high sets from Jackie and Jamie means that their average sees them promoted into the Premiership for season 12. Also promoted are Matt Nash with a 200 average, and Peter Fyles with a 189 average.
Premiership
Nothing really to play for this week – some of the bowlers at the top had a week off. Big Mac Macpherson rounded off a decent season taking the high game pot with a 278 in the first game. And winning the high series pot was Carp Boy Jack Stone with a 955 series.
Overall
Congratulations to Lee Miller on dominating the prem this season, not sure if we will see him much in season 12 with the arrival of his first born… he seem's to be really looking forward to it. So Miller champion, Matt Trotter in 2nd and Alan Keddie in 3rd and Big Mac in 4th.
Next week we re-set the leagues and head into season 12 – if you want to come along, you're welcome and if you want to know more about the league, just message me
Clips of the week
Slow Mo – Slow Carry
https://clips.twitch.tv/BoringScaryWhaleMoreCowbell-a5k-iSNaiqHR2tRr
Finesse !
https://clips.twitch.tv/InterestingBumblingBadgerCmonBruh-n60Q-5qTQ_69uM1r
Get that on camera
https://clips.twitch.tv/FrozenCourageousDumplingsPRChase-OPfbkY1VfbZIN_Ba
Don't forget This Sunday 10th September is the last king of the hill of 2023 – the big summer blow out
Still 8 spaces remaining – ENTER HERE – https://form.jotform.com/231242549866362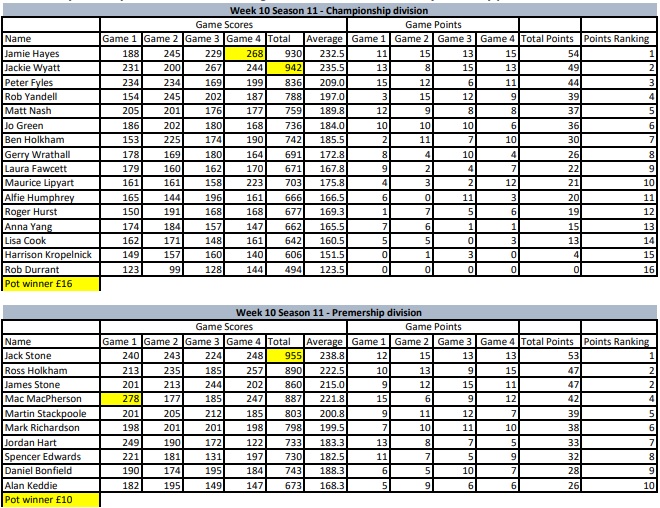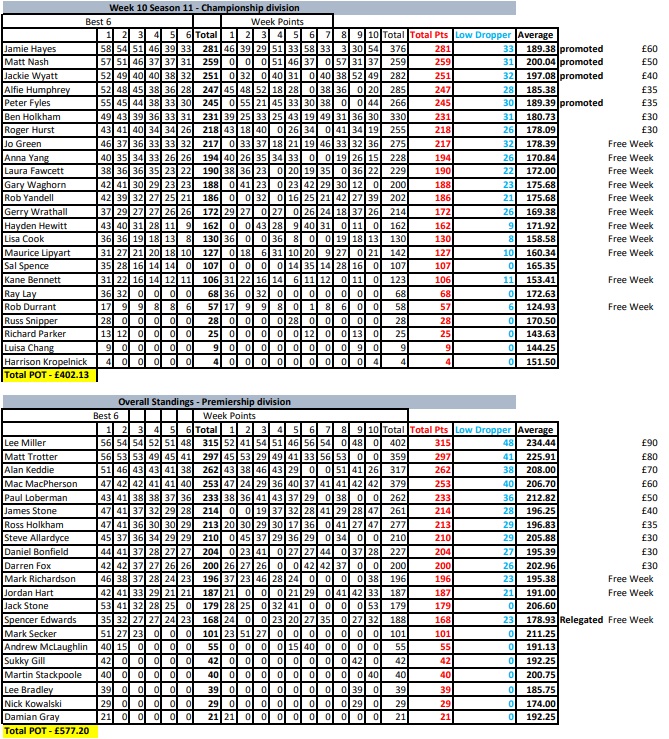 ---
Week 9 of season 11 and it was funky pattern week. And the pattern chosen by Dunstable's resident professional Andy Penny was the PWBA Stockton pattern. Essentially a 43foot pattern with a decent volume of the slippery stuff. This week we welcomed back Lee Bradley and Sukky Gill for their first bowl of the season. Also dropping in for a bowl and adding an international flavour was Nick Kowalski from Russia and Luisa Chang from Taiwan, then Aruba and now Dunstable.
Championship
A 224 was enough to win the high game pot and £18 went to the very dapper Roger Hurst who was hiding a rather severe haircut under a baseball cap. There were only 2 bowlers to break a 700 – Roger was one with a 715 and the other was Sexy Jackie who shot a 759 and won the high series pot.
Overall
Just one week of the season left. Jamie Hayes thinks he's won the title – but he needs to look down the table… because down there lurking in 6th is Matt Nash. Matt is just 38pts behind Jamie but is a week behind so if plays week 10 they will all be bonus points for Matt and he can easily steal the league championship from Jamie.
Premiership
Funky Patterns don't bother Alan Keddie, and after an expensive week showing Anna's daughter all the tourist sights of London he needs to win some money… Alan was straight out in game 1 stringing the strikes together to finish with a pot winning 250 game. But there was only 1 bowler to break an 800, and that had to be the mighty Miller. Lee Miller shooting an 842 set to win another pot.
Overall
The top 3 in the bag – In 3rd place is Alan Keddie, with Matt Trotter in 2nd and Lee Miller top – I can't see any of these positions changing in the final week. Miller averaging 234 for 32 games this season.
Before I sign off – couple of entry forms… September 10th is the last King of the Hill of 2023 – https://form.jotform.com/231242549866362
And on September 30th and October 1st it's the BTBA Championship Tour Mixed Trios event at Dunstable – https://events.btba.org.uk/tournament-details?RecordID=recJGEPGuOJGt8gXd
And now some clips of the week… this week its all about sparing – you can either be lucky or good… Sometimes a bowler comes along and is BOTH – ME
First the Lucky… https://clips.twitch.tv/UnsightlyHungryMarjoramPJSalt-chL3OjSCco5dHmYs
Now the good – This is why I always go for the 2 … it's the best way to spare it.
https://clips.twitch.tv/KawaiiInventiveCrabWoofer-CZ1hNwjWFYrYcLQQ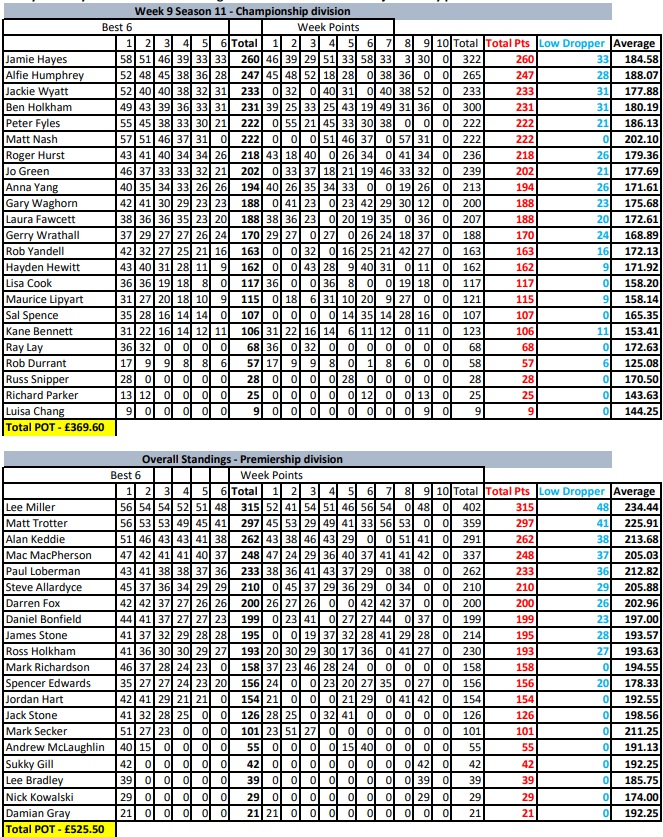 ---
Drop in Singles league – week 8 and Basher on Holiday and having too much fun to write words😆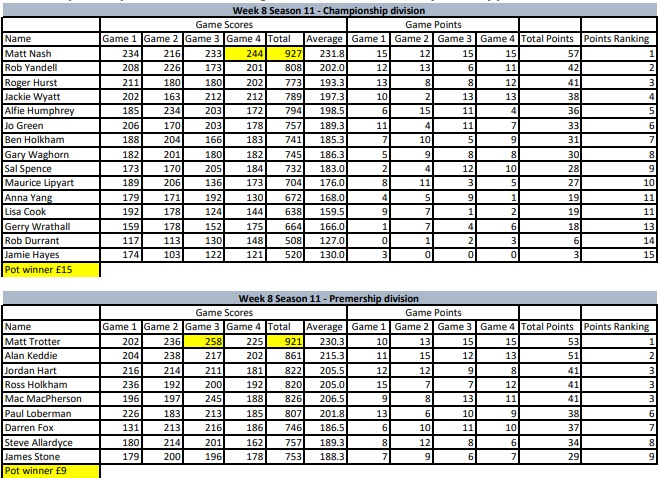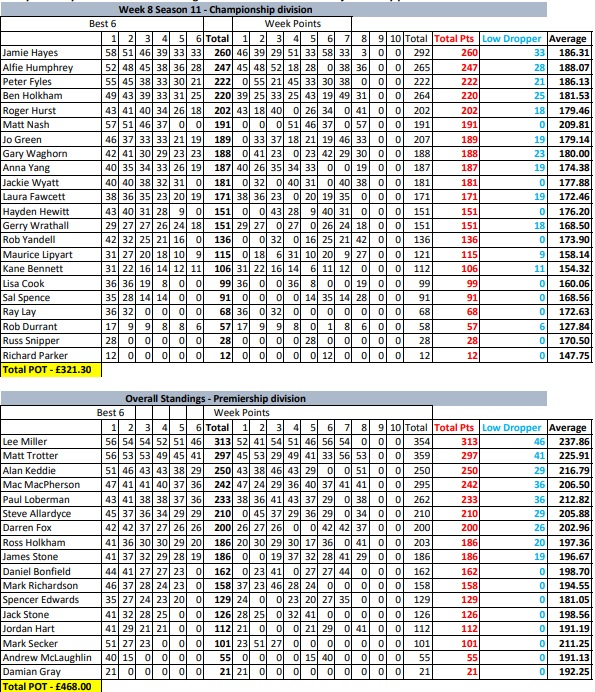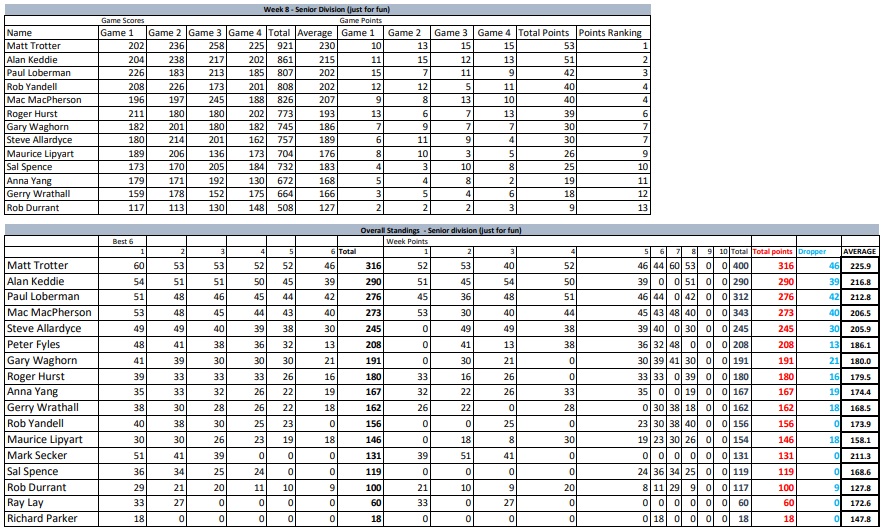 ---
Drop in Singles league – week 7 and we're on it like butter on hot pop corn baby.
Championship
There was some good scoring going on in the championship this week with 4 800 +  series – Peter Fyles 806, Sexy Jackie 815, corporate games gold medallists Jo Green 834, but top the shop was Ben Hollywood Holkham with his 4 game PB series an 875, which won the high series pot. Bizarrely the high game pot went to none of these players. Jamie Hayes had another one of his turbulent series… with a 132 2nd game which was followed up with a 223 then a pot winning 254 game.
Overall
Jamie Hayes is top and on course for promotion. Jamie leads Alfie Humphrey by 31 points, but Alfie has a much lower dropper, however Alfie will be away for a couple of weeks bowling for England. In 3rd is Peter Fyles… and he is just above the average for promotion to premiership.
Premiership
Only 7 bowlers in the prem this week, which means a chance to secure some good points for the chasing pack. The pots went to Miller the pin killer with a 257 game and to Matt Trotter who had the high a series with a 959
Overall
The ferret Lee Miller continues to dominate up at the top 36 pts ahead of Matt Trotter, with Big Mac and his special sauce on the a sesame seed bum, er I mean bun in 3rd. The mid table is getting congested with just 6 pts separating 5 bowlers.
Next week would be funky pattern week… but I'm on holiday and Sexy Jackie will once again be at the wheel – don't give her a hard time and don't moan about what lane she puts you on.
So funky pattern week will be postponed until week 9 – August Bank Holiday
The league wants to wish Alfie Humphrey the best of luck as he heads to Scotland to represent England in the Youth Triple Crown
Here's this weeks clip of the week… Basher destroying the rack !
https://clips.twitch.tv/AggressiveSucculentPenguinChocolateRain-qTdKaL_T1BiOZCdy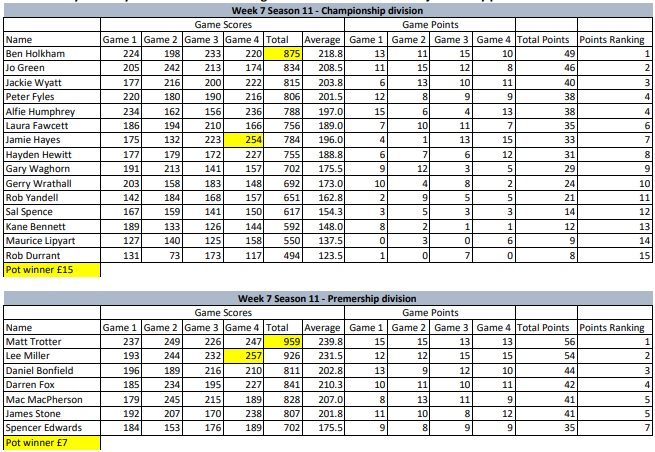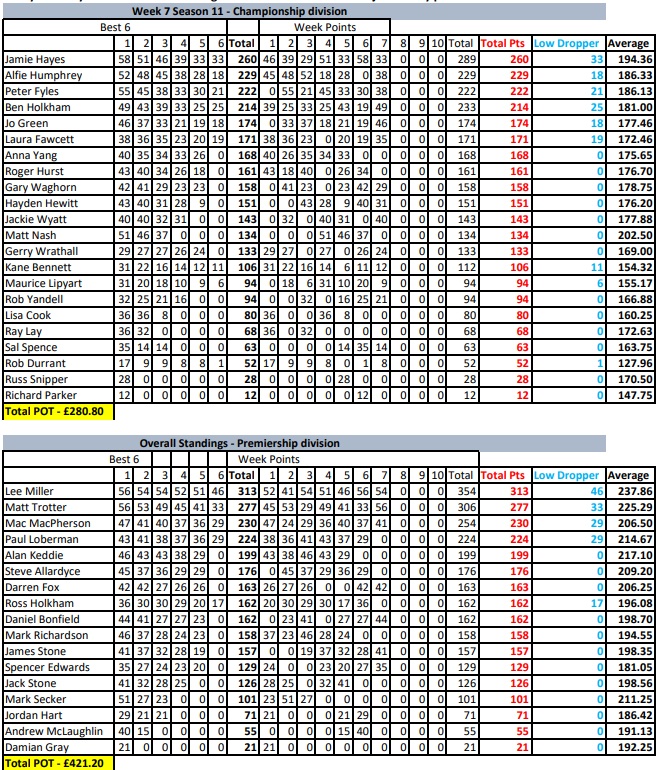 ---
Week 6 of the drop in singles – and after this week we start dropping the lowest scoring weeks and the league really hots up.
Championship
Gary Waghorn with a new ball… and a lovely refurbished spare ball scored a decent set with a 799 – but Jamie Hayes put together 4 good games 216,217,236,235 for a 904 – which won both high game and high series pot.
Jo Green missed TWO 5 pins ! one to the right and one to the left ! – thought I would put that in the report !
Overall
Jamie Hayes is well clear at the top now and well over the 185 average threshold and I think the premiership is calling his name ! – 2nd is Alfie who had a week off after his marathon bowlathon. In third trying to return back the prem is Hollywood Holkham
Premiership
Wow what a display of skittling from the boy Miller the 10 pin killer. A 1066 series with games of 244,267,289, 266 – and he opened the 10th frame of the 2nd game… could of gone 1100
Other notably performances – Darren Fox shot a 912, Andrew McLaughlin shot a 897.
Overall
Miller is in total control this season 50 points ahead of Matt trotter in 2nd and averaging 239 over for 36 games. In third is Paul Loberman with big Mac in 4th.
If your league has stopped over the summer, but you want to keep bowling or need some practicing then you can drop in and join this league at any point in the season. Registration is from 7.30pm and we bowl 4 games starting from 8
Clips of the week ….
She may not be able to hit a 5 pin … but she can spare this ???
https://clips.twitch.tv/PlacidHonorableCurryKevinTurtle-zZMpBqjxxCmcdQM5
and this
https://clips.twitch.tv/RepleteAmorphousDogStrawBeary-exwoShPA6bEQjlTv
Scouting for strikes
https://clips.twitch.tv/PuzzledKnottyCattleDBstyle-rWvI3IpZDq1xtwq6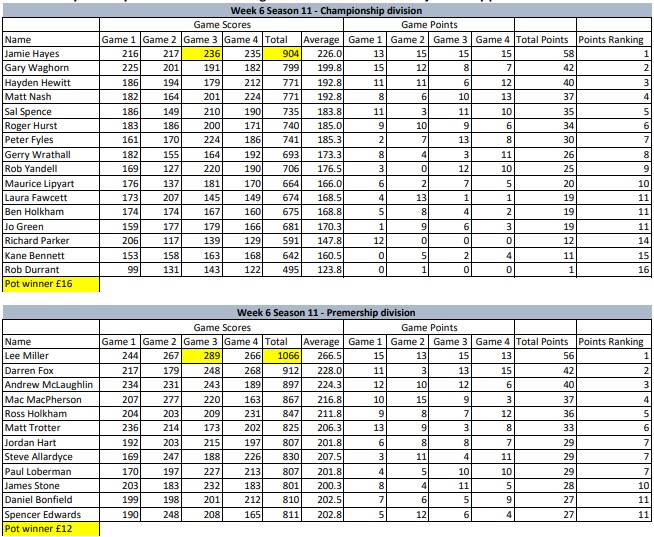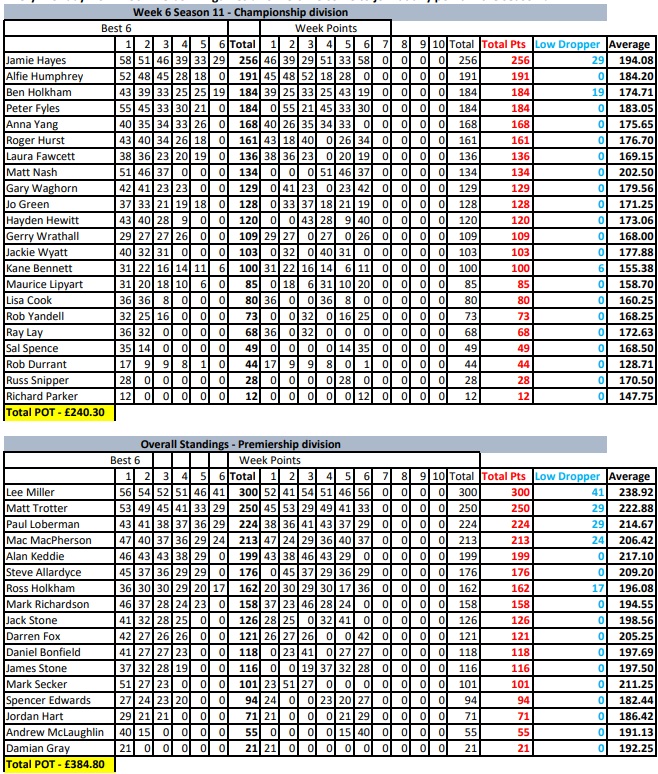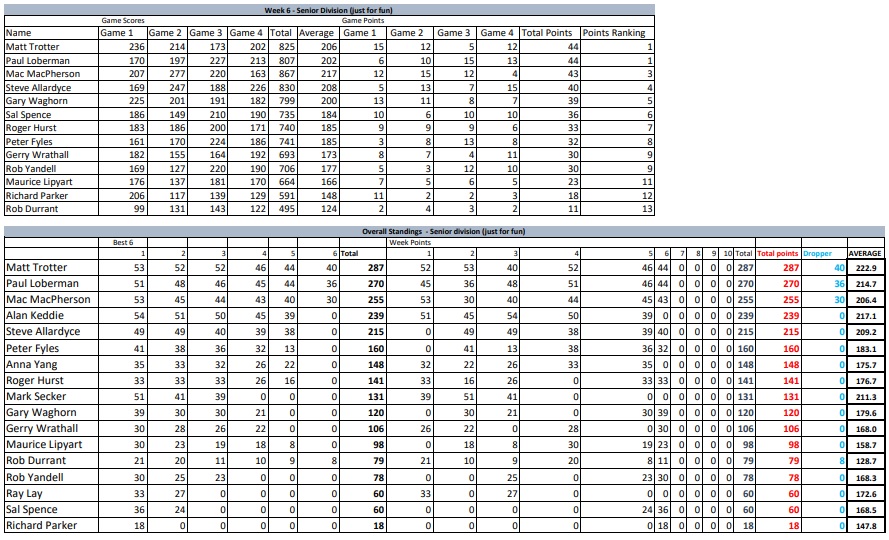 ---
Week 5 – and it was funky pattern week ! Sexy Jackie demanded a shorter pattern….proper threw her toys outta the pram. So the pattern was TaJ Mahal from the Kegel Landmark series – it provided a really stern test. It's also going to be the pattern we play on in the next king of the hill tournament being held on the 20th August – entry form is here https://form.jotform.com/231242549866362
Championship
Ben loves a short one. As straighter bowler, and a tighter pattern suited him as doesn't cross lots of boards. This meant he could keep the ball in play around the head pin. Ben opened up with a 231 game for the high game pot. Ben finished up with a very respectable 776 series for 41pts. But the high series pot was won by Matt Nash. Nashie with his soft release and "gentle" ball speed was able to get a consistent read off his ball and shot an 817 series
Overall
Jamie Hayes is top on 198pts and is averaging over the 185 threshold and could be in the prem next season. 2nd is young Alfie Humphrey on 191pts and in 3rd Anna Yang
Premiership.
It must have been tough – despite Lee Miller winning the high series pot with a 820 he was still 140pins off his average ! which was almost as much as Matt Trotters first game ! – Trotter opened with a 145, but in game 3 shot a 258 to take the high game pot.
Overall
Miller the pin Killer still top with a commanding lead over Matt Trotter… with hop-a-long Alan Keddie in 3rd.
So a tough night on what I thought was a really difficult lane pattern – only 4 bowlers breaking 800… Matt Nash, Jack Stone, Lee Miller and Matt Trotter.
Back to the house pattern next week.
Oh before you go to sleep – lets all laugh at Jamie leaving a ridiculous 9 pin – he needed to put some more revs on it !
https://clips.twitch.tv/OnerousSpoopyNarwhalPlanking-zKpL-iTMyp16ftPc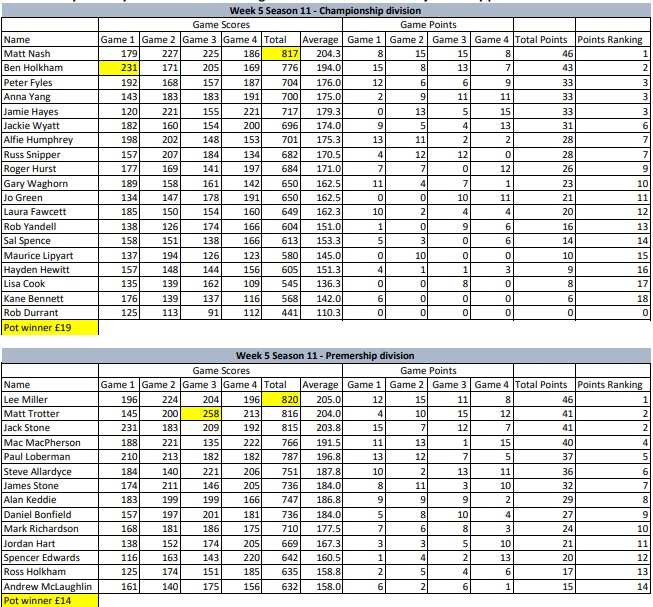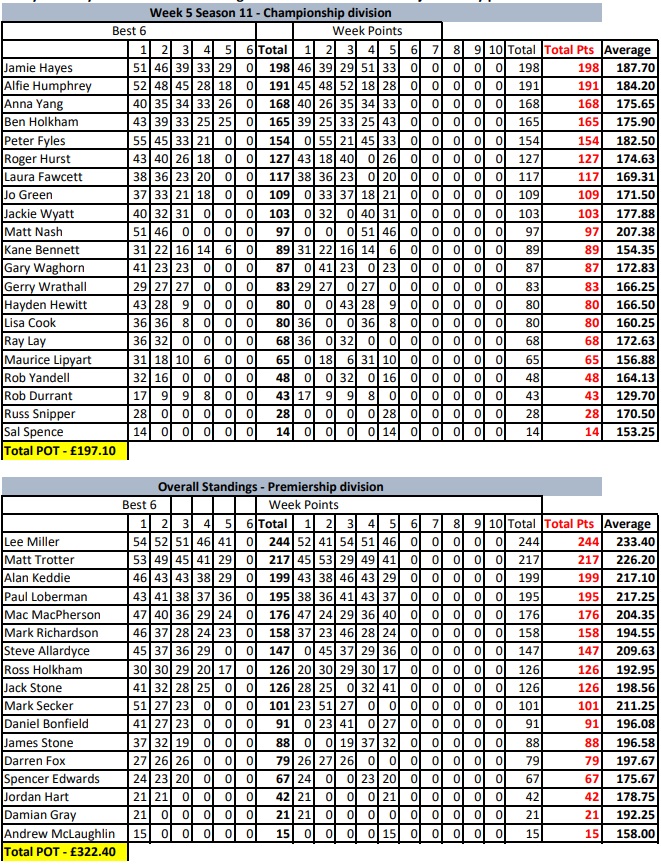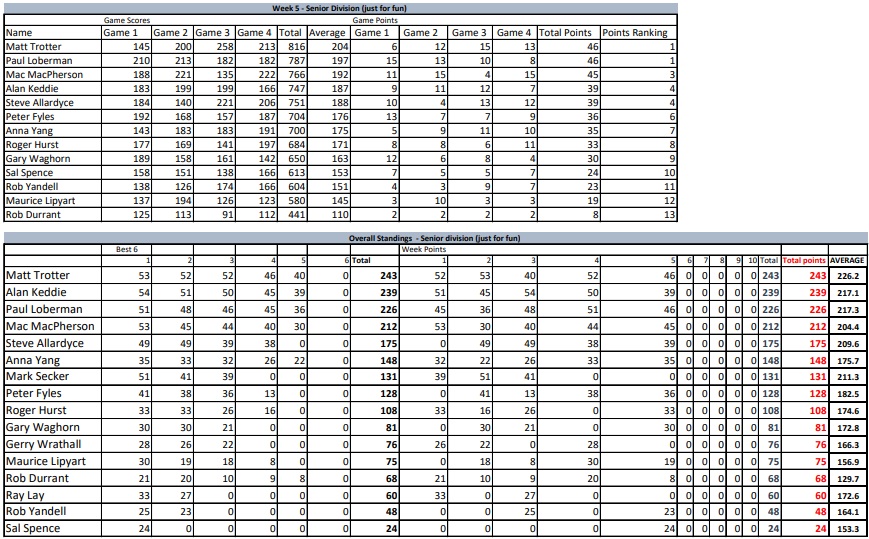 ---
Normally in week 4 of a season, we mix it up and go with a funky pattern, however we've postponed funky pattern week till week 5
Championship
Matt Nash came back and had a bowl, this season playing in the championship after his humbling relegation from the top table of Dunstable bowling. He showed his intent to climb his way back into the prem with a 842 set. Normally a good enough score to at least win him a pot, but Jamie Hayes using the new ball I gave him banged in a last game of 278 for a 876 series and won both the high game and high series pot. Which I should really get a share of – as it was my ball !
Overall
Jamie is now top of the league, over taking Alfie Humphrey who had a bad week – but there's only 2 points between them. Anna Yang is now in 3rd
Premiership
One them weeks were the winner of the high game pot and high series pot wasn't the top scorer. Paul Loberman shot a final game of 279 for a 963 series but that only gave him 43pts joint 3rd on the night. A 183 3rd game hit Lobbers hard, and it shows that in this league you have to be on it every game – you can't have one big game and think your work is done and you can coast to a decent set. Every game counts. The highest point winner was Lee Miller the pin killer, who scored 51pts with a 955 set
Overall
Miller is way out in the lead on 198pts, 21 ahead of Matt Trotter in 2nd – both the top 2 averaging over 230, with Miller on a 240 average. Alan Keddie is in 3rd with Lobbers in 4th – both with a 220 average, which just aint cutting it this season.
Perhaps next weeks "funky pattern" week will drag everyone back down… people have asked for a short one… I want to put a landmark pattern down, in preparation for the King of the Hill tournaments
So one of the shorter patterns in the Landmark series is Taj Mahal – https://patternlibrary.kegel.net/pattern/b4ececac-d052-ec11-8c62-000d3a5afd36
If you want to enter the next King of the Hill – then its on the 20th August – entry form is here https://eu.jotform.com/build/231242549866362
Big thanks to my glamourous assistant Sexy Jackie for running the league this week…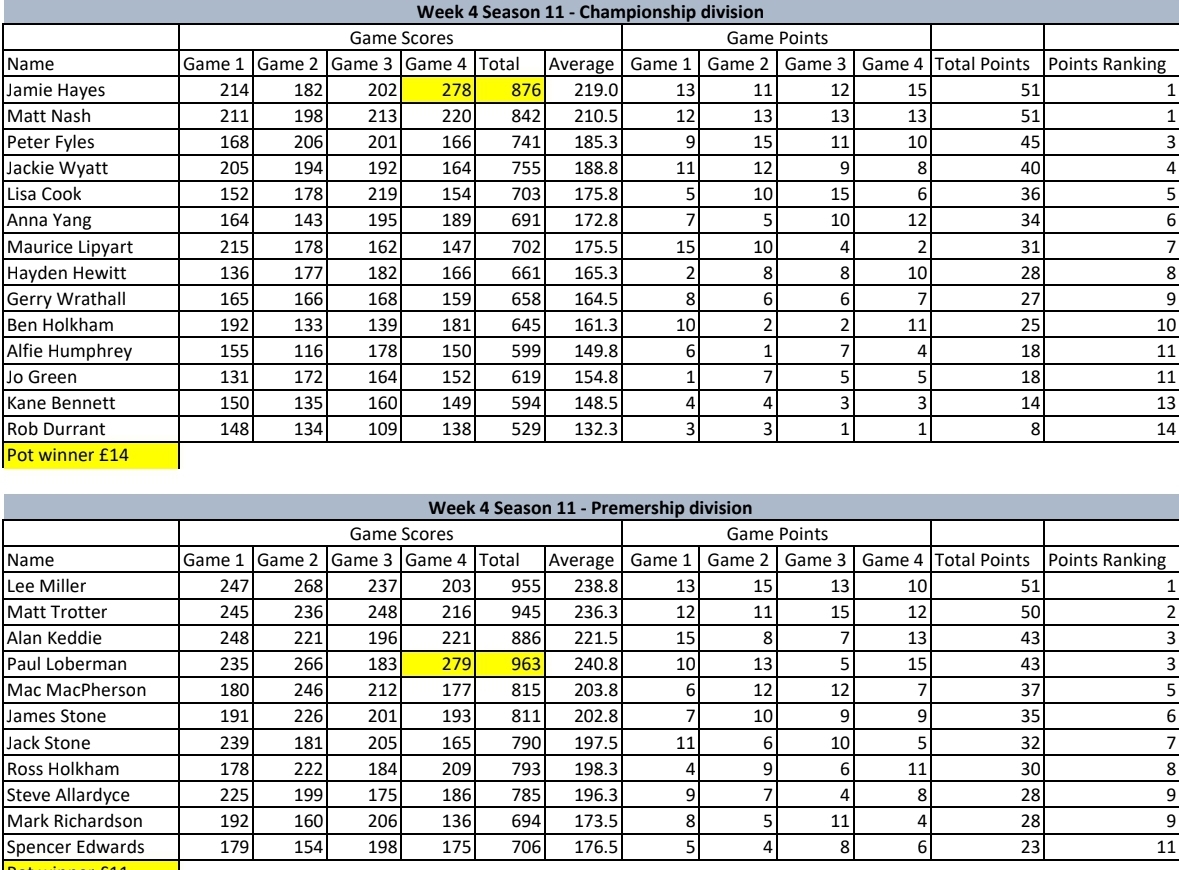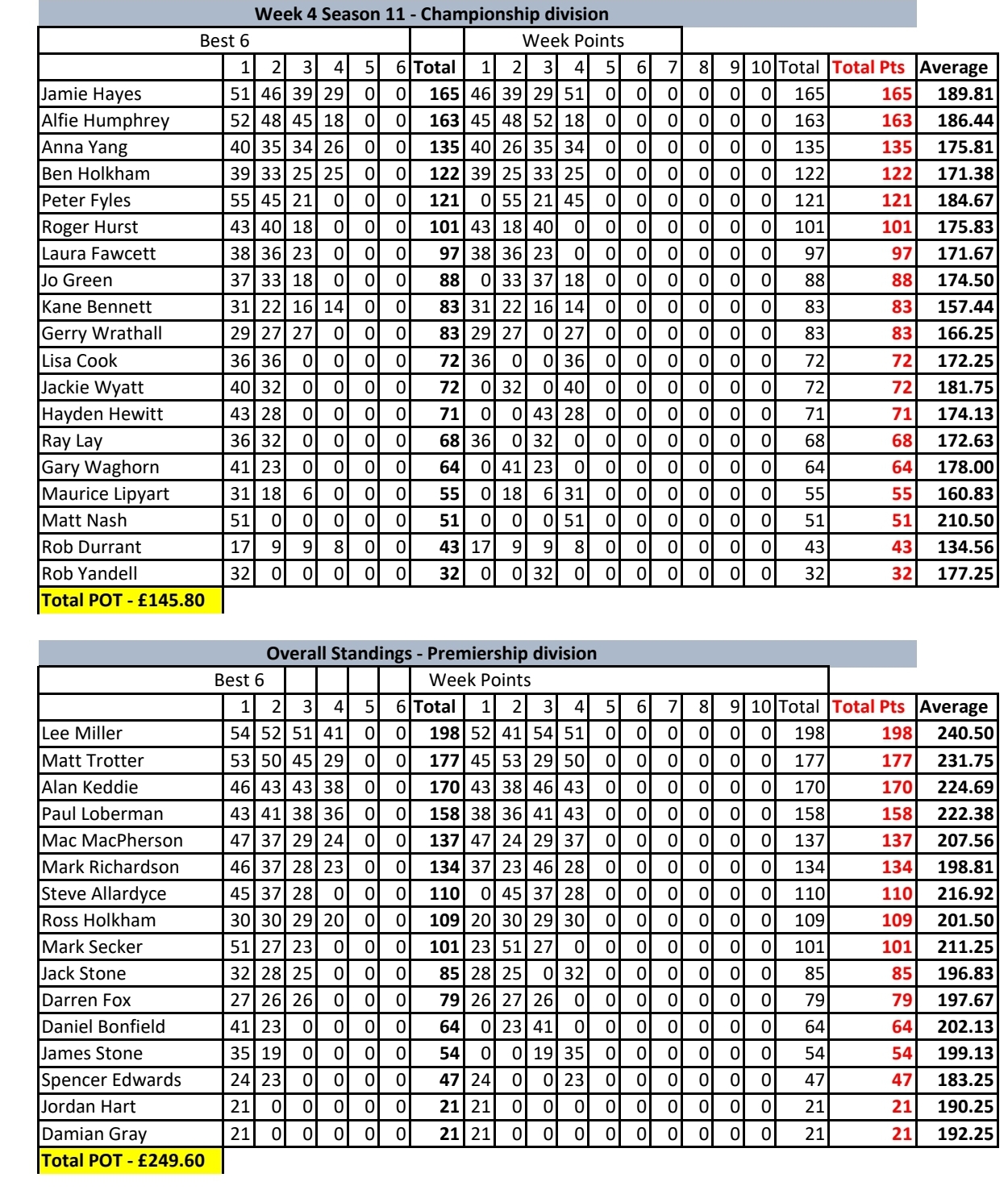 ---
Week 3 – another high scoring week in premiership where the bowling and scoring is top notch this season.
Championship
Hayden Hewitt dropped in and had a bowl and had a decent week, coming 2nd in the points with 43pts. But it was young Alfie Humphrey who stormed in a 820 series and won both pots with a high game of a 224.
Overall
Alfie's had a good start of the season and is top by 31 pts averaging 198. In 2nd is Jamie Hayes who from this week onwards will have some lovely soft hands after winning some hand moisturiser in the recent raffle. And in 3rd is Anna Yang
The breaking news from this division is Laura has discovered the cause of her itching…. New brand of soap ! and there's us all thinking it was crabs.
Premiership
You got to be on it this season…. No 300's but 3 games over 270. Steve Allardyce somehow had a 273 ! and the high game pot was tied between Paul Loberman and Lee Miller with a 279. There were 4 900 series… 900 Alan Keddie and Paul Loberman, 907 from Steve Allardyce. But winning the high series pot with a 987 was Lee Miller. The average for the prem was 216.4 over the 48 games – you got to have the minerals to mix it up in the prem at the moment.
Overall
Miller goes top on 147pts with a 241 average. In tied are 2nd Matt Rotter on 127 and a 230 average, and Keddie whose averaging 225. League average this season is 208 !
Update on the raffle ….
The bowling balls were won by Jackie and Matt Trotter – over 800 tickets were sold ! and our league had both winners !!
The king of Hill on the 20th August – is now waiting list… but I hope to fit everyone in still, so still complete an entry form if you want to bowl – https://eu.jotform.com/build/231242549866362
And don't forget to catch up on all the "action" via the twitch channel https://www.twitch.tv/basherback2back
I'm away next week (peppa pig world pilgrimage) – the league will be run by Jackie. So the funky pattern week is postponed until I get back !
Oh and I reported bizarre pin action on 15 & 16 and asked them to double check the pins, pin decks and kick backs.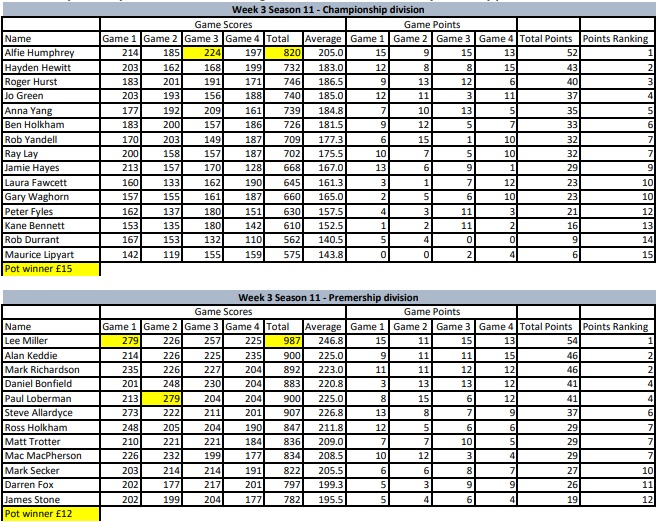 ---
Week 2 – and two new bowlers. Its been awhile since we welcomed some new bowlers. So welcome to the Stevenage Stud Steve Ankledyce and welcome to Maurice Lipyart
Another week of some high octane, high performance skittling – oh and I bowled as well.
Championship
Young Alfie started off with a 233 and then went and had his first 800 series, but winning both high series and the high game pot was Peter Fyles with a 245 game and a 845 series
Overall
Alfie has taken the early lead in the league, with Bi handed Jamie Hayes in 2nd and Laura Fawcett in 3rd.
Premiership
A brilliant debut by the Stevenage Stud Allardyce who shot a 911 series. Mark Secker bag took 2nd place on the night with a 913. But there was no catching Matt Trotter who rolled a 278, 233,300,217 for a 1026 series. 2 weeks into the league and we've all ready had 2 300's ! – This is the supreme league the levels are so high, you got to be on it every game, there's no hiding behind team mates or handicap.
Overall
Matt Trotter leads with a 241 average, from Lee Miller whose got a 238 average and Alan Keddie is struggling in 3rd with a lowly 226 average.
This weeks clip isn't of Matt Trotters 300 ! – No … it's a strike by Steve Allardyce who wants to show all his colleagues that he can actually bowl and spin it in and everything.
Look at the big bald spot https://clips.twitch.tv/FriendlyEnergeticPorpoiseMoreCowbell-oFgP_aDHoShNyn5J – don't be surprised to see Steve taking a "family" trip over to Turkey and coming back with a lovely full head of hair.
King of the Hill entry form for the August event is out – https://form.jotform.com/231242549866362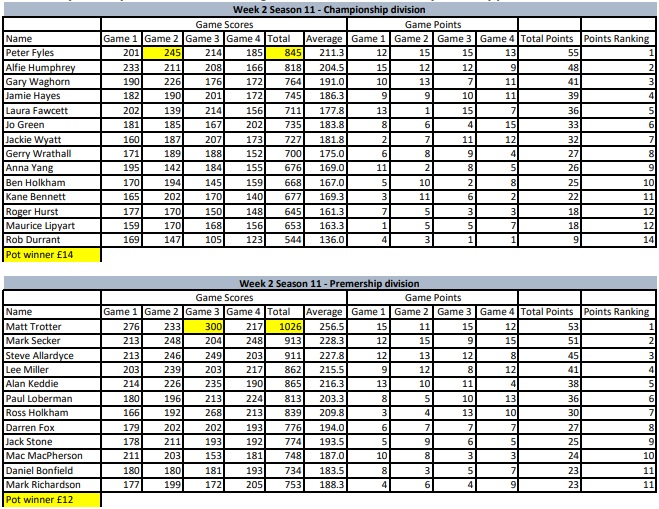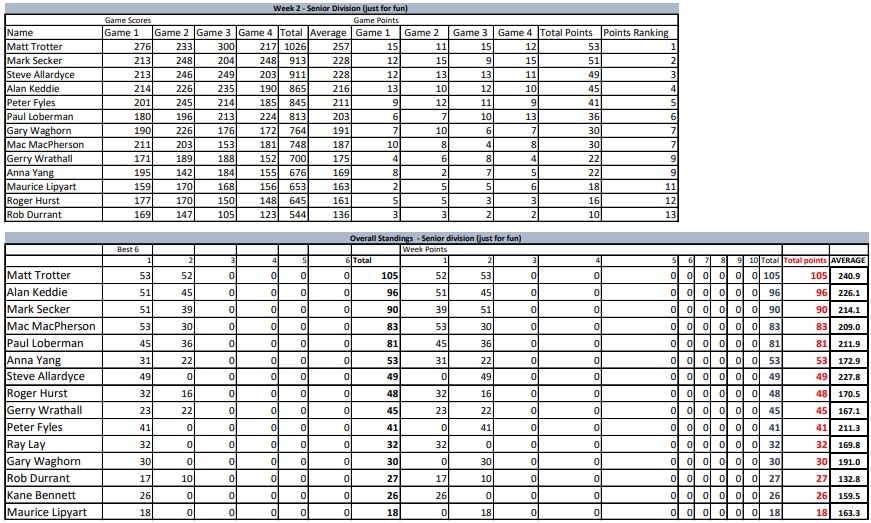 ---
Week 1 of a new season – season 11 ! – we welcomed back Lee the pin killer Miller, and Mad Eye Mark Secker also came and had a chuck. And the white socked wizard Damian Gray also came and bowled.
What a night of high octane skittling action. Some great bowling.
Championship
Laura Fawcett shot the best game in the championship with a 222 to start the season with a pot win. And Jamie Hayes won the high series with a 748, beating young Alfie Humphrey by 2 pins. Roger Hurst shot a 716 which isn't bad considering he was genuinely concerned at one point that he may die during the evening… in fact he's not sure if he's going to make it through the week due to being informed of some "abnormalities" in a recent scan, but on the plus side he did find out he was over £1000 in credit with British gas… so its all swings and roundabouts. We all have our fingers crossed that the meeting with the doctors goes well and he lives long enough to enjoy the £1000 rebate from British Gas.
Premiership
What a night… a 210 average across the 13 bowlers. Lee Miller, boom opens up with a 300 ! then a 278 to finish off with the leagues highest set 1044 ! naturally taking both pots. But there was 3 other 900+ sets – Alan Keddie 944, Big MacMacpherson 924, Matt Trotter 901
Brilliant bowling
Lets take a moment to marvel in lee's masterfully 12th shot !
https://clips.twitch.tv/HelplessThankfulStingrayPicoMause-plRa6ddu2nLDnfdk
I'm just going to leave you all with this conversation between Roger and Ben Hollywood Holkham which made me laugh.
Roger – yeah well he killed himself in the end.
Ben – oh
Roger – sat in his car one night poured petrol over the whole car, and whoosh up it went like a roman candle.
Ben – OH MY GOD !!!
Roger – I know shocking right
Ben – no its not that,  I just remembered I got to get some petrol on the way home I'm running low and light is on, thanks.
Till next week … good night and god bless.