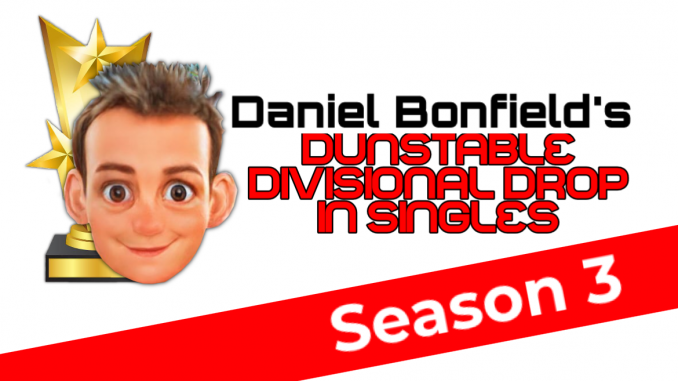 The final week of Season 3 – we had a new bowler, back to bowling after a long break away from the game was Mark Richardson – welcome Mark.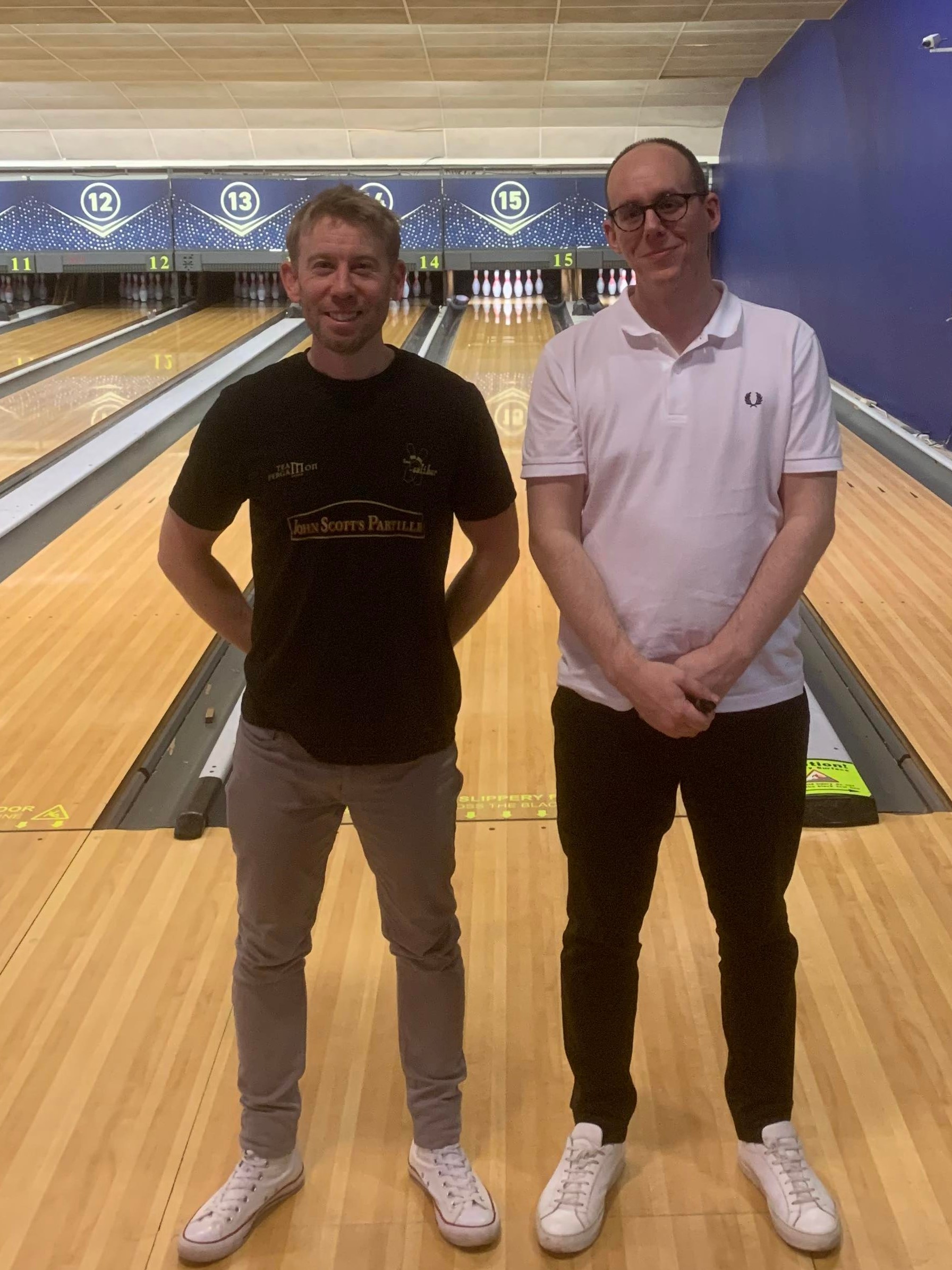 Championship – Lee Bradley opened up with a 221 game, which was then beaten in game 2 by a 224 rolled by Russell Snipper. Then in game 3 Bradders rolled a 232 and that won him the high game pot. These two also were naturally in the running for the high series pot as well. Russell shot a 815, but Bradders rounding off a great season shot an 819 set and it gave him a clean sweep of the pots
Overall – Bradders wrapped up the league championship finishing the season on 292 points, with Roger Hurst in 2nd on 272 and Ray Lay in 3rd on 258pts
The following bowlers are promoted to the PREM – Lee Bradley as league champion, Roger Hurst on average (191) and Jon Langridge on average (202) – congratulations to these bowlers, as they move up into the TOP division to compete against the PRO's !
Premiership – A lot to play for tonight. Anyone of 3 bowlers could win the league title. Lee Miller, Alan Keddie and Matt Trotter. Ked's opened up with a casual 11 in row for a 296, which won him the high game pot on the night. He then followed that up with games of 247,248. Matt and Lee were down on lanes 3 & 4. Matt was grinding it out but couldn't hit any big numbers, But Miller was fairing a little bit better and he had a 248 game in game 3 and 226 in game 4. Both these games were vital, as in game 3 Lee's 248 drew with Keddie's score and that final game of 226 beat Keddies 224 and game, and that gave him the title by 2 points from Keddie in 2nd. There was a tie for 3rd between Matt Trotter and Paul Loberman – but Matt claims 3rd on average. Keddie had the consolation of a clean sweep of the pots with a 1015 series.
The averages for the top 4 really demonstrated the level you need to be at to win the PREM
Lobbers – 213
Trotter – 214
Keddie – 223
Miller – 222
A fantastic season, really competitive thank you to all the bowlers who came and had a bowl.
We had 42 different bowlers and we paid out £1168 in prize money
Next week – valentines NIGHT we head straight into Week 1 of season 4 !
But what's the league all about …. He is a refresh…
Dunstable Divisional Drop in Singles…
4 games – cost £20 / Week or £17.50 / week – depending on what division you're in.
This is going to be a brand new way of looking at league bowling.. and I will explain it best I can.. .
So there are two divisions – a Premiership for the 185+ bowlers and a Championship <184 bowlers.
Leagues are 10 weeks long – BUT you don't have to bowl 10 weeks. You can if you want, but your best 6 weeks will count to your final league position. The plan is to have promotions and relegations based on your average at the end of each league cycle.
And you have to bowl a minimum of 6 weeks to be eligible to win an end of season cash prize. But don't worry there are weekly pots to win so you can drop in every now and then and play for the weekly pots.
Another unique aspect to this league is you don't play an opponent… how can you if people are dropping in and dropping out. Instead you will get points on your individual games scores…
So here is an example of how it works:
Game 1
Highest game Score – 15pts
2nd highest game – 13pts
3rd highest game – 12pts
4th highest game – 11pts
5th highest game – 10pts
6th highest game – 9pts
and so on till ya get to zero points.
Tied games will get the same points.
There will be weekly individual high game and high series pots.
And a prize fund for the end of season payout based on league position.
But a bowler must have completed at least 6 out of the 10 weeks.
You will be allocated a lane when you pay… and championship and premiership bowlers will be put together on the same lanes.
This is a new idea.. and I'm feeling my way as I go along. But hopefully it will grow and evolve and will have a third division and more challenging patterns for the higher divisions.
Breakdown of costs:
They are different based on which division you're in
Premiership 185+ average = £20
Championship 184- average = £17.50
Having your 6 best out of 10 means bowlers don't have to bowl every week, and having weekly pots means bowlers can drop in every now and then and still win something. There's something for everyone, you can bowl as often or as little as you like and still get something out of this league. If you get home from work and fancy a bowl, which sometimes happens… then you can drop in and have a chuck.
The Football league system of promotions and relegations is something we are all familiar with, especially for me as I support Watford. It's something I really like from bowling in the midland scratch league. It makes you strive to be better in the hope of getting to the top division, and keeps the season alive as you try and avoid relegation if you happen to be down the bottom.
So we got two divisions and they will all share the lanes, so you have bowlers of all abilities on the lanes together. Because I want bowlers in the lower division to see how the higher average bowlers play and how they play the lanes. Perhaps it will break down the opinion that it can sometime be elitist and that the better average players aren't approachable, and you can ask them about your own bowling and pick up some tips. Just don't approach me, especially if I have just had an open !
I've also reduced the cost for the lower division, because I think these bowlers are perhaps a more social bowler and perhaps prize fund and winning money isn't such a priority for these guys.
Long term it would be great to have 3 average weighted divisions, where the bottom leagues plays on recreational patterns, then you step up through the divisions who play on challenger patterns and then the top divisions play on true sports patterns. Also, a league where you can play brackets and win some extra cash.
This league if every Monday at Dunstable – we bowl at 8.00, but I need bowlers to be there from 7.30 for registration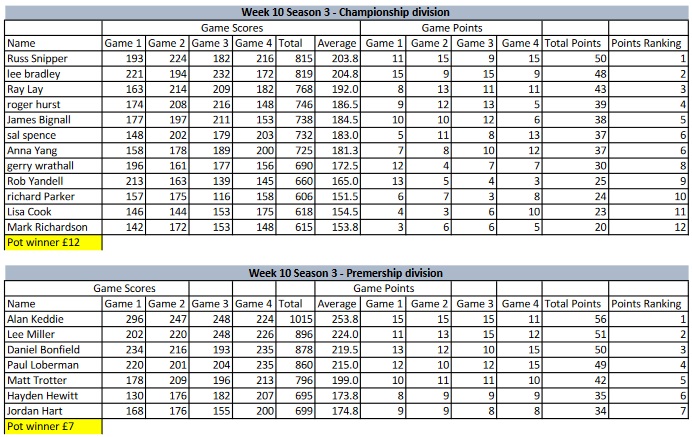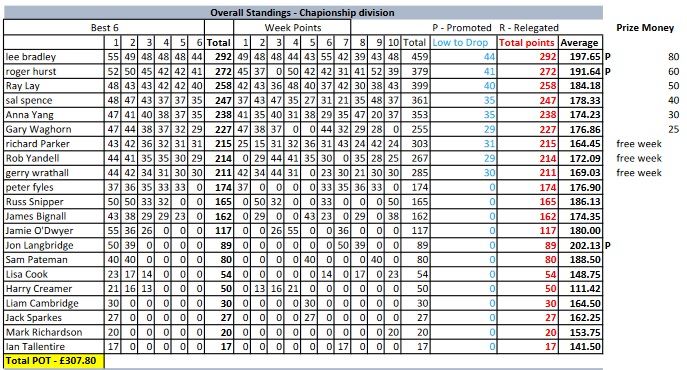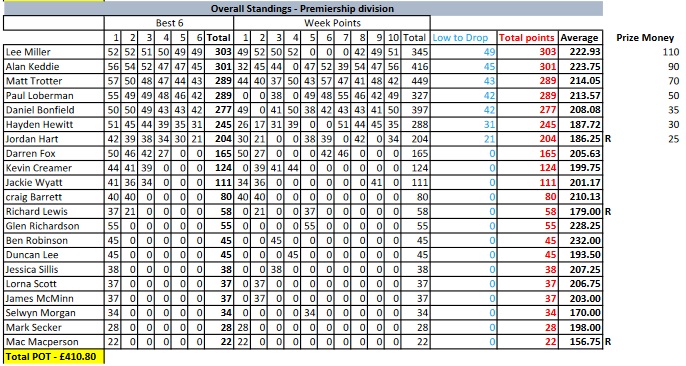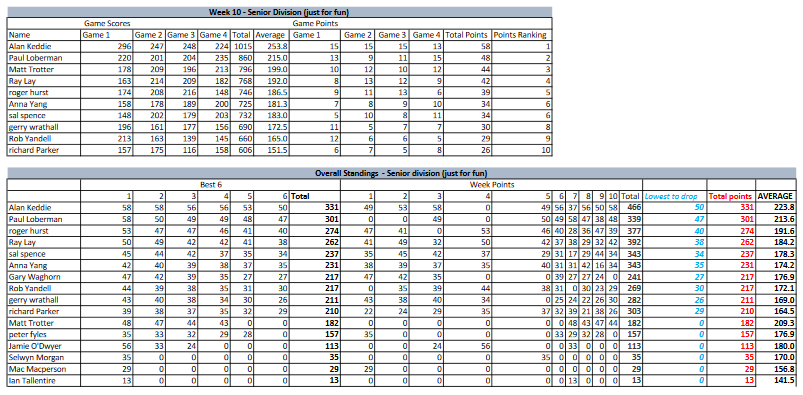 ---
Week 9 – Championship – there was some great bowling in this division this week and a new PB. Start off with the high game pot… and with 9 strikes in a row, and a new high game of 278 was Sal Spence, she also had a 873 series which any other week would have clean swept the pots. BUT Roger Hurst put together a 878 set and stole the pot away from Sal… bad form Roger, very bad form..
In the overall standings – Lee Bradley looks to have it sewn up on 287 and will be promoted to the prem next season. Roger Hurst is in 2nd but with an average of 192 that will also earn him a promotion. Ray Lay is in 3rd.
Premiership – Basher finally had a decent game, but still managed to slip in a open frame. Shooting 9 in a row and opening the 10th for a 266 and that game won him a pot ! – High series pot went to Alan Keddie who shot a 930 set.
In the overall standings – It was all change. Lee Miller surged to the top and is on 294pts with Matt Trotter and Alan Keddie in joint 2nd on 289 pts.
Next week is the last week of season 3, then we reset all the scores and head straight into season 4 – if you want to play season 4, come down next week and give the league a go. We need as many possible next week, because the more bowlers there are the harder it is to win points and the occasional bowler can really have a BIG impact on the final league standings.
The Tri County trials – Herts, Beds and Bucks. Its 1 tournament by 3 different trials. The Sunday Squad is NOW full – there is still plenty of space in the Wednesday overflow squad. BUT don't worry if you can only play the SUNDAY squad, let me know and I will jig the squad list around. We won't stop anyone bowling the squad they need… we aren't in any position to turn players away – hahahaha.
Entry form is https://form.jotform.com/220045357055348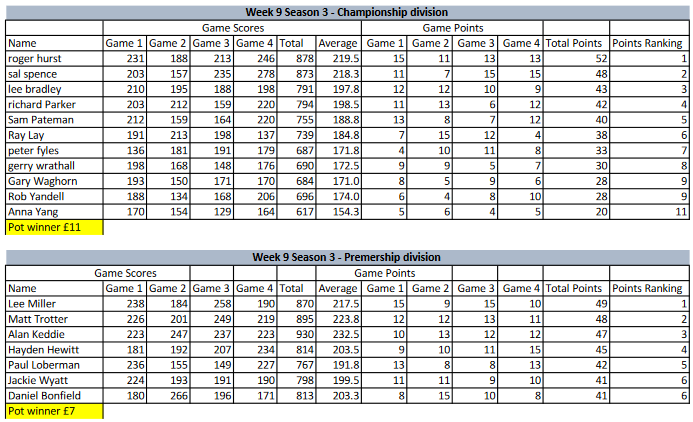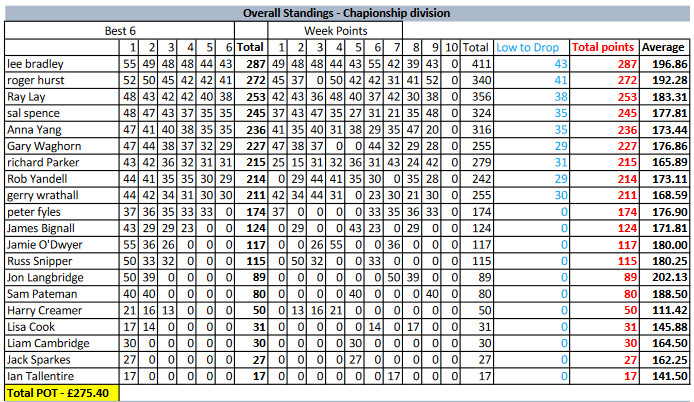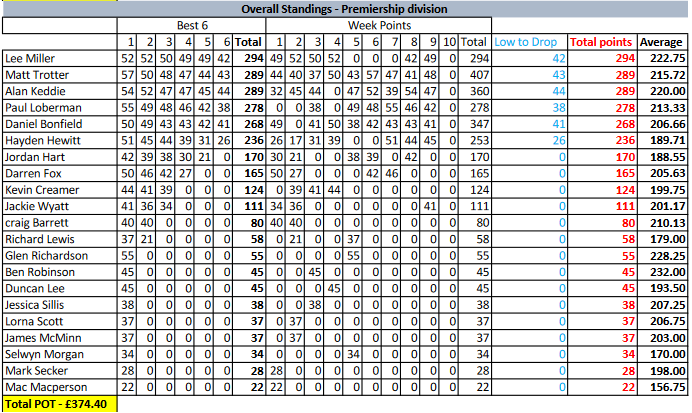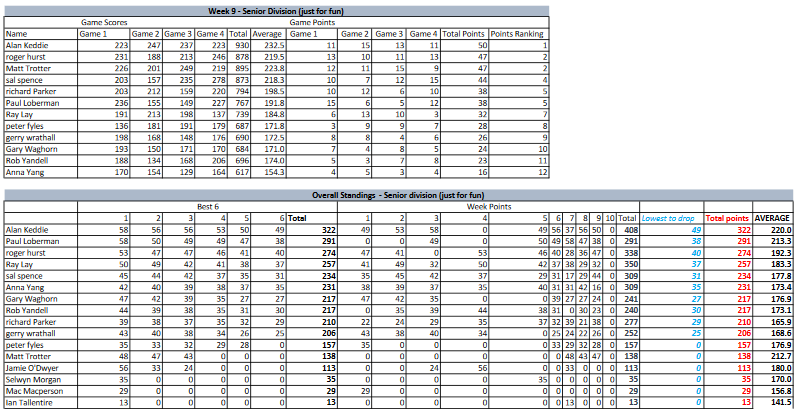 ---
Week 8 of the Drop in singles – 20 bowlers this week. The lanes definitely had a bit more juice in them this week.
Championship. Jon Langridge opened up with a 226 which looked good for the high game pot… but he weren't happy with that and made sure of the pot with a 236 in game 3 and finished with a 778 set,,,, yeah he hit some turbulence in games 2 and 4. So the high series pot instead went to Anna Yang who had 797.
Overall… Lee Bradley still commands an unassailable lead at the top with a 30point lead from Roger Hurst in 2nd and Ray Lay in 3rd.
What you see I think is when there is a slight difference in how the lanes play it effects the scoring more in the championship then it does the premiership – which I suppose proves the theory that the prem players are better at spotting the differences and adjusting and staying at their level – I suppose ?!? – I could be talking nonsense.
Anyway…
In the Premiership. Basically it was a braveheart kinda week… the marauding Scotsman Alan Keddie came and pillaged the pots… shotting a 289 in game 3 and having a 952 set to "sweep" up both pots.
Not only that but that gave him 6 weeks and he moved up into 2nd knocking Basher Bonfield down to 3rd. It's really close at the top Matt Trotter leads on 282pts and Ked's is 2nd on 281… matt has a low score of 41pts to drop and Alan a low of 39 to drop. Really close, especially when you factor in Paul Loberman and Lee Miller who have only played 5 weeks and are lurking in 4th and 5th places.
Two weeks left of the current league cycle… if you fancy coming along and having a bowl please do, as you can still win the weekly pots.. and in the process steal points from those vying for the league title – the more bowlers we get in these final weeks the spicier it gets !
Calling all bowlers who live in or were born in the counties of Herts Beds and Bucks – your country needs you. Please come and play the county trials – entry form is here https://form.jotform.com/220045357055348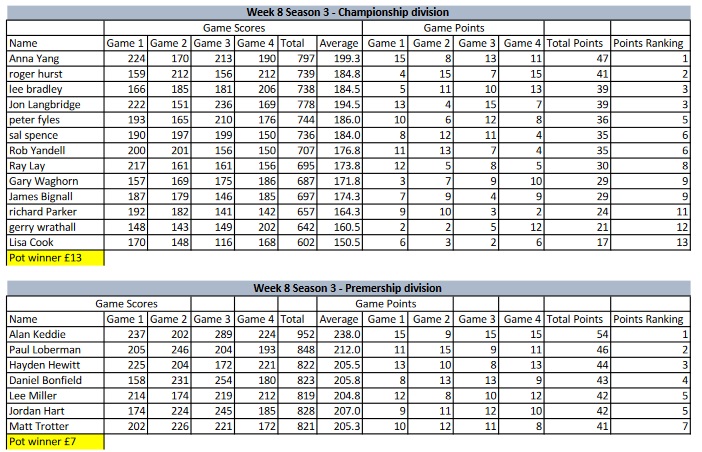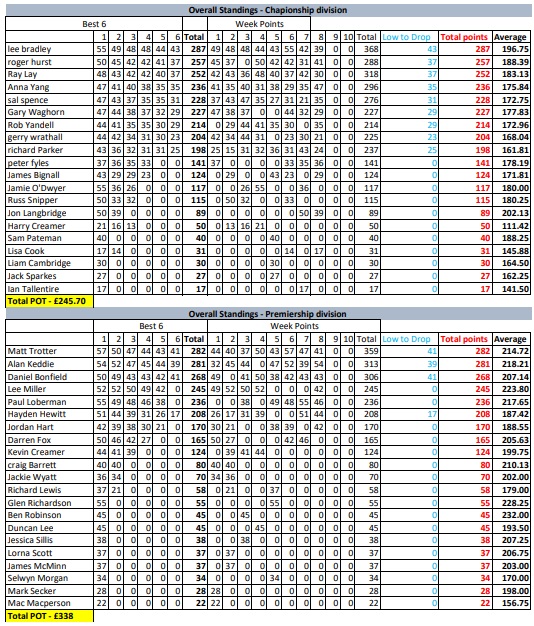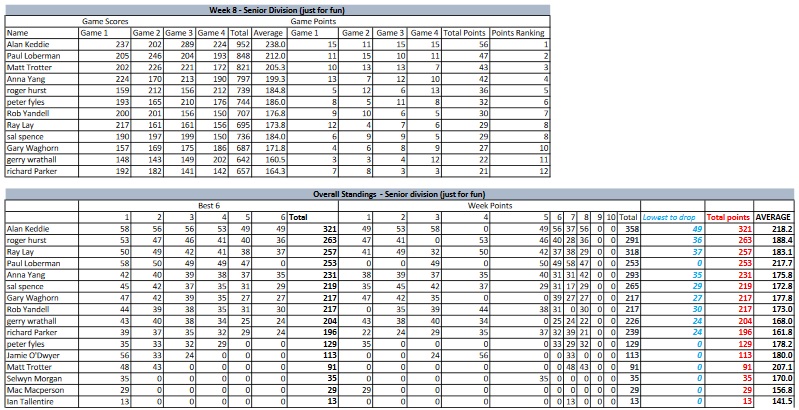 ---
Week 7 of the drop in singles league – its where bowlers start dropping their lowest scoring weeks and that really shakes up the leagues.
Two new bowlers this week – we welcomed Ian Tallentire and Jon Langbridge back to bowling.
Championship – after not bowling for nearly 2 years Jon Langbridge made his debut in the Championship. Then of course he went and smashed it up. Shooting a high game of 255 and a 839 set Jon took a clean sweep of the pots in his first week. Elsewhere Peter fyles shot a nice 243 game and Richard Parker had his best point scoring week aided by a 767 set.
Overall in the championship, Lee Bradley is still way out in front by 35pts from Ray Lay in 2nd and Roger Hurst in 3rd.
Premiership – after a 192 start Paul Loberman went through the gears to finish his set with 247 245 279 for a 963 set. That gave lobbers a clean sweep of the pots. Worthy Mention to Hayden Hewitt who had his best week in the Premiership with a 862 set.
Overall Matt Trotter continues to lead from Basher by 18points, with Alan Keddie in 3rd. But beneath these three is a whole chasing pack to yet to play the full 6 weeks, and when they do there will be plenty of chopping and changing to the top 3.
Week 8 next week and as usual all hurlers and twirlers are welcome to have a bowl… be good practice for the upcoming county trials – entry form for which is here https://form.jotform.com/220045357055348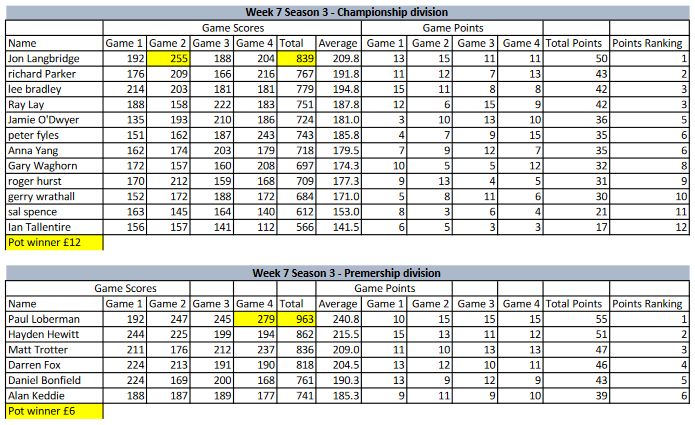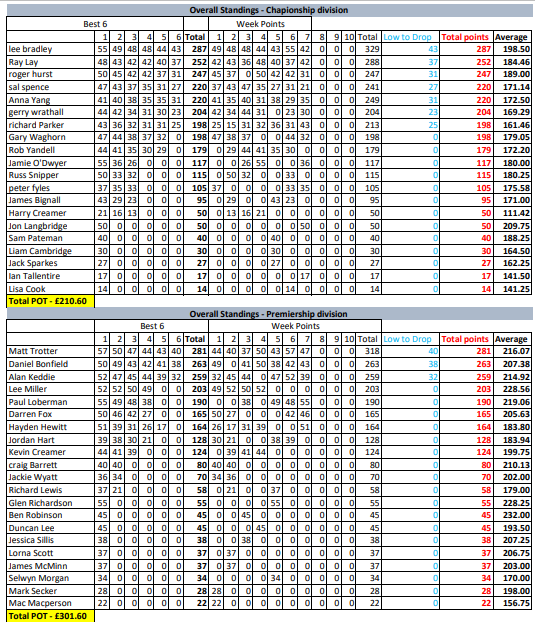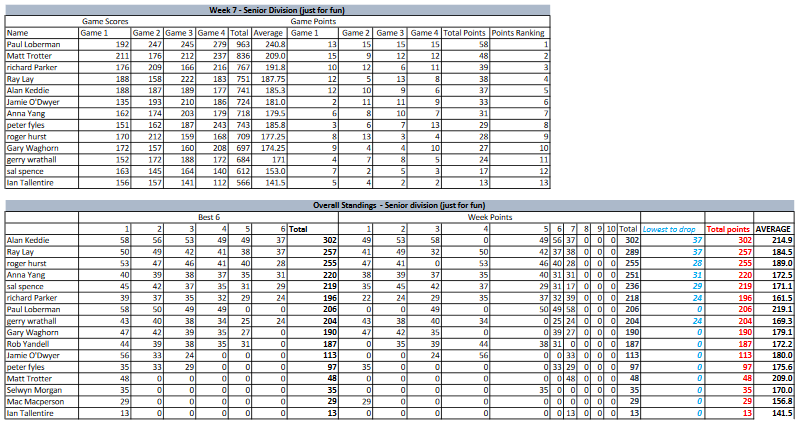 ---
Week 6 of season 3 – There's only place to start this week and that's in the premiership where records tumbled and we had the leagues first 300 ! – Alan Keddie shot a 958 series which would usually be enough to win at least one pot, but not tonight. Because the night belonged to Matt Trotter, who after weeks of monotonous 840 sets finally unleashed a monster set. Matt shot a 1060 (265 average) games of 258,300,235, and 267 – that 300 is the first one rolled in this league and its only taken 1000 games. Matt was presented with his BTBA (basher's tenpin bowling association) high score certificate which was written out in his finest handwriting using the best biro money could buy…
Overall standings in the Prem – Matt's weekly points of 57 gives him the lead at the top of the table by 51 points, but Matt's bowled a week more then the rest of the pack.
Championship
Another clean sweep of the pots by Lee Bradley who shot a 846 set with a high game of 224. Lee looks set for promotion to the prem next season with a 199 average and a 41pt lead at the top of the table from 2nd placed Ray Lay.
Lee's banking up all his pot winnings till the end of the season and now has £75 in the bank. The other bowler who looks set for promotion based on his current average is Roger Hurst who is having a good season averaging 191.
Next week is week 7 and its where its gets interesting as bowlers begin to drop their lowest scores and others start catching up to the number of weeks needed to win a end of season cash prize.
Come and have a bowl next week – everyone is welcome to join the league at any point in the season. Having a bowl in this league will be good practice if you thinking about bowling in the Herts,Beds and Bucks county trials in March – which you can enter online here https://form.jotform.com/220045357055348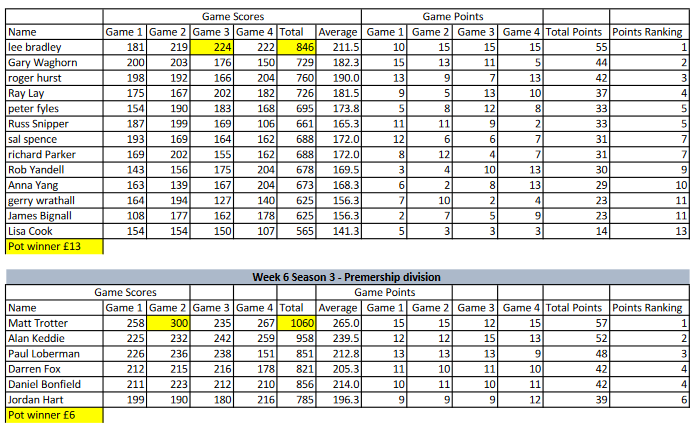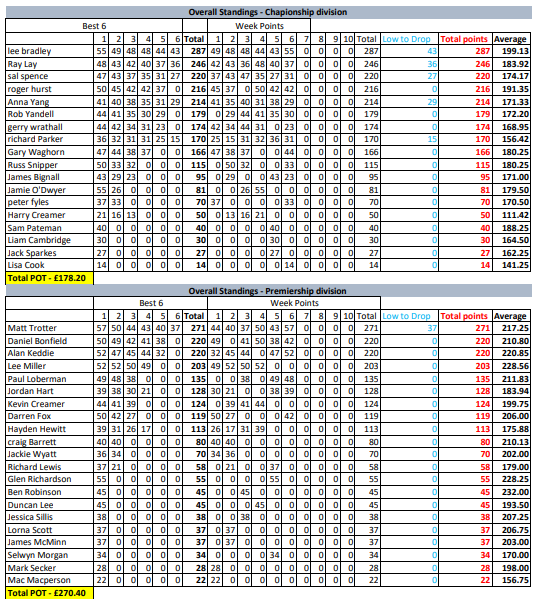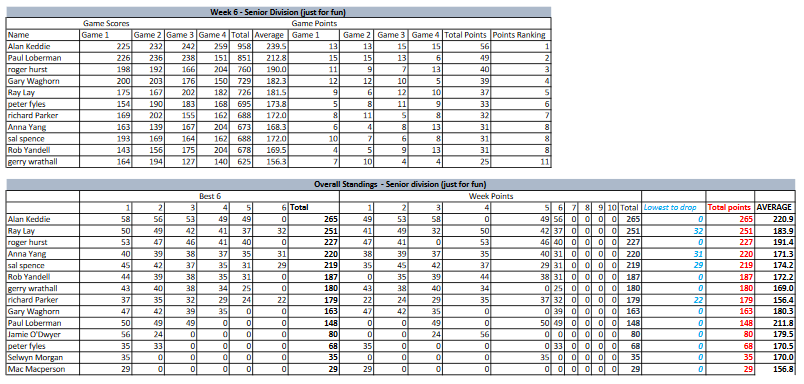 ---
Week 5 and it's bank holiday Monday – so what !, we bowl !! Most leagues wouldn't run on a Bank Holiday, but's that's what is good about this drop in style league. There's no need for a postponements, if you fancy bowling you can just rock up bowl. And a good number of players decided that's what they would do, as 19 bowlers played this week. 2 newbie's this week – part of Kent Massive, Liam Cambridge and Jack Sparkes – welcome along.
Championship – League leader Lee Bradley opened up with a 244 game, and that was tied with Sam Pateman (Kent massive) who had a 244 in game 2 and they shared the pot. For the series pot Roger Hurst shot a 789, but that was pipped by Bradders who shot a 790 and he claimed another pot.
Lee's leading the league by a substantial 23pts from Ray Lay in 2nd and Sal Spence in 3rd.
Premiership – there was only really one stand out bowler this week Glen Richardson, another of the KENT massive.. and he is a massive KENT to be fair. Glenda shot a high game of 258 and 913 set to sweep both pots.
Overall standings – Matt Trotter replaced the covid hit Lee Miller at the top with Basher in 3rd but Matt's played an week extra – perhaps that might help in the long run when comes to counting up your best 6 from the 10 weeks – we shall see.
Bowling every Monday from 7.30 for registration for a 8pm roll off – everyone welcome at any point in the season.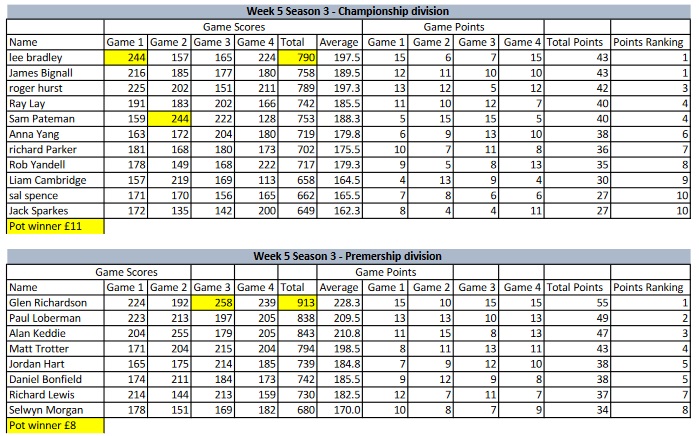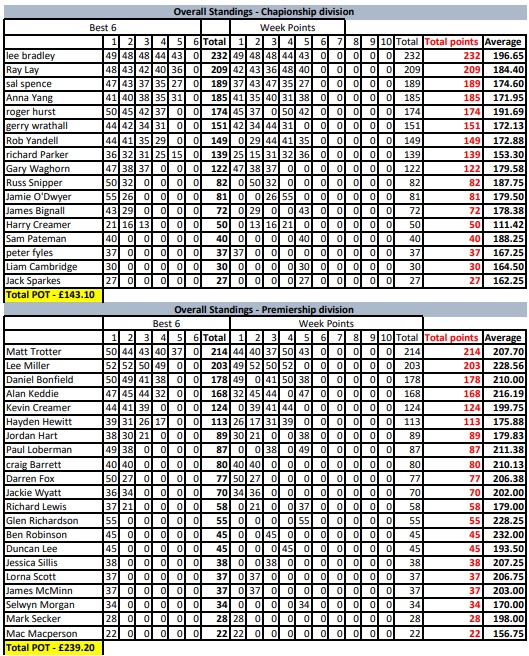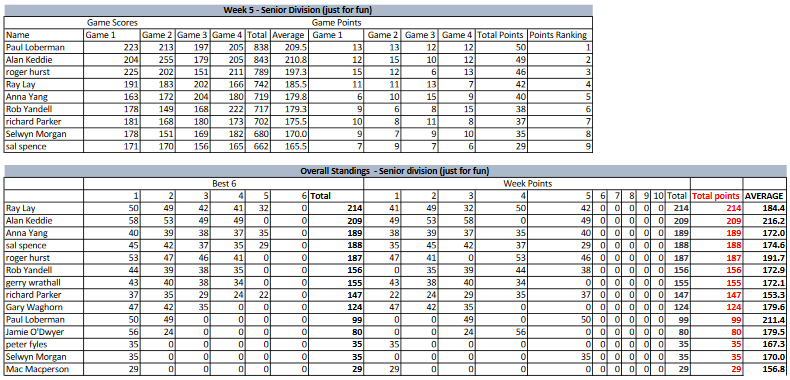 ---
Week 4, the last bowling of the year. With the current situation I think quite a lot of bowlers stayed away to stay covid 19 free before xmas – we had 16 bowlers. 6 in the Prem and 10 in the championship
In the championship league leader Lee Bradley started off strong with a 233 and usually that would win the pot. But finally hitting some form was Jamie O'Dwyer, the richest lorry driver in the world. JOD had a 236 and a 848 set to sweep up both pots. Honestly if you had seen him bowl the week before you would have never thought he had a 700 set in him let alone a 800 series. He could have bowled 6 games last week and still not hit a 848 !
Overall standings – Lee Bradley has a healthy lead still 20pts ahead of Ray Lay in 2nd with Sal Spence in 3rd.
In the Premiership – Runaway leader Lee Miller was stuttering and not firing on all cylinders. Duncan Lee was winning the high game pot with a 233 going into the last game. But Miller swept in for a 236 last game for the pot and that gave him a 832 set and that was looking good for the series pot as well, but BASHER swept in with a cheeky 4 in a row and final game of 210 for a 835 set for the pot ! Beating Miller was like all his xmas's come at once.
Overall Lee increased him lead, now leading by 32 pts over Matt Trotter – these are the only two bowlers who have played all 4 weeks so far.
League breaks now – but we are back on the 3rd January. So if were not locked down, start your bowling year off with a cheeky 4 games in the drop in singles league at Dunstable.
Everyone have a good xmas and happy new year.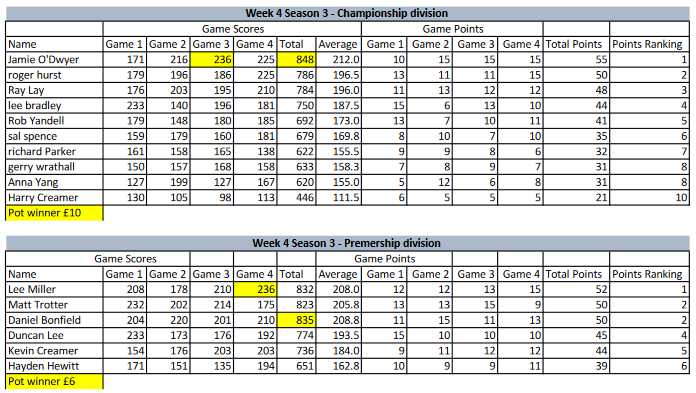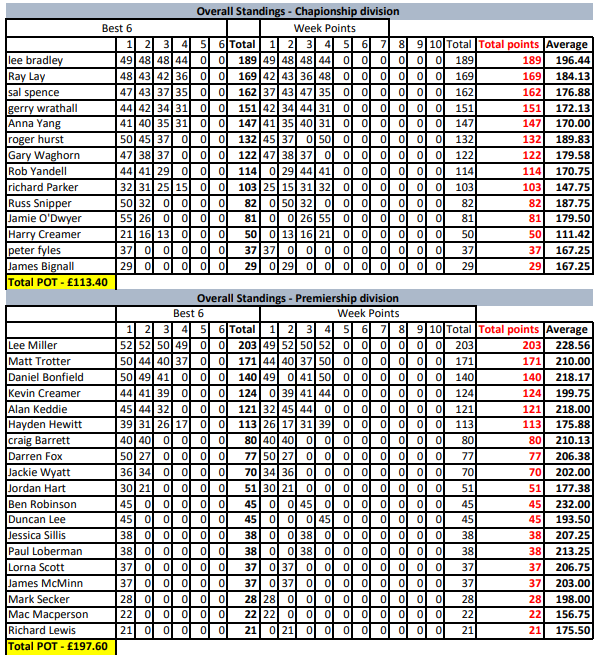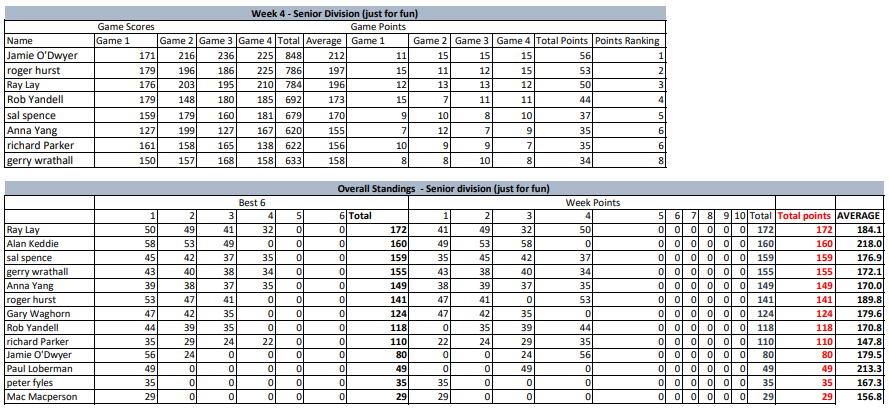 ---
Week 3 of the Drop in Singles league. We had 2 new bowlers.. Birthday Girl Jessica Sillis and high flying youngster Ben Robinson, a really good two handed lefty.
The lanes/pattern played a bit longer this evening, and it really caught out the bowlers in the Championship with a league average of just 165, whereas the bowlers in the Prem, as perhaps you would expect seemed to cope better and in fact their scoring went up with a league average of 216.
In the Championship, Ray Lay opened up with a 216 and that won him the high game pot. In fact Ray's 216 was 1 of only 3 200 games shot across the whole division. High Series went to Sal Spence with a 749 series. In the overall league standings Lee Bradley continues in the lead on 145pts with Sal Spence in 2nd on 127 and Gary Waghorn in 3rd on 122pts.
In the prem, it was "levels". This season you really have be on it from game 1 or you will be blown away, and this is mainly down to Lee Miller who has raised the bar. The rest of the field know that they can't afford any bad weeks. Miller 2nd game of 257 looked good for the pot win.
Until Jessica on her birthday finished off with a 257 game and she shared the pot with Lee. There were 3 bowlers all over 900… Alan Keddie with a 916, Ben Robinson with a 923 – but there's no stopping the boy Miller who banged in a 955 for the pot.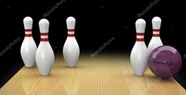 Worthy mention – Paul Loberman back bowling after a back injury caused from lifting up his wallet spared the "Greek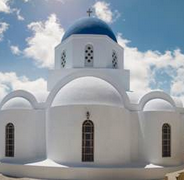 church"
Which he was rather pleased about. Why is it called a "Greek church" because its pattern is supposedly reminiscent of "an old cathedral type church with spires – picture of a Greek church… the resemblance is uncanny
Overall Miller now has a 30point lead over Matt Trotter and Alan Keddie in 2nd.
Of course there's bowling next week – week 4 – mulled wine and mince pies will not be served.
One and all are welcome to come and bowl. 7.30 registration for an 8pm start.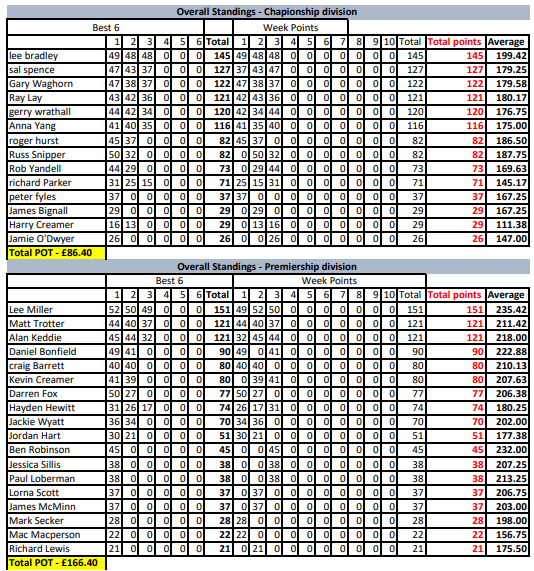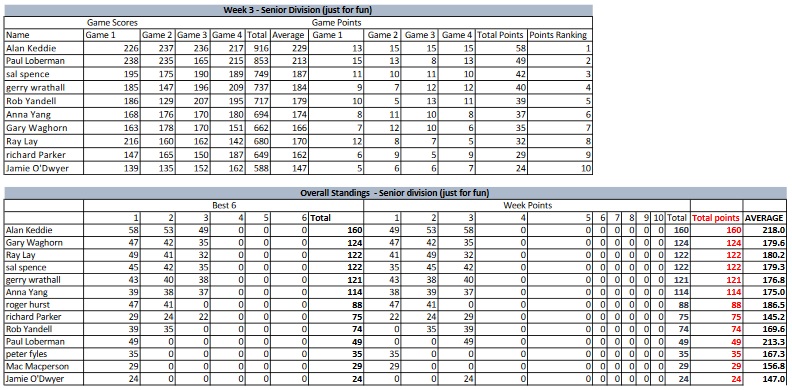 ---
Season 3 Week 2 – Report this week from our guest writer Lee "no one touch me I'm a bowling god" Bradley
No Basher this week. After shooting 900+ last Monday, Basher's body went into shock and he's still recovering. He'll be back next week with all the typos you've come to know and love.
Week 2 of Season 3 was another good showing, with 24 players spread evenly between the Championship and Premiership. Newcomers included Russ Snipper (Bat Hulk), Lorna Scott and a left handed fella who looked quality but I didn't catch his name. James, was it? Dunno. Sorry, I'm rubbish at this. And a ginger fell also called James.
Scores were pretty good, with the Premiership collectively averaging 198 (it would have been more but, y'know, Jordan Hart's in that division now). The Championship, meanwhile, put together a solid 173 average.
In the Championship, Russ Snipper debuted with an impressive 869 set, including games of 231, 235 and 247. It was enough to win him the high set pot and make him the points leader for the week. Good skittles, Russ.  Lee Bradley, meanwhile, sprayed it around and got lucky to shoot 278, bagging high game.
In the sure-to-be hotly contested Premiership, double defending champ Alan "Al Khedee" Keddie put in a strong 892 set. It wasn't enough to nab the high set pot though, as house pro Lee Miller posted yet another big series with 953, which also made him points leader for the week.
Meanwhile, Lorna Scott casually rocked up and dropped a 278, taking the Premiership high game pot! Great work.
Special mention also to Matt Trotter for converting the 7 – 10! With Basher sparing the big four last week, mad split conversions are becoming A Thing in the league. I'm putting a tenner on Sal Spence to convert the Greek Church in Week 3.
Shout out to Jackie for sorting the registration, lane allocations and all that stuff, as well as hand writing all the score sheets (!). It's a good time to thank Basher too, who usually does all this stuff, works closely with the bowl to iron out any issues and just generally grafts to ensure we all have a good time. Get well soon, mate.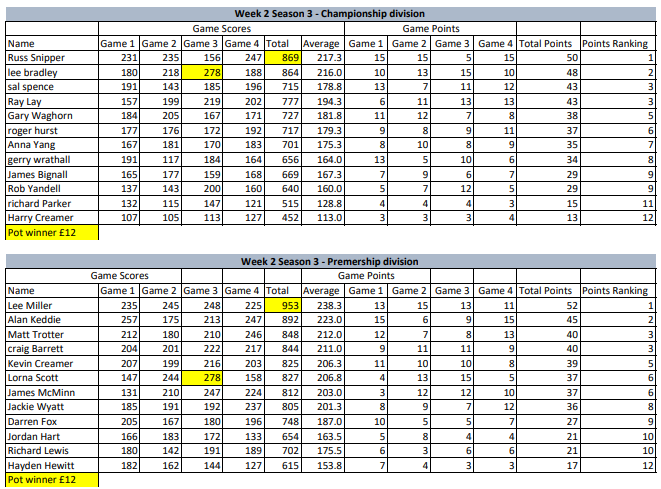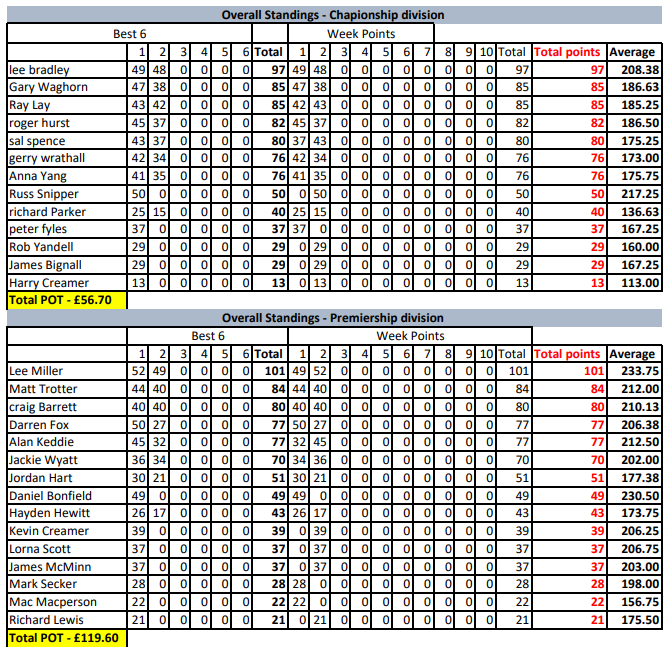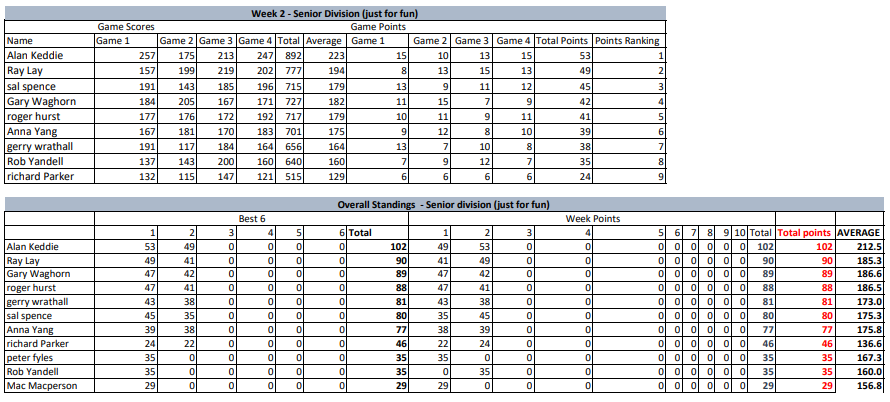 ---
Week 1 of a new season (season 3) – 20 bowlers this week and 1 newbie – Richard Parker, welcome.
There were quite a few promotions from the championship to the premiership after season 2, which has the left the championship a bit depleted.
Week 1 saw 9 bowlers in the championship. There were good performances from Gary Waghorn and Roger Hurst who both averaged over 190. But winning both pots for the first time was Lee Bradley. Despite opening with a 133 first game, Lee had two 230+ games and finished with a 808 to win the cash and become the early league leader. Lee's a bowler who spent a long time away from the game, came back a few months ago and is slowly putting his game back together and getting better every week.
Premiership – Going to be a tough season this year. All the promotions are really going to mix it up and make it harder to hit good points each week.  11 bowlers this week. Lee Miller was smashing the deck as usual and also being spawny as usual with some lucky breaks. But his 266 in game 2 won him the high game pot. Lee finished with a 917 series. Elsewhere, newly promoted Darren Fox hit a 903 set and was top point scorer on the night. But winning the high series pot (his first pot in 11 weeks) was the main man, the one, the only, a legend in his own lunchbox – Dan "basher" Bonfield who hit a 922 set…. And also spared the big 4… in a quite unusual way, hitting the 7 pin, the 4 pin slid across, but it was the 7 pin that bounced back out knocking over the 10 pin in the 6pin..
Week 2 next week Monday – registration from 7.30, we bowl at 8pm – come and give the league a go, your not obliged to bowl every week – it's all commitment free.