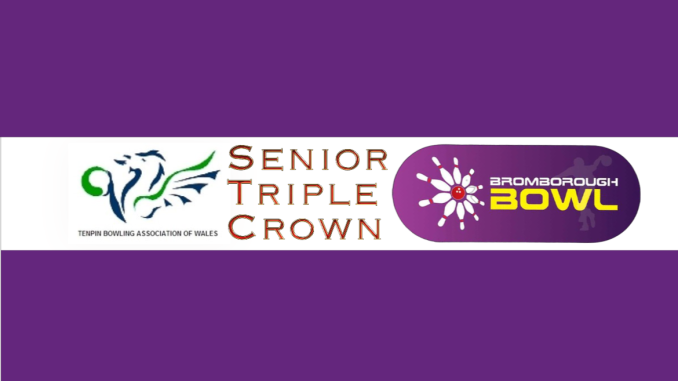 The 2023 Senior Triple Crown is being hosted by Wales and held at Bromborough bowl for the 18th-21st May.
---
Reports and Results will be posted here during the event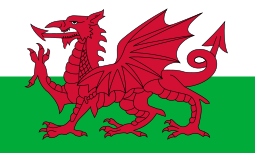 Ladies Singles
The ladies were first up on the Bromborough lanes and a tight battle at the top for Wales as Louise Roberts and Lynne Walker changed lead for the six game block and totals could not be separated at the end with 1240 each. Separated they were though and Lynne taking Gold on a higher last game. Bronze going to Ireland's Anita Watts with 1180.

Men's Singles
Next on Friday were the men for six games in the singles event and the Welsh again making a big challenge for the Gold with Robert Bruce and Sukki Gill going well but it was a 1-2-3 for England as Lol Ellis blasted a fine 1403 including a 267 to finish with as Paul Loberman took Silver with 1380 and Steven Jeeves taking Bronze with 1369.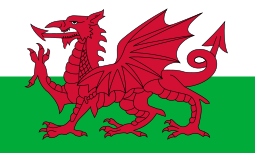 Ladies Doubles
The Welsh ended Friday as they started it and another Gold medal for Lynne Walker with Louise Roberts and 1232 the winning score. England's Diane Johnson and Lynn Squibb taking Silver with 1096 and Ireland's Anita Watts and Theresa Watt claiming Bronze with 1072.

Men's Doubles
More Gold for England and this time Paul Loberman and Steven Jeeves who hit a fine 1371 as Gareth Roberts and Robert Bruce took the Silver with 1276 and Ireland's Liam Byrne and Philip Watts claiming the Bronze medal with 1261.

Ladies Trios
More joy for England as they claimed another two medals by taking Gold and Bronze in the Trios event. Diane Johnson and Lynne Squibb picking up Gold with 1790 as Wales Walker/Cooke/Roberts taking Silver with 1757 and England's Simmonds/Dalley/Wills with the Bronze.

Men's Trios
The will be dancing in Scotland tonight as Jack Smith, Alan Keddie and Andy Gillespie took trios Gold with 2048 and a fine 742 from Alan. Wales Williams/Johanssen/Bruce took Silver with 2010 and England's Ellis/Baker/Hollands claimed Bronze with 1999.

Mixed Doubles
It was the top medal for our mixed pair as they hit 1236 as Ireland took Silver with 1193 and Bronze to Wales with 1026.


Team
The team event saw some close scoring and down to the last game in the Men's event. England coming through from second to claim the Gold as Ireland's ladies held on to take Gold. Scotland claimed the Silver and Wales the Bronze in the Men and England taking Silver and Wales Bronze in the ladies.


All Events
England's Steven Jeeves and Louise Roberts of Wales were crowned all events champions for 2023, Steve averaging 235 and Louise 209. Silver to Wales Lynne Walker and England's Lol Ellis with Bronze going to Ireland's Lorraine Keane and Wales Robert Bruce.


Masters
England's Paul Loberman opened up strong with 287,278,243 before a dip to 170 and back on form with 244,267 and 242 for 1731 and Gold. Lol Ellis with 1658 in Silver and Scotland's ALan Keddie in Bronze with 1636.
Ireland's Theresa Watts claimed the ladies Masters Gold with 1525 with Catherine WIlls in Silver and Ireland's ANita Watts in Bronze with 1418.
Overall

Mens Overall

Womens Overall

Masters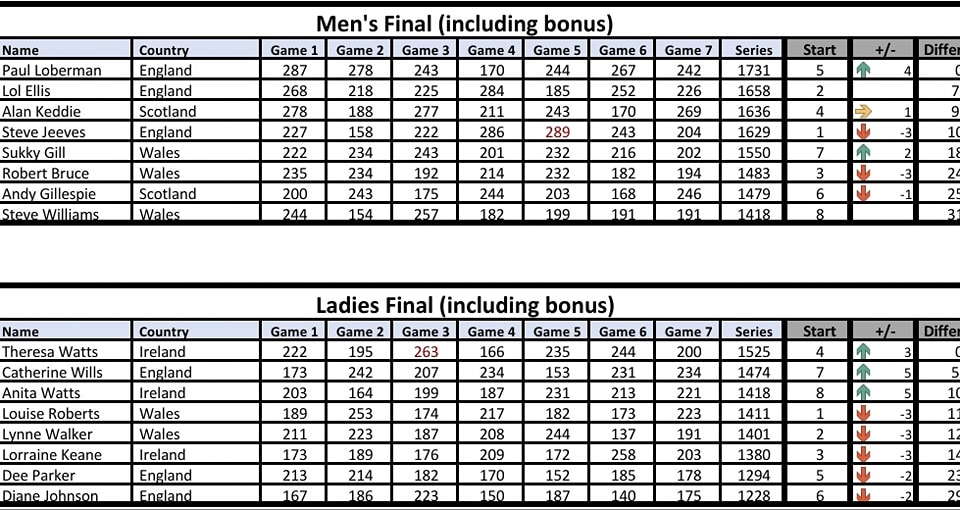 Womens All Events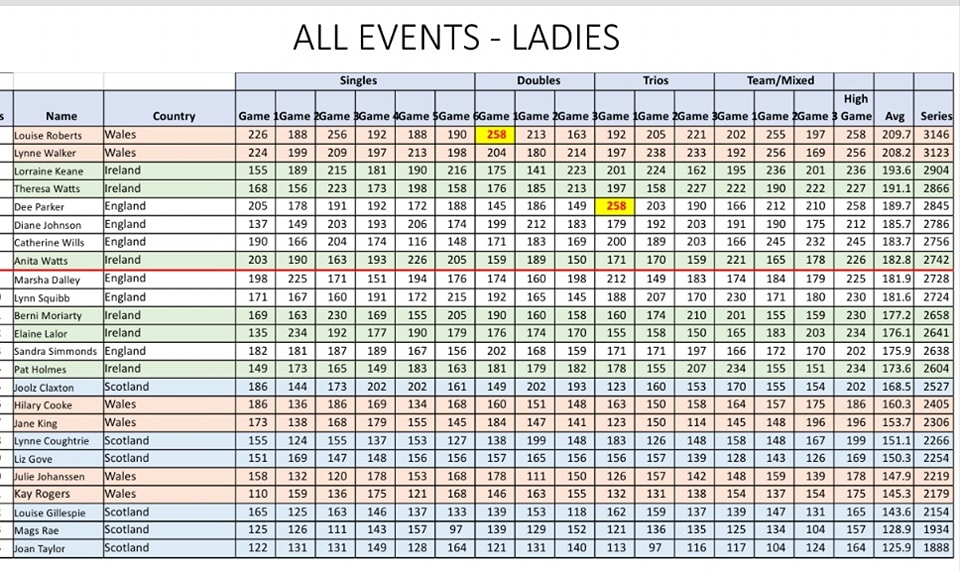 Men's All Events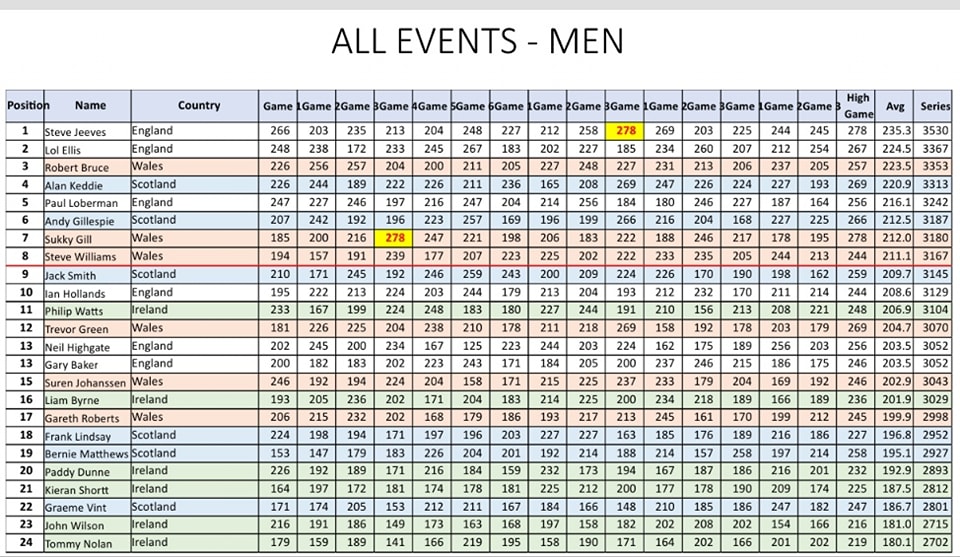 Ladies Team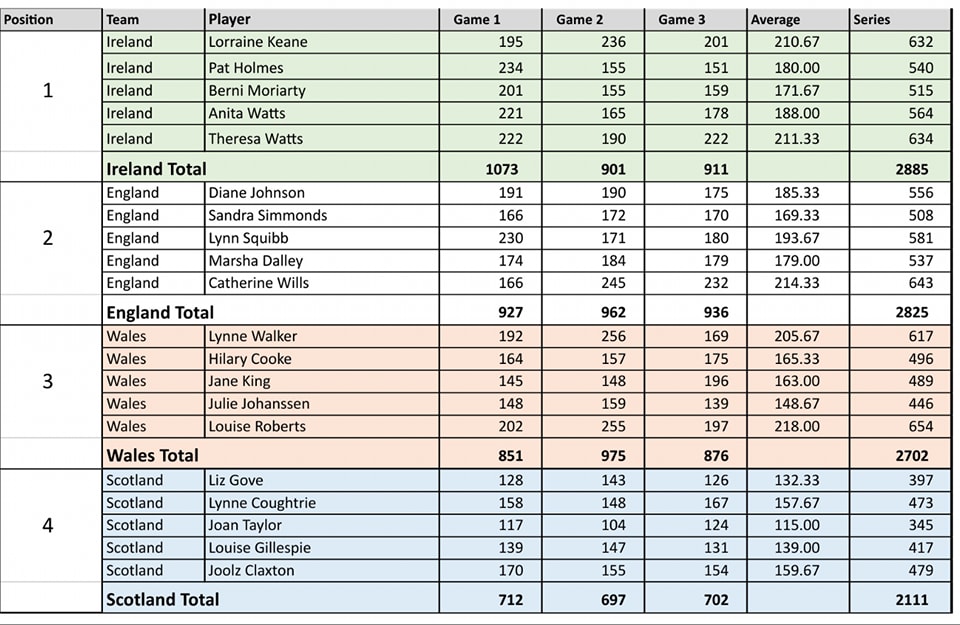 Men's Team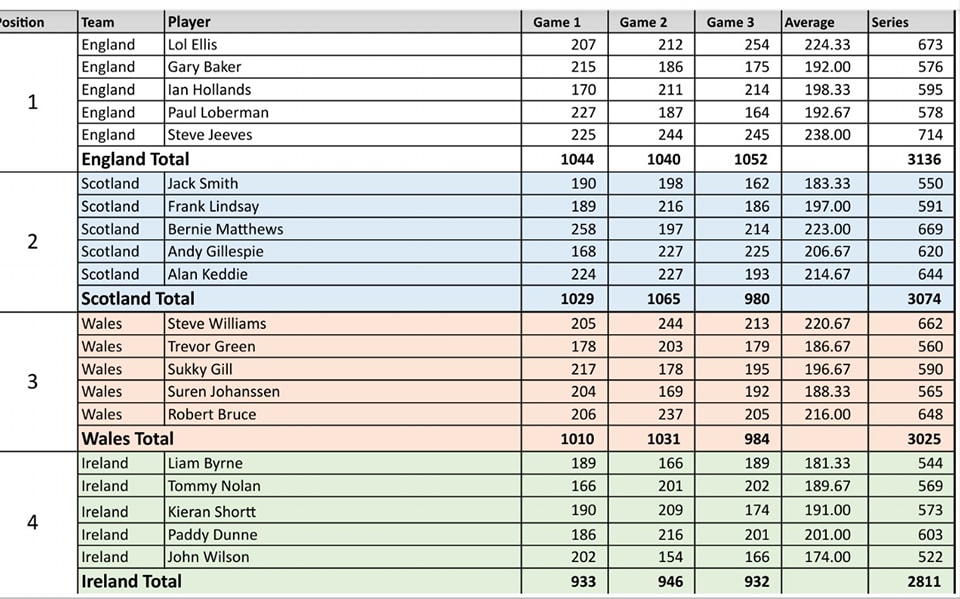 Mixed Doubles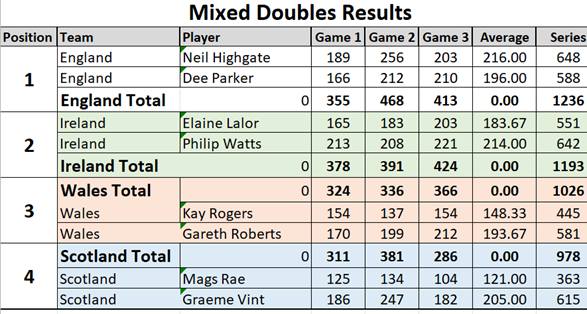 Men's Trios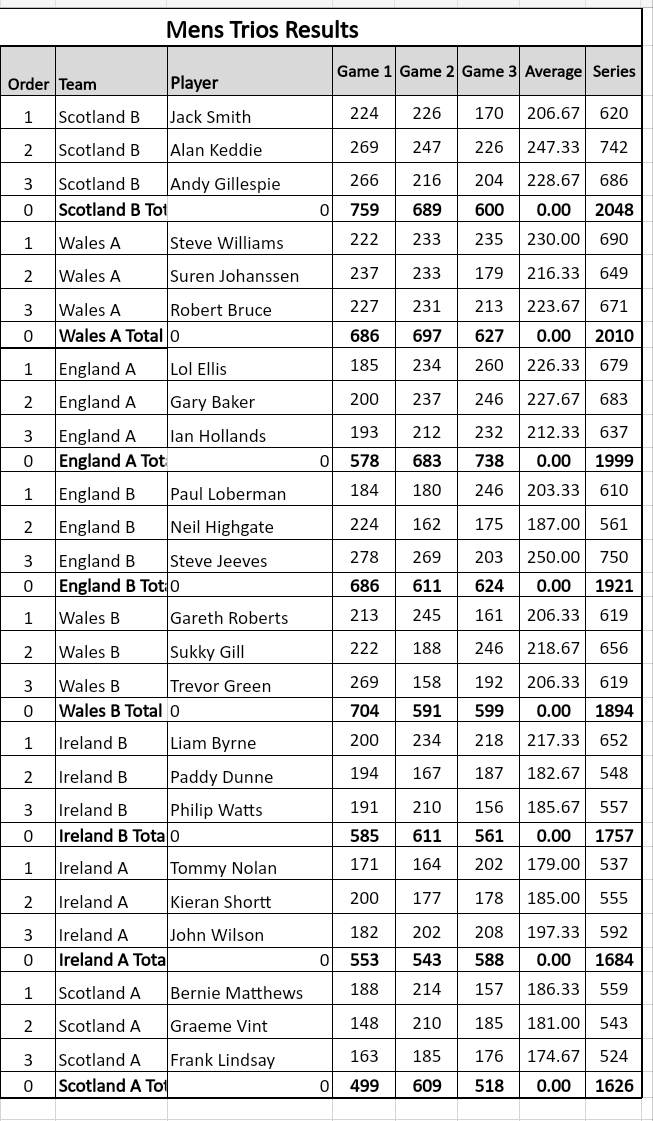 Womens Trios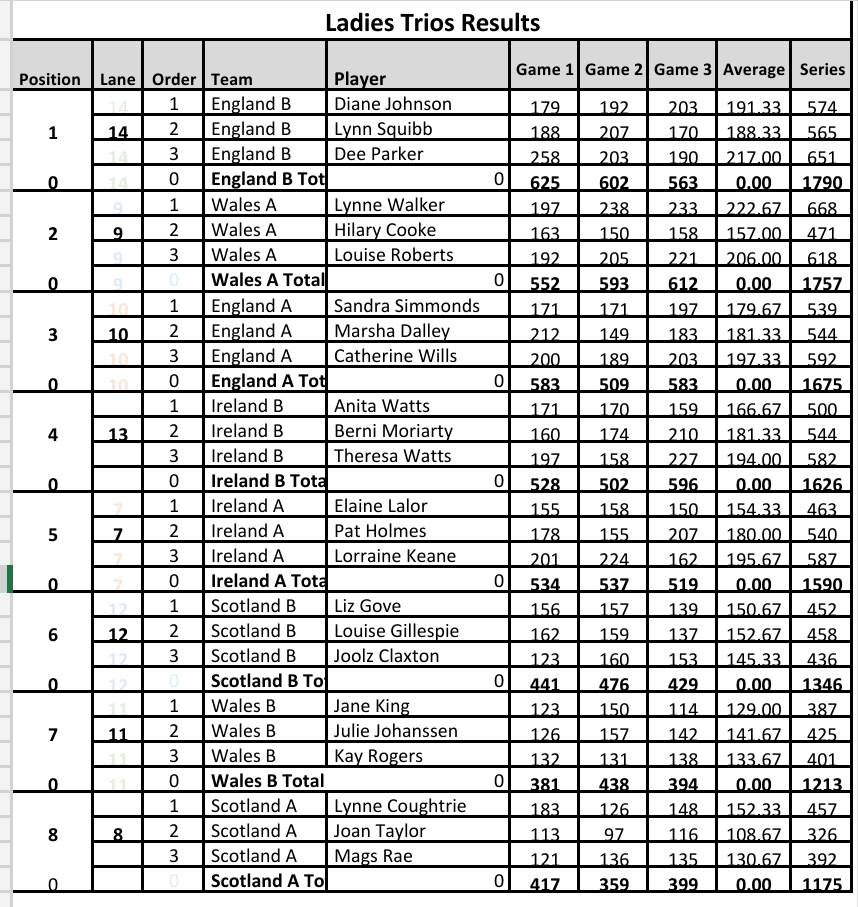 Men's Doubles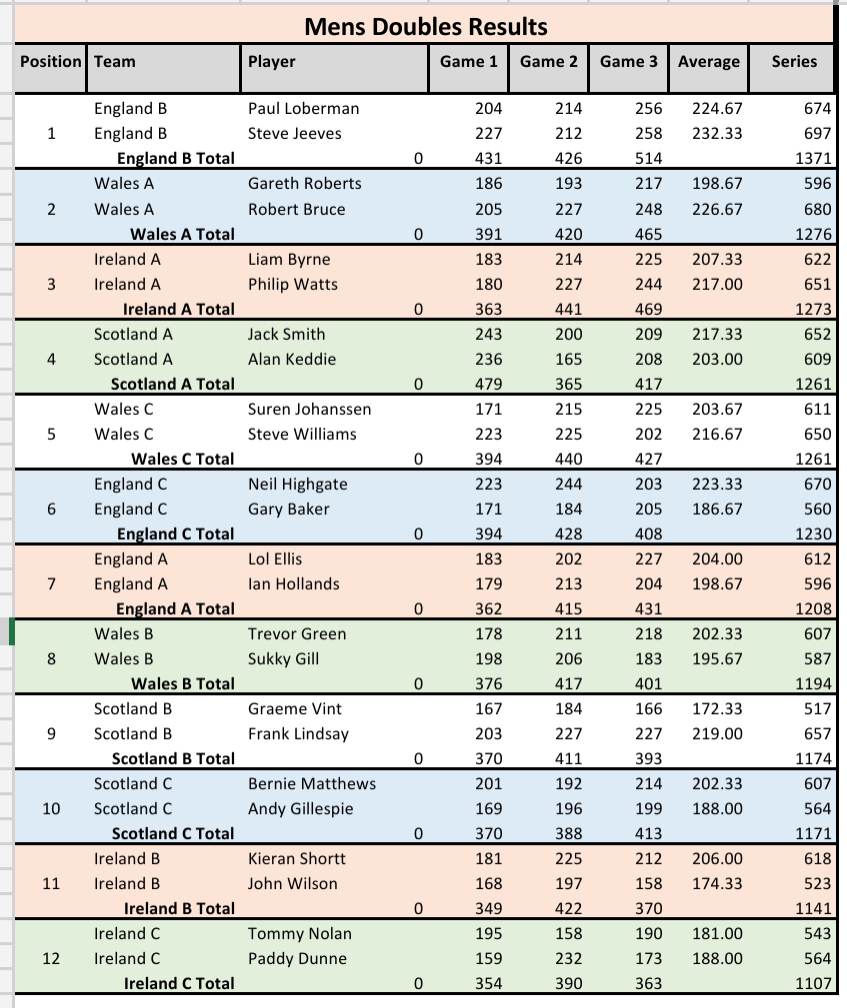 Ladies Doubles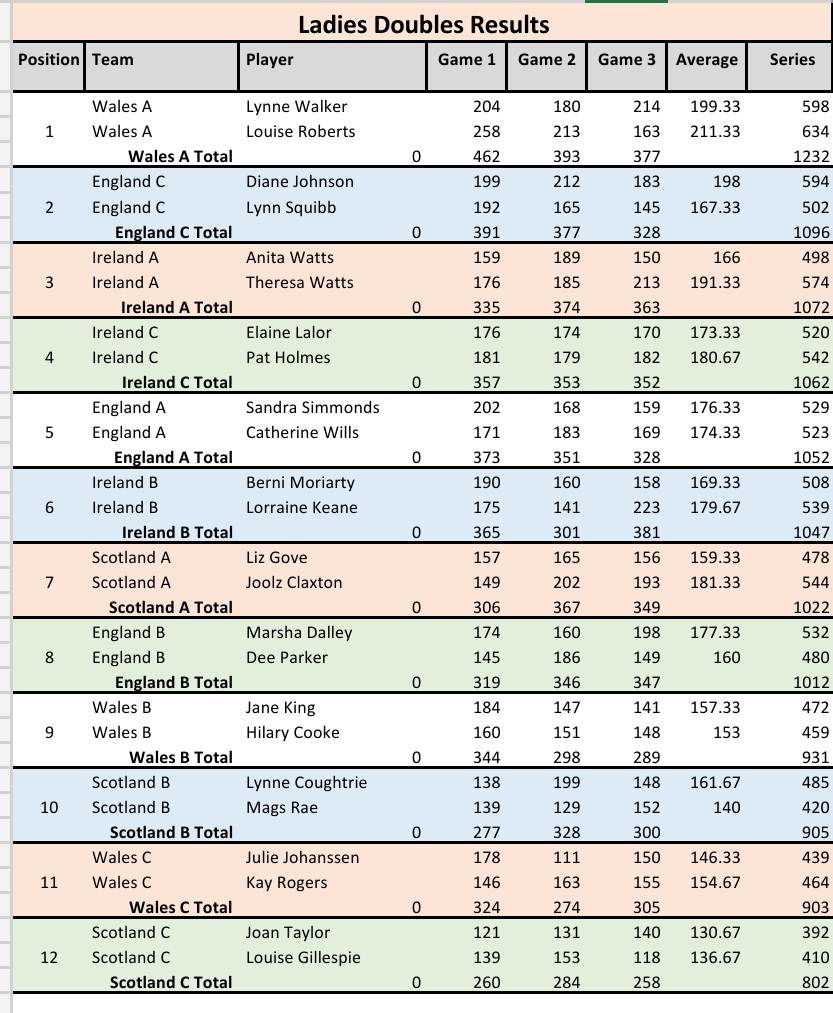 Men's Singles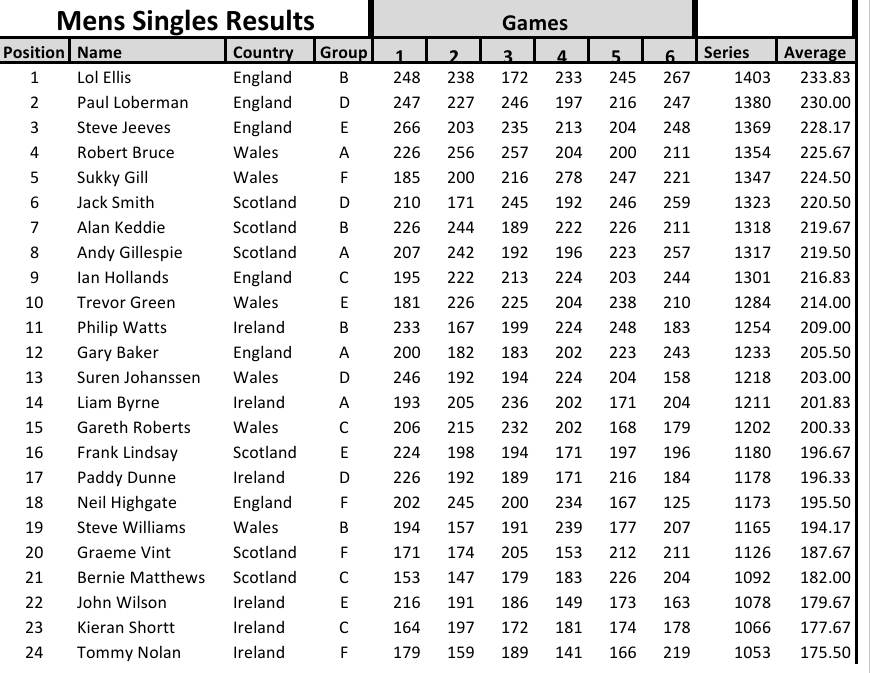 Ladies Singles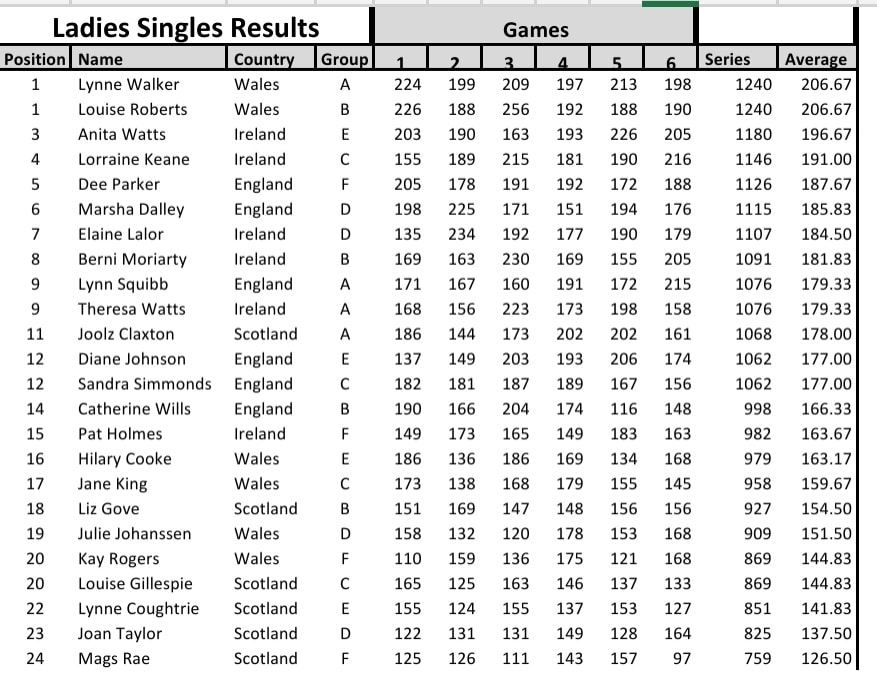 ---
Schedule