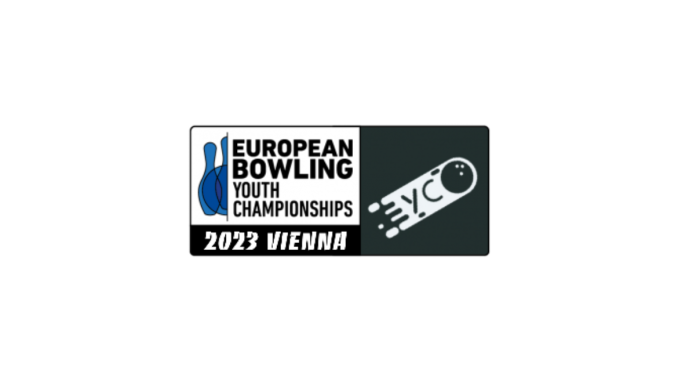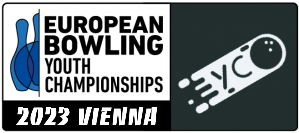 1-10 April 2023 in Vienna, Austria
The Championship will be co-hosted by the ÖSKB (Österreichischer Sportkegel- und Bowlingverband), the LVWB (Landesverband Wien Bowling), the EBF and Plus Bowling.
Please visit the Official website here
---
Reports
Back in 2022, we saw Finland taking four Gold, a silver and three bronze and Sweden with three Gold, five Silver and two Bronze. Norway, France and Italy also claiming a Gold each and all back in 2023 looking for more.
As always it will not be a clear path the the Gold medals and other countries more than capable of mounting a challenge including, The Czech Republic, Malta, Slovenia, Denmark, Germany, England and Ireland among others.
Expect some fine bowling from the best Young European athletes.

Boys Doubles
We got underway on Monday morning with the first of two boys doubles squads and at the halfway point of the first squad Sweden were flying high in first place with 1405 but not with the highest game so far. that honor going to Iceland with a fine 535 and in second place with England in third and Finland 4th. After six games there was no change at the top as Sweden's Emil Svensson (1429) and Kevin Melin (1371) hit a new EBF EYC record with 2800 to lead. Denmark in second with 2553, Norway third with 2539 and Greece fourth with 2527.
Squad two and again it was Sweden making the running, this time Carl Eklund and Robin Noberg smashing in games of 475,415,503,464 and 426 for 2283 with a game to go. Finland in second thanks in part to a fine 300 in game one for Markus Lahti. Slovakia, Malta and Norway all hovering for a place. Sweden ending with 410 took the squad and third overall with 2693 joining team mates Svensson and Melin in 1st on 2800, Finland's Lahti and Väänänen in second with 2705 and Slovakia third with 2678.

Boys Doubles Finals
Sweden vs Slovakia and Sweden vs Finland for two final places and could Sweden take both places? The answer was yes as Emil Svensson and Kevin Melin defeated Slovakia's Simon Jaros and David Barak 451-391 as team mates Robin Noberg and Carl Eklund just eased past Markus Lahti and Luukas Väänänen 459-432.
Sweden take Gold and Silver, we could write that before they even started. Who though exactly took which medal we would need to wait for. One game later it was Emil Svensson with 237 and Kevin Melin with 234 and 471 taking Gold as Robin Noberg scored 179 and Carl Eklund 223 for 402 and Silver.

Girls Doubles
Norway's Ordal and Mathieson were off to a good start and looking like leading the girls first squad until Finland made a break for the top spot with two last games of 427 and 458 to overtake. Norway second with 2397, Sweden third with 2372 and Denmark fourth with 2353.
Squad 2 and Sweden making a big run for another doubles medal as Kajsa Samuelsson (1246) and Elissa Mehmet (1160) took the squad with 2406 as Finland placed second with 2339. So through after the combined scores were Finland, Norway and two Swedish pairs.

Girls Doubles
Sweden vs Finland and Sweden vs Norway. Surely we could not see the same as yesterday in the boys doubles finals. Yes we could as Maja Engberg fired a perfect game and team mate Elin Berqvist adding 247 for a massive 547 to Finland's 351. Sweden going for Gold and Silver again as Elissa Mehmet (172) and Kajsa Samuelsson (181) just edged Norway with 350.
So Gold and Silver yet again for Sweden and a much tighter final saw Engberg and Bergquist just outpoint Mehmet and Samuelsson 375-368.

Boys Team
The first of two days for the team even started with the boys on the Austrian lanes first and no shocks with Sweden leading after the block with 2720 and a fine 759 from Robin Noberg including a perfect game. Second was Finland with 2702 and Markus Lahti top with 715. Denmark in third with 2651 and a 300 from Nicolas Carter and finally Norway fourth with 2555.
Block 2 on day 2 of the team event and no change at the very top as Finland rounded out with 5436 as Sweden placed second on 5433 and Denmark third with 5187. England taking the last spot with 5053.

Girls Team
The afternoon saw the girls on the lanes for the first of two blocks in the team event and leading overnight were Denmark with 2399 followed by Norway in second with 2266, Sweden third with 2249 and England fourth with 2229.
Block two and no one was catching the Great Danes in the top spot with 4849 but Sweden went up a place to second with 4562 and England into third with 4519. Frace taking the last spot with 4511.


Team Finals
Finland vs England and Sweden vs Denmark in the boys semi finals and it was Finland and Sweden cheering as they despatched the other two to set up an all scandinavian final.
In the girls semi finals France took on Denmark and England verses Sweden. France just pipping Denmark 748-734 but Sweden running out winners 852 against England's 738.
So onto the finals and Sweden vs Finland for the boys and not for the first time over the history of EYC. Finland would come out on top this time 833-806 and a good 243 from Jussi Laine helping the push to Gold.
Joy still though for Sweden as the Girls team claimed the Gold medal by outpointing France 802-715 and Kajsa Samuelsson tops with 245.
Boys Singles

Singles day for the boys and in the first squad it was home nation Austria cheering as Fabian Gross almost hit a perfecto with 299 but would lead after six games with 1462. Second going to Finland's Roni Leskinen with 1381 and third was Poland's Aleks Szczepaniak with 1380. Holding fourth was Sweden's Robin Noberg with 1306.
The second squad came and went and only one could catch the first squad leader from Austria Fabian Gross with 1462.  That boy was Max Lorenz from Germany who smashed in games of 284,266,254,189,269 and 211 for 1473. Third was Norway's Mathias Danielsen Otting with 1445 and taking the last spot was Denmark's Nicolas Carter with 1423.

Boys Singles Final
Denmark vs Germany and Norway vs Austria in our boys semi finals and joy for Denmark as Nicolas Carter won 217-190 against Germany's Max Lorenz and in the other semi it was joy for Norway as Mathias Danielsen Otting fired 268 to Fabian Gross' 235.
The final then and what a final. A great danish win as Nicolas Carter smashed in a 279 to claim the Gold with Norway's Danielsen Otting with 224.

Boys all events
After a week of events and well to be blunt, some stunning bowling, we found the all events winners. Gold and Silver for Sweden as Kevin Melin took the Gold with 4138 and Carl Eklund the Silver with 4078. Singles champion Nicolas Carter taking bronze with 4071.
The cut for the top 24 for the masters landed on home soil and Austria's Fabian Gross with 3808 and other countries also enjoying one or more places in the masters included Finland, Norway, Czech Republic, England, Poland, The Netherlands, Slovakia, Estonia, Greece, Malta, Germany and Iceland.

Girls Singles
Now it were the girls chance to shine in the singles over two squads on Saturday and staking a cllaim on a finals spot were Tiiamari Laukkanen from Finland in 1st with 1271, Second was Croatia's Vivian Banjac with 1217, third was Ireland's Hannah Masterson with 1186 and fourth was Norway's Emilie Marie Aas with 1178.
The second squad came and went and no change at the very top as Tiiamari Laukkanen from Finland was still 1st with 1271, Second now was Sweden's Elissa Mehmet with 1224 and third was Croatia's Vivian Banjac with 1217, fourth going the Julie Perrier from France with 1203.

Girls Singles Final
France vs Finland and Croatia vs Sweden in the Girls semi finals and through to the final were Julie Perrier from France defeating Finland's Tiiamari Laukanen 232-187 and joined by Sweden's Elissa Mehmet who beat Croatia's Vivian Banjac 237-202.
The final saw a close battle and a Gold medal from France as Julie Perrier hit 204 to Elissa Mehmets 178.

Girls All Events
Taking the Gold medal with a fine 208 average and 3754 was Tiiamari Laukkanen from Finland as Sweden's Kasja Samuelsson claimed the Silver medal with 3690 and team mate Elissa Mehmet taking the Bronze with 3544.The cut for the top 24 Masters landing on Iceland's Hafdis Eva Petursdottir with 3311. Other countries with one or more in the top 24 for masters included Denmark, Norway, Czech Republic, England, Croatia, Bulgaria and Ireland.
Masters
Four steps and 24 down to just two in the boys and two in the girls. Sweden's Kevin Melin vs Denmark's Nicolas Carter and Denmark's Karen Kærgaard Neilson vs Norway's Emilie Marie Aas. Quick work in the girls final as the Dane won 2-0.
In the boys final Sweden's Kevin Melin took a game lead 264-216 then Denmark's Nicolas Carter came back to level the match 269-216. The great Dane then added 256 to claim the Gold 2-1 with Melin firing 223 for Silver.
---
Home Nation Reports

England
Three Rookies and five experienced internationals for Team England in Vienna, Daniel Harding was 10th in the 2022 EYC all events and reached the masters, Charlie Upton and sister Millie back with more experience as are Jessica Sillis and Izzy Fletcher. New caps for another brother and sister as Yola and Frank Stephenson get a first taste of EYC as does Kallum Peach who just three years ago underwent operations that cast doubt on his bowling career. expect a determined permormance from Team England.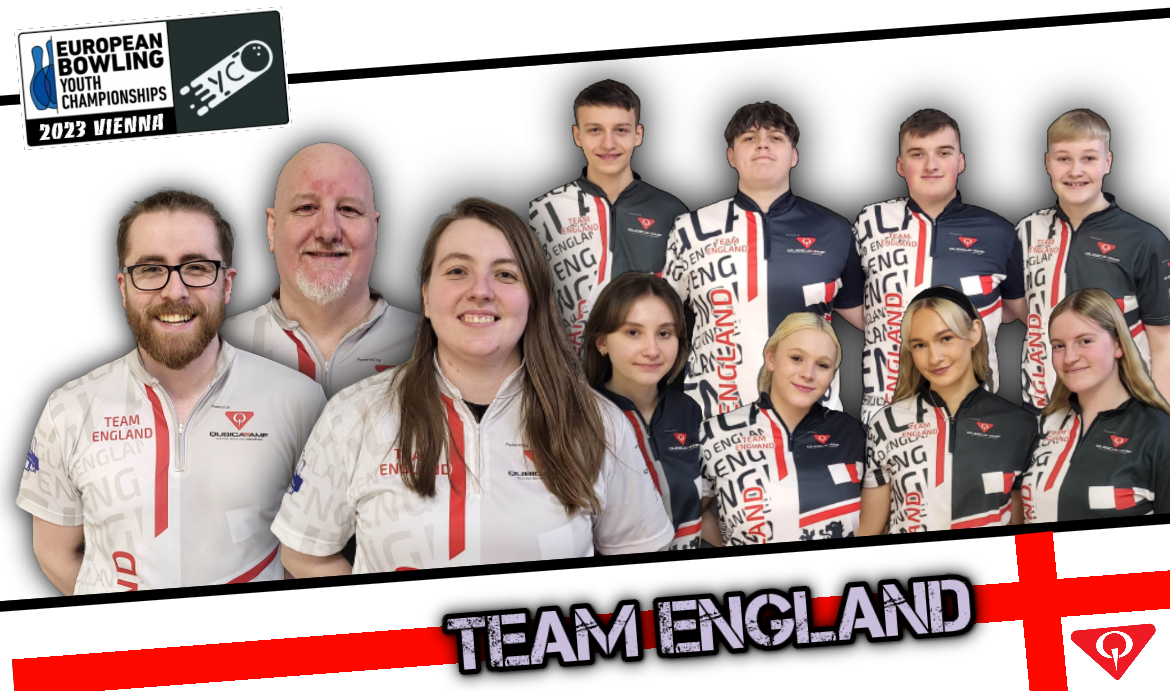 Boys Doubles
A great start for the English pair of Frank Stephenson and Kallum Peach. Games of 443,383 and 442 placing them third at the halfway point in the block. Further games of 449 and 402 saw the pair up to third but sadly dropping in the final game with 367 for 2486 and 6th place, Frank with 1247 and Kallum with 1239.
Next up in the doubles at 13.15-16.30 (12.15-15.30 GMT) was Charlie Upton and Dan Harding and some great bowling from the pair with games of 391,446,378,425,443 and 408 for 2491 and 12th place overall with Frank and Kallum ending in 14th.
Girls Doubles
Millie Upton and Yola Stephenson up for England first in the girls doubles on Tuesday and Millie off to a good start with 207 as newcomer Yola a nervous 164 and 371 start. Things went up and down a little with games of 329 then 407 and Yola finding her feet with a fine 242 in game three. Further games of 353,358 and 341 for 2159 and 7th place.
Next up for England was Jessica Sillis and Izzy Fletcher. Games of 337,322 and 368 before a step up in gear with 390 and a fine 471 and ending with 324 for 2212 in 11th place overall.
Boys Team
A 758 to start for England and Dan Harding the pick of the scores with 211 but things got much better in the next two games as England hit 878 and 849 for 2485 in sixth place and just 70 pins off the fourth place. Dan Harding continuing the great form with further games of 257 and 226 for 694.
Some epic bowling in the second block and started by Charlie Upton in the first game with a massive 296 and helping the team to 895 as they raced up the standings into third. An 827 saw them drop a place but 846 saw them hold on for a finals pace with 5053.
Girls Team
Sitting in fourth place overnight will be a good feeling for the English girls after a tough but productive first block. Games of 776,759 and 694 for 2229. Jessica the pick of the bunch with 585.
Starting with a solid 818 the England team added 742 and 730 to take third place and a spot in the team finals later in the day. Millie Upton the top girl with 1160.
Team Finals
The boys were up against Finland and the girls also with a tough ask playing Sweden. The Swede's were just a level up and fired 852 to Englands 738 and a high from Millie Upton with 209. Bronze in the bag though.
The boys also with a tough match bowled well and hit 845 but Finland just better all round and 921 taking them to a final with Sweden.
Boys Singles
Charlie and Frank up first in the singles for England and a good block for both as Charlie hit 1271 and a high of 255 for 11th place in a high scoring block as Frank rolled 1231 in 15th.
Daniel and Kallum up next for England and Dan was flying early on with games of 244 and 259 beofre a slight drop to 210 and 214 before a blip 151 and bouncing right back with 243 to book a place in the Masters on Sunday and 8th in the all events and 1321 logged for singles. Kallum fought well to 1228 at the end.
Boys All Events
A great day for Team England as Dan Harding made it into Sundays Masters by plcing top 8 in the All events. 1252 in doubles, 1411 in team and 1321 in singles for a total of 3984 in 8th. Elsewhere Kallum was 28th, Charlie 30th and Frank in 39th.
Girls Singles
Izzy Fletcher and Jessica Sillis up first for England in the singles and a good effort from both in a tough block. Izzy in 6th place at the end with 1160 and a high of 225 and Jessica in 10th with 1128 and a best of 202.
Millie Upton and Yola Stephenson next up to complete the singles and steady from both as Millia hit 1041 and Yola with 1079.
Girls All Events
Joy and pain for England as Two made the masters and two just missed out. Going through was Izzy Fletcher with 3415 in 12th and Jessica Sillis in 16th with 3370. Sadly just missing out were Yola Stephenson in 26th and Millie Upton in 27th.
Masters
Izzy Fletcher and Jessica Sillis were in the first step and Izzy winning 2-1 against Bulgaria's Sofia Stoyanova and Jessica beating Finland's Emma Palermaa 2-1.
Step two and Dan Hading joined the Masters against Swede Emil Svensson with the match going to three games and Dan winning 2-1. Out sadly went Jessica and Izzy, Jessica beaten by Sweden's Elissa Mehmet and Izzy defeated by Sweden's Maja Engberg.
Step three and another win against a Swede as Daniel defeated Robin Noberg 2-1 and then sadly lost to a Sweden in the semi final 2-1 and claiming a second Bronze medal at EYC2023.
---

Scotland
Two new stars for Scotland in their first EYC with Kelsi Cuthbert and Kevin Shaw getting a first outing in Vienna and joined by six who played in 2022 and back knowing what to expect. Campbell Gribben, Jack McDermott, Calum Robertson, Melissa Ainslie, Amy Addison and Isla Claxton all looking to improve on the last edition for Scotland.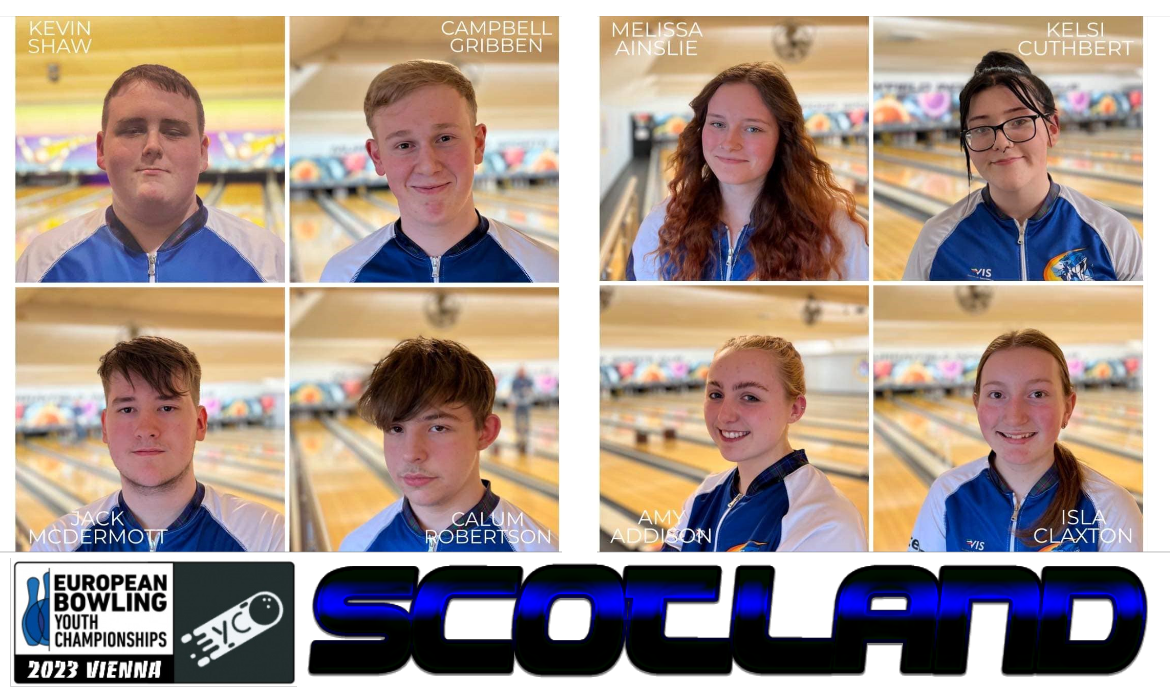 Boys Doubles
A shakey and nervous start for the Scottish pair of Calum Robertson and Kevin Shaw and games of 317, 350 and 290 after the first three games. Later games of 309, 299 and 360 gave the pair a total of 1925 in 21st with Calum on 1017 and Kevin with 908.
Cambell Gribben and Jack McDermott next up for the Scots and a great start with 441 and 455 before a dip to 386 and back up to 418. Further games of 3375 and 371 put the pair in 22nd overall. Cambell with 1249 and Jack with 1138.
Girls Doubles
Kelsi Cuthbert and Melissa Ainsie opening for Scotland and games of 373,311,271,316,323 and 349 for 1943 in 14th with Kelsi on 1005 and Melissa on 938.
Second on the lanes for the Scots were Isla Claxton and Amy Addison. Games of 319,306,398,265,346 and 366 for a total of 2000 and 12th in the squad.
Boys Team
Sixteenth at the end for the Scottish boys after a great start and 805 before tailing away a little in the next two games 718 and 635. Highman was Jack McDermott with 568.
18th was the spot at the end for Scotland and a total of 4290 and a high from Cambpbell Gribben with 1141.
Girls Team
Three games around the same area for the Scottish Girls as they opened with 650 before adding 679 then 686 for 2015 and into 11th place.
11th is where they would stay despite games of 682,675 and 694 for an overal total of 4066.
Boys Singles
Callum Robertson and Kevin Shaw up first for Scotland in the singles and Kevin ending in 36th with 1079 and ahigh of 219 as Calum placed 40th with 1031 and a high of 201.
Next up for Scotland was Campbell Gribben and Jack McDermott and 1165 for Jack and 1142 for Campbell.
Boys All Events
Campbell Gribben was top scot at the end in the all events with 3532 in 49th place as Jack McDermott placed 58th, Calum Robertson 85th and Kevin Shaw in 89th.
Girls Singles
Kelsi Cuthbert and Melissa Ainslie up first for Scotland and both battling well on the Austrian lanes with Kelsi the pick of the two with 1072 in 16th and Melissa with 1043 in 20th.
Up next for Scotland were Isla Claxton and Amy Addison and Isla the pitch of the duo with 1034 in 20th as Amy placed 32nd with 959.
Girls All Events
Kelsi Cuthbert was the top Scots Girl at EYC 2023 in 3oth with 3208 as Isla Claxton placed 49th, Melissa Ainslie in 53rd and Amy Addison in 56th.
---

Ireland
Three returning young Irish stars and two rookies in 2023 as Abby McKeever, Laura Grant and Hannah Masterson return and new EYC experience for Ciara Lawlor and the only boy Colum Staines.
Completing the doubles for the Irish girls were Laura Grant and Ciara Lawlor. Games of 383,281,350,313,285 and 285 for 1897 and 15th in the squad.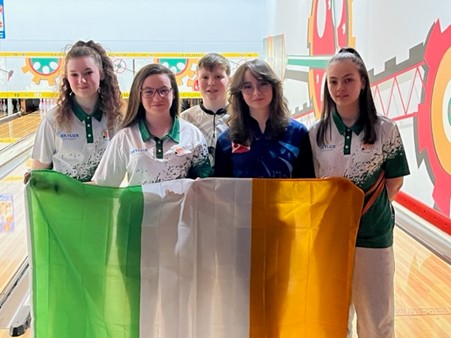 Boys Doubles
No complete team for Ireland but Colum Staines was up in the make up teams for his all events scores and a very good opening event after games of 233,178,181,196,279 and 214 for 1281.
Girls Doubles
Hannah Masterson and Abby McKeever up first for Ireland and some steady bowling over the block saw them hit games of 373,341,358,359,351 and 333 for 2115 with Hannah on 1089 and Abby with 1026.
Boys Team
In the make up teams again for Colum Staines and games of 186,176 and 163 for 525 in the first block of three. In the second block Colum added 173,190 and 160 for 1048.
Girls Team
A shaky start for the irish with a 600 game but they got better with each game adding 651 in game two and 716 in game three for 1967 and 13th place.
13th was also where the team ended after further games of 648,606 and 675 for 3896.
Boys Singles
1039 in the singles for Colum after games of 157,148,174,176,208 and 176.
Girls Singles
Hope for Ireland as Hannah Masterson blasted games of 198,157,225,221,181 and 204 for 1186 and into third place with a block to go. Team mate Abby McKeever back in 25th after a 984.
Laura Grant and Ciara Lawlor up next for Ireland and Laura with 981 placed 29th and Ciara with 875 was in 35th in the block.
Girls All Events
Dancing in Ireland as Hannah Masterson makes the Masters again in 22nd and a chance of a medal. Abby McKeever placed 52nd with Laura Grant in 55th and Ciara Lawlor in 67th.
Girls Masters
Final step 1 and Hannah Masterson against the Czech Republic's Eliška Brychová  and a 2-1 win. Into the final step 2 and another win, this time against Sweden's Kajsa Samuelsson 2-0 and into the quarterfinals. Next up was against Denmark's Karen Kærgaard Neilson and sadly not to be this time and 2-1 loss.
---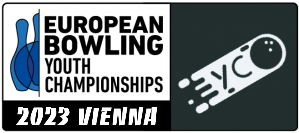 Results
View the complete schedule here
Results will appear on the official website here during the event.