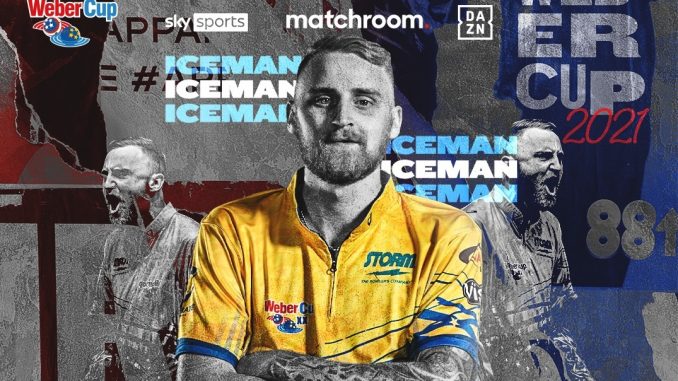 Jesper Svensson firmly believes Europe will get their hands back on the Weber Cup for the first time since 2017 when play gets underway next Thursday, 14 October at the Morningside Arena, Leicester.
Svensson will represent Europe for the sixth time: "I've been fortunate enough to get picked or bowl my way there. It's always a great honour to be a part of the European team and represent Team Europe with all those big names that have been on the team past and present. To bowl alongside Dom (Barrett), Stu (Williams), Thomas (Larsen), and Richie (Teece), I look forward to it. Hopefully, we can bounce back after a couple of tough years. We can only care about the future now and we have to try and make that trophy stay in Europe."
Europe got off to a bad start last year finding themselves 6-1 down after the opening session: "We were off to a bad start last year only scoring one point, we kind of dug ourselves into a deep hole that we struggled to get out of. If we would've had more time, we probably would've matched them. We must try and build from that momentum we set up over those last few sessions last year. Even though the last few years have been looking the same way with the USA having good starts and we've been strong towards the end but we've been so far behind it's hard to catch up. Hopefully, we can get off to a better start this year."
On competing against PBA teammates Chris Barnes, Chris Via, and Tom Daugherty: "I am just trying to be an asset to my team and let them take care of what they're doing, hopefully, they have a handful of struggles! It's a good experience to bowl with them but this week, it's all about Team Europe and my teammates."
He feels Europe can thrive off having the home crowd: I can't wait to bowl in front of that crowd. It was difficult last year, and we missed them. I am happy they're back in the venue this year. To be able to feed off them a bit, if they're loud, we can be loud and we can put on a show for them."
"We're definitely going to make that push to get the trophy back. The American team has some new guys on their team, it's a different environment to bowl in. They're very good bowlers but it's a different environment and it might take some time for them to get comfortable on that one-lane setup. Hopefully, we can get off to a better start, then I am pretty sure that trophy is heading back to Europe."
TICKETS
Ticket prices start from £15.00 per session for adults and £7.50 for children with a whole host of ticket options available including Premium which includes unlimited beer, wine, and soft drinks with a hot food option alongside special table seating on the left side of the lane as the players bowl. Fans also have the option to pick up a season pass from £50 making a saving of £10 over the week.
Click here for a full ticket price list
Premium Tickets include:
Unlimited beer, wine, and soft drinks
Hot food option
Table seating on the left side of the lane as players bowl
Make sure you are following the Weber Cup on Facebook, Instagram, and Twitter to keep up to date.
Established in 2000, the Weber Cup is the annual USA v Europe tenpin bowling challenge. Named after American bowling legend Dick Weber, the man who helped shape modern bowling, the event features two five-man teams competing over three days in a series of singles and doubles matches.