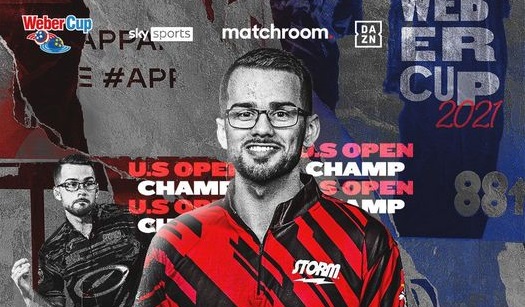 Chris Via is relishing making his Weber Cup debut for the USA at the Morningside Arena, Leicester next Thursday 14, to Saturday, 16 October with tickets on sale now.
"I am really looking forward to getting over there and competing. I am itching to get back out there and represent Team USA which will be an honour."
Via qualified for the USA from the PBA points list after a year that saw him claim the US Open title: "I've been close for about a year and a half now or two years. I've been making TV shows but couldn't quite get the job done when that time came but to get that done and claim my first title was something special for sure."
Chris Barnes will captain the USA again and Via knows him well from playing with him for the Silver Lake Atom Splitters: "He's pretty much the ultimate captain you could think of. He is a legend of the game and a master of the game. He will look at all aspects of the game to choose our best matches. He's a great leader. He knows when to be serious but also turns on the ultimate game mode, but he also knows how to keep us loose and fun as well. He's the perfect captain."
"There's some stiff competition out there. We're bowling against these guys week in and week out on the PBA Tour. You try to look at it as the same people you're bowling against. It becomes a bit different when it's a team environment. You try to put on your best game and not let the team down."
On representing the USA: "I've been lucky enough to represent Team USA in World Championship competitions and I think that's something I can draw from, and it definitely helps. But every time you have the USA on your back and competing against other countries, it's an honour."
"I'm definitely more of a serious bowler. I am not outgoing or flashy, but I bring the demeanour and I try and keep people on track. Team events bring a different animal out of you though and getting to be able to throw those big and important shots for your team and to be able to come through is something you cannot really describe. It might be a bit more energy than people are used to seeing from me."
On the four-peat possibility: "The USA has been bowling really good right now. I think we have some of the best bowlers in the world. Especially this year traveling as well. I think it's something we can look forward to and hopefully we can get that four in a row but it's not a weak team we're going up against. We have to make sure we are all on our A-game and ready to go and show up."
"I think the experience with the team (what Via's looking forward to). I am good friends with all the guys on the team. All these guys I am good friends with on the tour. It's going to be fun to compete with them and during the league, I was teammates with Barnes and Tom Daughterty and we had a really good time and Jesper Svensson was also on that team as well. I love team bowling. I've been a big advocate for it to be able to do it again and represent my country, it's going to be awesome.
TICKETS
Ticket prices start from £15.00 per session for adults and £7.50 for children with a whole host of ticket options available including Premium which includes unlimited beer, wine, and soft drinks with a hot food option alongside special table seating on the left side of the lane as the players bowl. Fans also have the option to pick up a season pass from £50 making a saving of £10 over the week.
Click here for a full ticket price list
Premium Tickets include:
Unlimited beer, wine, and soft drinks
Hot food option
Table seating on the left side of the lane as players bowl
Make sure you are following the Weber Cup on Facebook, Instagram, and Twitter to keep up to date.
Established in 2000, the Weber Cup is the annual USA v Europe tenpin bowling challenge. Named after American bowling legend Dick Weber, the man who helped shape modern bowling, the event features two five-man teams competing over three days in a series of singles and doubles matches.