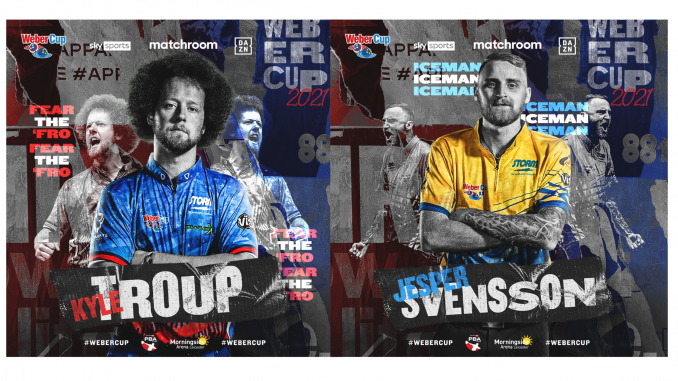 Kyle Troup, Chris Via, Thomas Larsen, and Jesper Svensson will join Team USA and Team Europe respectively for the 2021 Weber Cup, which will take place at Morningside Arena, Leicester this October 14-16.
The foursome qualify for the annual transatlantic tenpin tussle through the PBA Tour Points List as the top two ranked players for each respective team. The two teams will be made up of those mentioned plus the two captain's wildcards alongside the leaders Dominic Barrett and Chris Barnes.
Fans can get excited throughout this week with each team to be complete by next Friday with announcements for both the USA and Europe to come every day. The two teams will compete for a total pot of $75,000 with members of the winning team each taking home $10,000 and the runners-up receiving $5,000 per player.
Troup will represent the USA for the sixth consecutive year and goes in on a high as the number one player on the PBA Points list by over $250,000.
Barnes is aware of how valuable Troup is for Team USA: "His season marks the pinnacle that started right here at the Weber Cup. His experience and success right here in this event catapulted him into the PBA league, then a top 20 player, then top 10, and now the very best in the PBA tour. Besides his obvious talent, He brings a tremendous energy to our team. He's learned tremendously about how to consistently be the best version of himself and avoid the pitfalls of short-term obstacles. His positivity, energy, and talent are a big part of the success team USA has had these past 3 years"
Via meanwhile will make his Weber Cup debut on the back of a stellar year, Barnes is excited by his potential: "Chris is a man I've had high hopes about for ten years now. Bowling with him at team USA trials you could see his obvious talent. He's genuinely one of the nicest guys on tour and a great teammate. Like many of us, the transition from great potential to great player was difficult. He made that transition two years ago at the World Series and US Open and he is in contention at every single major now."
"I was glad to be a part of the same PBA league team where his inner confidence and versatility made him an obvious choice for years to come. He's now made the show in seven of the last eight PBA majors and is a star for the foreseeable future."
Svensson is looking forward to seeing fans back: "The year was decent I would say for me. There are always some ups and downs during a season but a lot of positives for sure. The Weber Cup is always a special event and representing your continent is always a great honor. I am really looking forward to the event. I can't wait to bowl in front of the fans in England again. They can hopefully help us bounce back from a couple of tough years in the past."
Larsen meanwhile will be looking to build on his first PBA Major title: "Winning the USBC Masters was a big confidence boost and taught me a little about what things I do well.
I also learned a lot about how to handle the pressure on TV, so I think that will help a lot with nerves at the Weber Cup."
"This being my second year it's great to be back. Even though we lost it was such a great experience last year, that I am really happy I get to be a part of it again. We have a great team and I think we are going to give the Americans a run for their money."
"Having the fans back is awesome! The Weber Cup is something special because of the fans and this will be my first time experiencing that. The fans can both be a little intimidating with everyone watching you, but I think it will be a great boost for us. I can only imagine throwing that first strike and hearing all the European fans yell!"
Tickets
Ticket news is coming soon with exciting plans to give fans the best access ever seen at a Weber Cup. Register for ticket alerts here.
Make sure you are following the Weber Cup on Facebook, Instagram, and Twitter to keep up to date with all the team announcements.
Established in 2000, the Weber Cup is the annual USA v Europe tenpin bowling challenge. Named after American bowling legend Dick Weber, the man who helped shape modern bowling, the event features two five-man teams competing over three days in a series of singles and doubles matches.