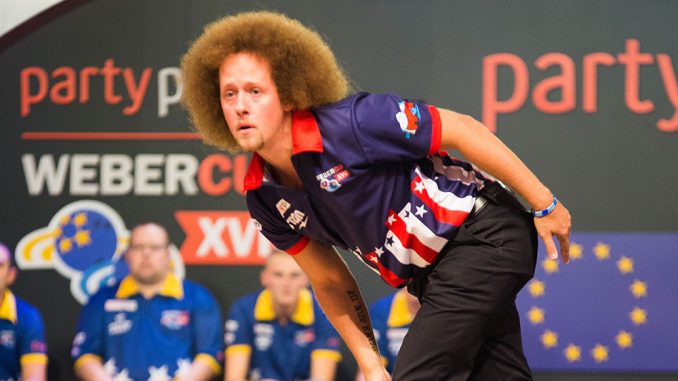 Kyle Troup has warned Team Europe that, after a four-year trophy drought, USA will not be leaving Barnsley without the Weber Cup.
The North Carolina bowler made his tournament debut last year and his exuberant personality made him a firm favourite with fans. He returns this year at Metrodome Arena, Barnsley as part of a new-look American side lead by Sean Rash and also featuring Marshall Kent and World Champion EJ Tackett.
The Weber Cup takes place over five sessions from Friday, September 8 until Sunday, September 10 and the 26-year-old is looking forward to playing in front of one of tenpin's most passionate crowds – but has warned Europe to make the most of their reign as Weber Cup champions, because it is about to come to an end.
"It is an honour to represent the USA again," said Troup, who won his second PBA Tour title this year – the Roth/Holman Doubles with Jesper Svensson, who will line up for Team Europe for a second time at this year's Weber Cup.
"The crowd was so electric last year in Manchester and being in Barnsley this year I can only imagine how great this year will be. I felt my performance was good last year, but I will be more comfortable this year and plan to strike more. I will not be wearing black pants the first day so Europe better be ready.
"Europe better enjoy the Weber Cup while they can because the USA is on a mission and we aren't leaving without the cup."
The Weber Cup is the annual transatlantic tenpin tussle which promises high drama as Europe's best taken on their American counterparts over a series of team, doubles and singles matches.
Europe are unchanged from the side who scored a 19-11 victory in 2016. Dominic Barrett leads the team for a third time as he makes a European record tenth Weber Cup appearance alongside England's Stuart Williams and Swedish pair Martin Larsen and Svensson.
Weber Cup XVIII takes place from Friday, September 8 until Sunday, September 10 at the Metrodome Arena, Barnsley. Tickets are on sale now at www.webercup.com priced from just £11 for adults and £6 for concessions with family ticket discounts available.