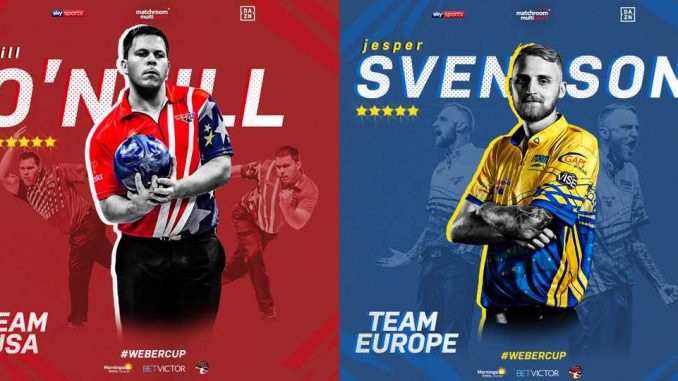 Bill O'Neill and Jesper Svensson will join Team USA and Team Europe respectively for the 2020 Weber Cup, which will take place at Morningside Arena, Leicester this October 23-25.
The newly expanded five-player teams for the annual transatlantic tenpin tussle were originally set to include the top two players off the PBA Tour Points List. However, due to the COVID-19 pandemic not all events scheduled to be included on the Points List have taken place.
Matchroom Multi Sport and both team captains – Dominic Barrett for Team Europe and Chris Barnes for USA – have agreed that the achievements of players on the PBA Tour Points list should still be recognised, and have therefore decided that the top European and top American player on the current PBA Tour Points List will join their BetVictor Weber Cup teams this year.
That means 'Real Deal' O'Neill will represent the Stars and Stripes for the sixth time at the BetVictor Weber Cup, and first since 2015. For Team Europe, Svensson makes it five in a row since making his debut in 2016.
"It means a lot to be able to get back to the BetVictor Weber Cup," said O'Neill. "My last few appearances were very poor and I didn't think I would get the chance to redeem myself so I'm looking forward to it.
"After everything that has been going on it's going to be great to get back to competing. I live for the competition and the BetVictor Weber Cup is some of the most fun we can have as competitors.
"I was going to talk some trash to the European team but I actually forgot who is on it. I think that sums up how much I care about them."
Svensson said: "To be a part if this prestigious event once again feels amazing. I'm very proud to represent Europe. We have had rough starts the past two years, so we want to get off to a better start this time and set ourselves in a better position for the later sessions.
"Of course, we all miss competitive bowling and I am really looking forward to being back on the BetVictor Weber Cup lane. Hopefully these hard times will soon be over so we can interact with everybody again."
Both qualifiers and the team captains will be joined by three wildcard picks per team, which will be announced over the next two weeks at WeberCup.com and on BetVictor Weber Cup social media channels.
Tickets for the BetVictor Weber Cup are available now at www.webercup.com priced from just £15 per session, with under 18s half price. Great value day and season tickets are available and for the first time, the BetVictor Weber Cup is introducing a Premium Ticket. Priced at £50 for Friday and £70 all day for Saturday or Sunday, the Premium Ticket includes seating in the front two rows, food and unlimited beer, wine and soft drinks.
Follow the BetVictor Weber Cup on Facebook, Twitter and Instagram for all the latest on bowling's famous Europe vs. USA battle.