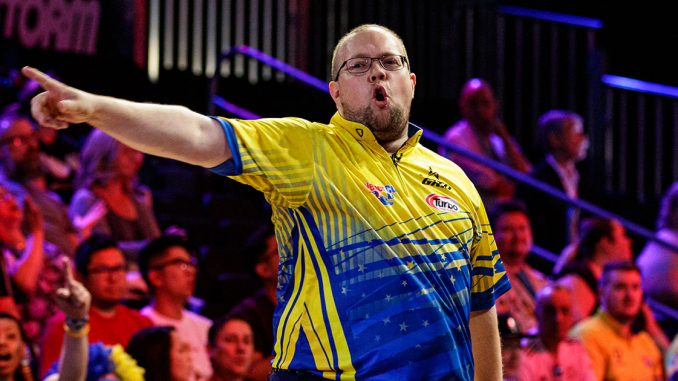 Stuart Williams will represent Team Europe for the tenth time at this year's BetVictor Weber Cup, after being selected as the first wildcard by captain Dominic Barrett.
'Beef Stu' will join Barrett and PBA Tour Points List qualifier Jesper Svensson on the team, with two further wildcard choices to be announced next week. The Ellesmere Port bowler, who now lives in Phoenix, Arizona, made his Weber Cup debut in 2005 and has been a ever-present on the team since 2012.
The annual transatlantic tenpin tussle takes place this October 23-25 at Morningside Arena, Leicester, with tickets available now at www.webercup.com. The event will be broadcast live on Sky Sports and DAZN and Williams is desperate to avenge the defeats suffered by Europe in the last two years.
"The BetVictor Weber Cup is the event every year that you want to be a part of, the prestige and passion of the event is unrivalled," said Williams. "We need to focus on things we can control, communicate well as a team and let the results take care of themselves.
"There is no getting around it, losing sucks. We have to use the frustration of the last couple of years to fuel the fire for this year's event. Being back in England, the crowd will be pumped up and ready to carry us to victory.
"I'm sure it will be strange to start with, as we haven't been competing much. But once the lights come on, everyone will be super motivated to get back to winning ways. It's been a while since any of us have got our competitive juices flowing!"
His captain Barrett added: "Stu is a staple of the European team. He has a lot of charisma and will for sure 'bring it' to the Americans."
Tickets for the BetVictor Weber Cup are available now at www.webercup.com priced from just £15 per session, with under 18s half price. Great value day and season tickets are available and for the first time, the BetVictor Weber Cup is introducing a Premium Ticket. Priced at £50 for Friday and £70 all day for Saturday or Sunday, the Premium Ticket includes seating in the front two rows, food and unlimited beer, wine and soft drinks.
Follow the BetVictor Weber Cup on Facebook, Twitter and Instagram for all the latest on bowling's famous Europe vs. USA battle.