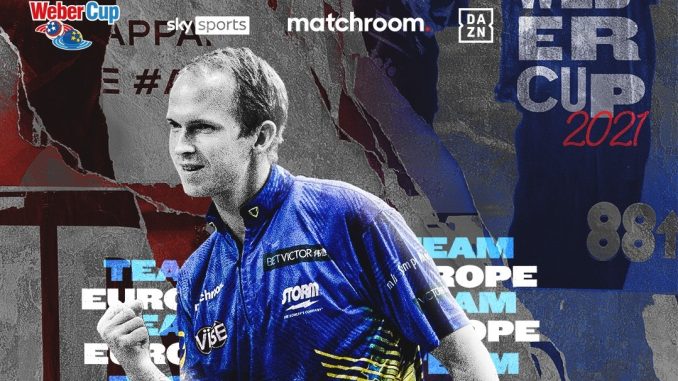 Thomas Larsen says it's a dream for all European bowlers to represent Team Europe at the Weber Cup with the Dane keen for his side to get out the blocks quickly as they get ready to take on the USA next week at the Morningside Arena, Leicester next Thursday 14, to Saturday, 16 October with limited tickets available.
Larsen made his debut last year in Europe's defeat and feels his career has kicked on since then: "It's been a good but weird year with COVID-19 and everything. It's been fun since the Weber Cup last year including winning a PBA Major. It was probably even though we lost one of the best experiences of my bowling career. it was such an awesome event and team to be a part of. I am really happy to be coming back and having the full experience with fans this year."
"Being picked by Dom last year was a big validation for me, it's a dream for European bowlers to be on the team. To build on that with the major, it's been a good and fun year to get all those experiences at once."
The USBC Masters 2021 winner believes Europe captain Dominic Barrett has the strategy for a Europe win: "I think with the talks we've had; we like our chances. We must get out of the gates quicker. We're adjusting and with the addition of Richie (Teece) to the team, we have a good chance and strategy going into next week. I was really surprised, I've known Dom a long time but to see him in that captain role, he rose to the occasion. He's tried a few times and he really wants to win. He goes over all the different scenarios that we could face so he's really trying to prepare himself and the team for what we're going to face and basically the best strategy for each session and hopefully this year it'll work out in our favour."
Larsen cannot wait to see fans back: "I think it will help us. Last year, what happened without the fans, we were a little uncomfortable and uneasy. The American's did a better job of hyping themselves up whilst we got off to a slow start. Whereas if we had the fans there, it'd changed the whole situation for us, so I think the fans will mean a lot to us this year."
"It's going to be a fun event. We're gonna have fun, we're going to see a lot of energy and antics from the players that you don't normally see when we bowl on our own. You will see a lot more of an energised team Europe this year.'
TICKETS
Ticket prices start from £15.00 per session for adults and £7.50 for children with a whole host of ticket options available including Premium which includes unlimited beer, wine, and soft drinks with a hot food option alongside special table seating on the left side of the lane as the players bowl. Fans also have the option to pick up a season pass from £50 making a saving of £10 over the week.
Click here for a full ticket price list
Premium Tickets include:
Unlimited beer, wine, and soft drinks
Hot food option
Table seating on the left side of the lane as players bowl
Make sure you are following the Weber Cup on Facebook, Instagram, and Twitter to keep up to date.
Established in 2000, the Weber Cup is the annual USA v Europe tenpin bowling challenge. Named after American bowling legend Dick Weber, the man who helped shape modern bowling, the event features two five-man teams competing over three days in a series of singles and doubles matches.