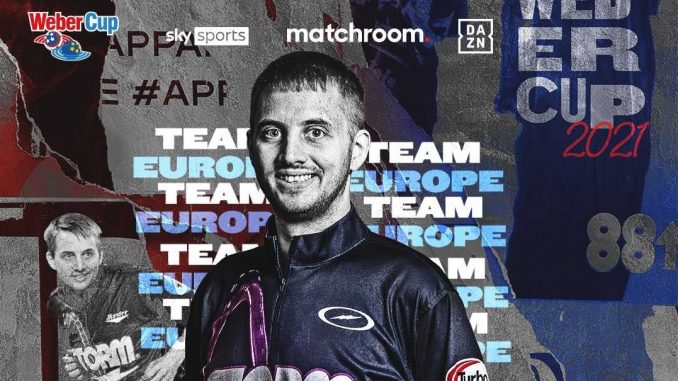 Richard Teece is relishing the opportunity to represent Europe at the upcoming 2021 Weber Cup, Morningside Arena, October 14-16 for the first time.
Teece became captain Dominic Barrett's final pick for his European side as they look to avenge defeat on home soil last year where the USA ran out 23-18 to make it three wins in a row.
"Growing up in the UK bowling scene, I was fortunate enough to watch and admire the talents of the bowlers through the Weber Cup on Sky Sports. Ever since then I've wanted to be just like them, so now being a part of it I'm super excited and ready to get on the one-lane environment."
The Englishman was part of the national team between 2004-2014: "I don't think it has quite sunk in yet. I'm currently isolating as I was competing on the PBA's Summer Tour, once I'm out of isolation and start to prepare for the event I think the realisation will sink in. I am looking forward to working with the team to claim the trophy back and keep is this side of the pond until next time."
He gave us an insight into what fans can expect from him: "When not competing I like to consider myself a very genuine and approachable guy, but when it comes to bowling especially in a team environment my true colours shine. My recent antics in the PBA League can back that up!"
The Weber Cup will be broadcast live on Sky Sports, DAZN, and Matchroom.Live with full broadcast details at www.webercup.com.
TICKETS
Ticket prices start from £15.00 per session for adults and £7.50 for children with a whole host of ticket options available including Premium which includes unlimited beer, wine, and soft drinks with a hot food option alongside special table seating on the left side of the lane as the players bowl. Fans also have the option to pick up a season pass from £50 making a saving of £10 over the week.
Click here for a full ticket price list
Premium Tickets include:
Unlimited beer, wine, and soft drinks
Hot food option
Table seating on the left side of the lane as players bowl
Make sure you are following the Weber Cup on Facebook, Instagram, and Twitter to keep up to date.
Established in 2000, the Weber Cup is the annual USA v Europe tenpin bowling challenge. Named after American bowling legend Dick Weber, the man who helped shape modern bowling, the event features two five-man teams competing over three days in a series of singles and doubles matches.