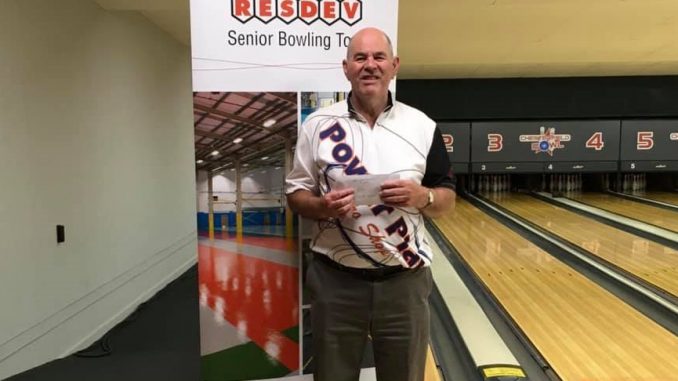 Firstly I would like to thank all the bowlers for turning up on Sunday 25th July at Chesterfield for the 1st stop of this year's Resdev Senior Tour ( 2 jabs tour). It was a personal pleasure to see some familiar faces and some new ones on the tour, just to soak in the atmosphere of bowlers chatting and bowling together at last made things seem like we are getting back to some normality after all this time.
Anyway on to the actual tournament and straight away what a start with a perfect 300 game from Scottish International Senior Andy Gillespie on a tougher than expected pattern as it proved to be with high scores few and far between although mentions to both Darren Knightsbridge and Andy Preece with 278 and Ron Oldfield 265 being the highlights, leading after the first squad by a big margin was Yorkshire veteran Al Jenkins with 1378 inc bonus with an opening burst of 213,259,248 being decisive, in 2nd a new bowler to the tour Len Clark on 1259 inc bonus.
Bowlers were aiming for a top 16 place into round 2 . The 2nd squad of bowlers found the conditions just as tough and after their 6 games top of the pile would be Andy Preece despite starting with a 136 game would go on to lead with 1334 inc bonus helped by 235,233,278 burst in games 3/4/5. Closely followed by Resdev tour stalwart Mike (frosty) Halliwell with 1291, on 2 more from this squad would qualify Keith Hodge 1251 and an old face coming back to bowling Paul (lobbers)Loberman 1249, Nev Robinson missing out by just 1 pin on 1201 inc bonus. Round 2 and the 16 remaining bowlers play 4 more games to try and gain a spot in the 6 person round robin.
Blasting his way from 16th to 3rd was another Scottish senior Alan Keddie with 916 inc bonus, moving into 1st was Andy Preece as Al Jenkins struggled but held on for the round robin in 5th, into 2nd would be Welsh international Louise Roberts, rounding out the top6 were Mike Halliwell and Keith Hodge, with Yorkshire Senior Gary Barlow just missing out by 3 pins.
The round robin became a battle of the fittest as conditions got trickier and bowlers not used to bowling this many games in a day for such a long time, Andy Preece led from the start with all the other bowlers trying to catch him, but only 1 bowler in the end would challenge and that would be Keith Hodge with 4 solid 200+ games to go into the final game just 18 behind Andy as it turned out they played each other in the final game and what a great final game it was, both bowlers matching each other and into the last frame either could still win with a good finish but with 3 solid pocket shots in the 10th frame Keith would come out victorious to become the first leftie to win a Resdev stop.
So Andy finished a close 2nd followed by Louise, Alan Mike and Al who at 79 years old was excellent all day after such a long lay off. To finish with many thanks to Debbie and all the staff at Chesterfield who looked after the bowlers magnificently all day. On a personal note once again my thanks to all the bowlers for giving me an excellent time running the tournament and thanks to Wendy Grant and Maureen Oldfield for all their help, it is so much appreciated. It is now onto the 12th September at Shipley for stop 2.
Report by Jack Smith

Finalists Photos by Alan Turner
Final

Round 2
| | | | | | | | | | | | |
| --- | --- | --- | --- | --- | --- | --- | --- | --- | --- | --- | --- |
| | NAME | Bns | 1 | 2 | 3 | 4 | SCR | Bns | TTL | B/F | TTL |
| 1 | ANDY PREECE | 10 | 177 | 200 | 183 | 217 | 777 | 40 | 817 | 1334 | 2151 |
| 2 | LOUISE ROBERTS | 10 | 214 | 191 | 233 | 188 | 826 | 40 | 866 | 1256 | 2122 |
| 3 | ALAN KEDDIE | 5 | 218 | 213 | 231 | 234 | 896 | 20 | 916 | 1202 | 2118 |
| 4 | FROSTY | 10 | 179 | 205 | 203 | 196 | 783 | 40 | 823 | 1291 | 2114 |
| 5 | AL JENKINS | 15 | 172 | 174 | 165 | 145 | 656 | 60 | 716 | 1378 | 2094 |
| 6 | KEITH HODGE | 15 | 150 | 189 | 233 | 207 | 779 | 60 | 839 | 1251 | 2090 |
| | | | | | | | | | | | |
| 7 | GARY BARLOW | 10 | 204 | 237 | 178 | 190 | 809 | 40 | 849 | 1238 | 2087 |
| 8 | ANDY GILLESPIE | 5 | 182 | 194 | 219 | 228 | 823 | 20 | 843 | 1208 | 2051 |
| 9 | LEN CLARK | 15 | 151 | 152 | 178 | 235 | 716 | 60 | 776 | 1259 | 2035 |
| 10 | RON OLDFIELD | 10 | 265 | 173 | 183 | 161 | 782 | 40 | 822 | 1204 | 2026 |
| 11 | PAUL LOBERMAN | 0 | 201 | 179 | 181 | 200 | 761 | 0 | 761 | 1249 | 2010 |
| 12 | MARTIN CLEMENTS | 15 | 181 | 190 | 152 | 195 | 718 | 60 | 778 | 1217 | 1995 |
| 13 | JULIA CLAXTON | 30 | 136 | 177 | 174 | 169 | 656 | 120 | 776 | 1218 | 1994 |
| 14 | FRANK LINDSAY | 10 | 158 | 185 | 182 | 166 | 691 | 40 | 731 | 1210 | 1941 |
| 15 | DARREN KNIGHTSBRIDGE | 0 | 222 | 166 | 155 | 170 | 713 | 0 | 713 | 1213 | 1926 |
| 16 | ANDREW MERCER | 5 | 145 | 140 | 192 | 155 | 632 | 20 | 652 | 1230 | 1882 |
Qualifying
| | | | | | | | | | | | |
| --- | --- | --- | --- | --- | --- | --- | --- | --- | --- | --- | --- |
| | NAME |  Bns | 1 | 2 | 3 | 4 | 5 | 6 | SCR Ttl | Bns | Ttl |
| 1 | AL JENKINS | 15 | 213 | 259 | 248 | 177 | 178 | 213 | 1288 | 90 | 1378 |
| 2 | ANDY PREECE | 10 | 136 | 190 | 235 | 233 | 278 | 202 | 1274 | 60 | 1334 |
| 3 | FROSTY | 10 | 168 | 199 | 237 | 161 | 213 | 253 | 1231 | 60 | 1291 |
| 4 | LEN CLARK | 15 | 156 | 173 | 224 | 211 | 219 | 186 | 1169 | 90 | 1259 |
| 5 | LOUISE ROBERTS | 10 | 177 | 223 | 172 | 245 | 189 | 190 | 1196 | 60 | 1256 |
| 6 | KEITH HODGE | 15 | 179 | 171 | 231 | 174 | 196 | 210 | 1161 | 90 | 1251 |
| 7 | LOBBERS | 0 | 225 | 206 | 199 | 203 | 204 | 212 | 1249 | 0 | 1249 |
| 8 | GARY BARLOW | 10 | 170 | 182 | 213 | 236 | 205 | 172 | 1178 | 60 | 1238 |
| 9 | ANDREW MERCER | 5 | 215 | 212 | 161 | 214 | 182 | 216 | 1200 | 30 | 1230 |
| 10 | JULIA CLAXTON | 30 | 176 | 162 | 206 | 159 | 177 | 158 | 1038 | 180 | 1218 |
| 11 | MARTIN CLEMENTS | 15 | 163 | 192 | 188 | 233 | 184 | 167 | 1127 | 90 | 1217 |
| 12 | DARREN KNIGHTSBRIDGE | 0 | 168 | 278 | 194 | 200 | 159 | 214 | 1213 | 0 | 1213 |
| 13 | FRANK LINDSAY | 10 | 174 | 167 | 190 | 225 | 206 | 188 | 1150 | 60 | 1210 |
| 14 | ANDY GILLESPIE | 5 | 300 | 194 | 192 | 139 | 190 | 163 | 1178 | 30 | 1208 |
| 15 | RON OLDFIELD | 10 | 201 | 190 | 211 | 184 | 170 | 188 | 1144 | 60 | 1204 |
| 16 | ALAN KEDDIE | 5 | 169 | 169 | 224 | 224 | 186 | 200 | 1172 | 30 | 1202 |
| | | | | | | | | | | | |
| 17 | NEV ROBINSON | 10 | 236 | 159 | 214 | 176 | 166 | 190 | 1141 | 60 | 1201 |
| 18 | STEVE COATES | 10 | 190 | 182 | 226 | 166 | 212 | 161 | 1137 | 60 | 1197 |
| 19 | IAN MCDONALD | 20 | 185 | 157 | 178 | 202 | 173 | 174 | 1069 | 120 | 1189 |
| 20 | STEVE WILLIAMS | 5 | 170 | 130 | 210 | 203 | 204 | 241 | 1158 | 30 | 1188 |
| 21 | SUREN JOHANSSEN | 10 | 236 | 155 | 156 | 208 | 167 | 203 | 1125 | 60 | 1185 |
| 22 | PAULINE MCDONALD | 30 | 148 | 156 | 174 | 177 | 167 | 171 | 993 | 180 | 1173 |
| 23 | ROBERT BRUCE | 0 | 176 | 216 | 210 | 216 | 160 | 192 | 1170 | 0 | 1170 |
| 24 | SELWYN MORGAN | 10 | 183 | 181 | 185 | 184 | 214 | 163 | 1110 | 60 | 1170 |
| 25 | MARTIN GREEN | 15 | 146 | 161 | 188 | 147 | 232 | 200 | 1074 | 90 | 1164 |
| 26 | ANDY YEOMANS | 10 | 171 | 205 | 182 | 163 | 181 | 197 | 1099 | 60 | 1159 |
| 27 | GARRY COOPER | 0 | 174 | 236 | 222 | 182 | 144 | 200 | 1158 | 0 | 1158 |
| 28 | JOHN STRETTLE | 15 | 179 | 180 | 171 | 169 | 198 | 167 | 1064 | 90 | 1154 |
| 29 | BAZ WALKER | 5 | 191 | 158 | 174 | 165 | 234 | 202 | 1124 | 30 | 1154 |
| 30 | KEVIN LAMB | 15 | 188 | 173 | 167 | 139 | 199 | 195 | 1061 | 90 | 1151 |
| 31 | GARY CHRISTOPHER | 5 | 179 | 184 | 215 | 177 | 185 | 180 | 1120 | 30 | 1150 |
| 32 | ANNA YANG | 25 | 133 | 148 | 205 | 175 | 143 | 189 | 993 | 150 | 1143 |
| 33 | STEVE BOSE | 5 | 213 | 165 | 165 | 198 | 168 | 203 | 1112 | 30 | 1142 |
| 34 | TREVOR LAMPRELL | 15 | 167 | 188 | 179 | 156 | 182 | 176 | 1048 | 90 | 1138 |
| 35 | JAN HODGE | 25 | 145 | 171 | 181 | 155 | 191 | 137 | 980 | 150 | 1130 |
| 36 | STEVE WILSON | 20 | 155 | 144 | 213 | 160 | 158 | 176 | 1006 | 120 | 1126 |
| 37 | HILARY COOKE | 25 | 179 | 157 | 167 | 155 | 159 | 154 | 971 | 150 | 1121 |
| 38 | MALLY MYATT | 15 | 146 | 138 | 181 | 133 | 223 | 198 | 1019 | 90 | 1109 |
| 39 | MO SINGLETON | 15 | 159 | 142 | 183 | 193 | 155 | 186 | 1018 | 90 | 1108 |
| 40 | LYNN WALKER | 15 | 146 | 187 | 177 | 155 | 185 | 165 | 1015 | 90 | 1105 |
| 41 | CARL TAYLOR | 5 | 193 | 174 | 170 | 182 | 195 | 159 | 1073 | 30 | 1103 |
| 42 | PHILLIPE IVES | 20 | 154 | 136 | 137 | 192 | 191 | 172 | 982 | 120 | 1102 |
| 43 | KEV PILLEY | 0 | 175 | 182 | 181 | 206 | 154 | 199 | 1097 | 0 | 1097 |
| 44 | IAN BUCKLAND | 15 | 159 | 181 | 169 | 163 | 175 | 160 | 1007 | 90 | 1097 |
| 45 | LES KEATES | 5 | 168 | 179 | 154 | 184 | 157 | 224 | 1066 | 30 | 1096 |
| 46 | DAVE BROOMFIELD | 5 | 221 | 133 | 160 | 176 | 172 | 197 | 1059 | 30 | 1089 |
| 47 | JOHN COUGHTRIE | 10 | 164 | 160 | 191 | 174 | 192 | 147 | 1028 | 60 | 1088 |
| 48 | CAROL ORANGE | 20 | 124 | 181 | 163 | 168 | 170 | 155 | 961 | 120 | 1081 |
| 49 | TREVOR GREEN | 5 | 199 | 171 | 184 | 167 | 156 | 167 | 1044 | 30 | 1074 |
| 50 | PAUL NEWTON | 20 | 148 | 134 | 204 | 151 | 138 | 177 | 952 | 120 | 1072 |
| 51 | DAN BONFIELD | 5 | 158 | 203 | 194 | 149 | 170 | 153 | 1027 | 30 | 1057 |
| 52 | LES GRANT | 20 | 148 | 135 | 189 | 136 | 157 | 165 | 930 | 120 | 1050 |
| 53 | LYNN COUGHTRIE | 25 | 169 | 133 | 156 | 162 | 116 | 160 | 896 | 150 | 1046 |
| 54 | COLIN GROSE | 0 | 138 | 157 | 181 | 229 | 167 | 174 | 1046 | 0 | 1046 |
| 55 | IAN KENNEDY | 15 | 157 | 147 | 161 | 160 | 125 | 194 | 944 | 90 | 1034 |
| 56 | MICK INCE | 20 | 149 | 148 | 146 | 178 | 159 | 131 | 911 | 120 | 1031 |
| 57 | KEITH BOWEN | 10 | 121 | 131 | 182 | 180 | 171 | 184 | 969 | 60 | 1029 |
| 58 | GUY LIPSCOMB | 5 | 187 | 165 | 179 | 149 | 157 | 161 | 998 | 30 | 1028 |
| 59 | GARY FRASER | 10 | 159 | 124 | 176 | 148 | 202 | 157 | 966 | 60 | 1026 |
| 60 | JOHN BROADHURST | 20 | 167 | 132 | 179 | 146 | 157 | 114 | 895 | 120 | 1015 |
| 61 | AL TURNER | 15 | 147 | 160 | 142 | 168 | 131 | 166 | 914 | 90 | 1004 |
| 62 | MARK S SMITH | 5 | 163 | 179 | 193 | 138 | 156 | 144 | 973 | 30 | 1003 |
| 63 | MARTIN BISHOP | 10 | 166 | 157 | 145 | 177 | 147 | 150 | 942 | 60 | 1002 |
| 64 | LOUISE GILLESPIE | 30 | 124 | 155 | 129 | 117 | 122 | 170 | 817 | 180 | 997 |