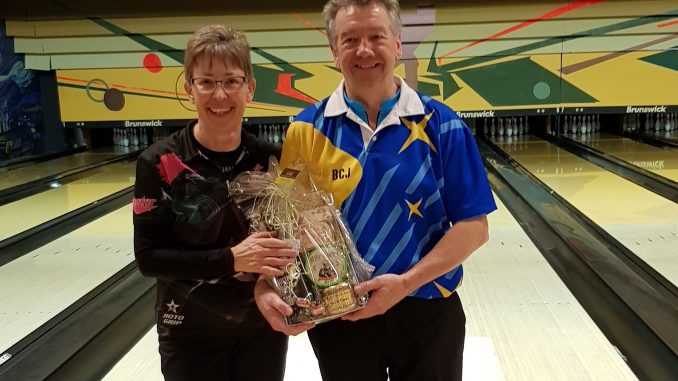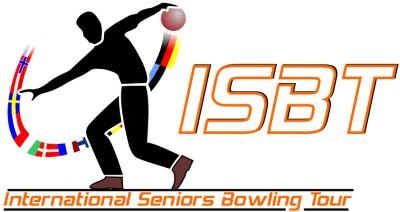 French Senior Open 2020
ISBT Tour 2020 Stop 1
Bowling Van Gogh, Villeneuve-d'Ascq, France
11th to 16th February 2020
Champions: Martina Beckel and Patrick Rolland
The first tour stop for 2020 was at Bowling Van Gogh in Villeneuve-d'Ascq, France, and saw 76 men and 21 women travel to compete in the event. The format for the tournament was a single 6 game qualifying block, with unlimited re-entries. For those not able to qualify this way, there were additional opportunities through Scratch scores, Turbo games and a Desperado squad. Age bonus started at age 51 (1 pin per game), then increased a pin for every additional year of age with no limit. As with all ISBT events, there was a separate division for ladies. The tournament was played on the Brunswick Crown Jewel lane pattern.
Nine qualifying squads were played, with the top 24 men and 8 women automatically progressing to the final stages.
Bowling started on Thursday, with three squads being played. Jean Marc Marin from France led the way with 1428 including age bonus, just ahead of Dominique de Nolf from Belgium. In the ladies' section, Netherland's Farida Pascoal-Blom had a healthy lead with 1287, ahead of Liliane Vintens from Belgium.
There were three more squads on Friday, and Jean Marc Marin was again top player with 1474, but the highlight was a 300 game for Chris Ellis from England in the first Friday squad, this was his first ever perfect game. England ladies led Friday's scores, Jan Hodge scoring 1271, ahead of Kimberley Oakley.
The final day had three more squads. The first was won by Klaus-Uwe Lischka from Germany, while there were big scores in the ladies' section, with 1343 from Nadia Goron from France, and 1325 from Martina Beckel from Germany.
In the second squad, Didier Marmon from France shot 1478 to just edge out Keith Hodge from England. A strong block of 1298 from Lynne Walker from Wales ensured her place in the finals.
In the final squad, Patrick Rolland from France led with a slightly improved score of 1377 ahead of Mo Singleton from England. None of the ladies bowling improved into finals positions.
At the end of qualification, the men's qualification list was led by Didier Marmon with 1478, ahead of Keith Hodge, Jean Marc Marin and Mike Halliwell from England. These four would go straight to the last finals round. The cut for qualification in 24th place was Robert Bruce from Wales with 1341. These 24 would be joined by three Scratch, three Turbo and two Desperado qualifiers.
In the ladies' section, Nadia Goron was leader with 1343, ahead of Martina Beckel, Lynne Walker and Farida Pascoal-Blom. These four would also go straight to the last final round. The cut for qualification at eighth place was 1241, scored by Marie Anne Brancourt from France. Two Turbo, one Scratch and one Desperado qualifier would make up the ladies' final.
The Desperado was contested by 12 men and 5 women, Les Grant from England found a big game of 283 to win comfortably, ahead of Uwe Tscharke from Germany. Veronique Perniaux from Belgium took the final ladies place.

The finals started with the men bowling a four-game block, starting from scratch. Patrick Rolland from France led this block with 1002. The top twelve would progress to the semi-final round, last place going to Frank Lindsay from England.
These twelve were joined by qualifiers 5 to 8 for a further four-game block. In the very first game, Uwe Tscharke suddenly found his strike line, and recorded the second 300 game of the tournament. He also won the round with 1061, with the top 8 players going forward to the final round.
The men's final clearly belonged to Partick Rolland, who scored 1025 to win by over 70 pins from second place Klaus-Uwe Lischka, with André Geelen from Belgium finishing in third place.
In the ladies' semi-final, Veronique Perniaux opened up a big lead early on, and stayed there until the end, with Jan Hodge finishing some 40 pins behind.
In the ladies' final, Lynne Walker started with a huge 270 opening game, but was then slowly overhauled by Martina Beckel, who finished champion, with Lynne Walker in second place, ahead of Farida Pascoal-Blom.
The next stop on the ISBT tour is Arthur's Senior Open, which takes place from the 4th to 8th March at Vegas Bowling in Osnabruck, Germany. Full details are available at the ISBT web site, http://www.isbtbowlingtour.eu.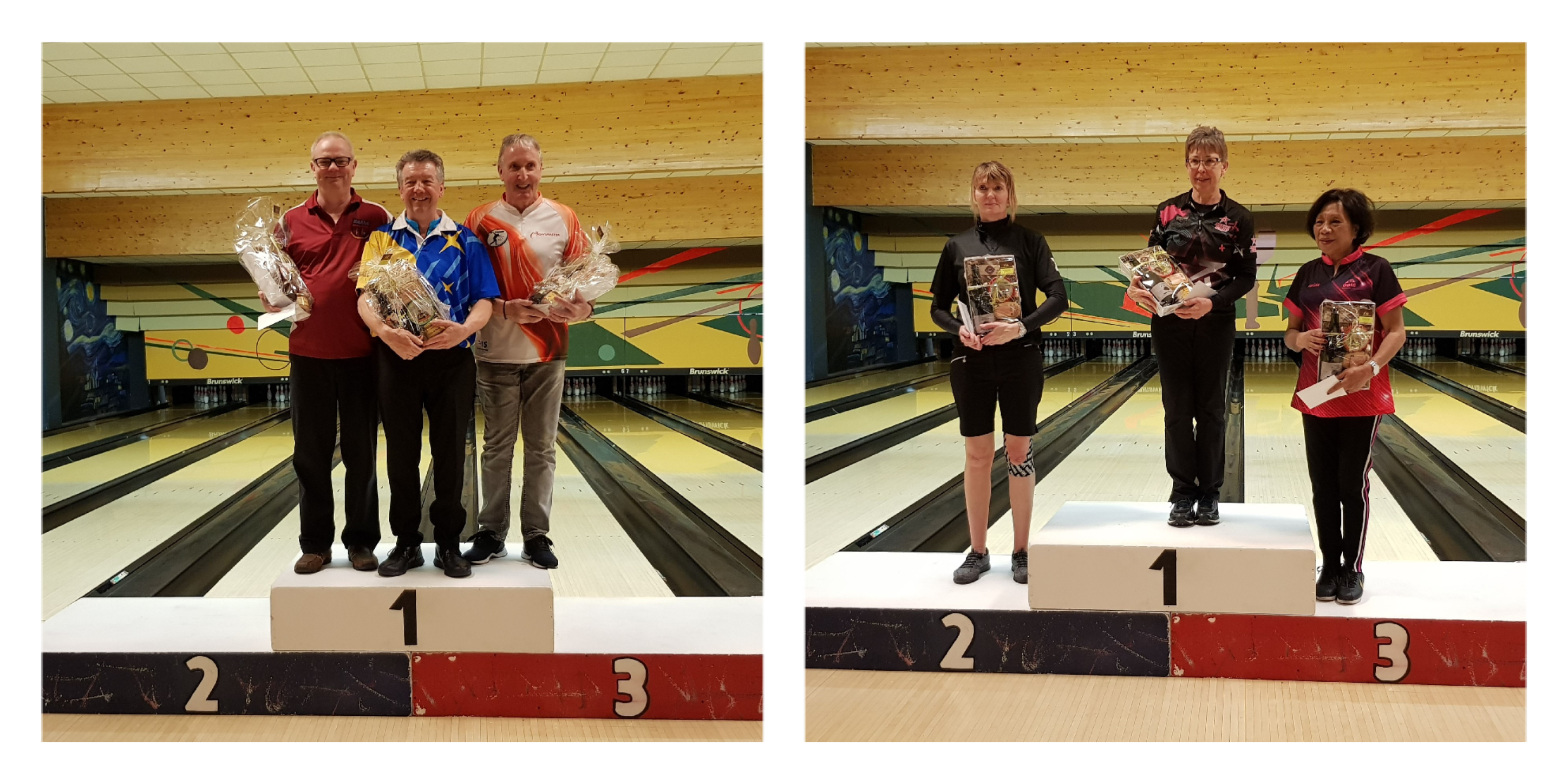 Results
Women
Final
Pos
Name
Age Bonus
Game 1
Game 2
Game 3
Game 4
Scratch
Total
Total
Average

1

Martina Beckel

DE

11

214

207

200

216

837

881

209.3

2

Lynne Walker

UK

3

267

158

174

247

846

858

211.5

3

Farida Pascoal-Blom

NL

25

210

189

190

146

735

835

183.8

4

Nadia Goron

FR

12

204

212

181

189

786

834

196.5

5

Véronique Perniaux

BE

1

168

204

198

224

794

798

198.5

6

Kimberley Oakley

UK

7

167

203

176

207

753

781

188.3

7

Liliane Vintens

BE

13

183

200

180

166

729

781

182.3

8

Jan Hodge

UK

15

199

182

172

164

717

777

179.3
Final Round 1
Pos
Name
Age Bonus
Game 1
Game 2
Game 3
Game 4
Scratch
Total
Total
Average

1

Véronique Perniaux

BE

1

238

256

221

205

920

924

230.0

2

Jan Hodge

UK

15

169

213

246

197

825

885

206.3

3

Liliane Vintens

BE

13

157

212

210

179

758

810

189.5

4

Kimberley Oakley

UK

7

196

204

184

159

743

771

185.8

5

Fatima Sancho

FR

3

210

151

210

168

739

751

184.8

6

Elisa Virlogeux

FR

4

214

169

157

180

720

736

180.0

7

Marie Annick Brancourt

FR

6

157

195

144

200

696

720

174.0

8

Anna Yang

NL

11

165

168

162

147

642

686

160.5
Qualifying
Pos
Name
Age Bonus
Game 1
Game 2
Game 3
Game 4
Game 5
Game 6
Scratch
Total
Total
Average

1

Nadia Goron

FR

12

240

267

181

168

232

183

1271

1343

211.8

2

Martina Beckel

DE

11

195

216

203

235

195

215

1259

1325

209.8

3

Lynne Walker

UK

3

225

259

168

247

192

189

1280

1298

213.3

4

Farida Pascoal-Blom

NL

25

189

180

189

186

193

200

1137

1287

189.5

5

Jan Hodge

UK

15

178

209

194

216

203

181

1181

1271

196.8

6

Kimberley Oakley

UK

7

241

216

170

212

201

178

1218

1260

203.0

7

Fatima Sancho

FR

3

207

201

168

202

221

224

1223

1241

203.8

8

Marie Annick Brancourt

FR

6

205

221

223

154

183

219

1205

1241

200.8

9

Elisa Virlogeux

FR

4

237

196

203

199

208

172

1215

1239

202.5

10

Liliane Vintens

BE

13

168

164

220

183

191

213

1139

1217

189.8

11

Véronique Perniaux

BE

1

171

237

168

232

226

176

1210

1216

201.7

12

Angie Brown

UK

12

185

182

203

175

181

199

1125

1197

187.5

13

Pépita Jacques

FR

11

177

177

195

203

201

177

1130

1196

188.3

14

Linda Pray

UK

18

213

148

171

177

171

186

1066

1174

177.7

15

Chantal Vanbesien

FR

16

194

182

135

171

214

178

1074

1170

179.0

16

Corinne Poux

FR

7

202

174

182

172

211

181

1122

1164

187.0

17

Anna Yang

NL

11

172

234

174

173

183

158

1094

1160

182.3

18

Daniele Guigon

FR

13

200

162

198

189

165

149

1063

1141

177.2

19

Catherine Perez

FR

10

179

169

185

202

188

153

1076

1136

179.3

20

Claribel Muis

NL

12

171

135

187

169

178

191

1031

1103

171.8

21

Françoise Sustar

FR

20

173

168

166

136

157

163

963

1083

160.5

22

Sylvette Lassal

FR

20

158

146

147

138

143

176

908

1028

151.3
Men
Final
Pos
Name
Age Bonus
Game 1
Game 2
Game 3
Game 4
Scratch
Total
Total
Average

1

Patrick  Rolland

FR

16

225

278

223

235

961

1025

240.3

2

Klaus-Uwe  Lischka

DE

11

227

226

214

243

910

954

227.5

3

André  Geelen

BE

24

201

216

202

227

846

942

211.5

4

Mike  Halliwell

UK

13

204

202

205

264

875

927

218.8

5

Mick  Ince

UK

20

237

195

208

192

832

912

208.0

6

Uwe  Tscharke

DE

8

228

213

204

229

874

906

218.5

7

Keith  Hodge

UK

22

196

209

191

211

807

895

201.8

8

Robert  Bruce

UK

2

178

246

204

233

861

869

215.3

9

Ronny  Oldfield

UK

29

147

191

188

192

718

834

179.5

10

Jean  Marc  Marin

FR

8

204

187

202

167

760

792

190.0

11

Didier  Marmion

FR

19

193

155

184

181

713

789

178.3

12

Frank  Lindsay

UK

20

168

194

174

163

699

779

174.8
Final Round 2
Pos
Name
Age Bonus
Game 1
Game 2
Game 3
Game 4
Scratch
Total
Total
Average

1

Uwe  Tscharke

DE

8

300

216

246

267

1029

1061

257.3

2

André  Geelen

BE

24

256

206

268

210

940

1036

235.0

3

Patrick  Rolland

FR

16

173

268

197

278

916

980

229.0

4

Ronny  Oldfield

UK

29

254

210

215

181

860

976

215.0

5

Klaus-Uwe  Lischka

DE

11

237

222

208

246

913

957

228.3

6

Robert  Bruce

UK

2

246

231

190

224

891

899

222.8

7

Frank  Lindsay

UK

20

187

200

211

215

813

893

203.3

8

Mick  Ince

UK

20

184

172

217

223

796

876

199.0

9

Daniel  Favre-Bulle

CH

16

203

190

195

223

811

875

202.8

10

J.M.  Lebon

FR

4

214

202

177

254

847

863

211.8

11

Steve  Wright

UK

20

241

176

178

184

779

859

194.8

12

Vincent  Wuylens

BE

6

208

247

154

224

833

857

208.3

13

Giorgio  Desimio

BE

20

158

156

233

226

773

853

193.3

14

Roger  Pieters

BE

21

209

217

163

180

769

853

192.3

15

Dominique  De  Nolf

BE

14

195

202

213

169

779

835

194.8

16

Chris  Ellis

UK

11

257

190

149

175

771

815

192.8
Final Round 1
Pos
Name
Age Bonus
Game 1
Game 2
Game 3
Game 4
Scratch
Total
Total
Average

1

Patrick  Rolland

FR

16

208

279

226

225

938

1002

234.5

2

Giorgio  Desimio

BE

20

249

249

237

160

895

975

223.8

3

Roger  Pieters

BE

21

247

169

237

208

861

945

215.3

4

Uwe  Tscharke

DE

8

213

237

193

258

901

933

225.3

5

J.M.  Lebon

FR

4

225

192

204

268

889

905

222.3

6

Vincent  Wuylens

BE

6

226

215

224

215

880

904

220.0

7

Steve  Wright

UK

20

192

234

201

190

817

897

204.3

8

Daniel  Favre-Bulle

CH

16

183

192

213

236

824

888

206.0

9

Mick  Ince

UK

20

214

203

208

183

808

888

202.0

10

Robert  Bruce

UK

2

258

255

189

177

879

887

219.8

11

Ronny  Oldfield

UK

29

201

183

209

176

769

885

192.3

12

Frank  Lindsay

UK

20

166

208

224

201

799

879

199.8

13

Eric Poux

FR

9

216

204

213

201

834

870

208.5

14

Alan  Jenkins

UK

29

194

202

171

171

738

854

184.5

15

Steven  Thornton

UK

1

171

218

258

187

834

838

208.5

16

Frank  Stander

UK

40

161

175

170

171

677

837

169.3

17

Harald  Punessen

DE

7

204

195

202

203

804

832

201.0

18

Mo  Singleton

UK

26

214

211

140

157

722

826

180.5

19

Luciano  Casagrande

BE

5

211

214

230

137

792

812

198.0

20

Joel  Rost

FR

12

192

187

193

182

754

802

188.5

21

Bruno Schmitt

FR

14

159

194

188

177

718

774

179.5

22

Arthur Dähn

DE

19

184

199

154

161

698

774

174.5

23

Les  Grant

UK

26

201

142

143

181

667

771

166.8

24

Steve  Williams

UK

6

180

193

210

160

743

767

185.8
Qualifying
Pos

Name

Age Bonus

Game 1

Game 2

Game 3

Game 4

Game 5

Game 6

Scratch




Total

Total

Average

1

Didier Marmion

FR

19

246

205

224

204

217

268

1364

1478

227.3

2

Keith Hodge

UK

22

216

169

225

219

268

246

1343

1475

223.8

3

Jean Marc Marin

FR

8

226

289

220

202

267

222

1426

1474

237.7

4

Mike Halliwell

UK

13

226

235

213

234

189

251

1348

1426

224.7

5

Dominique De Nolf

BE

14

248

244

215

212

220

197

1336

1420

222.7

6

Klaus-Uwe Lischka

DE

11

246

194

253

182

221

256

1352

1418

225.3

7

André Geelen

BE

24

182

182

195

265

233

216

1273

1417

212.2

8

Chris Ellis

UK

11

199

254

218

300

178

201

1350

1416

225.0

9

Roger Pieters

BE

21

243

248

198

225

193

182

1289

1415

214.8

10

Alan Jenkins

UK

29

214

210

213

203

187

207

1234

1408

205.7

11

Eric Poux

FR

9

204

246

245

212

235

204

1346

1400

224.3

12

Mick Ince

UK

20

240

237

224

192

196

180

1269

1389

211.5

13

Frank Lindsay

UK

20

187

236

207

221

193

221

1265

1385

210.8

14

Ronny Oldfield

UK

29

181

256

214

177

192

191

1211

1385

201.8

15

Arthur Dähn

DE

19

209

190

183

181

226

278

1267

1381

211.2

16

Frank Stander

UK

40

191

195

178

202

182

191

1139

1379

189.8

17

Patrick Rolland

FR

16

267

176

200

212

247

179

1281

1377

213.5

18

J.M. Lebon

FR

4

257

236

243

189

225

197

1347

1371

224.5

19

Mo Singleton

UK

26

188

255

182

155

215

217

1212

1368

202.0

20

Harald Punessen

DE

7

217

214

150

246

268

224

1319

1361

219.8

21

Joel Rost

FR

12

227

254

216

171

246

173

1287

1359

214.5

22

Daniel Favre-Bulle

CH

16

224

186

204

205

224

220

1263

1359

210.5

23

Giorgio Desimio

BE

20

232

212

207

212

186

185

1234

1354

205.7

24

Robert Bruce

UK

2

210

264

222

181

195

257

1329

1341

221.5

25

Vincent Wuylens

BE

6

205

235

216

243

189

217

1305

1341

217.5

26

Frédéric Goron

FR

19

194

200

158

195

257

223

1227

1341

204.5

27

Alan Keddie

UK

9

181

229

213

187

224

247

1281

1335

213.5

28

Steve Wright

UK

20

223

169

180

227

179

235

1213

1333

202.2

29

Steve Williams

UK

6

245

244

184

182

226

213

1294

1330

215.7

30

Luciano Casagrande

BE

5

269

199

197

225

185

224

1299

1329

216.5

31

Lucien Deduytsche

FR

17

226

192

192

205

191

214

1220

1322

203.3

32

Rudy Valcke

BE

16

214

152

222

201

191

245

1225

1321

204.2

33

Gael Scellier

FR

6

206

236

192

214

256

180

1284

1320

214.0

34

Thierry Deboissy

FR

16

214

218

199

211

157

223

1222

1318

203.7

35

Guy Lipscomb

UK

13

212

214

188

205

201

214

1234

1312

205.7

36

Francois Demizieux

FR

7

189

223

221

200

257

170

1260

1302

210.0

37

Yvon Lassal

FR

22

173

222

191

187

217

176

1166

1298

194.3

38

Les Grant

UK

26

188

179

202

179

170

224

1142

1298

190.3

39

Jean Claude Paul

FR

2

181

249

226

241

162

221

1280

1292

213.3

40

Jean-Philippe Rossire

CH

18

192

168

194

235

221

172

1182

1290

197.0

41

Steven Thornton

UK

1

146

191

221

265

182

278

1283

1289

213.8

42

Douglas Sinclair

UK

25

173

232

179

192

194

166

1136

1286

189.3

43

Daniel Hannappe

FR

9

202

191

185

232

225

196

1231

1285

205.2

44

Patrick Virmont

FR

6

168

221

205

231

226

197

1248

1284

208.0

45

Uwe Tscharke

DE

8

222

236

184

234

180

176

1232

1280

205.3

46

Ian Buckland

UK

15

216

169

168

179

246

201

1179

1269

196.5

47

Dirk-Jan Vosselman

NL

23

205

188

190

190

188

170

1131

1269

188.5

48

Jean Claude Fruit

FR

12

213

181

223

214

190

172

1193

1265

198.8

49

Bruno Schmitt

FR

14

214

199

247

223

166

132

1181

1265

196.8

50

Manuel Petit

FR

12

231

171

158

180

247

203

1190

1262

198.3

51

Claude Vanbesien

FR

20

167

194

242

194

166

170

1133

1253

188.8

52

Stephane Gromadzik

FR

4

256

181

181

202

213

185

1218

1242

203.0

53

Paul Lamon

BE

16

178

178

185

225

186

194

1146

1242

191.0

54

Michel Ligier

FR

15

154

183

224

188

195

204

1148

1238

191.3

55

Marcel Deudon

FR

13

186

194

179

211

197

190

1157

1235

192.8

56

Steve Coates

UK

9

223

200

159

191

194

211

1178

1232

196.3

57

Daniel Liegeois

FR

1

204

207

210

213

182

209

1225

1231

204.2

58

Auke Broekhuizen

NL

9

198

210

183

235

159

188

1173

1227

195.5

59

Michael Pray

UK

21

196

163

185

188

184

172

1088

1214

181.3

60

Bruno Perez

FR

8

151

141

218

188

198

267

1163

1211

193.8

61

Patrice Sustar

FR

19

202

203

189

165

189

146

1094

1208

182.3

62

Rene Gooyers

NL

16

185

199

166

166

198

195

1109

1205

184.8

63

Denis Gaillard

FR

16

199

186

208

168

166

182

1109

1205

184.8

64

Vincent Prangere

FR

10

188

197

198

161

214

182

1140

1200

190.0

65

Jürgen Louia-Kretz

DE

4

188

180

208

202

213

180

1171

1195

195.2

66

Martial Petit

FR

17

166

177

180

214

168

172

1077

1179

179.5

67

Tony Gibbemark

CH

18

206

178

152

180

135

215

1066

1174

177.7

68

Guy Virlogeux

FR

13

148

233

192

157

192

167

1089

1167

181.5

69

Philippe Lebeau

FR

15

157

168

213

158

202

170

1068

1158

178.0

70

Pierre Prou

FR

21

181

138

147

191

197

168

1022

1148

170.3

71

Pierre Lefebvre

FR

16

152

190

168

175

169

194

1048

1144

174.7

72

Bernard Cauchie

FR

18

178

182

200

123

156

184

1023

1131

170.5

73

Alain Pogy

FR

25

156

127

116

173

175

209

956

1106

159.3

74

Jean-Charles Le Dantec

FR

21

129

178

161

186

128

175

957

1083

159.5

75

Yves Delafonteyne

BE

6

175

115

204

189

187

160

1030

1066

171.7

76

Norbert Rondelez

BE

12

184

167

149

126

216

146

988

1060

164.7