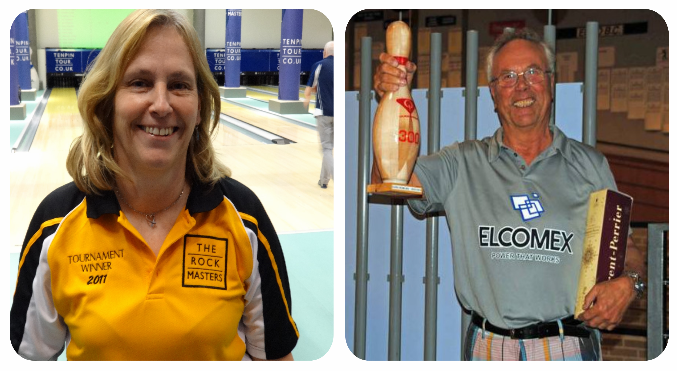 The 2016 International Seniors Bowling Tour concluded in early December with the Zeeland Senior Open in Goes, Netherlands. This was the final event of the 2016 tour, which comprised 10 individual senior (age 50 and over) tournaments, held in 5 European countries – Germany, Belgium, France, Italy and the Netherlands. During the course of the year, 466 men and 95 women competed for the titles, and the total prize funds of over €118,000.
The competitors came from across Europe and beyond, with a total of 27 countries represented. In the men's division, the most titles went to Steven Jeeves of England with 3 wins, in Deurne, Nieuwegein and Lomme. Just behind were Hermann  Wimmer from Germany and Ron Oldfield from England, both with 2 wins to their names. Other winners in the men's division were Helmut Ulber and Horst Albert from Germany, and Keith Hodge from England.
In the ladies division, only Germany's Martina Beckel managed more than 1 win, with victories in Deurne, Böblingen, and Nieuwegein. The other titles went to Angie Brown from England, Marianne Pelz, Karin Lischka, Beate Albert and Bianca Völkl-Brandt from Germany, and Liliane Vintens from Belgium.
Throughout the year, as well as competing for outright victories, bowlers are awarded points based on their finishing places, which determine the overall rankings for the year. In 2016, Angie Brown from England finished top of the ladies' ranking, with Hermann Wimmer top of the men's rankings. The top 32 men and 12 women will be invited to the 2016 Masters final which will be held at Vegas Bowling in Osnabruck on the 13th March 2017, immediately following completion of Arthur's Senior Open the previous day.
2016 saw a new venue added to the tour, Bowling Goes in the Netherlands. For 2017, there will be a return to England for the first time since 2012, the English Senior Open at Stroud in September. At this time, there are still a couple of dates to be finalised for the 2017 calendar, perhaps including yet another new destination. Looking forward to 2018, it looks likely that the ISBT will spread a little further, with a tournament being discussed in an entirely new country for the tour. The tour continues to grow year on year, with a great sense of friendship between those who travel to these events, making it the success it has become.