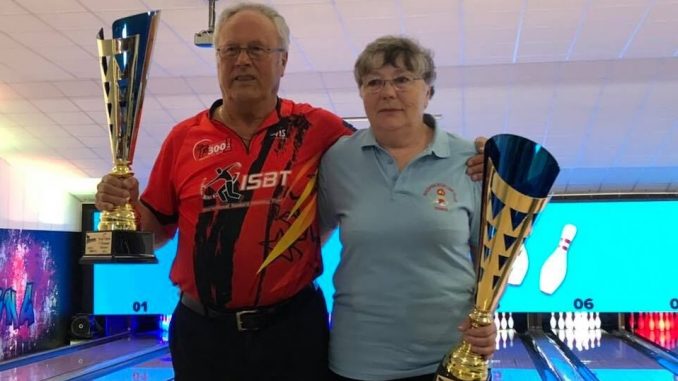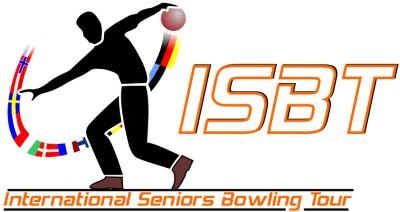 ISBT Tour 2019 Stop 3
Cristal Bowling, Wittelsheim, France
19th to 22nd April 2019
Champions: Jacqueline Faure and Hermann Wimmer
The third stop on the 2018 ISBT tour was in France, at Cristal Bowling in Wittelsheim. 99 men and 26 women took part this year, the format for the tournament was two blocks of 6 games qualifying, with re-entries being allowed.
For those not able to qualify through the main leaderboard, there were additional opportunities through Turbo games and a Desperado squad. Age bonus started at age 51 (1 pin per game), then increased a pin for every additional year of age with no limit. As with all ISBT events, there was a separate division for ladies.
The opening squad on Thursday saw previous stop winners Hermann Wimmer and Martina Beckel both from Germany open up with 1393 and 1281 blocks to establish an early lead. Dominique de Nolf from Belgium took the second squad with 1375.
There were three squads on Friday, the first went to Roger Pieters from Belgium with 1482, with blocks over 1400 also achieved by Harald Punnessen from Germany, Christer Danielsson from Sweden, and Hermann Wimmer. Christel Carlsson from Sweden scored an impressive 1394 in her first block, with more high women's scores from Martina Beckel with 1310 and Sue Abela from Malta with 1308. In the fourth squad, Steven Jeeves from England led with 1383, while Phillipe Privat from France had the tournament's first 300 game. Previous winner Brigitte Fievet from France had a good block to score 1234.
The final Friday squad was won by Kimmo Lehtonen from Finland with 1393. Pépita Jacques from France led the ladies with 1161.
Saturday had the final three squads, Harard Punessen won the first with 1433, with 1196 from Christel Carlsson ensuring a good qualification place for the Swedish player. Werner Laun took the second squad of the day with a fine 1503, ahead of Ulf Lönngren from Sweden with 1457. Marianne Pelz from Germany shot 1308 to ensure her finals place.
One squad remained for players to make their moves for a place in the finals. Patrick Rolland from France had 1424 to ensure qualification, but none of the women could improve enough to affect the top six qualification places.
With qualification over, Harald Punnessen was top with 2875 over his 12 games, ahead of Ulf Lönngren and Hermann Wimmer. The top eight would get a bye into the second finals round, eighth place went to André Phillipe from France, with the final cut at 32 falling to Kent Sjöö from Sweden with 2613.
In the ladies division, Martina Beckel led with 2591, a single pin ahead of Christel Carlsson. Pépita Jacques took the sixth and final qualification place with 2387.
For those who had not qualified, the Desperado squad remained an option. 11 men and 7 women took part, the top two men and top lady would move forward to the finals. In the men's section, Didier Thomas from France had an easy win with 264, ahead of Joel Rost from France. Jacqueline Faure took the ladies place with a fine 224 game.
The quarter final round was five games starting from scratch. Jurgen Preuss and Georgio Desimio finished well ahead of the remaining players, with Berny Stockl from Germany being the last player to progress with 1048.
The semi final round saw the 16 bowlers from the previous round joined by the top eight from qualification. Hermann Wimmer won this round with 1263, including a 300 game, to finish almost 50 pins clear of the field. Only eight players would make the round robin final, eighth place was Ulf Lonngren with 1143.
In the final, Hermann Wimmer won six of his seven matches, to finish with a 222 scratch average, and a clear win by 143 pins from Steven Jeeves, with Kimmo Lehtonen in third place. This meant Hermann Wimmer has now won on each of his last three appearances in the ISBT. His average, including his 26 pins per game age bonus for being aged 76, over the three tournaments is 242, making him very difficult to beat.
In the women's final, desperado qualifier Jacqueline Faure bowled well through her seven games, winning every match to finish the clear champion, ahead of Sue Abela from Malta and Christel Carlsson from Sweden.
The next stop is the Senior Open Dream-Bowl Boeblingen in Germany. The tournament runs from the 8th to 12th May 2019, full details are available at the ISBT web site, http://www.isbtbowlingtour.eu/
Results
Men
Final
Pos

Name

Age Bonus

G1

G2

G3

G4

G5

G6

G7

Scr




Ttl

A B

W B

Total

Ave

1

Hermann Wimmer

DE

26

201

244

181

235

266

246

185

1558

182

120

1860

222.6

2

Steven Jeeves

UK

6

165

243

211

256

278

235

187

1575

42

100

1717

225.0

3

Kimmo Lehtonen

FI

1

180

213

257

223

227

212

238

1550

7

60

1617

221.4

4

Ulf Lönngren

SE

23

200

204

213

150

177

179

221

1344

161

60

1565

192.0

5

Joël Rost

FR

11

203

210

233

185

180

217

197

1425

77

60

1562

203.6

6

Dominique De Nolf

BE

13

185

219

188

224

235

173

180

1404

91

60

1555

200.6

7

Layachi Djouad

FR

20

179

246

181

160

232

180

156

1334

140

40

1514

190.6

8

Philippe Andre

FR

7

198

202

211

175

208

201

192

1387

49

60

1496

198.1
Final step 2
Pos
Name
Age Bonus
Game 1
Game 2
Game 3
Game 4
Game 5
Scratch
Total
Bonus
Total
Average
1
Hermann Wimmer
DE
26
208
300
212
226
187
1133
130
1263
226.6
2
Dominique De Nolf
BE
13
227
186
254
259
226
1152
65
1217
230.4
3
Steven Jeeves
UK
6
248
259
204
200
265
1176
30
1206
235.2
4
Philippe Andre
FR
7
213
236
245
229
220
1143
35
1178
228.6
5
Kimmo Lehtonen
FI
1
259
255
212
225
212
1163
5
1168
232.6
6
Joël Rost
FR
11
280
193
218
218
198
1107
55
1162
221.4
7
Layachi Djouad
FR
20
163
210
224
191
258
1046
100
1146
209.2
8
Ulf Lönngren
SE
23
258
161
241
182
186
1028
115
1143
205.6
9
Kent Sjöö
SE
15
202
232
191
227
194
1046
75
1121
209.2
10
Jürgen Preuss
DE
23
193
205
185
173
237
993
115
1108
198.6
11
Patrick Rolland
FR
15
214
204
189
196
226
1029
75
1104
205.8
12
Roger Pieters
BE
20
195
184
248
192
184
1003
100
1103
200.6
13
Bengt-Åke Bengtsson
SE
13
222
214
205
242
146
1029
65
1094
205.8
14
Giorgio Desimio
BE
19
183
192
212
195
214
996
95
1091
199.2
15
Claude Escarguel
FR
19
157
177
213
266
168
981
95
1076
196.2
16
Robert Vallons
BE
13
216
206
166
204
212
1004
65
1069
200.8
17
Christer Danielsson
SE
14
187
217
198
155
224
981
70
1051
196.2
18
Berny Stöckl
DE
39
214
171
160
203
217
965
75
1040
193.0
19
Mats Lunderquist
SE
23
213
199
195
202
185
994
40
1034
198.8
20
Harald Punessen
DE
6
170
209
216
206
187
988
30
1018
197.6
21
Frédéric Goron
FR
18
161
149
198
178
217
903
90
993
180.6
22
Petri Keituri
FI
5
191
138
225
189
212
955
25
980
191.0
23
Auke Broekhuizen
NL
8
164
216
206
191
163
940
40
980
188.0
24
Werner Laun
DE
18
190
189
161
134
192
866
90
956
173.2
Final Step 1
Pos
Name
Age Bonus
Game 1
Game 2
Game 3
Game 4
Game 5
Scratch
Total
Bonus
Total
Average
1
Jürgen Preuss
DE
23
222
183
244
210
268
1127
115
1242
225.4
2
Giorgio Desimio
BE
19
233
216
197
255
214
1115
95
1210
223.0
3
Kimmo Lehtonen
FI
1
255
246
234
200
200
1135
5
1140
227.0
4
Petri Keituri
FI
5
237
246
157
228
234
1102
25
1127
220.4
5
Joël Rost
FR
11
199
198
196
246
231
1070
55
1125
214.0
6
Robert Vallons
BE
13
215
179
223
193
236
1046
65
1111
209.2
7
Mats Lunderquist
SE
23
200
252
184
225
204
1065
40
1105
213.0
8
Steven Jeeves
UK
6
243
223
243
159
192
1060
30
1090
212.0
9
Bengt-Åke Bengtsson
SE
13
179
199
246
205
189
1018
65
1083
203.6
10
Auke Broekhuizen
NL
8
221
176
204
204
233
1038
40
1078
207.6
11
Kent Sjöö
SE
15
180
224
199
212
188
1003
75
1078
200.6
12
Layachi Djouad
FR
20
208
200
158
202
190
958
100
1058
191.6
13
Dominique De Nolf
BE
13
167
226
208
237
154
992
65
1057
198.4
14
Claude Escarguel
FR
19
193
154
200
258
154
959
95
1054
191.8
15
Frédéric Goron
FR
18
189
216
219
152
183
959
90
1049
191.8
16
Berny Stöckl
DE
39
188
166
185
254
180
973
75
1048
194.6
17
André Geelen
BE
23
181
205
180
193
167
926
115
1041
185.2
18
Uwe Tscharke
DE
7
190
198
184
204
215
991
35
1026
198.2
19
Arthur Dahn
DE
18
198
176
179
224
155
932
90
1022
186.4
20
Timo Mäkelä
FI
23
156
208
179
172
214
929
65
994
185.8
21
Maurizio Celli
IT
5
179
195
175
193
225
967
25
992
193.4
22
Guenther Grether
DE
20
191
149
187
168
189
884
100
984
176.8
23
Victoriano Arevalo
FR
13
168
168
198
190
190
914
65
979
182.8
24
Ingar Gabrielsen
NO
13
193
154
212
179
169
907
65
972
181.4
25
Didier Thomas
FR
7
193
197
200
196
146
932
35
967
186.4
26
Serge Orengo
FR
10
200
204
128
153
205
890
50
940
178.0
27
Bruno Schmitt
FR
13
157
154
177
141
221
850
65
915
170.0
Qualifying
| | | | | | | | |
| --- | --- | --- | --- | --- | --- | --- | --- |
| Pos | Name | | Age Bonus | First Series | Second Series | Total | Average |
| 1 | Harald Punessen | DE | 6 | 1442 | 1433 | 2875 | 233.6 |
| 2 | Ulf Lönngren | SE | 23 | 1457 | 1355 | 2812 | 211.3 |
| 3 | Hermann Wimmer | DE | 26 | 1413 | 1393 | 2806 | 207.8 |
| 4 | Werner Laun | DE | 18 | 1503 | 1294 | 2797 | 215.1 |
| 5 | Roger Pieters | BE | 20 | 1482 | 1309 | 2791 | 212.6 |
| 6 | Patrick Rolland | FR | 15 | 1424 | 1356 | 2780 | 216.7 |
| 7 | Christer Danielsson | SE | 14 | 1434 | 1330 | 2764 | 216.3 |
| 8 | Philippe Andre | FR | 7 | 1391 | 1368 | 2759 | 222.9 |
| 9 | Dominique De Nolf | BE | 13 | 1384 | 1375 | 2759 | 216.9 |
| 10 | Kimmo Lehtonen | FI | 1 | 1393 | 1359 | 2752 | 228.3 |
| 11 | Giorgio Desimio | BE | 19 | 1443 | 1307 | 2750 | 210.2 |
| 12 | Petri Keituri | FI | 5 | 1377 | 1369 | 2746 | 223.8 |
| 13 | Bengt-Åke Bengtsson | SE | 13 | 1387 | 1343 | 2730 | 214.5 |
| 14 | Steven Jeeves | UK | 6 | 1383 | 1344 | 2727 | 221.3 |
| 15 | Arthur Dahn | DE | 18 | 1376 | 1328 | 2704 | 207.3 |
| 16 | Claude Escarguel | FR | 19 | 1365 | 1337 | 2702 | 206.2 |
| 17 | Ingar Gabrielsen | NO | 13 | 1367 | 1329 | 2696 | 211.7 |
| 18 | Victoriano Arevalo | FR | 13 | 1389 | 1300 | 2689 | 211.1 |
| 19 | Auke Broekhuizen | NL | 8 | 1371 | 1313 | 2684 | 215.7 |
| 20 | Mats Lunderquist | SE | 8 | 1377 | 1306 | 2683 | 215.6 |
| 21 | Berny Stöckl | DE | 15 | 1400 | 1282 | 2682 | 208.5 |
| 22 | Layachi Djouad | FR | 20 | 1376 | 1303 | 2679 | 203.3 |
| 23 | Uwe Tscharke | DE | 7 | 1437 | 1232 | 2669 | 215.4 |
| 24 | Serge Orengo | FR | 10 | 1356 | 1312 | 2668 | 212.3 |
| 25 | Loris Masetti | IT | 22 | 1339 | 1323 | 2662 | 199.8 |
| 26 | Guenther Grether | DE | 20 | 1334 | 1314 | 2648 | 200.7 |
| 27 | Timo Mäkelä | FI | 13 | 1324 | 1321 | 2645 | 207.4 |
| 28 | Robert Vallons | BE | 13 | 1379 | 1262 | 2641 | 207.1 |
| 29 | André Geelen | BE | 23 | 1338 | 1303 | 2641 | 197.1 |
| 30 | Maurizio Celli | IT | 5 | 1356 | 1261 | 2617 | 213.1 |
| 31 | Frédéric Goron | FR | 18 | 1347 | 1270 | 2617 | 200.1 |
| 32 | Kent Sjöö | SE | 15 | 1316 | 1297 | 2613 | 202.8 |
| 33 | Frank Öing | DE | 3 | 1307 | 1289 | 2596 | 213.3 |
| 34 | Gérard Calonnec | FR | 19 | 1300 | 1290 | 2590 | 196.8 |
| 35 | Helmut Ulber | DE | 20 | 1324 | 1265 | 2589 | 195.8 |
| 36 | Frédéric Divol | FR | 3 | 1329 | 1258 | 2587 | 212.6 |
| 37 | Philippe Privat | FR | 16 | 1299 | 1280 | 2579 | 198.9 |
| 38 | Jean-Philippe Rossire | CH | 17 | 1331 | 1247 | 2578 | 197.8 |
| 39 | Jean-Michel Salvini | FR | 10 | 1303 | 1272 | 2575 | 204.6 |
| 40 | Patrick Lefrancois | FR | 18 | 1323 | 1250 | 2573 | 196.4 |
| 41 | Alain Deledda | FR | 24 | 1312 | 1261 | 2573 | 190.4 |
| 42 | Patrick Delarue | FR | 21 | 1317 | 1255 | 2572 | 193.3 |
| 43 | Joël Rost | FR | 11 | 1294 | 1277 | 2571 | 203.3 |
| 44 | Daniel Favre-Bulle | CH | 15 | 1334 | 1236 | 2570 | 199.2 |
| 45 | Roland Thamberger | CH | 13 | 1310 | 1253 | 2563 | 200.6 |
| 46 | Gregor Ramsak | CH | 6 | 1283 | 1274 | 2557 | 207.1 |
| 47 | Reinhold Paitz | DE | 19 | 1284 | 1257 | 2541 | 192.8 |
| 48 | Didier Thomas | FR | 7 | 1278 | 1260 | 2538 | 204.5 |
| 49 | Jeff Taylor | UK | 11 | 1288 | 1245 | 2533 | 200.1 |
| 50 | Ludger Waenke | DE | 15 | 1276 | 1244 | 2520 | 195.0 |
| 51 | Thierry Deboissy | FR | 15 | 1270 | 1243 | 2513 | 194.4 |
| 52 | Jurgen Laermans | BE | 4 | 1280 | 1231 | 2511 | 205.3 |
| 53 | Douglas Sinclair | UK | 24 | 1267 | 1244 | 2511 | 185.3 |
| 54 | Laurent Quittelier | FR | 7 | 1278 | 1231 | 2509 | 202.1 |
| 55 | Alex Schmitt | FR | 27 | 1280 | 1226 | 2506 | 181.8 |
| 56 | Marcel Barat | FR | 16 | 1294 | 1204 | 2498 | 192.2 |
| 57 | Jürgen Preuss | DE | 23 | 1265 | 1219 | 2484 | 184.0 |
| 58 | Michel Joguet | FR | 21 | 1245 | 1238 | 2483 | 185.9 |
| 59 | Joseph Ramon | FR | 12 | 1240 | 1207 | 2447 | 191.9 |
| 60 | Jochen Diekhoff | DE | 20 | 1231 | 1215 | 2446 | 183.8 |
| 61 | Gabriele Benvenuti | IT | 13 | 1243 | 1202 | 2445 | 190.8 |
| 62 | Alain Sobkowiak | FR | 14 | 1271 | 1167 | 2438 | 189.2 |
| 63 | Patrice Sustar | FR | 18 | 1232 | 1204 | 2436 | 185.0 |
| 64 | Frédéric Berger | FR | 5 | 1261 | 1165 | 2426 | 197.2 |
| 65 | Christian Dorval | FR | 15 | 1244 | 1177 | 2421 | 186.8 |
| 66 | Bruno Schmitt | FR | 13 | 1220 | 1200 | 2420 | 188.7 |
| 67 | Thierry Olry | FR | 2 | 1224 | 1193 | 2417 | 199.4 |
| 68 | Alfred Klausmann | DE | 21 | 1202 | 1198 | 2400 | 179.0 |
| 69 | Jocelyn Le Marec | FR | 10 | 1219 | 1166 | 2385 | 188.8 |
| 70 | Philippe Provensal | FR | 11 | 1200 | 1181 | 2381 | 187.4 |
| 71 | Daniel Sebellin | FR | 12 | 1199 | 1178 | 2377 | 186.1 |
| 72 | Patrick Berthomiere | FR | 5 | 1196 | 1180 | 2376 | 193.0 |
| 73 | François Demizieux | FR | 6 | 1193 | 1181 | 2374 | 191.8 |
| 74 | Alain Marc Michali | FR | 21 | 1186 | 1175 | 2361 | 175.8 |
| 75 | Eric Gabriel | FR | 9 | 1207 | 1148 | 2355 | 187.3 |
| 76 | Jean-Jacques Moynot | FR | 15 | 1213 | 1132 | 2345 | 180.4 |
| 77 | Dieter Rau | DE | 20 | 1193 | 1150 | 2343 | 175.3 |
| 78 | Jean Charles Faure | FR | 19 | 1254 | 1086 | 2340 | 176.0 |
| 79 | Christophe Vasse | FR | 0 | 1176 | 1139 | 2315 | 192.9 |
| 80 | Noël De Lazzer | FR | 13 | 1235 | 1076 | 2311 | 179.6 |
| 81 | Yves Pfister | FR | 14 | 1185 | 1113 | 2298 | 177.5 |
| 82 | Jürgen Louia-Kretz | DE | 3 | 1223 | 1054 | 2277 | 186.8 |
| 83 | Thomas Pepin | FR | 9 | 1145 | 1122 | 2267 | 179.9 |
| 84 | Philippe Piel | FR | 8 | 1143 | 1123 | 2266 | 180.8 |
| 85 | Perez Bruno | FR | 7 | 1151 | 1114 | 2265 | 181.8 |
| 86 | Ralph Yves Genillard | FR | 10 | 1194 | 1070 | 2264 | 178.7 |
| 87 | Philippe Lebeau | FR | 14 | 1139 | 1116 | 2255 | 173.9 |
| 88 | Paul Lamon | BE | 15 | 1150 | 1097 | 2247 | 172.3 |
| 89 | Pierre Prou | FR | 20 | 1111 | 1101 | 2212 | 164.3 |
| 90 | Bernard Anselmier | FR | 8 | 1139 | 1040 | 2179 | 173.6 |
| 91 | Jean-Christian Bourgeaux | FR | 3 | 1113 | 1062 | 2175 | 178.3 |
| 92 | Michel Ligier | FR | 14 | 1082 | 1081 | 2163 | 166.3 |
| 93 | Dominique Blaes | FR | 2 | 1095 | 1055 | 2150 | 177.2 |
| 94 | Jean-Pierre Marchal | FR | 1 | 1084 | 1046 | 2130 | 176.5 |
| 95 | Pierre Laurent Excoffier | FR | 0 | 1072 | 1055 | 2127 | 177.3 |
| 96 | Michel Giry | FR | 9 | 1068 | 1045 | 2113 | 167.1 |
| 97 | Patrick Chretien | FR | 3 | 1032 | 1006 | 2038 | 166.8 |
| 98 | Denis Pierandrei | FR | 9 | 1032 | 951 | 1983 | 156.3 |
| 99 | René Gooyers | NL | 15 | 1149 | 577 | 1726 | 176.8 |
Ladies
Final
Pos

Name

Age Bonus

G1

G2

G3

G4

G5

G6

G7

Scr




Ttl

A B

W B

Total

Ave

1

Jacqueline Faure

FR

20

206

204

228

176

222

201

167

1404

140

140

1684

200.6

2

Sue Abela

MT

3

193

189

211

179

179

269

237

1457

21

80

1558

208.1

3

Christel Carlsson

SE

13

180

147

211

190

234

184

245

1391

91

40

1522

198.7

4

Petra Duplois-Laun

DE

13

171

191

186

212

181

168

246

1355

91

60

1506

193.6

5

Pépita Jacques

FR

10

212

181

202

213

193

158

212

1371

70

60

1501

195.9

6

Martina Beckel

DE

10

171

257

205

189

190

158

175

1345

70

60

1475

192.1

7

Pascale Moynot

FR

13

191

191

172

214

176

170

157

1271

63

80

1414

181.6

8

Marianne Pelz

DE

18

182

182

165

150

166

184

182

1211

126

40

1377

173.0
Qualifying
| | | | | | | | |
| --- | --- | --- | --- | --- | --- | --- | --- |
| Pos | Name | | Age Bonus | First Series | Second Series | Total | Average |
| 1 | Martina Beckel | DE | 10 | 1310 | 1281 | 2591 | 205.9 |
| 2 | Christel Carlsson | SE | 13 | 1394 | 1196 | 2590 | 202.8 |
| 3 | Marianne Pelz | DE | 18 | 1308 | 1202 | 2510 | 191.2 |
| 4 | Sue Abela | MT | 3 | 1308 | 1154 | 2462 | 202.2 |
| 5 | Petra Duplois-Laun | DE | 13 | 1212 | 1202 | 2414 | 188.2 |
| 6 | Pépita Jacques | FR | 10 | 1226 | 1161 | 2387 | 188.9 |
| 7 | Brigitte Fievet | FR | 13 | 1234 | 1148 | 2382 | 185.5 |
| 8 | Pascale Moynot | FR | 9 | 1204 | 1155 | 2359 | 187.6 |
| 9 | Bigi Manico | CH | 11 | 1185 | 1158 | 2343 | 184.3 |
| 10 | Christiane Clerc | FR | 9 | 1174 | 1159 | 2333 | 185.4 |
| 11 | Jacqueline Faure | FR | 20 | 1170 | 1141 | 2311 | 172.6 |
| 12 | Karin Lischka | DE | 9 | 1155 | 1152 | 2307 | 183.3 |
| 13 | Marie-Noelle Morand | FR | 9 | 1144 | 1117 | 2261 | 179.4 |
| 14 | Angie Brown | UK | 11 | 1126 | 1122 | 2248 | 176.3 |
| 15 | Uschi Diekhoff | DE | 18 | 1120 | 1114 | 2234 | 168.2 |
| 16 | Françoise Sustar | FR | 19 | 1109 | 1096 | 2205 | 164.8 |
| 17 | Gabriela Grether | DE | 17 | 1195 | 1009 | 2204 | 166.7 |
| 18 | Claudine Joguet | FR | 26 | 1146 | 1044 | 2190 | 156.5 |
| 19 | Marie Annick Brancourt | FR | 5 | 1099 | 1062 | 2161 | 175.1 |
| 20 | Heike Albers | DE | 4 | 1171 | 986 | 2157 | 175.8 |
| 21 | Catherine Perez | FR | 9 | 1079 | 1038 | 2117 | 167.4 |
| 22 | Jocelyne Chretien | FR | 13 | 1068 | 959 | 2027 | 155.9 |
| 23 | Annie Millet | FR | 11 | 947 | 936 | 1883 | 145.9 |
| 24 | Annick Berthomiere | FR | 1 | 980 | 862 | 1842 | 152.5 |
| 25 | Angèle Divol | FR | 2 | 878 | 812 | 1690 | 138.8 |
| 26 | Sabine Leutwiler | CH | 14 | 1036 | | 1036 | 154.6 |