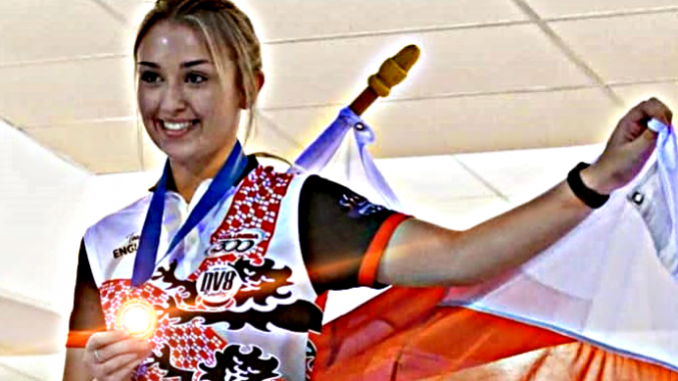 Isabel Allen has FIVE Gold Medals at EYC in just three years plus a World Junior Championships Bronze. She has won Nationals All events and singles Golds at Peewee, Bantam, Junior, Intermediate and senior as well as Triple Crown masters and all events.
Basically she has won pretty much everything worth winning and she is still under 20 years old. With her recent Gold's she's up to 32nd in the all time rankings in just 8 entries. Only Verity Crawley is higher on 6 entries.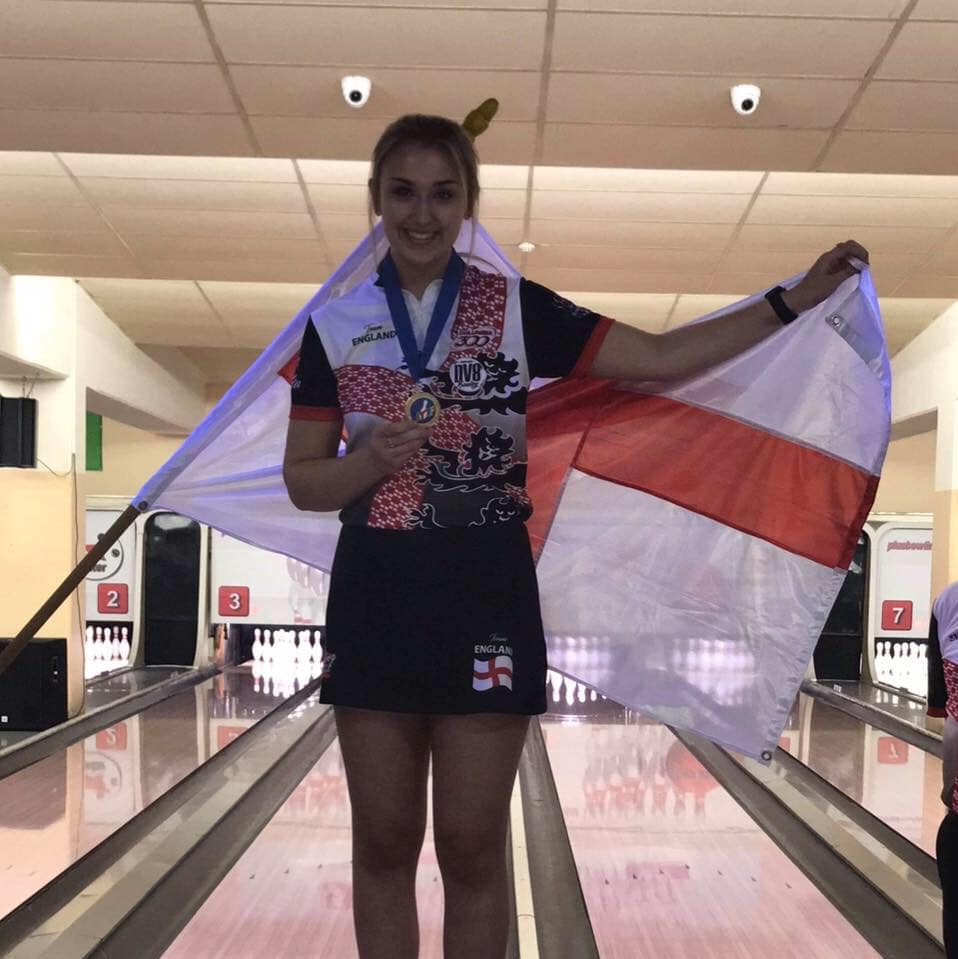 You started at a very young age, just how old and what lead you to the sport?
I started when I was just 3 years old as my sister went to the local YBC and I used to go and watch her before being able to actually bowl.
We all do a lot of sports as kids, at what point did it look like bowling was to be the chosen path?
I think when I first made Team England in 2014 for the triple crown and being the youngest girl ever it sort of sunk into me that Bowling was definitely the path I wanted to take.
2019 now and already in the top 35 UK bowlers of all time thanks in part to a few cool latest results, Has the master win sunk in yet?
I know, it is crazy. It definitely hasn't sunk in yet. My expectations going into the EYC were just to have fun and bowl the best of my ability. Obviously there were times where I was disappointed in my performance, but when it came to the masters event I just took a shot at a time and the day ended in my favour. It is definitely a day I won't ever forget.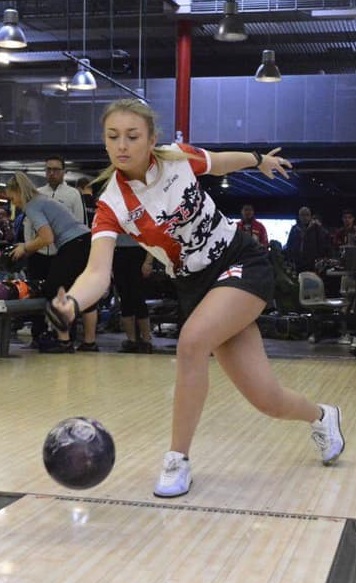 EYC came good for you in the end but anyone following the scores could see a struggle going on. Does winning that masters Gold when you know you were not firing 100% give you some confidence in your ability to fight though problems?
I always tell myself that I should never give up. Even if things are going downhill and you aren't performing your best. There is still a reason that you are there and it is to win. There is nothing worse than giving up on something you have worked so hard for, for so long. Going into the masters, I just wanted to know I performed the best of my ability and I did exactly that. The fire came towards the end of the event because I never gave up no matter how the rest of the event went. The masters was a completely different day and I felt myself, I had the confidence and fire to win and I was determined.
Many top players come from juniors and especially EYC's, Who have you seen on the lanes that you know you will battle against in the future?
There are many great players in Europe and the rest of the world. There is a lot of competition out there and I could not pin down just a few players as there is so much talent across the world.
You have come through the UK youth system and won at all levels, don't lie, do you bowl in front to the mirror like a lot of kid bowlers?
Sorry to let you down but unfortunately not.

A bright future ahead of you in bowling, who has helped you get to this moment in time, who gets a shout out?
Well to start ,my sister (Emily) has inspired me to become better not only in bowling but in myself and to have confidence in whatever I do. Without her bowling, I wouldn't of ever even started it. My parents, they support me no matter what and take me all over just to get me to a bowling alley. My coach of 7 years Jon Zadel, I wouldn't be the bowler I am without him and Alex Hamilton who is always there to drill me a ball with a minutes notice! And last but not least my sponsors Columbia 300 and Striking Shirts. At this moment in time, I would not be at this level without their support and belief in my bowling.
PWBA, is it something you may try one day or is it gentle steps in EBT's?
I definitely want to be on the PWBA tour one day and win titles. But for now, I am trying to experience and take in everything I can and going to as many EBTs as possible.
Is bowling full time going to be an option for you or is there a job too?
I hope one day it could be a full time job for me, but for now I am still at college studying Sport and Fitness and hoping to get a job into this industry whilst able to successfully bowl as well.
What do you feel are your strengths?
I feel like one of my main strengths is handling pressure. At championships I've been in many situations where I've needed to strike or spare for the Gold and I've been able to stay calm and to handle the pressure. I think listing strengths is a hard one because there's always things I am trying to improve on. I am tough on myself and always want to become better.
Being critical of oneself is very natural, what things do you feel you need to work on now to be ready for things like the PWBA?
One main thing I am currently working on is my mental game. It is definitely becoming a stronger part of my game and I feel this is such a critical part if you want to be successful in bowling. If wanting to go on the PWBA, you can't let bad events affect you so having a good mental game and taking one event at a time will definitely be key.
What amount of fitness training do you do, what is a typical week between this and on lane practice?
As I do a sports course, I am pretty much at the gym doing different things when I am not bowling during college. When it comes to practice, I have coaching every week as well as individual practice two or three times a week.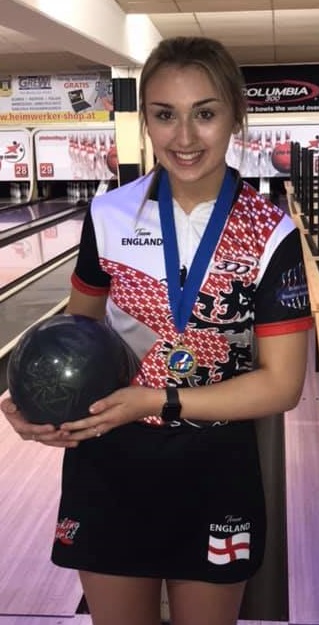 Does this regime change as you get closer to a major event?
I try not to change anything before major events other than cutting down the practice time on physical aspects. If I have a major event I will try not to change anything in my game about a month before and just to focus on feeling good in myself and being confident.
When away from the sport, what things do you like to do that are not bowling related and do you even switch off from the sport?
I find it hard to switch off from the sport as it is such a big part of my life. But when I'm not bowling, I like to spend time with my family and friends and travelling to lots of countries! I love going on holidays and seeing the world.
As junior bowling goes, you are currently close to the very top at your age group, For the younger players out there with dreams to win the things you have won, what advice do you have for them on how to get there?
I've always told myself to never give up on your dreams. Even if you feel like everything is falling apart, to just never give up and tell yourself that when you are going to a tournament you are going there to be a champion and not just a participant.
Finally Issy, why should people try bowling?
Bowling has changed my life. I have friends for life from bowling, met people from all over the world and have been given opportunities I couldn't of ever of dreamt of. So that is why you should try bowling!