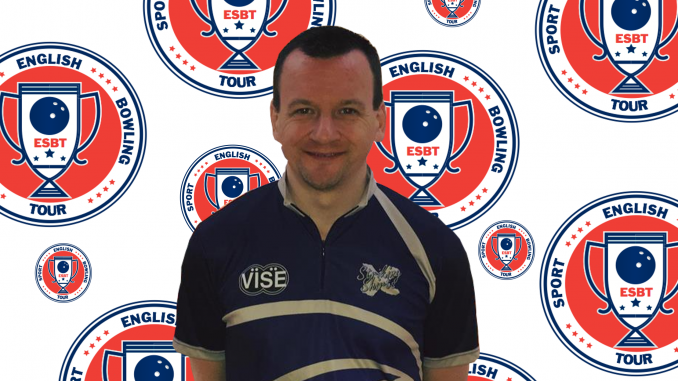 Tour Stop 4 and we find ourselves heading to the midlands to the lovely Acocks Green , or " The Green " as the locals know it.
This bowl is a first visit for the ESBT but….. it will not be the last! Lane Pattern this time was the WTBA Tokyo which is a high 27ml oil and 42ft in length.
So far this season we have had 3 Champions, Adam Michaels, Vicki Harman and Steve Thornton….. could any of these 3 make a return trip to the top spot or could a local sneak up for the win??
Squad 1 – Sunday 9am.
Squad 1 saw The likes of European multi medalist and Motiv Staffer Hayley Russell, Team England Mia Bewley and a player desperately seeking a win and to prove he really does not need any bonus pins….. or another Yogi award – for those who remember…….. Mr Paul Moor.
An impressive start from Moor as he gets off to a fine 278 in game 1 , followed up with a 246 in game 2 …. He certainly is setting the pace and showing he's only got his sights on the top spot!
Newcastles 7th best player Matty Clayton , sporting his new look , was closest to Moor over the first two games on 436 but even that was still 88 pins behind the lefty!
Games 3+4 saw plenty of 200+ games which included another 270+ ( 279 ) from Moor extending his squad lead over the field. Youth player Jay Goodwin seems to have found the hold chasing the field with games 3 – 7 all over the 200+mark, all between 210 – 233, impressive bowling! Going 1 better was Danny Lally, freshly married may suit his bowling, who threw games 3 – 8 all over the 200+ mark with games ranging 208 – 236 to really make a climb up the leaderboard.
The second set of four games saw a lot of 200's as the pattern settled down which included a squad high game of 288 from Jason Agate but stealing the show was again Paul Moor shooting numbers only Carol Vorderman could count up…. Paul added a block of 225,258,256 and 251 to an already impressive first 4 of 1005 giving him a massive 8 game final total of 1995 – that's a 249 average!! This was more like the old Paul Moor, before the days he got bonus pins!
Runner up in squad 2 was youth player Jay Goodwin on a 1763 and a 266 final game put Craig Barrett in 3rd.
Could it be possible that a player in squad 2 could topple Moor of the top spot , it would be a huge task!!
Squad 2 – Sunday 2pm.
Squad 2 saw some dangerous players, players who like to strike, players who are not afraid of shooting numbers…. We had "Pistol" Pete Stevenson on home soil, multiple ESBT winner and current legend Stevie T, Adam "ESBT Masters Champ" Michaels a fellow Hull lefty , Hadley "the urethane assassin" Morgan , Brandon " hunting for a win" Roberts and Peterboroughs finest Leon Devlin to name a few….. a strong squad!!
Was the left hand side really that much in play?
Hot out of the blocks was Local lad Dave mason with a 255, followed by Adam Michaels, Danny Davies, Pistol Pete and Thomas Copeland all in the 220 – 240 bracket. Game 2 saw the 200+ games coming thick and fast with a handful of 220's. Dave Mason still leading the way with 480 for his first 2 with Danny Davies chasing on 465.
Games 3 onwards saw the lanes change slightly and an upturn in numbers, with Adam Michaels starting to get his groove on using games of 264, 279 and 234 to set the pace. Brandon Roberts wasn't far back with his 247, 193 and 276 and Pistol Pete hanging on in also with games of 286, 201 and 223.
The last 2 games saw a bit of a top of the table tussle between the same 3….. Michaels, Roberts and Stevenson. Roberts threw games of 258 + 229 to Stevenson's 200 + 200 to squeeze past in to 2nd while the soft lefty Michaels added a 223 and a fine last game of 256 for the squad win with an 1850, a great score but still 145 pins back from Paul Moors earlier 1995.
Dan Wenner also had a go at cracking the top 3 in this squad with a solid 1733 block for his 8 to finish 4th, just 31 behind Stevenson on 1764 and a few more behind Roberts on his 1782.
Elliot Crosby somehow managed to come back and sneak 5th in the squad after his 159 + 157 start to end with 1732, just 1 pin behind Wenner. This was mostly due to a totally out of the blue 298 in game 7…… we are all shocked with this one!! ( rubber arm on the 12th )
After both squads Paul Moor could not be touched, Adam did have a go but a bit of carry didn't go his way and he settled for 2nd place. Brandon Roberts ended up in 3rd with Stevenson following in 4th, Jay Goodwin in 5th with Dan Wenner 6th, Elliot Crosby 7th and final cash place for Tour Stop 4 was Craig Barrett in 8th.
Finishing the event was the sweeper. This was won by Norfolk lad Paul Cunningham on 511 , followed by Jason Agate with 502 and last cash sweeper place goes to Dave Mason with 500 for his 2 games.
Nice to see a few different faces in the cash positions at this Tour Stop, it goes to show it's not always the same people taking the prizes!!
Congratulations to Paul Moor for shooting that huge total of 1995 and owning the WTBA Tokyo lane pattern for the win!
All scores and current updated ESBT Tour rankings can be found on the web site www.sportbowling.uk.
Tour Stop 5 at Poole is now open for entries, so if you don't want to miss out , get your name down and join in!!
Thank you to Acocks Green management and staff for a really well run event!