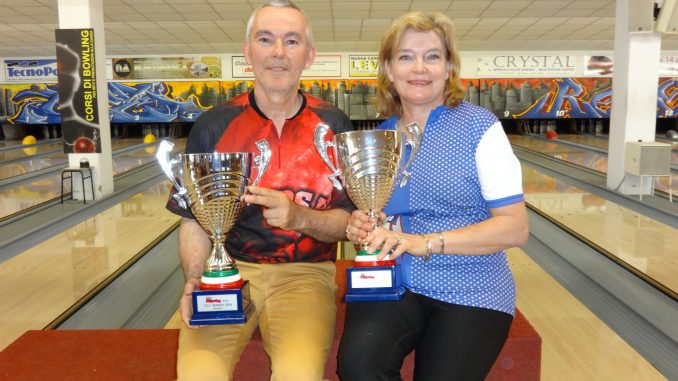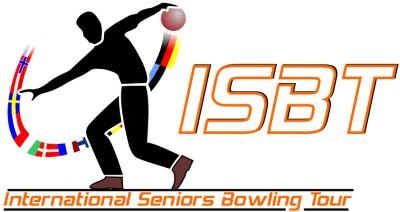 Reno Bowling, Bologna, Italy
2nd to 10th June 2018
By Tony Brown
The fourth stop on the 2018 ISBT tour was in Italy, at Reno Bowling in Bologna. This attracted an entry list of 123 competitors, with the majority coming from Italy, only 39 participants were from other countries. The format for the tournament was two six game qualifying blocks, with re-entries allowing the lowest blocks to be replaced. For those not able to qualify through the main leaderboard, there were additional opportunities through Turbo games and Early Bird qualification. Age bonus started at age 51 (1 pin per game), then increased a pin for every additional year of age with no limit. As with all ISBT events, there was a separate division for ladies.
The pattern selected by the organisers was different from that often seen on the ISBT, almost meeting the requirements for a sport condition with a 3.3 ratio. On paper, it looked like it might prove challenging for the competitors.
Qualifying started a week before finals day, and in total there were 21 qualifying squads. The first Saturday of the tournament saw good scores from Italian bowlers in both divisions, with Pachera Gaziano leading with 1384, ahead of Vettoretti Erminio. In the ladies' division, Daniela Buzzelli also started strongly, with blocks of 1276 and 1160, with Maria Grazia Locatelli also having a fine 1207. On Sunday, Harry Mickelson from the US had a very strong block of 1465, well clear of second place Italian Loris Masetti who had 1261. Maria Grazia Locatelli was top lady for the day, with 1132.
There were only two squads on each of the next four days, and Monday again belonged to the Italians, with Aurelio Briganti having a fine 1398, ahead of Luciano Lambertini. Tuesday was led by Dante Didonfrancesco from Italy with 1347, while Angie Brown from England was top lady with 1153. Wednesday saw another Italian top of the day, with Luciano Marsero shooting 1394, and Beate Albert from Germany being top lady with 1208. Harry Mickelson was again top of the men on Thursday scoring 1354, and Maria Rosaria Matrullo from Italy being top lady with 1173.
By now it was becoming clear that the pattern was proving very challenging to many of the bowlers, made even more difficult by the unusually hot and humid conditions after some unseasonable heavy rain.
There were three more squads on Friday. This proved a difficult day for many of the bowlers, Antonio Maddaloni from Italy was top with 1345, just a pin ahead of Alan Keddie from Scotland. Angie Brown was again top lady and improved her overall total with a 1225 block.
There were four final squads on Saturday, top bowler of the day was Loris Masetti from Italy, who was the architect of the lane pattern that had challenged so many during the tournament. Just behind him was Helmut Ulber from Germany, and bowl owner Gabrielle Benvenuti. Maria Rosaria Matrullo had 1231 in the ladies' section, to ensure her qualification place.
After completion of the 21 qualifying blocks, it was Harry Mickelson who took top spot with 2819, ahead of a trio of Italians Luciano Marsero, Luciano Lambertini and Loris Masetti. The cut for the top 24 was Jürgen Preuss with 2552. These 24 would be joined in the finals by six Early Bird and two Turbo qualifiers.
In the ladies' section, defending champion Daniella Buzzelli was top qualifier with 2436, ahead of Maria Rosaria Matrullo and Angie Brown. Only the top five would proceed automatically to the finals, fifth place went to Maria Grazia Locatelli with 2339. Two Early Bird and one Turbo qualifier would also make the final round.
The 32 male players from qualifying were then divided into four groups of eight bowlers, each playing a round robin format. The top two from each group progressed to the grand final, which was another 8 game round robin.
In the Blue group, Italians took the top places, with Franco Vanzella, Dante Didion going through to the final. In the green group Granziano Pachera from Italy and Georgio Desimio from Belgium were clear qualifiers. The red group saw Ed Roberts from the US take top spot from Italian Aurelio Briganti. The Red group was won by Serge Frouville from France, ahead of Italian Mirko Nannetti.
In the men's final, it was close from start to finish, with Serge Frouville having a slight lead over Georgio Desimio with one game left to play. Another solid game from Serge Frouville rewarded him with a very close win by eight pins ahead of Mirko Nannetti, with Ed Roberts just three pins behind after a strong last game.
In the ladies' final, it was close between Liliane Vintens from Belgium and Angie Brown throughout the final. After four games, Angie Brown had a slight lead, but then had a poor game against Vintens in Game five to go behind, with Maria Grazia Locatelli taking a slight lead over both of them. A 231 in Game six gave Angie Brown a single pin lead, but Liliane Vintens had a better last game to take the title from Angie Brown, with Maria Grazia Locatelli in third place.
The next stop on the 2018 tour is at the Böblingen Senior Open at Dream Bowl in Böblingen, Germany. The tournament runs from the 7th to 15th July, full details are available at the ISBT web site, http://www.isbtbowlingtour.eu/
Results
Men
Final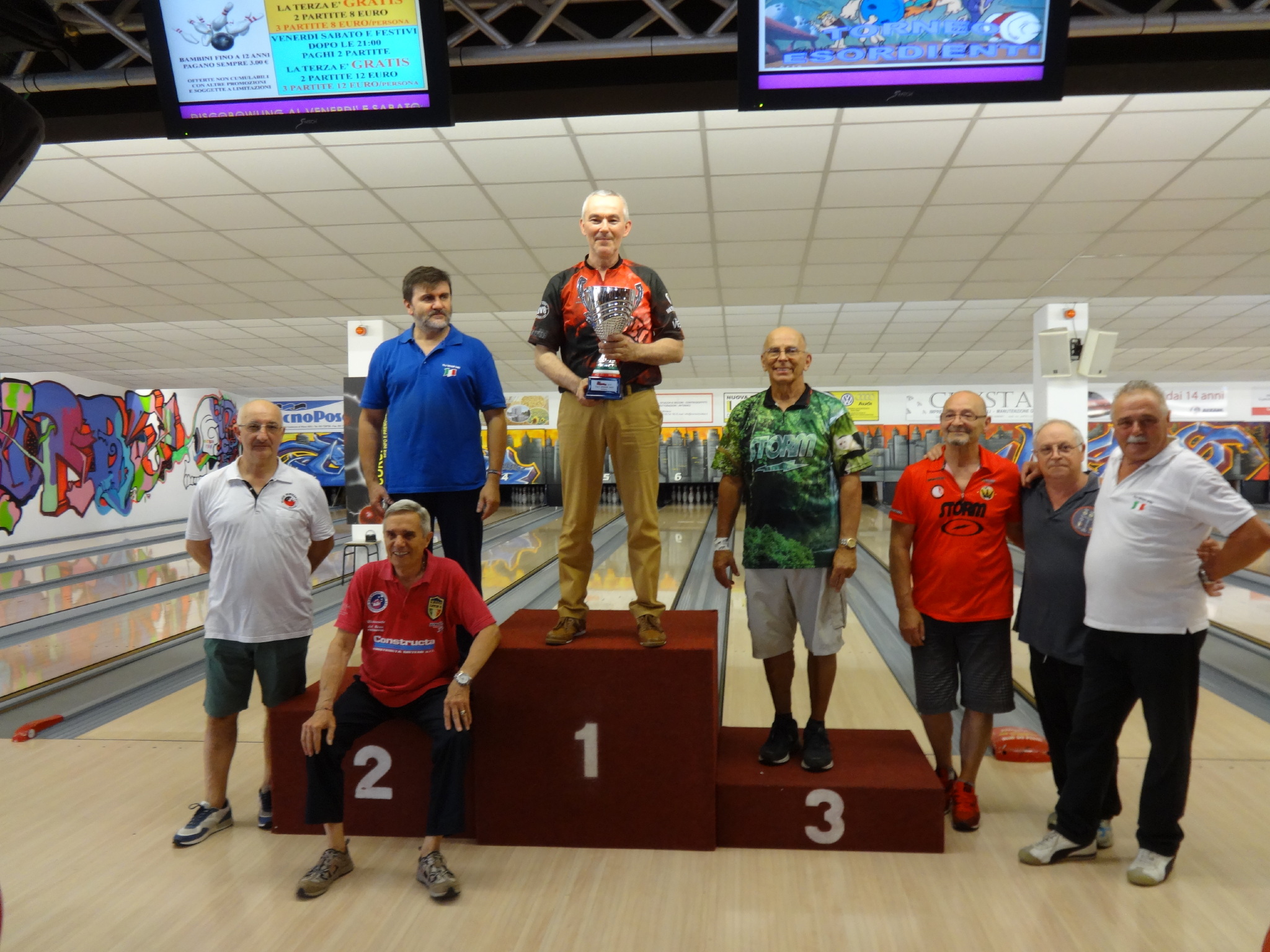 Final Round 1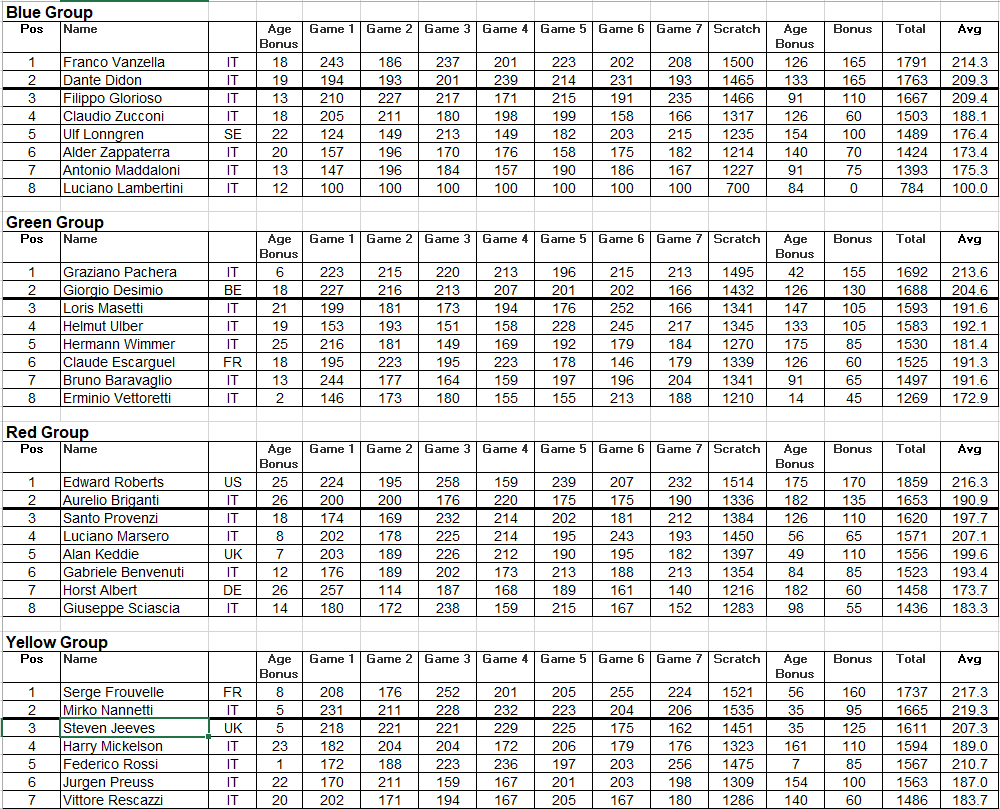 Qualifying
| | | | | | | | |
| --- | --- | --- | --- | --- | --- | --- | --- |
| Pos | Name | | Age Bonus | First Series | Second Series | Total | Average |
| 1 | Harry Mickelson | US | 23 | 1465 | 1354 | 2819 | 211.9 |
| 2 | Luciano Marsero | IT | 8 | 1394 | 1336 | 2730 | 219.5 |
| 3 | Luciano Lambertini | IT | 12 | 1389 | 1318 | 2707 | 213.6 |
| 4 | Loris Masetti | IT | 21 | 1357 | 1341 | 2698 | 203.8 |
| 5 | Helmut Ulber | DE | 19 | 1340 | 1319 | 2659 | 202.6 |
| 6 | Dante Didonfrancesco | IT | 19 | 1347 | 1309 | 2656 | 202.3 |
| 7 | Alan Keddie | UK | 7 | 1344 | 1308 | 2652 | 214.0 |
| 8 | Vittore Rescazzi | IT | 20 | 1325 | 1325 | 2650 | 200.8 |
| 9 | Serge Frouvelle | FR | 8 | 1319 | 1318 | 2637 | 211.8 |
| 10 | Santo Provenzi | IT | 18 | 1324 | 1313 | 2637 | 201.8 |
| 11 | Alder Zappaterra | IT | 8 | 1346 | 1269 | 2615 | 209.9 |
| 12 | Hermann Wimmer | DE | 25 | 1308 | 1303 | 2611 | 192.6 |
| 13 | Giorgio Desimio | BE | 18 | 1331 | 1270 | 2601 | 198.8 |
| 14 | Ulf Lonngren | SE | 22 | 1324 | 1267 | 2591 | 193.9 |
| 15 | Edward Roberts | US | 25 | 1318 | 1273 | 2591 | 190.9 |
| 16 | Patrick Delarue | FR | 20 | 1310 | 1269 | 2579 | 194.9 |
| 17 | Steven Jeeves | UK | 5 | 1321 | 1255 | 2576 | 209.7 |
| 18 | Aurelio Briganti | IT | 26 | 1398 | 1176 | 2574 | 188.5 |
| 19 | Filippo Glorioso | IT | 13 | 1337 | 1234 | 2571 | 201.3 |
| 20 | Claude Escarguel | FR | 18 | 1295 | 1275 | 2570 | 196.2 |
| 21 | Graziano Pachera | IT | 6 | 1384 | 1184 | 2568 | 208.0 |
| 22 | Antonio Maddaloni | IT | 13 | 1345 | 1217 | 2562 | 200.5 |
| 23 | Gabriele Benvenuti | IT | 12 | 1328 | 1230 | 2558 | 201.2 |
| 24 | Juergen Preuss | DE | 22 | 1296 | 1256 | 2552 | 190.7 |
| 25 | Mirko Nannetti | IT | 5 | 1350 | 1197 | 2547 | 207.3 |
| 26 | Horst Albert | DE | 26 | 1277 | 1263 | 2540 | 185.7 |
| 27 | Claudio Zucconi | IT | 18 | 1295 | 1234 | 2529 | 192.8 |
| 28 | Valentin Fatu | RO | 6 | 1277 | 1249 | 2526 | 204.5 |
| 29 | Bruno Baravaglio | IT | 13 | 1259 | 1258 | 2517 | 196.8 |
| 30 | Patrice Sustar | FR | 17 | 1273 | 1244 | 2517 | 192.8 |
| 31 | Erminio Vettoretti | IT | 3 | 1360 | 1157 | 2517 | 206.8 |
| 32 | Franco Vanzella | IT | 18 | 1260 | 1249 | 2509 | 191.1 |
| 33 | Vladimir Pitas | CZ | 22 | 1257 | 1246 | 2503 | 186.6 |
| 34 | Federico Rossi | IT | 1 | 1246 | 1231 | 2477 | 205.4 |
| 35 | Giuseppe Sciascia | IT | 14 | 1263 | 1212 | 2475 | 192.3 |
| 36 | Antonio Garilli | IT | 17 | 1241 | 1229 | 2470 | 188.8 |
| 37 | Avellino Zampieri | IT | 8 | 1262 | 1207 | 2469 | 197.8 |
| 38 | Zdenêk Havlicêk | CZ | 22 | 1263 | 1194 | 2457 | 182.8 |
| 39 | Sandro Maltinti | IT | 10 | 1242 | 1201 | 2443 | 193.6 |
| 40 | Jean-Philippe Rossire | CH | 16 | 1236 | 1206 | 2442 | 187.5 |
| 41 | Steve Carnall | UK | 12 | 1236 | 1203 | 2439 | 191.3 |
| 42 | Ivan Burian | CZ | 6 | 1227 | 1199 | 2426 | 196.2 |
| 43 | Aniello Graziuso | IT | 5 | 1276 | 1149 | 2425 | 197.1 |
| 44 | Mauro Bruschi | IT | 7 | 1244 | 1176 | 2420 | 194.7 |
| 45 | Jens Muth | DE | 7 | 1232 | 1162 | 2394 | 192.5 |
| 46 | Gianni Marchiori | IT | 13 | 1212 | 1181 | 2393 | 186.4 |
| 47 | Stefano Michelini | IT | 9 | 1234 | 1148 | 2382 | 189.5 |
| 48 | Riziero Togni | IT | 17 | 1191 | 1189 | 2380 | 181.3 |
| 49 | Ermanno Morini | IT | 15 | 1236 | 1143 | 2379 | 183.3 |
| 50 | Giorgio Galluzzo | IT | 15 | 1231 | 1139 | 2370 | 182.5 |
| 51 | Paolo Felici | IT | 13 | 1246 | 1121 | 2367 | 184.3 |
| 52 | Paolo Feretti | IT | 7 | 1267 | 1095 | 2362 | 189.8 |
| 53 | Marco Piovella | IT | 8 | 1237 | 1122 | 2359 | 188.6 |
| 54 | Rinaldo Amadori | IT | 22 | 1206 | 1150 | 2356 | 174.3 |
| 55 | Calogero Miraglia | BE | 16 | 1182 | 1167 | 2349 | 179.8 |
| 56 | Ezio Bona | IT | 17 | 1184 | 1153 | 2337 | 177.8 |
| 57 | Marco Zorzan | IT | 2 | 1184 | 1133 | 2317 | 191.1 |
| 58 | Angelo Maggi | IT | 13 | 1189 | 1124 | 2313 | 179.8 |
| 59 | Maurizio Tiso | IT | 8 | 1231 | 1073 | 2304 | 184.0 |
| 60 | Maurizio Gasperini | IT | 9 | 1186 | 1106 | 2292 | 182.0 |
| 61 | Daniele Moscatelli | IT | 6 | 1205 | 1079 | 2284 | 184.3 |
| 62 | Luigi Vicentini | IT | 14 | 1189 | 1094 | 2283 | 176.3 |
| 63 | Sergio Cerrato | IT | 12 | 1172 | 1107 | 2279 | 177.9 |
| 64 | Massimo Isoppo | IT | 10 | 1159 | 1116 | 2275 | 179.6 |
| 65 | Claudio Rubagotti | IT | 13 | 1145 | 1130 | 2275 | 176.6 |
| 66 | Auke Broekhuizen | NL | 7 | 1142 | 1130 | 2272 | 182.3 |
| 67 | Maurizio Cecchini | IT | 10 | 1173 | 1095 | 2268 | 179.0 |
| 68 | Robert Willem | NL | 21 | 1134 | 1128 | 2262 | 167.5 |
| 69 | Mirko Presti | IT | 0 | 1132 | 1129 | 2261 | 188.4 |
| 70 | Francesco Guarienti | IT | 18 | 1139 | 1115 | 2254 | 169.8 |
| 71 | Renato Murarotto | IT | 27 | 1164 | 1090 | 2254 | 160.8 |
| 72 | Roberto Montali | IT | 16 | 1134 | 1106 | 2240 | 170.7 |
| 73 | Roberto Camoratti | IT | 1 | 1123 | 1116 | 2239 | 185.6 |
| 74 | Roberto Pilotti | IT | 11 | 1121 | 1116 | 2237 | 175.4 |
| 75 | Ennio Giroldini | IT | 14 | 1136 | 1092 | 2228 | 171.7 |
| 76 | Generoso Ciccone | IT | 18 | 1114 | 1110 | 2224 | 167.3 |
| 77 | Salvatore Lo Piccolo | IT | 16 | 1117 | 1104 | 2221 | 169.1 |
| 78 | Jerome Greg | UK | 12 | 1132 | 1085 | 2217 | 172.8 |
| 79 | Marco Borbeggiani | IT | 4 | 1161 | 1052 | 2213 | 180.4 |
| 80 | Fabio Primavera | IT | 9 | 1110 | 1098 | 2208 | 175.0 |
| 81 | Danilo Catani | IT | 15 | 1159 | 1036 | 2195 | 167.9 |
| 82 | Daniele Fracasso | IT | 13 | 1102 | 1082 | 2184 | 169.0 |
| 83 | Renato Bortolon | IT | 2 | 1210 | 969 | 2179 | 179.6 |
| 84 | Lamberto Catalani | IT | 2 | 1125 | 1041 | 2166 | 178.5 |
| 85 | Laurence Gaillard | FR | 3 | 1080 | 1077 | 2157 | 176.8 |
| 86 | Michael Pray | UK | 19 | 1096 | 1058 | 2154 | 160.5 |
| 87 | Efren Paroligan | IT | 17 | 1079 | 1074 | 2153 | 162.4 |
| 88 | Francesco Anacleria | IT | 19 | 1069 | 1067 | 2136 | 159.0 |
| 89 | Dominique Brosens | BE | 9 | 1101 | 1012 | 2113 | 167.1 |
| 90 | Giuseppe Pascotto | IT | 28 | 1065 | 1045 | 2110 | 147.8 |
| 91 | Roberto Cesi | IT | 4 | 1082 | 1016 | 2098 | 170.8 |
| 92 | Lorenzo Rosa | IT | 3 | 1080 | 1015 | 2095 | 171.6 |
| 93 | Manuel Siriban | IT | 9 | 1077 | 1004 | 2081 | 164.4 |
| 94 | Silvio Merzi | IT | 22 | 1101 | 960 | 2061 | 149.8 |
| 95 | Antonio Fecchio | IT | 17 | 1065 | 972 | 2037 | 152.8 |
| 96 | Fabio Bersanetti | IT | 12 | 1054 | 969 | 2023 | 156.6 |
| 97 | Giuseppe Nastasi | IT | 15 | 1067 | 935 | 2002 | 151.8 |
| 98 | Jose Juliano | IT | 7 | 1015 | 966 | 1981 | 158.1 |
| 99 | Massimo Losi | IT | 3 | 1207 | 736 | 1943 | 158.9 |
| 100 | Pedro Edgard Magsimo | IT | 2 | 1009 | 901 | 1910 | 157.2 |
| 101 | Stefano Beltrami | IT | 18 | 1150 | 717 | 1867 | 168.7 |
| 102 | Maurizio Calegari | IT | 9 | 965 | 301 | 1266 | 149.3 |
| 103 | Luciano Di Rella | BE | 19 | 1095 | 0 | 1095 | 163.5 |
Women
Final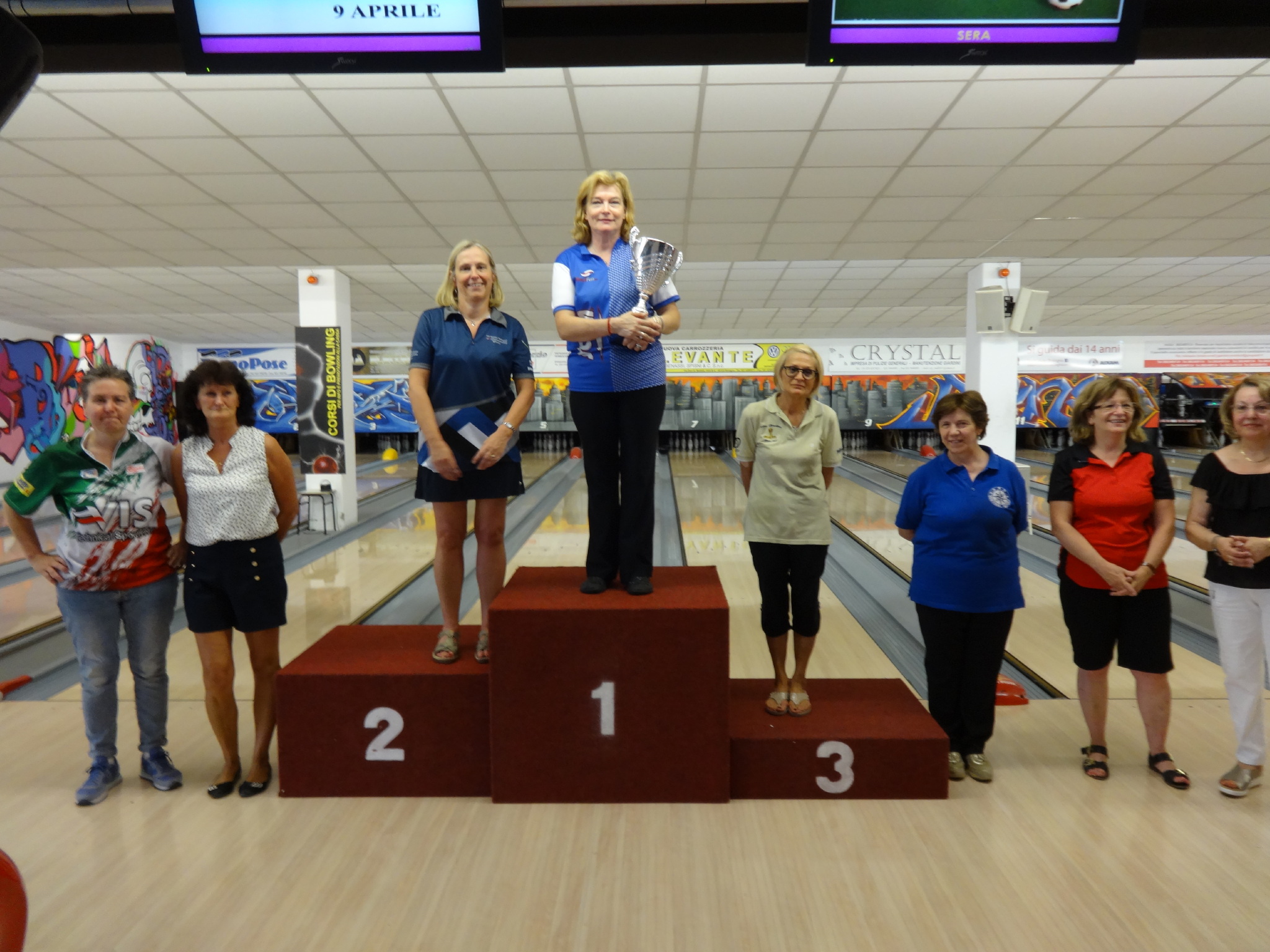 Qualifying
| | | | | | | | |
| --- | --- | --- | --- | --- | --- | --- | --- |
| Pos | Name | | Age Bonus | First Series | Second Series | Total | Average |
| 1 | Daniela Buzzelli | IT | 2 | 1276 | 1160 | 2436 | 201.0 |
| 2 | Maria Rosaria Matrullo | IT | 16 | 1231 | 1173 | 2404 | 184.3 |
| 3 | Angie Brown | UK | 10 | 1225 | 1153 | 2378 | 188.2 |
| 4 | Beate Albert | DE | 8 | 1208 | 1149 | 2357 | 188.4 |
| 5 | Maria Grazia Locatelli | IT | 16 | 1207 | 1132 | 2339 | 178.9 |
| 6 | Christiane Clerc | FR | 8 | 1184 | 1133 | 2317 | 185.1 |
| 7 | Lynne Walker | UK | 1 | 1157 | 1150 | 2307 | 191.3 |
| 8 | Liliane Vintens | BE | 11 | 1150 | 1141 | 2291 | 179.9 |
| 9 | Francoise Sustar | FR | 18 | 1198 | 1077 | 2275 | 171.6 |
| 10 | Vecchio Rosa Del | BE | 23 | 1156 | 1113 | 2269 | 166.1 |
| 11 | Maria Vittoria Tiragallo | IT | 1 | 1144 | 1084 | 2228 | 184.7 |
| 12 | Elva Dario | IT | 22 | 1154 | 1074 | 2228 | 163.7 |
| 13 | Linda Pray | UK | 16 | 1123 | 1095 | 2218 | 168.8 |
| 14 | Anna Cionna | IT | 1 | 1121 | 1077 | 2198 | 182.2 |
| 15 | Luciana Cafaro | IT | 8 | 1080 | 1068 | 2148 | 171.0 |
| 16 | Carmen Secchi | IT | 11 | 1050 | 1048 | 2098 | 163.8 |
| 17 | Doriana Marconi | IT | 10 | 1051 | 1046 | 2097 | 164.8 |
| 18 | Pasqualina Curcio | IT | 5 | 1048 | 1038 | 2086 | 168.8 |
| 19 | Anna Yang | NL | 9 | 1006 | 1003 | 2009 | 158.4 |
| 20 | Nadia Petre | BE | 5 | 967 | 848 | 1815 | 146.3 |