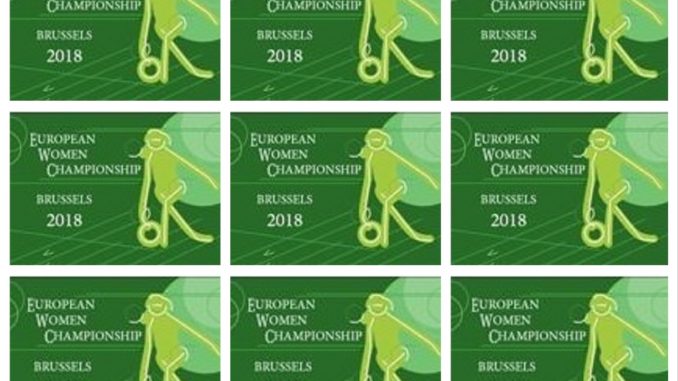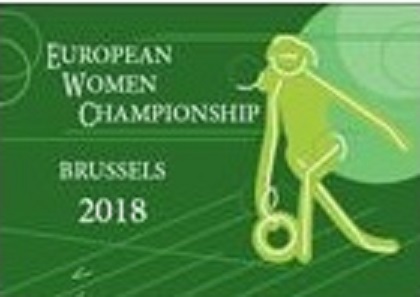 The 2018 Women's European Championships runs from Thursday, June 7 to the 16th, in Brussels, Belgium.
Registered for the event with host country Belgium.: Austria, Bulgaria, Cyprus, Czech Republic, Denmark, England, Estonia, Finland, France, Germany, Hungary, Iceland, Israel, Italy, Malta, Netherlands, Norway, Romania, Russia, Slovenia, Spain, Sweden, Switzerland, Turkey and the Ukraine.
Official Website – http://www.ewc2018.be/
Livestreaming
Live streams will appear here during the championships
Singles squad 2
Reports

Singles squad 1
Let's be straight from the start, this championships could see the Swedish women dominate. Probably the strongest team in the line ups this year, they will take some beating. With that said we move to the first squad of the singles and no shock to see Sweden in first and second position and way out in front. Victoria Johansson fired 1376 to place top with team mate Casja Wegner just behind with 1360. A big jump to third place and great performance from England's Laura Marcham with 1245.
Elsewhere for the home nations Becky Daley placed 9th with 1219 including hope with a couple of high 250 games.

Singles squad 2
The second squad of the day saw Sweden rise to the top again but in an overall lower scoring block. Despite starting with a 175, the veteran Nina Flack ended with a solid 1275 for third overall and a top three for Sweden with a block to go. Second was The Netherlands Denise Blankenzee with 1249 and Cyprus in third as Myria Kastori hit 1229.
Home nation news and not a great block for England as Cherise Moor placed 23rd with 1110 and Louise Parker in 25th with 1102.

Singles squad 3
The big question was would Sweden take all four finals positions as we hit the last block of ladies. With three in the top four already it was Jenny Wegner and Ida Andersson looking to burst inside the cut. Ida bowled well to hit 1342 taking the fourth spot and pushing team mate Nina Flack down the listings. Jenny simply did not really get going and despite four good 200 games she ended in 9th. Germany were all smiles though as Saskia Malz smashed her way into the party and third overall with 1356 to join Swede's Victoria Johansson and Casja Wegner in the last four.
England news and veteran UK Hall of famer Kim Oakley could not keep the pace in 14th with 1164 and further back was Vicki Harman in 18th with 1154.

Singles Finals
Whatever happened now we would see a Swede in the final, question was which one(s). Ida Andersson went up against team mate Victoria Johansson while Casja Wegner battled German Saskia Malz. Ida Andersson and Casja Wegner were the ones smiling at the end as Ida beat Victoria 214-205 as Casja defeated Saskia 221-192.
An all Sweden final as predicted saw Casja in no mood to take anything other than Gold as she blasted 242 to take the Gold with Ida Andersson taking silver and a clean sweep of colours in the very first event. How many more will they win? Well done to Germany's Malz for giving hope to her nation and others.
Final positions for the English ladies saw a great performance from Laura Marcham in 12th with 1245 and hope for a master placing yet. Becky Daly is also inside the top 24 cut in 22nd with 1219.
Elsewhere Kimberly Oakley placed 42nd, Vicki Harman 48th, Cherise Moor 67th and Louise Parker 69th. All will hold hold of improvement as we hit the combination events.

Doubles squad 1
Look left and you see a Swedish flag, look up and you see lots more of them. That means Sweden are leading again, this time it is Casja Wegner and Victoria Johansson topping the pile with 2512 as Germany's Hulsch and Schutz placed second with 2443. Third went to The Netherlands on 2364.
Home news and Kim Oakley and Vicki Harman placed 13th with 2124.

Doubles squad 2
This report nearly was written after five games such was the lead the Swedes had at the time. A full house can be talked about as the Scandinavians dominate another squad. Doing the damage this time was Isabelle Hultin and Nina Flack with 2553 and France 110 pins behind in second with 2443. Third went to Finland with 2441.
No joy again for England back in 13th place with 2206.

Doubles squad 3
Get ready for a shock, Sweden won another squad. All three doubles teams made the finals as Ida Andersson 1341 and Jenny Wegner 1323 raced to the top of the tree in the final block despite a second game of only 334. Just over 100 pins behind was France with 2561 but enough to claim second overall with the other two Swedish pairing making up the last four. The full house is still on.
England battled away in 9th place and flashes of class as Becky Daly hit a 249 in a 1159 total as Laura Marcham hit a highlight of 222 in an 1190 which keeps her well in the last 24 in the all events in 18th. Becky just outside the cut by 22 pins.

Doubles Final
Maximum effort deserves maximum points and Sweden look locked on now to go down in history as a great squad as they claimed the Gold Silver and Bronze for the second event in a row.
In an all Swedish match up, younger Wegner defeated older Wegner as Casja and Victoria Johansson defeated Ida Andersson and Jenny Wegner 458-386 as Isabelle Hultin and Nina Flack demoted France to the bronze position and keeping the clean sweep alive.
In the final it was Flack and Hultin who just edged a close final 390-387.

Trios day 1

Can anyone guess who is leading after the first three games of trios over two squads? Correct, Sweden take the top two places with team effort. Flack Hultin and Andersson lead the way with 1896 and a fine 688 from Hultin. Seden 2 paced second as Wegner Wegner and Johansson hit 1881 with Jenny top lady on 670.
Elsewhere it was Finland 2 in third with 1846 and Sanna Pasanen leading the team with 645. Joy for England as Kim Oakley (583), Becky Daley (578) and Laura Marcham (629) put themselves in a medal position overnight. Hovering close by though are France, Denmark and the Netherlands all ready to pounce on the second set of three games.
Further back in 17th were the England Trio of Louise Parker (554), Vicki Harman (561) and Cherise Moor (582) with 1697.

Trios day 2
Another day another top two for Sweden after the second set of three games. Flack, Hultin and Andersson were top with 3798 with Flack top scorer on 1285. Wegner, Wegner and Johansson hit 3720 with Jenny Wegner tops with 1258.
Joining the Swedes were Finland's Pasanen, Lunden and Hiltunen with 3672 and Austria's Adler, Gross and Witura with 3630.
Home Nation news and England's Kim Oakley, Becky Daley and Laura Marcham sadly could not hold a medal position and dropped way down the listings as they struggled, falling below the other England trios team of Louise Parker, Cherise Moor and Vicki Harman who ended in 13th as the other trio placed 17th. Louise Parker was hot though hitting 204,215 and 226 to claim back placings.
Despite a tough second trios block for Laura Marcham she still held 24th at this point with the team event still to go.

Trios Finals

Well the 100% record of Golds remained intact after the trios finals but at last another country won something other than Bronze.  Sweden's Nina Flack, Isabelle Hultin and Ida Andersson breezed past Austria in the semi final and then took out Finland in revenge of them defeating their team mates in the semi final. It was close though. Sanna Pasanen for Finland shot a fine 232 with a 201 from Swede Nina Flack in reply. 202 for Ida Andersson and 203 for Finland's Eliisa Hiltunen made sweden need something big and got a 235 from Isabelle Hultin and a 194 in reply from Reija Lunden meaning Sweden edged it by just 9 pins 638-629.

Team day 1
Finally we post a flag that is not Yellow and Blue and that means we have our first squad leader that is not Swedish. The Netherlands team put together three fantastic games of 1052, 1155 and 1028 to head the field going into day two with 3235.
Sweden after a slower start rose up to second with 3057 thanks in no small part to a 718 from Nina Flack. Third was Finland with 2974 and 4th went to Germany with 2909.
England News and the team were in 9th after the end with a highlight of 574 from Laura Marcham still in 24th as she chases a top 24 all events placing with three games to go.

Team day 2
Day 2 of the team event and Germany made a grab for a finals position with a solid block of 3196 and a fantastic 716 from Saskia Malz. It was enough to place them second overall with 6105.
A much improved England also made a run for the finals but sadly fell short in 6th just 49 pins adrift but still managed to claim second for the day with 3083 and good performances from Vicki aHarman with 636 and Becky Daly with 656.
Sweden took third with 3012 and 3rd overall with 6069 and despite a day two 5th place the Netherlands took top overall with 6209. The final team making the last four was Finland.
All events and with four of the top 8 to Sweden it was the great Dane Mai Ginge Jenson taking the Gold with 5243, Nina Flack taking Silver and Ida Andersson Bronze.
Joy and heartbreak for England as Becky Daly moved into the last 24 in 23rd but Laura Marcham dropped out of the master in 26th. Elsewhere, Kim Oakley was 44th, Louise Parker 50th and Vicki Harman 58th.

Team Finals
Top seeds from the Netherlands got a rude awakening in the semi finals as Finland blasted 1023 but the Dutch fought well and it was close at the end as they hit 979. Sanna Pasanen doing the damage for the Finns with 245.
Sweden looking to win every event had a tough battle with Germany but came out on top with a 935-923 win thanks in part to a 220 from Jenny Wegner.
Sweden vs Finland in the final and something seen many times over the years.  This time though the Swedes were in no mood to miss out on winning all the events and smashed in a massive 1125 to Finland's 905 and the Gold was won. 247 from Isabelle Hultin and 242 from Nina Flack helping another historic win.

Masters
The Swedes may have won all the main events like singles, doubles, trio and team but none of them could touch Danish legend Mai Ginge Jensen in either the All events or the masters.
Jensen took out England's Becky Daly, Germany's Tina Hulsch, Frenchwoman Amandine Jacques and Finland's Eliisa Hitunen to claim Gold.
Results
Results will appear here during the event