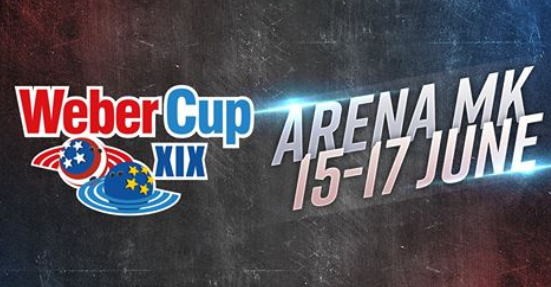 The Weber Cup finds a new venue at Milton Keynes Arena as new-look but familiar American side aims to turn the European tide.
The Europeans have won each of the last five Weber Cups and will be looking to make it a six pack this weekend from 15-17th.
The Weber Cup is the annual transatlantic tenpin tussle which promises high drama as Europe's best taken on their American counterparts.
Follow Official Weber Cup Social Media at www.facebook.com/webercup
Current score
Teams
Europe                                                                                          USA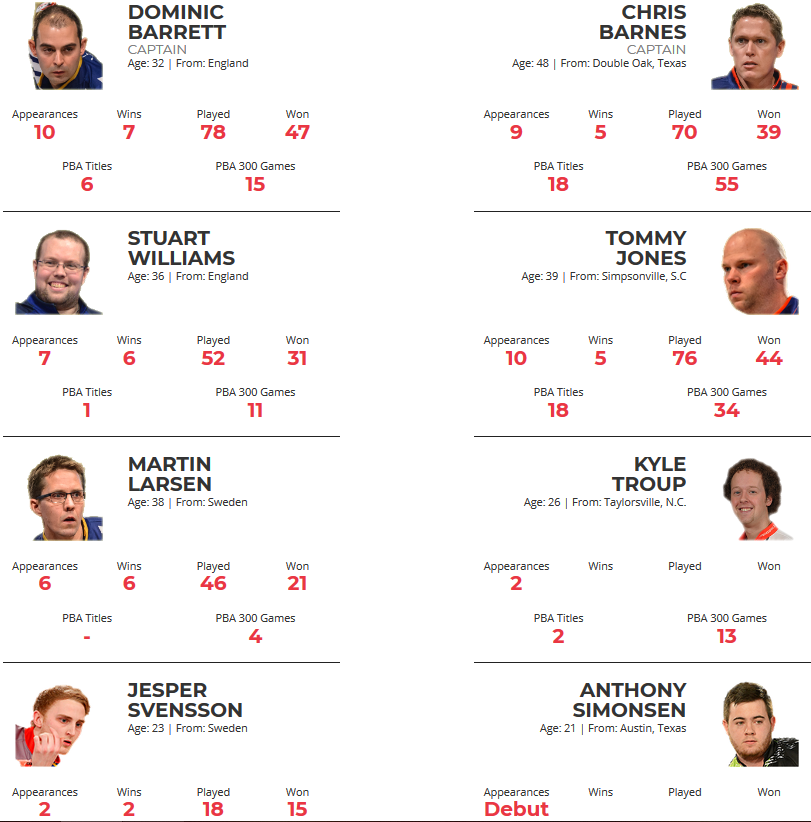 ---
Social Media

You can follow the action from the event and behind the scenes on our facebook page here during the event.
You can also follow the Official Weber Cup social media here
---
Reports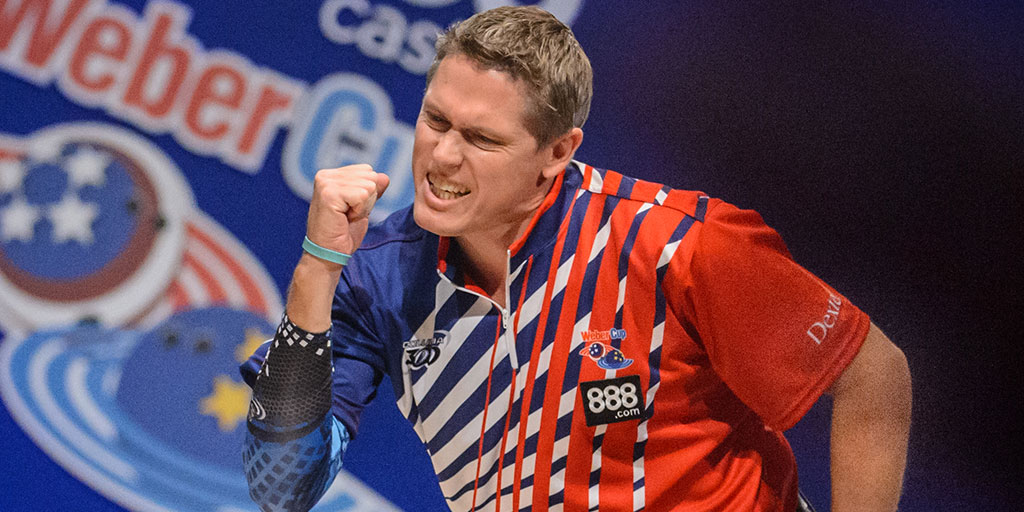 Bring back the big guns?
Imagine being Chris Barnes, you have an injury and find later your Weber cup career seems to be retired to history as new players come in. That must hurt a little when you know it's not all over yet. Well someone else thought so too and Chris got a call he was hoping for. To be fair he could well have been expecting it seeing as he and Tommy Jones took doubles gold in the World Championships last year. Anyway, Superman is back in as captain with the power of Jones besides him. If they are strong individually they are powerful together.
Both must be excited to be joining a third year Kyle Troup who has grown as a player since his shock inclusion in 2016. Kyle is a crowd favorite now with his crazy clothing and Afro hair. It is not a circus show though, Kyle can Troup the colours on the lanes and tough to beat. How do you complete a strong trio, you add the hottest American player on the planet right now just like the year before with EJ Tackett. Anthony Simonsen has been winning all over the World, from Ireland to Singapore he is doing what Tim Mack showed the Americans they could do if they really wanted to be a World bowling star. Two hander Simonsen has fire when he bowls and fire is what is needed now to stop the five in a row steamroller that is Team Europe.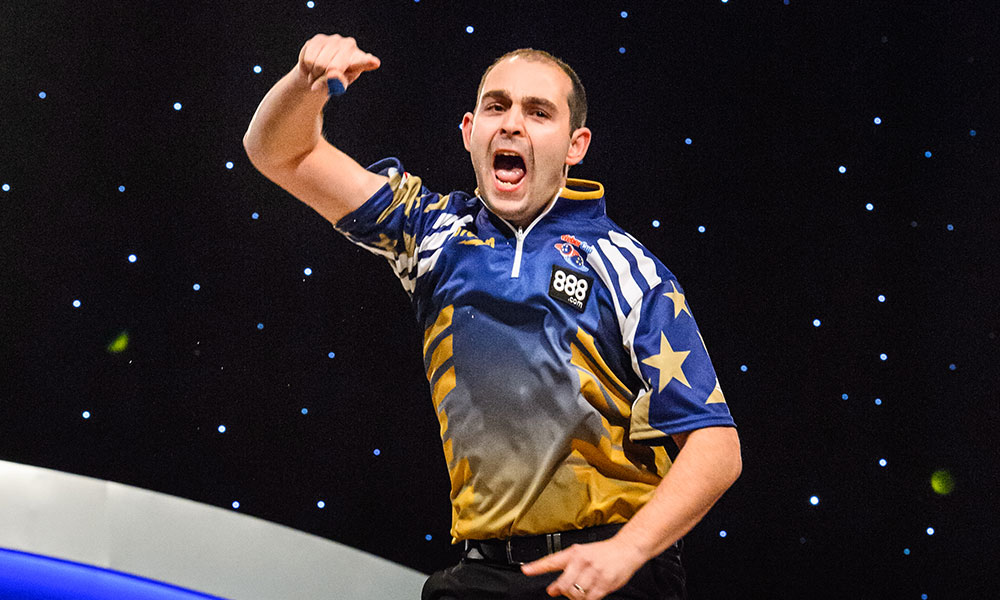 What do we say about Europe? What can you say other than they have been the most complete team seen over the years of the event. A team in every way one should be. They are close, they room together, travel together and known each other for a very long time. Each knows the others games inside out, all are now experienced World and PBA players. A great team cannot be measured by the amount of PBA titles they have or the fame they have acquired. It can only be measured in performance as a team. They started as underdogs to the power of the American Professional game and have gone on to dominate the event and be others leaders in wins.
Make no mistake though, for all the strength now of Europe, Dom Barrett, Stu Williams, Martin Larsen and Jesper Svensson all know what they have to do. They will not be worried by hype over two past greats coming back or the young two handers.
Another one that is hard to call, it does promise to be exciting and as always you can watch it live of Sky Sports, check the official website for details.
---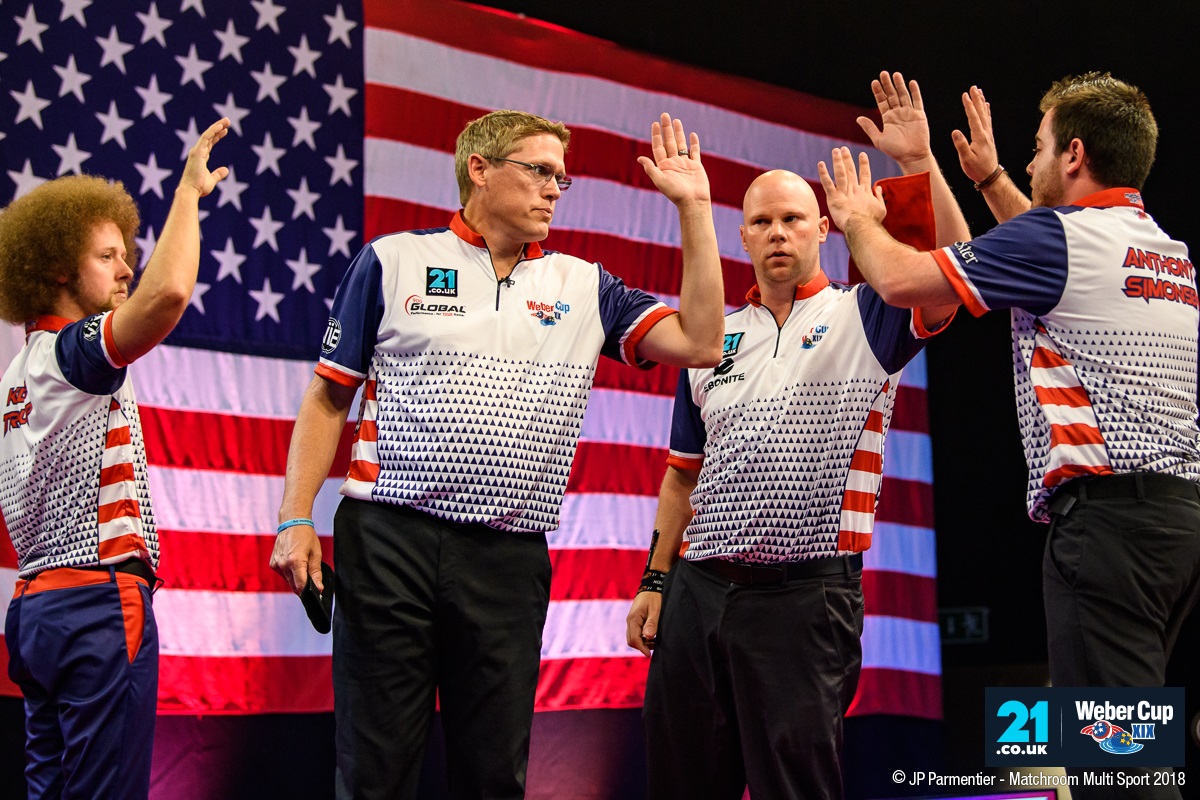 USA storm into early lead
TEAM USA, featuring come-backing veterans Tommy Jones and Chris Barnes, enjoyed an outstanding opening session at the 19th annual 21.co.uk WEBER CUP as they won five of the seven matches to carry a three-point lead into day two of the annual transatlantic tenpin tussle.
Europe were fielding the same team that won in 2017 which was their fifth Weber victory in succession, and they got off to a fine start, winning the opening Baker formatted match. Afro-haired Kyle Troup fired back in the second beating Euro skipper Dom Barrett by a 12-pin margin.
Debutant Anthony Simonsen won another close match over Jesper Svensson before two sub-200 games by Martin Larsen and Stuart Williams respectively allowed Chris Barnes and then Tommy Jones to win comfortable points. That pushed the USA in a 4-1 lead and there was more in the next as Jones got the better of Barrett to leave Europe in a perilous position.
The final match of the session was a 'Fans' Vote' match that saw Weber Cup followers voting via social media platforms for the player from each side that they wanted to see in the final match-up.
It was Svensson and Troup who carried the vote and they contested a close-scoring match. In the end, it was the Swede who nicked the point by a single pin and that turned a potential 6-1 deficit into a slightly more bearable 5-2.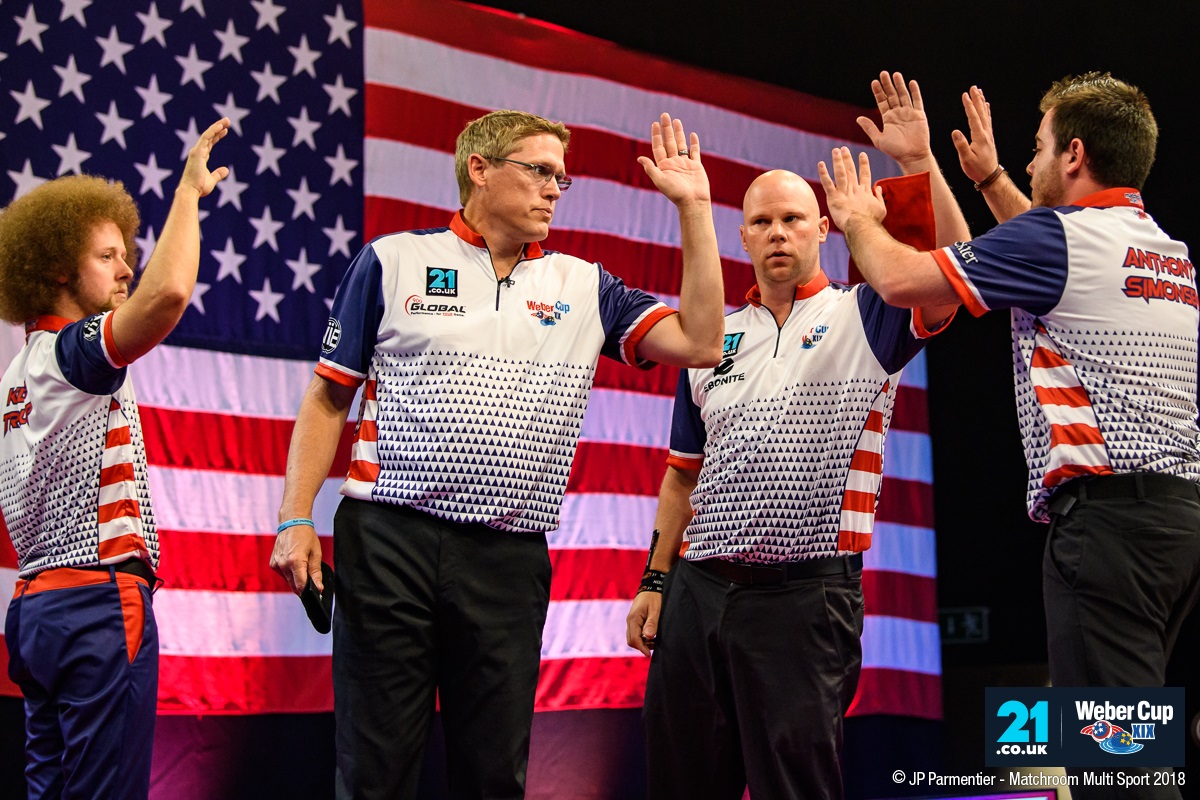 Chris Barnes, captaining the side in his appearance since 2014, said; "The opening session went as well as we could have hoped, especially after the dismal Baker game start. We got off to a poor start and you know Jesper is coming through, he has always been a really tough guy to beat here but Kyle beating Dom in the second match was a huge part of our success today.
"Tommy has historically been as good as anybody on this lane for longer than anybody on this lane so that's why we sent him out back-to-back. He is our go-to guy and he came up big for us. Two wins got us 5-1 up with a free swing at knocking Jesper off twice in one night.
"Everything will change tomorrow. The Europeans will pick a different pattern, it almost certainly will be on the shorter, more hooking side of things because after tonight that's what I would do to. We will recalibrate and come back out again and hopefully build on that lead."
Despite being three points behind, Dom Barrett was upbeat; "The mood is actually pretty good. We know Jesper is good and winning that last match is big for him. The rest of us need to find a way to strike more, to compete more, and follow on from there.
"We have had a couple of ball reaction issues on the lane, we had it a couple of years ago too, and we rectified it. Stu recognised straight away it's the same problem but hopefully we can figure it out and pick a pattern that can help us tomorrow.
"We all know what we need to do tomorrow, there aren't too many tactics you can put in place and we have had one session under our belt, we have a good idea of what the lane is like and what we need to do is to strike. Jesper's win in the Fans' Choice was big for us – 5-2 isn't great but 6-1 would have been a disaster."
Finally, Kyle Troup summed up his thoughts after a bright start, "It was a very good start for Team USA, we wanted a big start and 5-2 is definitely a good start but we know it is one session at a time – we had the lead last year and you saw how that went.
"I'm the hype guy, I get us going and me winning that match against Dom really gave the team some confidence. It was great to be picked as fans' choice. Without fans we don't have bowling so to be able to give back to the fans and be picked by them was exciting but unfortunately wasn't able to strike in the tenth."
Play continues tomorrow at 12.30 with three doubles and four singles matches.
---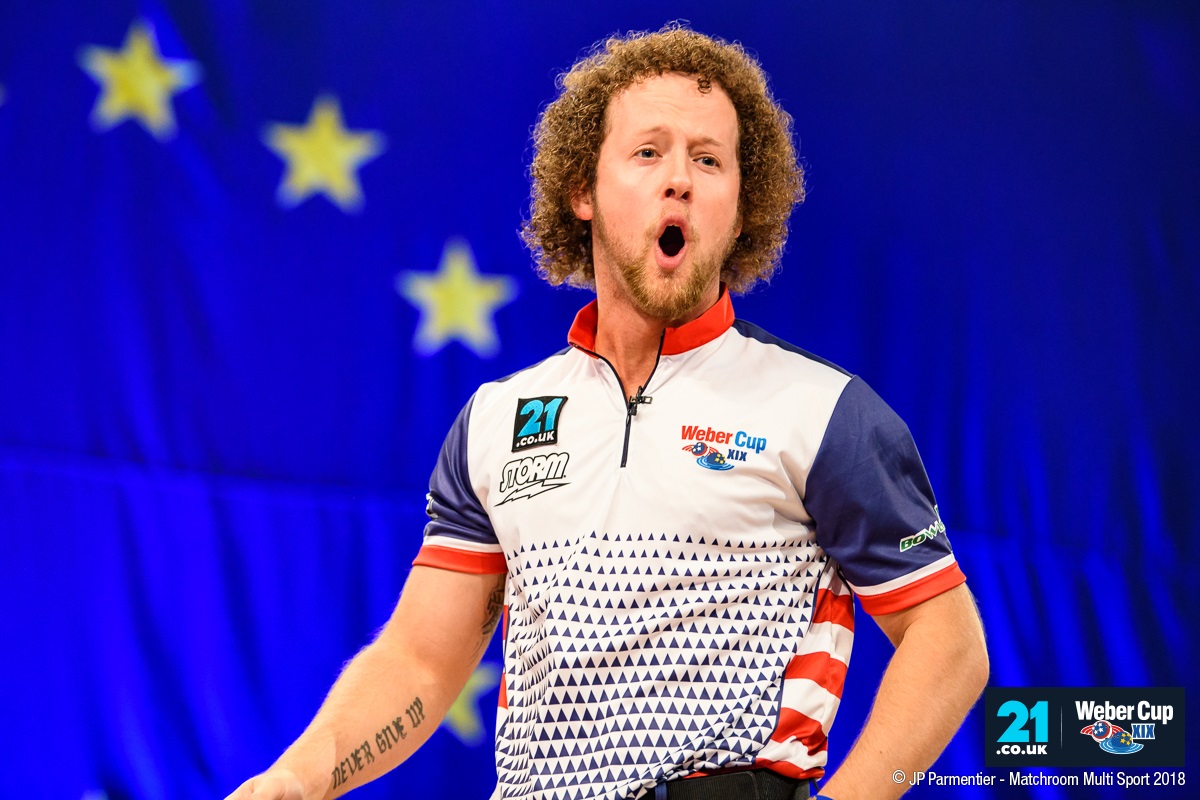 USA coasting after another big session win
THERE WAS more joy for Team USA as they enjoyed another 5-2 session win to stretch their overall lead to eight points with just two sessions played at the 21.co.uk WEBER CUP. The Americans need just nine more points to win their first Weber since 2012 while Europe, on the other hand need 15 more wins to lift the trophy and on current form that looks to be a big ask.
Europe needed a strong start after yesterday evening's outcome but it went wrong quite quickly as Kyle Troup bested Stu Williams and then returned to the lane in the company of Anthony Simonsen to take another point.
Simonsen then stayed out for a singles match as he beat Jesper Svensson by 20 pins. That put the USA 8-2 to the good with the Europeans desperately needing something to steady the ship. That came from Williams and Larsen who beat the Barnes and Jones axis by a single pin.
Europe won the next as Barrett and Jones slugged it out to finish 267 apiece before the Euro skipper took the point in the second roll-off. With momentum on their side, Europe needed to capitalise but Troup and Jones put paid to that as they won the next match by a 35-pin margin.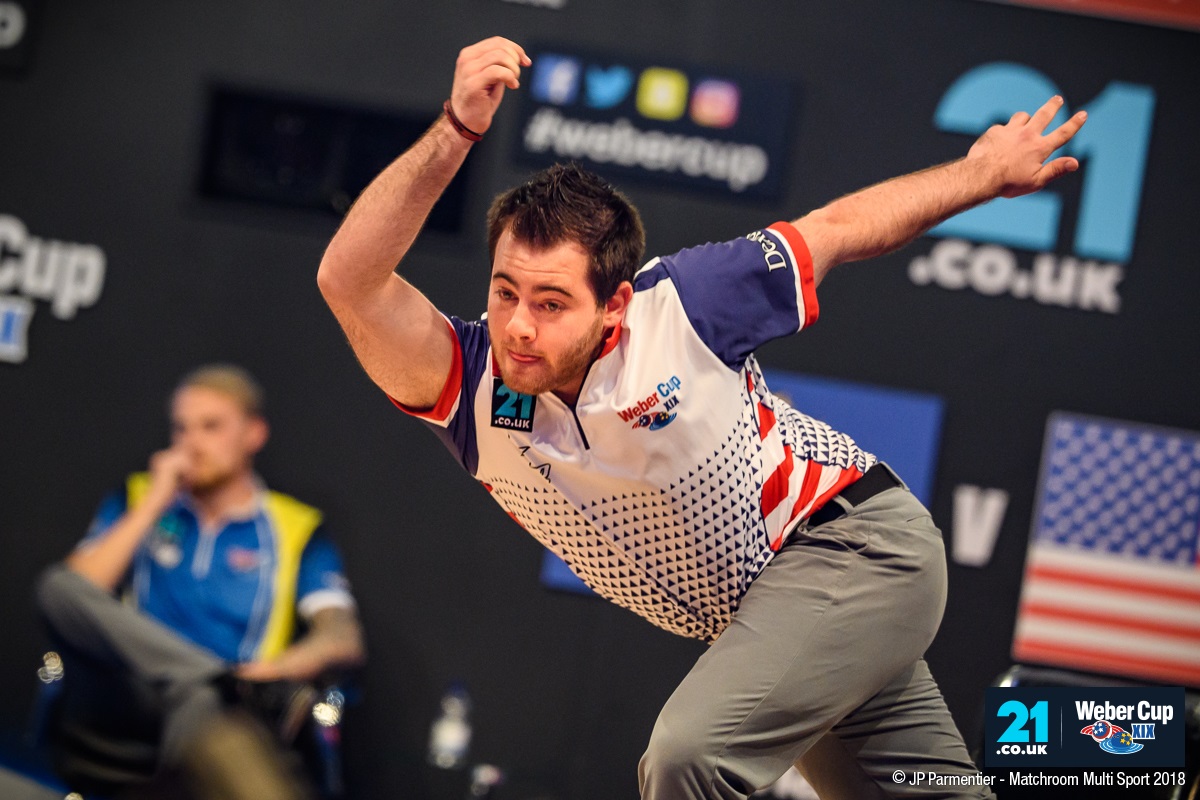 The 21-year-old Simonsen was back for the final match and he kept his winning streak going with a comfortable 56-pin win over Jesper Svensson to put his team in a dominating position.
Commented USA captain Chris Barnes, "I have been impressed with Anthony for a long time – nobody in the world is hotter than he is right now. He has just won in Singapore, he wins often and he has proven in the last two days that nobody is bowling better than him right now.
"We want to win every session and when you get a 3-0 start you think we can really put a big one in but Europe are who they are and there is a reason they have been champions the last five years. They came back and it looked like we might be lucky to survive a one-point loss this session but Kyle and TJ pulled a great game and Anthony put the finishing touches on – he has been dominant.
"We have kept a lot of pressure on them and momentum is really funny in these things. They haven't had a lot of free shots and we haven't let them off the hook too much."
Play continues at 18.00 with one Baker match and six singles matches.
---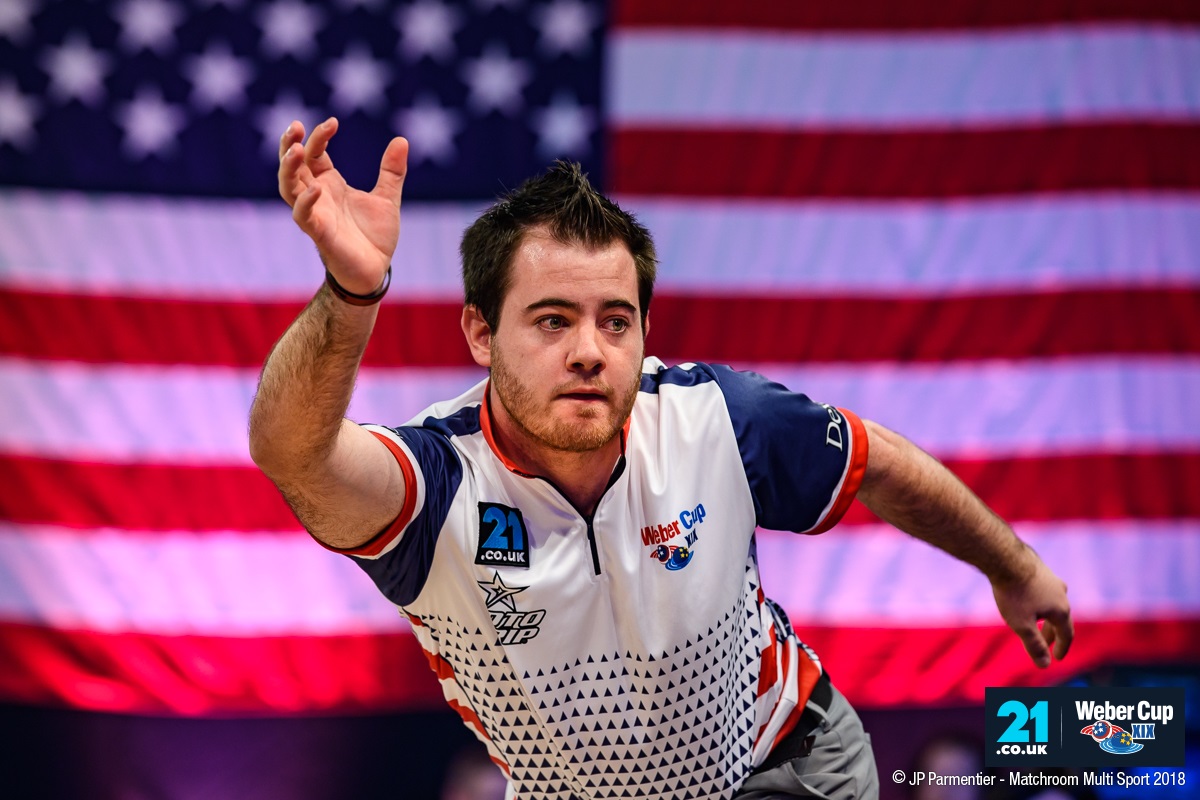 USA within five of epic Weber win
IT WAS another session win for the USA as they took it 4-3 to increase their lead to seven points and leave them leaving needing just five points to win the 21.co.uk WEBER CUP for the first time since 2012. However, there was some small glimmer of hope for the Europeans as they won three of the last four matches.
Dominic Barrett put in a captain's performance as he won the final two singles matches; first beating Chris Barnes with the tournament's highest score to date, and then beating Anthony Simonsen in the second roll-off of the day, after nominating himself as the captain's pick.
The USA had started where they left out at the beginning of the session as they took the Baker match and then Chris Barnes got the better if Barrett in a clash of the captains. Simonsen who is playing superbly in his Weber debut got past Stu Williams to keep his unbeaten run intact. That took the overall score to 12-4.
Jesper Svensson stemmed the flow in the fourth game as he took care of an out-of-sorts Tommy Jones but the stellar Kyle Troup redressed the imbalance with a win over Martin Larsen. That took the score to 14-5 for the USA before Barrett pegged it back in the final two matches.
Barnes summed up the day for Team USA; "We are extremely happy with today. We got off to a good start but we knew they would come back. We were able to come out in the second session, we really started off well and got the 3-0 lead for the session. Our goal was to win every session and then the overall goal takes care of itself.
"I probably didn't do a great job picking the pattern there, Tommy didn't particularly care for that one and Kyle struggled a little bit although he did get a win.
"I thought it was a great play by their captain, he stood up, called his own number and took the game. A bit of a desperation play but it was the right play and this thing isn't over yet."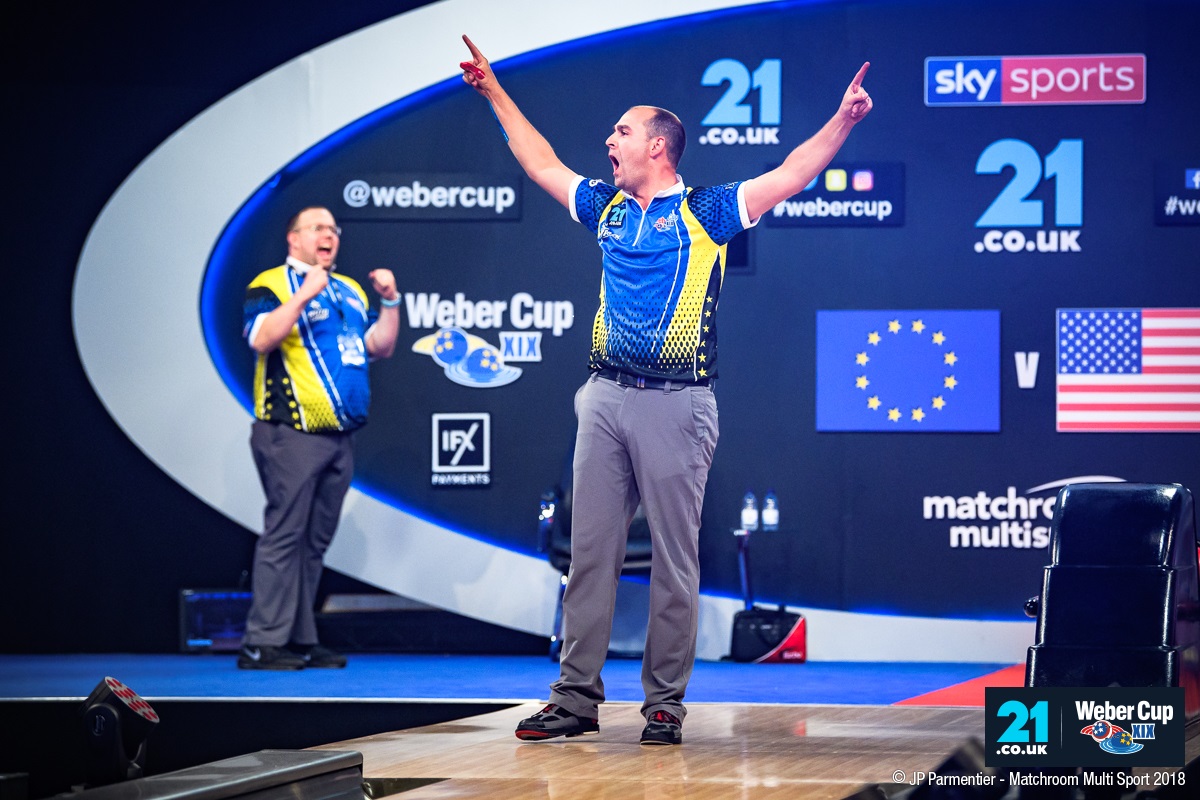 Barrett took the positives from the evening's show; "It didn't matter who stepped on that stage from our team we needed that, so I am glad to be the one to do it and not let this get away from us. We'll go away, have a good night's sleep tonight and turn up fresh tomorrow, use what we have just done as a team to look forward.
"There was a lot of frustration at times but at the end that elation of still being in this, they aren't there yet, and this is when we start playing our best. I know I played my best tonight and Jesper played great, and the other guys will follow tomorrow."
Play continues at 12.30 on Sunday with three doubles matches and four singles matches.
---
USA Put One Hand On 21.co.uk Weber Cup Trophy
TEAM USA are within one point of taking back the 21.co.uk WEBER CUP after winning the penultimate session 4-3 to take an 18-10 overall lead into the final session. Needing just one more point to take the coveted trophy, Europe need to win nine consecutive matches to retain the cup.
Needing the best possible start, Europe sent out an under-performing Martin Larsen who was well beaten by Kyle Troup, who's performances have been going from strength to strength. Troup stayed out there to be joined by another star performer, Anthony Simonsen and they took out Dom Barrett and Jesper Svensson to move to 16 points.
At last Jesper Svensson gave the crowd something to cheer about as he beat Simonsen by 11 pins before vets Jones and Barnes restored the US lead to nine points. Wins for Europe by Stu Williams and then Barrett and Svensson ensured an evening session before Chris Barnes out his side on the brink of victory with a 12-pin win over Jesper Svensson.
Commented Barnes, "Jesper bowled a great game but had some really bad breaks. My job is to take advantage of opportunities no matter how they come about and I was pretty fortunate in that last match of the session.
"We're feeling euphoric but there is still a little bit of work to be done. The last several Weber Cup's haven't gone particularly well and personally I wasn't sure if I'd get another chance to be back. I'm super excited about tonight's session and confident we can get one more point."
Play continues at 18.00 on Sunday with singles matches.
---
USA trounce Europe to regain the 21.co.uk Weber Cup
Europe 10 – 19 USA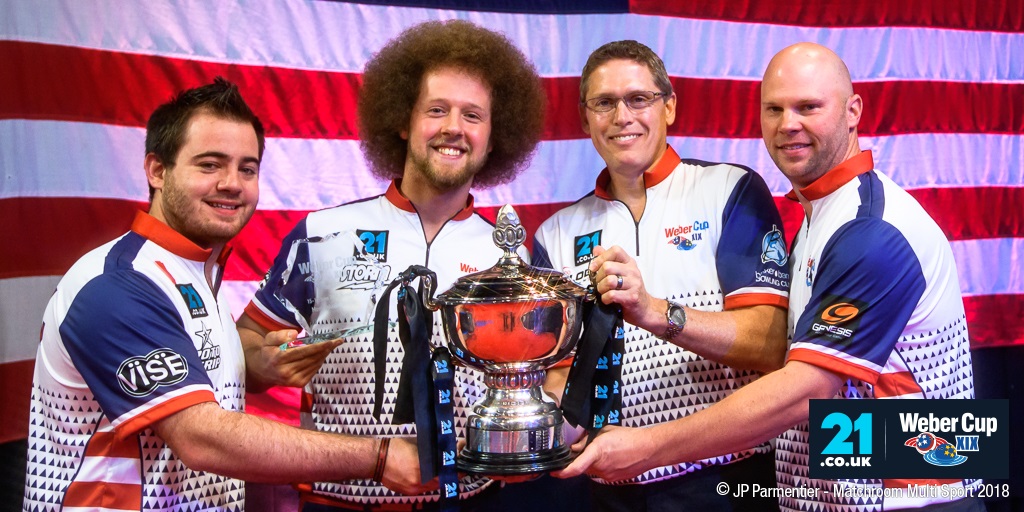 TEAM USA have regained the 21.co.uk WEBER CUP after a barren five years as they came out on top, dominating their European counterparts over the three days of play. The nine-point winning margin was one of their better wins in the event's 19-year history and sets the competition up nicely for its first-ever playing in the United States next year.
Man-for-man the Americans were the better team with Kyle Troup winning Most Valuable Player honours, a first time for the event. Debutante Anthony Simonsen was close behind following an electrifying three days that showed why he is the form player in the world at the moment.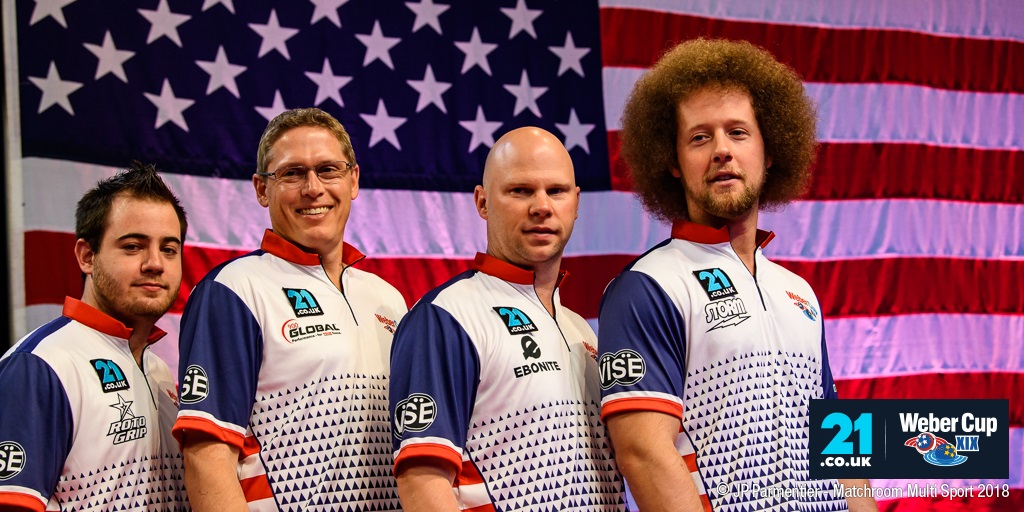 Chris Barnes, the recalled captain of Team USA, was delighted with his return to the event; "It feels a lot better than the last time I was here, when these guys did it in the final game in the most heart-breaking fashion for us. A much different feeling this time around and I am really happy for Kyle too. Kyle and Anthony were incredible all weekend; the youth, the power, and if you can't beat them, join them, and we were lucky enough to join them this weekend."
The evening session required just a single match as the rampaging Troup turned over Dom Barrett to seal victory for the team as well as secure his MVP honours.
"I am ecstatic; to be MVP is an honour, and I feel I should be sharing the award with all three of my team-mates because it takes four players to win the Weber Cup. After a five-year drought for us to finally win the Weber Cup it will be a memory for a lot of us for a very long time," said Troup.
For Europe, they will need to regroup and mount a fresh challenge in the USA next year. Commented Dom Barrett, "We had a really good run for the five years that we won it. Congratulations to USA, they bowled great and they really were a way better team this week and they bowled better than we did.
"A big thank to the crowd. This is the best lane in the world, we love bowling here, it didn't go our way this week but we still had a great time. For us, this is the highlight of the year."
Results
Friday 18:30
Dominic Barrett 254 vs Kyle Troup
266
Jesper Svensson 256 vs Anthony Simonsen
278
Martin Larsen 199 vs Chris Barnes
255
Stuart Williams 188 vs Tommy Jones
231
Dominic Barrett 235 vs Tommy Jones
247
Fans Vote

Jesper Svensson

245

vs Kyle Troup 244
Saturday 12:30
Stu Williams 245 vs Kyle Troup
277
Williams/Svensson 234 vs Simonsen/Troup
266
Jesper Svensson 256 vs Anthony Simonsen
276
Williams/Larsen
246

vs Jones/Barnes 245
Dominic Barrett 267 vs Tommy Jones 267
Roll off 49-49, Roll Off 2 60-49
Barrett/Svensson 220 vs Troup/Jones
255
Jesper Svensson 222 vs Anthony Simonsen
278
Saturday 18:00
Baker – Europe 230- USA
232
Dom Barrett 212 – Chris Barnes
233
Stu Williams  204 – Anthony Simonsen
228
Jesper Svensson
267

– Tommy Jones 181
Martin Larsen 224 – Kyle Troup
244
Dom Barrett
288

– Chris Barnes 220
Captains Pick – Dom Barrett 267 vs Anthony Simonsen 267
Roll off – 46-39
Sunday 12:30
Martin Larsen 236 Kyle Troup
279
Jesper Svensson/Dom Barrett vs Kyle Troup/Anthony Simonsen
Jesper Svensson/Dom Barrett 244 Kyle Troup/Anthony Simonsen
278
Jesper Svensson 267 Anthony Simonsen
256
Dom Barrett/Stu Williams 210 Tommy Jones/Chris Barnes

234
Stu Williams
267

Tommy Jones 221
Jesper Svensson/Dom Barrett
268

vs Chris Barnes/Kyle Troup 256
Jesper Svensson 234 Chris Barnes

246
Sunday 18:00
Dom Barrett 192 vs
256

Kyle Troup