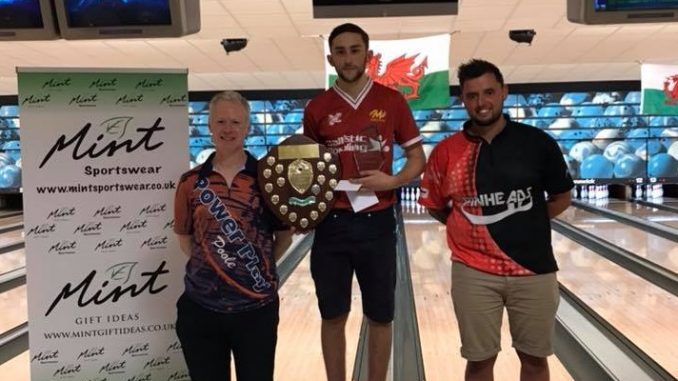 Despite the hot weather today, 40 bowlers began their quest to become the new Welsh Open champion. 40 became 32 after the first round, which then became 16 after the 3rd round, leaving only 8 in the final round.
The final 8 was made up of Steve Thornton, Adam Michaels, Pete Stevenson, Liam Fitzpatrick, Mark Coles, Brandon Roberts, Jason Agate and Laura Marcham.
A few VERY close and exciting games saw the table fluctuate throughout the finals apart form one spot, first, which was held by Pete from the first to the last game.
Stepping onto the podium was Steve Thornton finishing in 3rd, Jason Agate in 2nd and Pete Stevenson in 1st place.
We would like to pay special thanks to our tournament sponsors, Molson Coors and Mint Sportswear, TBAW, all of our competitors throughout the 4 days and all of the staff here at Stroud Bowl for helping to make this tournament another success.
Congratulations to all that bowled in this years event, hope to see you all again next year!
Full results
Past winners
1993
1994 Kevin Hills and Lynne Terrel
1995 Lol Ellis and Jan Steiner
1996 Paul Delany and Jan Hannan?
1997
1998 Ron Oldfield and Gemma Burden
1999 Wayne Greenall and Mel Isaac
2000 Wayne Greenall and Kirsten Penny
2001 Peter Lenders (Holland) Gemma Burden
2002 Steve Thornton and Gemma Harding
2003 Dave Parker and Kirsten Penny
2004 Wayne Greenall and Pauline Buck
2005 Nick Froggatt and Pauline Buck
2006 Paul Evans and Vicki Burbridge
2007 Dom Barrett and Fiona Banks
2008 Chris Oates and Jemma Smith
2009 Paul Moor and Vicki Burbridge
2010 Matt Chamberlain and No womens section
2011 Matt Chamberlain and Laura Rhoney
2012 Paul Moor and Haley White
2013 Dom Barrett and Hayley White
2014 Steve Thornton and Hayley Rumkee
2015 Darren Cundy and Lisa John
2016 Paul Moor and Danni Hopcroft
2017 Mark Patrick and Jo Allsebrook
2018 Peter Stevenson and Laura Marcham