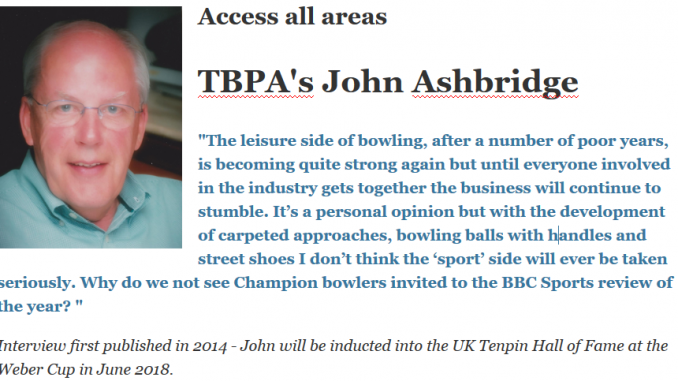 Like a lot of bowlers, John Ashbridge fell in love with the sport but focused his passion on the industry side. Different positions with various bowling chains gave him the experience to take on a job with the Tenpin bowling proprietors association (TBPA).
The TBPA was formed in 1961, in response to the rapid development of tenpin bowling in the UK. Since then it has grown considerably as an organization and are now firmly established as the trade association for the tenpin bowling industry in Great Britain. It was a great pleasure to finally be able to add to our access of all areas section by interviewing someone with a wealth of industry experience over many years. We must add John requested it be known these are his personal views and not those of the TBPA.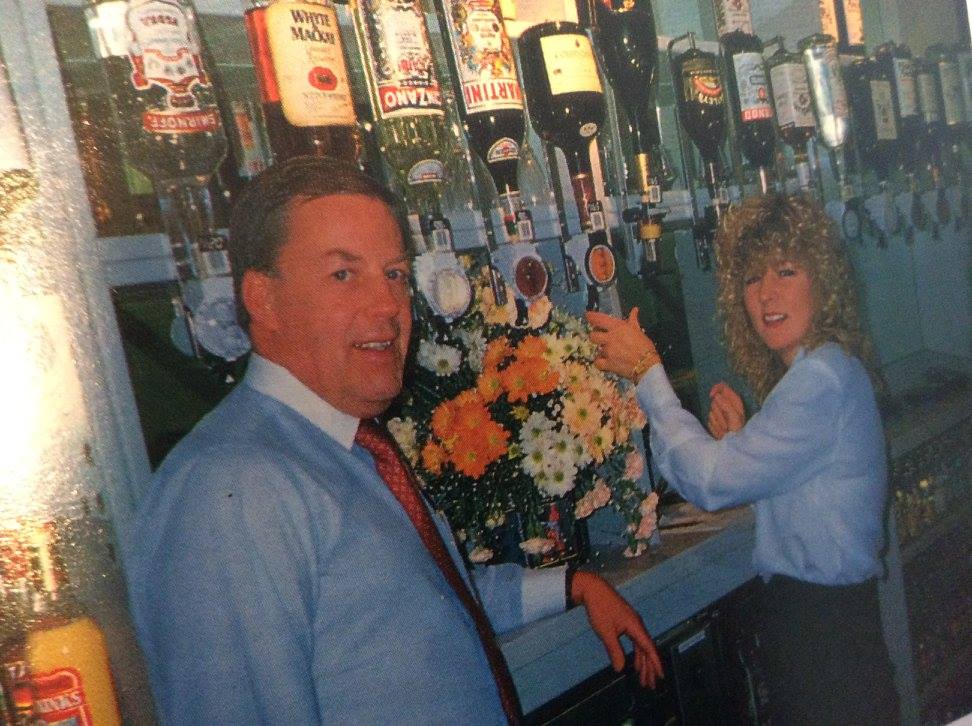 How did you first get involved with bowling? Was it as a bowler or working in the industry?
My first experience of bowling was at the, long closed, Top Rank Bowl, Cheetham Hill, Manchester. I was staying with friends in Rochdale and it was a first for everyone. Following that I started visiting the Top Rank Bowl, Southampton with friends and remembering waiting anything between 2 and 3 hours for a lane on busy nights. We soon became fed up with that and joined a league, although we were not very good. This was probably early 1964 and we continued there until early 1965 when we moved to the new Excel Bowl, Bitterne, Southampton when that centre opened.
After a couple of seasons I became league secretary and through my involvement with that, and as the area BTBA representative for Bitterne, I had contact with the Centre Manager. As that relationship developed he persuaded me to apply for a Trainee Assistant Manager position. I duly did that and was successful and the result was that I left my job as a diesel fitter and started a bowling career, February 1967, which has continued until now.
So I presume you got the assistant managers position?
I quickly progressed and by the summer of 1967 was confirmed as Assistant Manager. My career with Excel was, however, quite short and due to Excel's financial difficulties the Bitterne centre, along with four others was acquired by Humber Bowling Ltd, a company owned by AMF International Ltd. The late 1960's and early 1970's was a difficult time for bowling and was largely kept going by AMF acquiring a number of other failed centres.
These included more Excel centres and in August 1969 the centres in Leeds (Merrion) and Nottingham became Humber Bowls. Following that take over I was appointed Deputy Manager of the 48 lane Nottingham centre, where I spent almost two years, before being appointed Centre Manager of the Forum Bowl, Coventry.
Like a lot of keen bowlers you made that jump into the bowling business but how good a bowler were you and who were the 'Good' players in the 60's?
I took the job more seriously than the bowling!! Just joking but it is true. In the early days of my bowling career I was able to bowl everyday although that became less after AMF took the centre over. I was never going to be the greatest bowler in the world but can claim a high game of 262 and, I think, just about a 605 series although that only ever happened once.
In the early days I was not too involved with the top bowlers but in Southampton we had the likes of, Clive Thomas, Mo Knapp, Gerry Bugden etc. I also remember Beryl McCarver being very good and, I think, won one of the televised tournaments of the early 60's. I think one of the top local team was Tenovus and there was also Harry Stiller Racers and later Richmond Grill from Portsmouth.
Bowling has always seen boom and bust and has changed a lot during your time in the sport and leisure industry, Is it just a case of bowling sometimes being in fashion or has the economic dips played a big part?
The late 60's/early 70's were mainly due to the rapid expansion after bowling was introduced into the UK in 1960. Most companies grew too quickly, choosing in some cases, poor locations and agreeing uneconomic arrangements for property and bowling equipment. There was also very poor customer care, as a result of centres being very busy, with operators taking the view 'it will always be this busy' . In the early days bowling had excellent TV exposure with many sponsored tournaments etc. but because sponsors did not receive suitable coverage this soon became history.
As a result of AMF setting up Humber Bowling it was a way of trying to retain bowling in the UK although through most of the 70's this was difficult. The policy was to promote league bowling as much as possible through the week with competition/tournament play on Sunday's. This was successful enough to keep most of the acquired centres profitable but, even with Humber Bowling's expertise there were still casualties including Corby and Rotherham.
With AMF growing the sport side of the business in the 70's and in the 80's introducing what we know as the leisure business, Was this in some ways one of the reasons league numbers began to fall and centres moved to less busy nights?
This did not happen in the 60's or 70's but became the situation after the centres were modernised in the early 80's. I remember a new centre in Hull being opened in the 70's (to replace one which was burnt out) and the policy was to fill every lane, as much as possible, Sunday through Friday with league bowling.
This was successful for a while but as bowlers dropped out there was nobody coming through from 'open play' as the opportunity for this had been reduced so much. After each modernisation we tried to keep lanes available for 'open play' on some evenings but, at the same time, trying to retain all the league bowlers.
Former AMF chief Bryan North is widely regarded as the man who initiated the boom of the 80's with the refurbishment program the company undertook, Bowling became more of a leisure activity like it was when it first reached our shores, How did the business change for you in the 80's?
Bryan North had been with Humber Bowling since its inception in 1967 having previously worked at AMF International in London. Bryan become MD around 1981 and produced a plan for the modernisation of the centres which was accepted by AMF and Hemel Hempstead was chosen as the first centre for modernisation. This was the start of a dramatic change in fortunes for bowling and by 1988 almost all of the AMF centres had been modernised with successful results.
AMF's policy was to continue to promote league bowling but was careful not to fill all lanes with league, this provided lanes for open bowling on most nights and at weekends. Long waiting lists once again became the norm but the use of other better facilities, fast food outlets, comfortable bars, concourse licensing and games areas all helped to keep the wait more interesting.
During this time, other proprietors entered the business whilst others refurbished centres but by the early 90's several companies were experiencing the same problems companies faced in the late 60's and 70's.
Like a lot of good centre managers you moved around in the industry, How many did you work in? and if you had to pick a favourite centre which was it?
As you know, I started at Excel Bowl, Bitterne, Southampton in February 1967 and soon became Assistant Manager. AMF took the centre over in August 1967 and I continued as Assistant until August 1969. At this point AMF took over Nottingham Bowl and I was appointed Deputy Manager, a new position due to the size of the centre.
In 1970 I spent several weeks managing the centres at Southend (2 weeks) and Hull (six weeks) but remained at Nottingham until June 1971 when I was appointed Centre Manager of the Forum Bowl, Coventry. I was at Coventry until February 1974 when. In a mad moment, I left and moved back to Southampton where I joined the Civil Service but very soon began working part-time at Bitterne Bowl.
The part-time work continued until I re-joined full time, as Assistant Manager and subsequently became Centre Manager in 1980. Following the changes within AMF that I described last time I was appointed Southern Regional Manager in June 1982, a post I held until being made redundant in September 1992.
A new MD had been appointed earlier in 1992 following Bryan North's medical retirement and he made myself, the RM for the North and the Catering Controller, redundant on the same day. Apart from helping at the opening of the Chatham Bowl over Christmas 1992 I took time out and joined Hollywood Bowl (owned by Bass) in June 1993 as General Manager at Margate. In February 1995 I moved to Bracknell and became Southern Regional Manager in November 1995.
During this time Hollywood developed a lot of new centres and I became Operations Manager in 1997.  During 1998 an internal re-organisation took place and Hollywood became an integral part of Bass Leisure Retail and a little later I became Bowling Development Manager, until I took early retirement in early 2000. Following this I did consultancy work for Number Ten until joining Bowling International and subsequently Brunswick Bowling.
How did you come to be involved with the Tenpin bowling proprietors association?
I was the Hollywood Bowl Southern Regional Manager in 1996 and my MD, Richard Cave, was determined to modernise the TBPA and nominated me to become Chairman. I had attended a few TBPA meetings but had no experience of any appointed position. I was reluctant to take on the responsibility but was assured of support by the MD's of other members at the time including Megabowl and First Leisure. I was therefore elected and spent the next nine years as Chairman. (I really wasn't under any illusions as I know most of the recent incumbants, like myself, only agreed to do it because there was nobody else.)
How did you go about modernizing the TBPA, What things did you identify that needed to change?
I'm not sure I did modernise it too much although, with the cooperation, of others I did introduce some activities that had not been done before. As you know, over the years, there had never been much cooperation between the TBPA and the BTBA but I put in place regular meetings between the two organisations. Unfortunately, because of the suspicion from both sides, the talks did not achieve very much. As you know, during the 90's there had been a number of Trade Events followed by a dinner on the last evening of the event.
Although the Trade Events did not continue I was able to build on the annual dinner etc.  This became very successful and we were able to combine it with annual awards including Centre of the Year and Manager of the Year. This continued for a number of years but due to a number of top management changes in some companies the appetite for it was lost.
People might not know but you have been instrumental in bringing big companies into bowling with deals like the recent Kelloggs tie in, Is this an area the industry as a whole could improve on if the sport and leisure business is to regain some of it's glory days and busy centres?
Over the years a number of very successful 'Third Party' offers have been arranged between the TBPA, Marketing Agents and major High Street Brands. All of the offers created 'footfall' but in most cases involved the proprietors providing a free game on redemption of a voucher. The one you mentioned, Kellogg's was not as successful as everyone, including Kellogg's had hoped and has not been repeated. In addition the owners of several major bowling groups refuse to participate in '2 for 1' offers and so promotions of this kind do no longer attract major brands.
The leisure side of bowling, after a number of poor years, is becoming quite strong again but until everyone involved in the industry gets together the business will continue to stumble. It's a personal opinion but with the development of carpeted approaches, bowling balls with handles and street shoes I don't think the 'sport' side will ever be taken seriously. Why do we not see Champion bowlers invited to the BBC Sports review of the year?
That is a good question John, With Dom Barrett winning the PBA World championships this year an attempt was made by some UK bowling fans to contact the BBC about it, I think the best response was they would look into bowling's inclusion, Do you think this kind of thing is an example of where the BTBA and industry can work together to create heroes that can inspire someone to bowl?
I think there is mileage in this, with all sides of the industry working together to promote 'Star'. I think the TBPA can play a large part although I don't think we should get too involved with the media as, rightly or wrongly, they see us promoting our businesses rather than the sport or an individual. I think there is a part for us to play but whether we can convince some people of that I'm not sure. It is very short sighted of them not to see the point as all publicity will help the bowling business in general.
So with vouchers and 2 for 1's not having the same appeal now will the UK industry think outside the box more with idea's, One being integrating products and services into mobile applications and games?
Not sure your suggestion has been thought of, never mind discussed, at this stage. It is a point and maybe it needs someone to do it and examine what effect it might have. The interesting point is that many Independents will still participate in 2 for 1's. Any that we now agree to carries a fee for participation which allows us to pay, at least £2.35 plus VAT, for the 'free game' of the offer. Some major proprietors don't see the need for 2 for 1's and that may be true for some sites but I bet there are many others that would benefit. Why are many of the main restaurant brands still offering 30% off food or get a second main for £1?
In addition should the UK industry maybe take advantage of the UK's crop of star names like Dom, Stu Williams and others to use in promotions and exhibitions?
Yes I think the industry should. It needs, firstly, to be organised through the more enlightened independent proprietors and then perhaps promoted in a much bigger way.
With all the positive changes being made over at the BTBA, could it be time for the TBPA and BTBA  to discuss possible futures?
It has been tried but with suspicion still existing, on both sides, I think it will be some time before any discussions come to a positive conclusion and anything is seen through to fruition.
Relating to the BTBA, A very interesting question was posed recently suggesting if the BTBA membership became free and 1p or 2p was donated from every paid game in the UK the revenue could potentially be enough to grow the Sport and grass roots, Of course the proprietors need to get something out of the deal with increased revenue but is this kind of radical idea possible?
I don't think any proprietor would agree to this. Many years ago Maurice Glazier tried to push something like this through and it was met with a very large brick wall. I believe there are some areas where some proprietors would work closely with the BTBA but any proposals would need to be considered closely. I don't think any would get involved with collecting money on behalf, or for, the BTBA as the cost of administration and VAT restrictions would preclude that.
Having been so deep into the bowling industry you have seen so many changes, if you had to pick three bowling innovations that improved bowling what would they be?
You are correct, I have seen many of the years. The first was automatic scoring and although it was black and white it created enormous interest. Casual bowlers in many cases, for the first time, new the real score that had been achieved. Secondly the change to colour scoring and the variety of graphics etc. The third thing would be the advent of the licensing act allowing drinks to be consumed throughout the centre which led to the 'open plan' type operation. The ban on smoking was also a major plus.
Another change in bowling has been the advent of boutique bowling, This is probably the current biggest growth area in the UK, What are your thoughts on this concept?
I think that boutique bowling has a place in the bowling world. My guess is that some of the more 'upmarket' operations, All Stars, Dog Bowl etc. will appeal to a different audience and, as a result may have a knock-on effect for the wider industry. It will probably introduce bowling to a number of people for the first time.
For new bowling centres and boutique bowls what kind of things can benefit them by being a part of the TBPA?
One of the biggest benefits is a Gotenpin website listing. I have already had requests for this but following my explanation about membership the enquiry has not been followed up. The major suppliers could help with this insofar as introducing the TBPA at the time of the installation etc. Some are already doing this.
The TBPA website has recently had a makeover and provides a database of centres and information as well as industry News, Is it likely the TBPA will venture into social media with a Facebook and Twitter account?
This has been discussed with the website host but any firm decision has not yet been made. I think we are trying to determine the benefits of such a move.
We now live in an age where people have a voice to a much wider World, Gone are the days of massive prints in favour of emails, Tweets and media posts. Are we at a stage now in the bowling business where talking to your customers and "Fans" on social media is a must?
I've not had experience of 'social media' in a business way although I have listened to discussions about this and I can understand the advantages and benefits if used in the right way. I guess like anything else the proprietor would need to have a strict criteria in place for the use of this form of promotion etc.
One last question and a tough one, In your time in bowling which three people or companies in the UK industry changed bowling the most?
This is an easier question for me to answer than you thought. The people are Bryan North, Richard Cave and Colin Suffolk.
Bryan North for having the courage and vision to drag bowling out of the depths of the 1970's and modernize all the AMF centres during the 1980's. Sadly Bryan did not live long enough to see the full potential of his actions. This move proved to be, in my opinion, the savior of UK bowling. The AMF centres became very successful and companies like Granada, First Leisure and Megabowl entered the market as a result .
Richard Cave for developing, during the 1990's, the Hollywood brand into the leading UK brand. Richard's leadership skills, attention to detail and passion for the business resulted in a team working very much together which resulted in the brand it was before the breakup of the original Bass company.
Colin Suffolk for transforming the technical side of bowling from a poor 'make do and mend' attitude into something worthy of the fact that bowling is, for most proprietors, the core business. Revenues cannot be maximized with pinsetters not working due to poor or no preventative maintenance.  During my period at Hollywood Bowl we were visited by many overseas proprietors and suppliers and all were astounded by the technical standards, preventative maintenance programmes and other working practices, all of which, were as a result of Colin's expertise.
Thank you to John for this insight into his career, We hope to work more closely with John and the TBPA in the future as we try to bring UK bowling together.