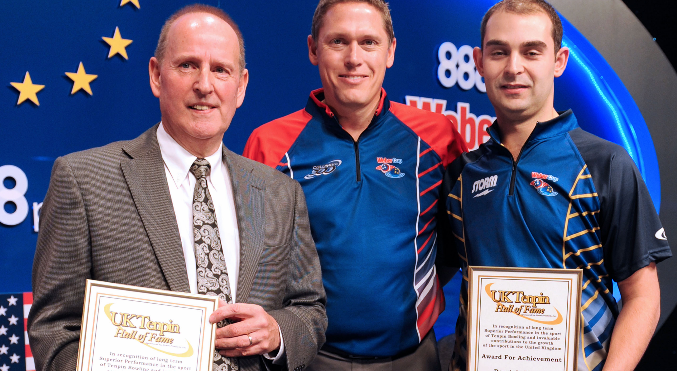 Bernie Caterer
Bernie Caterer bowled when the national team was named the Great Britain team and is the first and only British male winner of the AMF Bowling World Cup which was won in Singapore in 1973 and World doubles champion with Brian Michael in 1975, Bernie has won a total of three Gold medals, six silver and three bronze medals dating back to 1969 as well as domestic and international titles.
Career highlights
1969 European Championships Denmark – Fives Gold, Bronze in 8's
1970 European Team Cup, Breda, Netherlands – Fives Silver
1972 European Team Cup, Berlin, Germany – Fives Silver
1972 European Champions Cup Germany – Fives Gold
1973 World Cup Champion, Singapore
1973 European Championships, Ireland – Eights Silver, Fives Silver
1975 World Championships, London, England – Doubles Gold, Eights Bronze
1976 European Team Cup, Amsterdam, Netherlands – Fives Silver
1976 European Champions Cup Netherlands – Fives Silver
1978 SBC Streatham 1st
1978 SBC Tolworth 1st
1979 SBC Masters  Streatham 1st
1980 European Champions Cup Italy – Fives Bronze
1981 SBC Stevenage 1st
1982 PTBC Wokingham 1st
1973 World Champion – Total medals –  3 Gold, 6 Silver, 3 Bronze – domestic titles
Dominic Barrett
Dominic Barrett maybe still young but has an honours list almost unmatched in UK bowling. He is a three time World bowler of the Year (2008, 2009 and 2010), Owner of one PBA Major, one PBA title, one regional PBA title, Twice winner of the European Bowling Tour rankings (2010 and 2012), Winner of seven EBT titles, One World Tenpin masters title (2009), Seven other European titles, Three Gold medals, two Silver and seven Bronze medals dating back to 2008 as well as numerous domestic titles.
Career highlights
2004 Wellingborough Doubles – Winner
2005 Jim Brewer Memorial, Poole – Winner
2006 European Champions cup, Riga, Latvia – Bronze
2006 AMF World cup qualifier, Newbury 1st
2007 EBT 4th Oltremare Columbia 300 Open winner
2008 EBT Ankara Open winner
2008 EBT Qatar International Open winner
2008 World Youth Championships, Orlando, USA – Singles Gold, Doubles Silver, All Events Gold, Masters Bronze
2008 Irish open, Stillorgan – Winner
2008 World Mens Championships, Bangkok, Thailand – Masters Bronze
2008 WBW World bowler of the year
2008 Sofia International Open – winner
2009 European Mens Championships, Aalborg, Denmark – Doubles Bronze, Trios Bronze, Team Bronze, All Events Silver, Masters Gold
2009 World Tenpin Masters, Barnsley, England – winner
2009 WBW World bowler of the year
2010 EBT Bowltech Aalborg International winner
2010 World Mens Championships, Munich, Germany – Singles Bronze,
2010 Irish open, Stillorgan – Winner
2010 WBW World bowler of the year
2010 European Bowling Tour Rankings winner
2010 Basildon Singles winner
2010 EBT Satellite Wroclaw Open, Poland – winner
2011 Irish open, Stillorgan – Winner
2011 EBT BNC Open winner
2011 31st AIK Tournament, Stockholm, Sweden – Winner
2011 EBT Qatar Bowling Open winner
2011 H.H. Emir's Cup, Qatar – winner
2011 PBA West/Northwest Regions Sands Regency Casino Open winner
2012 PBA World Series of Bowling Scorpion champion
2012 European Bowling Tour Rankings Champion
2013 European Bowling Tour – Chandra Open
2013 PBA World Champion
2014 Qatar Open – Winner
2015 Bowlmor AMF US Open – Runner Up
3 time World bowler of the year – 1 PBA major, 1 PBA title, 1 PBA Regional title – Total medals –  3 Gold, 2 Silver, 7 Bronze –  2 European rankings titles –  7 European titles –  1 World tenpin masters title – domestic titles 7 other European titles