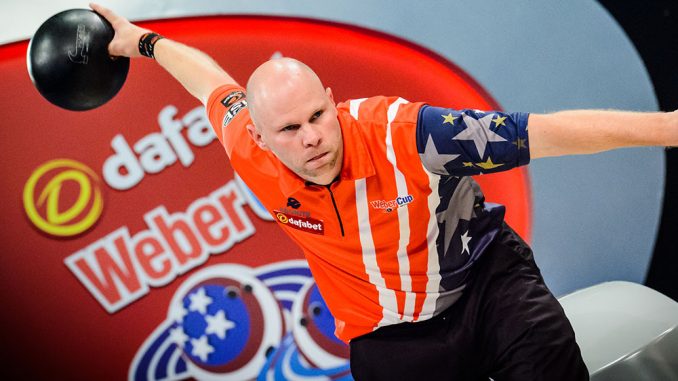 Tommy Jones will make a record-breaking 11th appearance for Team USA at this year's Weber Cup, with Anthony Simonsen set to make his debut in the Europe vs. America transatlantic tenpin tussle at Arena MK, Milton Keynes this June 15-17, with tickets to go on sale at midday on Wednesday, March 28.
Jones last represented his country at the Weber Cup as captain in 2015 but his side suffered a 17-8 reversal as the South Carolina bowler made his tenth appearance at the tournament, equalling Tim Mack's record.
Simonsen has been making waves on the PBA Tour and the 21-year-old is regarded as one of the best young stars on the circuit with three titles to his name already and completes the American team alongside Jones, Kyle Troup and captain Chris Barnes.
Jones said: "Representing Red, White and Blue is a big deal to me and I can't explain how excited I am to be back at the Weber Cup. It's one of the best events of the year and I have missed it a lot in the last couple of years. There is nothing like the fans and the environment to get your juices going and ready to compete for your country.
"I had no idea that I had bowled more Weber Cups that anyone else – that's a pretty cool thing to think about. I have been on both sides of winning and losing but every time I was extremely proud to have played in the event.
"Bowling in the UK is amazing. The fans are respectful but love their team – I respect that and look forward to seeing some of the friends I have made over the years but also meeting some new people and checking out the new venue. It will be EPIC."
Simonsen added: "It's really exciting to be selected to play the Weber Cup. I've watched many of the matches and it looks fun to compete in. I've had some good friends compete in the event and they tell me lots of greats things. The one lane setting is neat, it's an exciting place.
"Team USA has been in a drought and I'm really looking forward to trying to end that with a very talented group of guys. In order to be able to win this we have to win the matches that come down to the 9th and 10th frame. With Europe having the home advantage we have to make sure they don't ever get too far ahead."
American captain Barnes is delighted with the team he will bring to Milton Keynes and believes his side have what it takes to win back the Weber Cup in the pressure cooker one-lane setup the tournament is famed for.
"Tommy Jones is the most clutch player of the generation," said Barnes. "There is nobody I would rather have on my team. Anthony is mature beyond his years. He is a great action player who bowls his best in the big moments."
USA will be up against Dom Barrett's team Europe of Stuart Williams, Martin Larsen and Jesper Svensson. The host nation have won the last five Weber Cups, the longest run of consecutive wins in the tournament's history.
Tickets for Weber Cup XIX will go on sale at midday on Wednesday, March 28 at www.webercup.com or by calling 0844 581 0888. Tickets are priced from just £11 per session or £42 for a season ticket, with concession rates available. A family season ticket can be purchased for just £99.