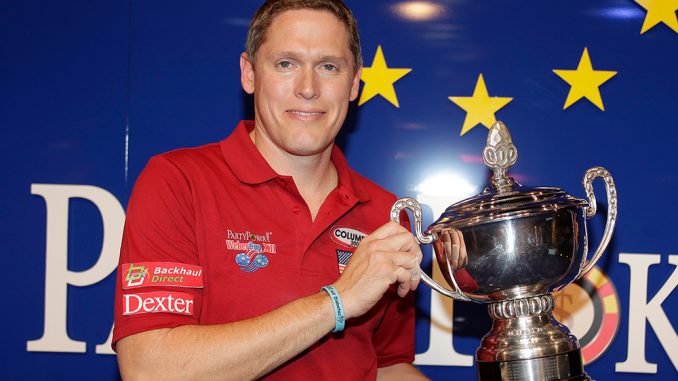 Chris Barnes will return to captain USA at this year's Weber Cup, which will take place at Arena MK, Milton Keynes from June 15-17, with tickets on sale at midday on Wednesday, March 28.
Barnes last led America in 2014 when they suffered an agonising 17-16 defeat to Europe. Injury forced the Kansas native out of the 2015 event and the 18-time PBA Tour winner hasn't returned since. However, he is back for 2018 and determined to reverse USA's poor recent Weber Cup form in what will be his tenth tournament appearance.
"I'm honored to return as captain of the US team," said Barnes. "My back surgery tore me away and things haven't gone so well since then.
"Our plan this year is to bring a combination of young super talent, experience, and team chemistry back to our side. We've had two of the three over the past few years but it hasn't proven to be enough to beat the formidable Euro squad.
"The UK fans for the Weber Cup are some of the best we have seen anywhere. I have seen darts, so I know what they are capable of!
"My favourite memory of the Weber Cup is Tommy Jones throwing the tenth frame of the Baker to win in 2006 and I'm very much looking forward to adding another positive memory in June."
The rest of Barnes' team will be announced over the coming days. USA will be up against Dom Barrett's team Europe of Stuart Williams, Martin Larsen and Jesper Svensson. The host nation have won the last five Weber Cups, the longest run of consecutive wins in the tournament's history.
Tickets for Weber Cup XIX will go on sale at midday on Wednesday, March 28 at www.webercup.com or by calling 0844 581 0888. Tickets are priced from just £11 per session or £42 for a season ticket, with concession rates available. A family season ticket can be purchased for just £99.