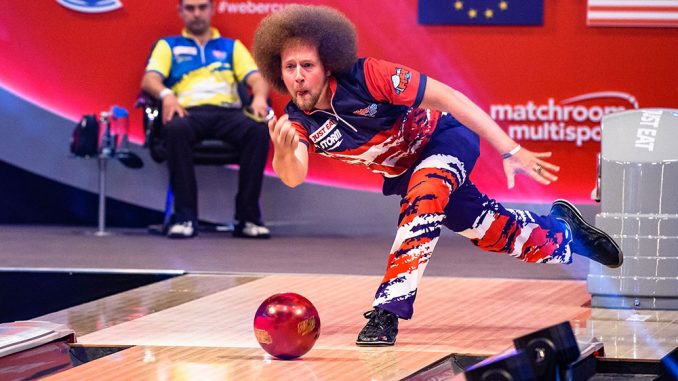 Kyle Troup is the second member of Team USA to be confirmed for Weber Cup XIX at Arena MK, Milton Keynes, this June 15-17.
Troup has become a firm fan favourite since making his Weber debut in 2016 and joins captain Chris Barnes on the 2018 squad as the only player returning from the team that lost to Europe in Barnsley last year.
"I am honored to be on the Weber Cup team again this year," said Troup. "The feeling of being able to represent the red, white and blue on that famous single lane with the epic crowd is a blessing.
"Being able to compete in the Weber Cup twice already has been great, however to be able to win the Cup would be a dream come true. Not only would it mean a lot to me but to our country. To stop the dominance of Team Europe and bring the Cup back to the United States would be spectacular.
"I cannot express enough how exciting and electric the Weber Cup is – it is my favourite tournament of the year. I thrive in the environment that the Weber Cup provides. I am able to express all my emotions and use the crowd to my advantage in pumping myself and our team up.
"The Weber Cup was my first opportunity to represent USA, so I will always have a special place in my heart for the Weber Cup. Bowling in the Weber Cup makes my career as a professional bowler that much more exciting and drives me to be better."
Troup's captain Barnes added: "Kyle has been most improved player on tour over the last three seasons and his charisma will be the spark plug for our team."
The remaining two players to join Barnes and Troup on Team USA will be announced next week. America will be up against Dom Barrett's European team of Stuart Williams, Martin Larsen and Jesper Svensson. The hosts have won the last five Weber Cups, the longest run of consecutive wins in the tournament's history.
Tickets for Weber Cup XIX will go on sale at midday on Wednesday, March 28 at www.webercup.com or by calling 0844 581 0888. Tickets are priced from just £11 per session or £42 for a season ticket, with concession rates available. A family season ticket can be purchased for just £99.