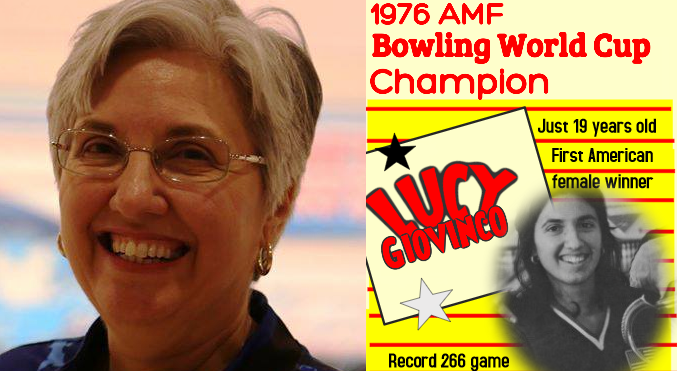 "I loved being a part of TEAM USA and still enjoy representing the red, white and blue to this day.  Nothing compares to standing on the medal podium, gold medal around your neck, hand over your heart, listening to the National Anthem….it is always a moving moment for me.  I also enjoyed the opportunity to travel all over the world representing the United States.  I have bowled in every continent represented by the Olympic Rings (North and South America, along with Europe, Asia, Africa and Australia)."
While doing an interview with Lucy for the Bowling World Cup and QubicaAMF website it became obvious there was much more to ask Lucy about her stellar career. Here was a chance to extend the interview and make it a two parter. To be honest this could have gone on further and probably will as Lucy continues to shine in the senior division.
You can read Lucy's QubicaAMF interview here
It was pretty much set that you would bowl as your parents Julio and Susan were bowlers and you got a chance on your sixth birthday to finally have a go.  What do you remember of the very early bowling years and how soon did that big backswing appear in your game?
As you mentioned above, I grew up in a bowling center since both Mom and Dad bowled multiple weekly leagues.  I couldn't wait to finally roll my first ball.  Dad said he waited until I was six years old because he didn't want me to roll the ball "granny" style; he wanted to have me roll it the "traditional" way.
I still have that first ball – 6 lb rubber ball with large red and blue triangles.  Has my name,  Lucy Marie,  engraved above the finger holes.  You can see the cork core of the ball when looking into the gripping holes.
The other thing I remember about the early years is that I wanted to beat the boys in the league, so I developed this high backswing to get more speed on the ball to go through the lacquer oil on the old wood lanes.  My Dad said some of the coaches wanted to change my swing and lower it, but the Head Coach of the league wouldn't allow it since she felt I was getting to the foul line in the proper time and not falling off while being somewhat accurate.  So, my trademark high backswing stayed and has certainly served me well throughout the years and without any shoulder issues. 
Bowling was a big deal in USA sports as you grew up, were you aware of the star names as you started to improve?
My Dad and I would watch bowling on TV every Saturday afternoon.  We knew all the bowlers' names and I would beg my Dad to take me back to the lanes to try some of the things we saw on TV.  We subscribed to all the bowling magazines (ABC Magazine, Woman Bowler Magazine and eventually the Bowlers Journal magazine).  I remember in 10th grade, I did an English paper on the bowler who had recently won the Tournament of Champions – Jim Godman. 
Participating in a few sports as a youngster, when did bowling become more than just leagues for you?
At Tampa Catholic High School, I competed in basketball, softball and bowling and lettered in all three sports.  I was named "Most Athletic" in my senior class notables.  But bowling was always my first and only love even though I did enjoy my teammates and competing in the other sports.  Based on the fact that both Mom and Dad still bowled, I knew this was something I would be doing for a much longer time.  As a matter of fact, two years ago I was put into my High School's Athlete Hall of Fame and it was fun going back to see many of my classmates who all remember me as "The Bowler". 
So when I graduated from High School, I knew I was going to the local community college (HCC-Hillsborough Community College) to study to be a Legal Secretary and heard they had a bowling team.  I remember when the coach, Delores Alvarez, approached me about joining the team and I immediately asked her, "Can I win money".  You see, I was done with winning trophies.  I was ready to become an adult bowler and win some cash.  She said that in college bowling, you could be an adult bowler, win cash and still represent the college.  I then replied, count me in.  When and where do you meet?  The rest is history; college bowling absolutely changed the course of my life.
We know now from your QubicaAMF World Cup interview that college bowling was to lead to the biggest event on the planet but what happened at college before you got that chance?
Not much really.   I won the World Cup my freshman year in college.  We bowled a few tournaments before I won the Regionals and Nationals, so not much to report other than our team was successful in many events.  Too many years have passed for me to remember any exact info.
That World cup win also got you on a TV show I believe?
Yes, AMF flew me to New York City in 1977 to be on a national game show called "To Tell The Truth"?  I have looked online for a copy and it's not out there.  But today while doing some research, I located a guy who may be able to help me find it.
But while doing research, I did find the To Tell The Truth episode with Marian Ladewig from 1957 that I had never seen.  It was  very cool to watch.  Here is the link.  Here episode is the 3rd or last episode in this clip:  https://youtu.be/VSk0Q7eNy7E

So, post World Cup win now and in the big wide World, bowling up and down the country, how long did you have to wait before another big win and were you starting to change equipment from Urethane to reactive.
Tough question, but the following year, 1977, I won a spot on my first TEAM USA during the USA TEAM TRIALS in Milwaukee, Wisconsin.  I think as I mentioned in the World Cup interview we travelled to Panama and I won 3 Gold Medals at the FIQ American Zone Championships.  Also, in 1977 I won the NJCAA (National Junior College Athletic Association) Singles, Doubles and All Events as well as our team winning the Team Event.
I do remember that every time I entered a college event after winning the World Cup, there was a lot of press and a lot of pressure to perform as a world champion every time I stepped onto the lanes.
Subsequently, in 1998 I was inducted into the NJCAA Bowling Hall of Fame.
The following is a link to the NJCAA Records Book page:  http://static.psbin.com/o/1/ehwad1otkfoiq9/Women-s_Bowling_Record_Book_-thru_2016-.pdf
Regarding the change from Urethane to Reactive….my World Cup win was with Plastic Columbia 300 Caramel White Dot and that's where I made the change from rubber to plastic.  I'm pretty sure much of my college career was with plastic and don't think I made the change to Urethane until the 1980's.  And then didn't make the Reactive change until the early 1990's when the Nu-Line X-Calibur ball came out.
It is around this time that bowlers started to have more balls to choose from for various lane conditions, did you still roll a lot of games on a ball at this time compared to today?
Absolutely, yes….I don't remember purchasing a lot of balls until the 1990s when the reactive balls came out.  I tried my hand at the PWBA tour in 1982-83 and didn't have much success.  All of that time, I'm pretty sure my ball of choice were many Faball Blue Hammers.   I can honestly say that my game didn't take another upswing until the reactive resin balls came out.  Then my margin of error improved greatly which in addition to my accuracy skills certainly didn't hurt at all.
Into the new Millennium and not long before you had medals again in American Zone masters and World Zone Doubles.  What did it mean to you to win as part of a USA Team?
I loved being a part of TEAM USA and still enjoy representing the red, white and blue to this day.  Nothing compares to standing on the medal podium, gold medal around your neck, hand over your heart, listening to the National Anthem….it is always a moving moment for me.  I also enjoyed the opportunity to travel all over the world representing the United States.  I have bowled in every continent represented by the Olympic Rings (North and South America, along with Europe, Asia, Africa and Australia).
Over the years you have bowled with some amazing talent, who has impressed you on the lanes and who have you enjoyed bowling with most.
Wow, that is certainly a tough question as I have bowled with many great players during the 10 times I've been on TEAM USA and 2 times I've been on Senior TEAM USA. 
I was impressed by the talent, versatility and fearlessness of Diandra (Hyman) Asbaty.  We bowled together towards the end of my TEAM USA career and at the beginning of hers and I will always remember her TEAM FIRST attitude which can be a challenge in a sport that is certain very individualistic.   The story that has a special place in my heart was when we won the Bronze Medal at the FIQ World Championships in Malaysia.  She knew how important winning that final point as it would qualify me for the Bowling Writers International Hall of Fame.  She gave me the biggest hug and said this one's for you, my friend. 
I have enjoyed bowling with all of my TEAM USA teammates, but Lynda (Norry) Barnes was probably the person who I enjoyed the most as we played the lanes very similar and were able to help each other many times get out of jams during competition.  The most moving story with Lynda involved our team trying to win the Brunswick World Team Challenge in 1996 or 1997 and it came down to Lynda marking in the 10th frame….she left a 10 pin and when she threw the ball to convert the spare it looked as if it was going to miss left and then miraculously the ball hit the pin.  When I hugged her, I remember telling her that her Dad picked up that spare from Heaven because she was bowling this tournament after he recently had passed.  We cried tears of joy for a long time after that.

It is obvious bowling has given you a lot in your life; do you still get that excited spark in you for competition?
Absolutely, YES!!   I enjoy stepping onto the lanes EVERY time I bowl.  Through years of learning so much about the mental and physical portions of our sport, I only really compete against myself when bowling tournaments.
Yes, there are opponents, but as a sportsman of the game there is nothing I can do to influence there game so why even include them as an entity at all?  I just try to enjoy every shot that comes off my hand and duplicate if it was good and acknowledge and repair if it didn't give me the result I needed.  My opponents are the lane, my equipment and ME…..things that I can control.
Every tournament I compete is a chance for me to enjoy the company of old friends, meet new people who also share my love of the game, travel to new places and last but certainly not least, an opportunity to win.  And as the great Dick Weber used to say, "Winning Never Gets Old".
Away from the sport, what things make you happy most?
Wow, that's a hard question right now.  My husband, Steve Sandelin, who was my biggest fan and supporter of my game passed away from a long bout with lung cancer in January, 2015.  He used to make me the happiest away from the sport.  So, I currently struggle to find happiness when I'm not bowling or teaching bowling.
Is there a piece of advice that has always stuck with you in your life?  
I have a saying that I taped to the mirror in my bedroom when I was preparing to make TEAM USA…and it read,
"Success is When Opportunity Meets Preparedness".
I still believe in that mantra and try and share it with my students….especially my young bowlers who are also preparing for JUNIOR TEAM USA.
What goals do you still have?
I do have a few bowling goals for 2017.  My first goal is to qualify for Senior TEAM USA again for the World Championships in August in Munich, Germany.  I have never been to Germany and would love to win back-to-back Team Golds at the beautiful Dream-Bowl Palace.  My next goal is to win the National Golden Ladies tournament in Vegas in March.
I have come close a couple of times, but would love to put that title on my résumé.  As I am turning 60 in 2017, I would like to cash in a few 60 and over events that I plan to enter.  It's kind of cool to be a "rookie" again.  And finally, I would still like to somehow qualify for the World Bowling Writers International Bowling Hall of Fame.
I really believe that my accomplishments having spanned over 40 years certainly meets the qualifications of this prestigious Hall.
Why should people try bowling (Part 2)?
I guess the number one answer would be because it's a LIFETIME SPORT.  Not many sports can truly say that.  As a bowling coach, I get calls from people at all levels of the game and the one thing they all have in common is they just want to KNOCK DOWN MORE PINS.
My job is to find a way to get them to that goal in an efficient manner that they can duplicate when I'm not around.  I remind them that bowling is both a game and a sport and it's up to them how they want to proceed in order to be in the category they choose for themselves.  Another cool fact about bowling is that you can burn around 400 calories in a typical 3-game league night.
You could possibly burn more if your average is below 200 because you will make 2 shots per frame more often.  Speaking of fitness, recently, my Fitbit device assisted me while competing for the local Senior Queens title.
During the final match, I felt a little overwhelmed and checked my heart rate on my watch which was in the "burn" mode…not the mode I needed to be in at that moment.
So, it was kind of a reminder to take a moment, catch my breath, slow my breathing down, and visualize the shot.  I then was able to step up to lane and let my body do what it has been trained to do…hit my target with freedom.  For that, I was rewarded with a victory.