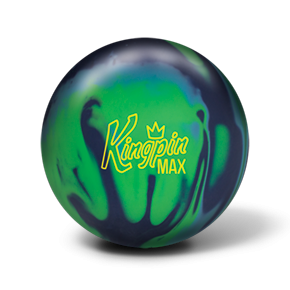 Available March 6, 2018.
The Kingpin Max features a new innovation in outer core technology called DynamiCore. This leap in bowling ball technology is a more durable outer material that yields less compression upon impact increasing hitting power and creating an undeniable difference in sound and pin carry. DynamiCore is blue and will be noticeable when drilling into the Kingpin Max.
COVERSTOCK
Kingpin Max features the ECA-X coverstock, an advancement in composite technology, for more traction compared to original ECA. The Kingpin Max also utilizes Brunswick's innovative DynamiCore technology which has proven to produce 12% more hitting power over balls without this unique outer core blend.
DRILLING
The Kingpin Max can be drilled using the standard drilling techniques developed for asymmetric core bowling balls.
LIGHTWEIGHT ENGINEERING
Kingpin Max's patented core design, for controlled dynamic integrity in all weights.
Part Number 60-106009

Core Type Kingpin Ultra Low RG

Coverstock ECA-X (Enhanced Composite Adhesion)

Color Navy / Green / Light Blue

Finishing Steps 500 / 1,000 Siaair Micro Pad

Weights 12-16 lbs. Pounds

Asymmetrical Diff. 0.020

RG Max 2.538

RG Min 2.483

RG Differential 0.055

Hook Potential Low (10)

310

High (250)


Length Early (25)

100

Long (235)

Breakpoint Shape Smooth Arc (10)

115

Angular (150)