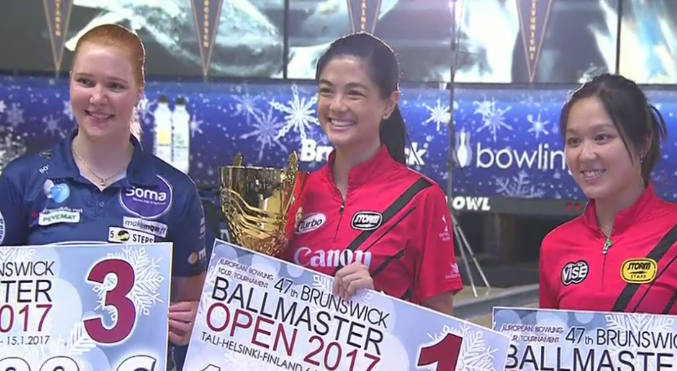 Daphne Tan wins
Singapore dominated the top two spots at the end of the 47th championship as top seed Daphne Tan took on Jazreel Tan in front of a packed Tali crowd.
Jazreel started by throwing the first ball through the face but managed to strike as Daphne could only nine and spare. Two further strikes and Jazreel was beginning to pull away but a stubborn 10 pin kept Daphne in the hunt after a double and spare leading into the fifth frame.
With both players striking it was a 10 pin game at the halfway stage in favour of Jazreel but Daphne grabbed a double in the sixth and a pocket 8-10 for Jazreel levelled the match again.
The split certainly shook the elegant Jazreel as she followed up in the 7th frame with another single pin leave and a spare. The door was opening now for Daphne but slammed shut again with a big split of her own and an open frame.
8th frame and Daphne spares a solid 10 pin and Jazreel strikes and takes a three pin lead going into the foundation 9th frame.  A high hit from Jazreel and a single pin leave and spare but Daphne strikes and its game on.
With a chance to shut out for national team mate Daphne is first up in the tenth and makes it count with three strikes and wins the 47th edition 224 (232)-217 (225).
Brunswick Ballmaster Open is the most known bowling tournament in Europe. Tournament is played since 1972. Now in 2017 the Tournament is 47th year in a row. Since 1974 the Tournament is played in world famous Tali Bowl. Bruswick Ballmaster Open is part of the European Bowling Tour and one of the richiest tournament in the Tour. In many years the number of bowlers in the Brunswick Ballmaster Open has been the highest in European Bowling Tour.
Tournament dates are 5.-15.1.2017. Last qualification squad is in Saturday 14.1.2017 at 16:00. Top 54 from qualification including top 6 from squads 1 to 9 and top 4 from the Desperado squad goes to the finals. First step of the finals will start at Saturday at 20:00. (one hour earlier than last year) See the full schedule.
Brunswick Ballmaster Open 2017 – RESULTS
Results will appear here during the event
Online Scoring                    Overall Standings
Squad 1 Online Results    Squad 1 Final Results
Squad 2 Online Results    Squad 2 Final Results
Squad 3 Online Results    Squad 3 Final Results
Squad 4 Online Results    Squad 4 Final Results
Please visit the official website here for all results and information