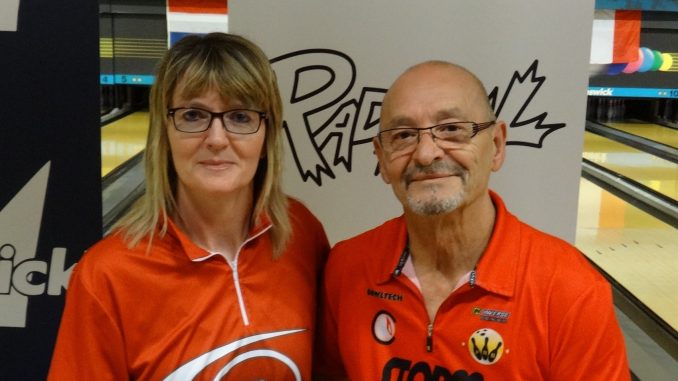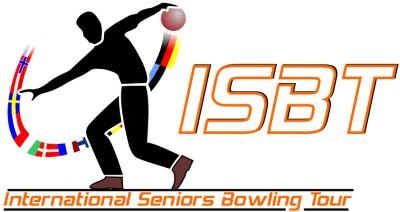 French Senior Open 2017
ISBT Tour 2017 Stop 9
Planet Bowling, Lomme, France
18th to 22nd October 2017
The ninth stop on the 2017 ISBT tour was a return to France, this time to Planet Bowling in Lomme. There is always a strong entry for this tournament, with 89 men and 25 ladies taking part. The format for the tournament was a single 6 game qualifying block, with unlimited re-entries. For those not able to qualify through the main leaderboard, there were additional opportunities through Scratch score, Turbo games and a Desperado squad. Age bonus started at age 51 (1 pin per game), then increased a pin for every additional year of age with no limit. As with all ISBT events, there was a separate division for ladies.
Squads started on Wednesday, and scoring was led by Jean Marc Lebon (France) with 1362 including age bonus, ahead of Arthur Dähn (Germany) with 1307. Corinne Poux (France) was top lady of the day with 1110.
Thursday's squads were led by Roger Pieters (Belgium) with 1401, just ahead of an improved block by Arther Dähn of 1389. Corinne Poux was again top lady with 1155.
Friday saw Ulf Lönngren (Sweden) post a great block of 1453, with two other bowlers Ron Oldfield (England) and Giorgio Desimio (Belgium) just breaking the 1400 mark. Top lady was Bianca Völkl-Brandt (Germany) with 1216, just ahead of Claribel Muis (Netherlands)
There were three final squads on Saturday, and in the first Ron Oldfield slightly improved with a score of 1419. Martina Beckel (Germany) also made a good start with 1202. In the second squad, Patrick Rolland (France) joined the 1400 club with a 1405 block, while Bianca Völkl-Brandt improved with 1254, just ahead of Liliane Vintens (Belgium) with 1252.
With the top players getting byes through the first finals rounds, there were a number of players who had already qualified looking to improve their positions in the final squad. André Geelen (Belgium) was top, but his 1378 would not be enough for a top 8 place. Martina Beckel booked her place in the top 4 with 1239, but an improved block of 1216 for Angie Brown (England) left her in fifth place, just missing out on a top 4 place and direct entry to the final round.
At the end of qualification, Ulf Lonngren led with 1453, ahead of Ron Oldfield, Patrick Rolland and Giorgio Desimio. These four would go straight to the final. The next four places would go directly to the semi-final, with the remainder of the top 24 qualifying for the quarter final round. These were joined by three Scratch, three Turbo and 2 Desperado qualifiers. Ladies qualification was led by Bianca Völkl-Brandt with 1254, ahead of Liliane Vintens, Martina Beckel, and Nadia Goron (France), all of whom would go directly to the final round. The next four bowlers would go to the semi-final round, to be joined by two Turbo, one Scratch, and one Desperado bowlers.
10 men and 4 women took part in the 1 game Desperado shootout. Ralf Hughes (England) won this with 233, ahead of Uwe Tscharke (Germany). Odile Verlinde (France) found a good game of 206 to gain the last place in the ladies' finals.
The men in positions 9 to 24, plus the other qualifiers had an early start on Sunday morning in the quarter-final round of four games. Alan Keddie (Scotland) was clear winner of this round, helped by a fine 299 in his last game. Gary Barlow (England) was the twelfth placed bowler, and last to make the next round with 879.
In the semi-final round, the twelve qualifiers were joined by qualifiers five to eight for a further four game block. Lol Ellis (England) was top with 1007, well clear of the rest of the field. The cut for the final was Dominique De Nolf (Belgium) with 857.
The ladies outside of the top four bowled their semi-final round at the same time, and Karin Lischka (Germany) was top with 810, ahead of Angie Brown, Pépita Jacques (France), and Lynne Walker (Wales). These four would go forward to the final.
In the men's final, Ian Buckland (England) took a narrow lead after two games over Giorgio Desimio and Peter Knopp (Germany), thanks to a fine 289 game. After three games, Ian Buckland had opened up the lead to 11 pins over Giorgio Desimio. None of the top three players could find the really big game to seal the win, a 216 from Giorgio Desimio left Ian Buckland needing to double in the tenth frame to win, he made the first strike, but couldn't find the second, leaving Giorgio Desimio as champion, ahead of Ian Buckland and Peter Knopp.
In the women's final, both Lynne Walker and Martina Beckel started strongly with games of 257 and 247. Their second games were not as good, allowing the field to close up slightly. In the third game, Lynne Walker found yet another 257 for a 701 scratch three game block to now have a 32 pin lead over Martina Beckel going into the last game. A solid closed game of 214 secured the win for Lynne Walker, ahead of a fast improving Angie Brown, who recovered from a 150 first game with 703 scratch over the final three games to gain second place. Martina Beckel easily held on to third place.
The next stop on the 2017 tour is at the Flanders Senior Open at EuroBowling in Deurne, Belgium, France. The tournament runs from the 30th October to 5th November. Full details are available at the ISBT web site, http://www.isbtbowlingtour.eu/
Results
Men
Final Round 3
Final Round 2
Pos
Name
 
Age Bonus
Game 1
Game 2
Game 3
Game 4
Scratch
Total
Total
Average
1
Lol Ellis
UK
17
223
183
257
276
939
1007
234.8
2
Peter Knopp
DE
7
222
213
255
214
904
932
226.0
3
Roger Pieters
BE
18
213
200
199
247
859
931
214.8
4
Steven Jeeves
UK
4
238
224
208
228
898
914
224.5
5
Ekkehard Oette
DE
22
189
248
170
198
805
893
201.3
6
Ian Buckland
UK
12
225
172
212
218
827
875
206.8
7
Jean Marc Lebon
FR
1
181
214
257
206
858
862
214.5
8
Dominique De Nolf
BE
11
236
193
171
213
813
857
203.3
9
Claude Vanbesien
FR
17
177
168
231
205
781
849
195.3
10
Ingar Gabrielsen
NO
11
191
226
193
193
803
847
200.8
11
André Geelen
BE
21
195
170
224
173
762
846
190.5
12
Alan Keddie
UK
6
194
196
225
206
821
845
205.3
13
Laya Djouad
FR
18
206
192
176
199
773
845
193.3
14
Gary Barlow
UK
12
212
194
191
159
756
804
189.0
15
Arthur Dähn
DE
16
203
177
180
176
736
800
184.0
16
Robert Vallons
BE
11
146
215
212
168
741
785
185.3
Final Round 1
Pos
Name
 
Age Bonus
Game 1
Game 2
Game 3
Game 4
Scratch
Total
Total
Average
1
Alan Keddie
UK
6
248
204
193
299
944
968
236.0
2
Robert Vallons
BE
11
225
235
217
214
891
935
222.8
3
Ingar Gabrielsen
NO
11
247
239
160
237
883
927
220.8
4
Claude Vanbesien
FR
17
180
220
231
225
856
924
214.0
5
André Geelen
BE
21
229
165
204
230
828
912
207.0
6
Dominique De Nolf
BE
11
205
211
246
203
865
909
216.3
7
Jean Marc Lebon
FR
1
169
246
236
247
898
902
224.5
8
Laya Djouad
FR
18
205
177
213
226
821
893
205.3
9
Ian Buckland
UK
12
223
236
211
173
843
891
210.8
10
Peter Knopp
DE
7
193
243
207
217
860
888
215.0
11
Ekkehard Oette
DE
22
216
189
203
187
795
883
198.8
12
Gary Barlow
UK
12
218
202
164
247
831
879
207.8
13
Uwe Tscharke
DE
5
227
198
191
236
852
872
213.0
14
Auke Broekhuizen
NL
6
183
214
203
236
836
860
209.0
15
Valentin Fatu
RO
5
191
223
213
201
828
848
207.0
16
Jochen Diekhoff
DE
18
183
214
190
181
768
840
192.0
17
Quittelier Laurent
FR
5
213
169
189
223
794
814
198.5
18
Ron Van Den Bogaard
NL
5
173
198
196
222
789
809
197.3
19
Mike Halliwell
UK
10
169
209
204
170
752
792
188.0
20
Louis Hendriks
NL
2
234
174
220
155
783
791
195.8
21
Serge Orengo
FR
8
193
170
224
169
756
788
189.0
22
Ralph Hughes
UK
8
195
242
170
147
754
786
188.5
23
Harald Punessen
DE
4
200
200
169
196
765
781
191.3
24
Erwin Groen
NL
6
0
0
0
0
0
6
0.0
Qualifying
Pos
Name
 
Age Bonus
Game 1
Game 2
Game 3
Game 4
Game 5
Game 6
Scratch
Total
Total
Average
1
Ulf Lönngren
SE
21
270
224
225
221
179
208
1327
1453
221.2
2
Ron Oldfield
UK
26
213
199
201
256
207
187
1263
1419
210.5
3
Patrick Rolland
FR
13
242
206
235
225
213
206
1327
1405
221.2
4
Giorgio Desimio
BE
17
229
224
233
179
212
225
1302
1404
217.0
5
Roger Pieters
BE
18
215
192
218
226
184
258
1293
1401
215.5
6
Arthur Dähn
DE
16
180
213
193
226
245
236
1293
1389
215.5
7
Steven Jeeves
UK
4
256
217
225
215
226
222
1361
1385
226.8
8
Lol Ellis
UK
17
257
203
199
207
203
214
1283
1385
213.8
9
Ian Buckland
UK
12
194
211
234
235
226
212
1312
1384
218.7
10
Peter Knopp
DE
7
191
215
229
235
247
221
1338
1380
223.0
11
André Geelen
BE
21
213
221
189
224
192
213
1252
1378
208.7
12
Alan Keddie
UK
6
205
206
235
204
227
257
1334
1370
222.3
13
Ingar Gabrielsen
NO
11
257
189
225
216
204
212
1303
1369
217.2
14
Louis Hendriks
NL
2
269
268
190
201
237
190
1355
1367
225.8
15
Robert Vallons
BE
11
183
226
200
217
238
235
1299
1365
216.5
16
Jean Marc Lebon
FR
1
197
200
278
218
246
217
1356
1362
226.0
17
Claude Vanbesien
FR
17
249
214
202
193
181
201
1240
1342
206.7
18
Ekkehard Oette
DE
22
216
180
258
191
186
178
1209
1341
201.5
19
Quittelier Laurent
FR
5
170
214
192
217
247
268
1308
1338
218.0
20
Gary Barlow
UK
12
228
248
204
201
214
147
1242
1314
207.0
21
Jochen Diekhoff
DE
18
189
227
222
183
201
184
1206
1314
201.0
22
Valentin Fatu
RO
5
184
226
237
204
227
204
1282
1312
213.7
23
Laya Djouad
FR
18
183
221
198
169
213
220
1204
1312
200.7
24
Serge Orengo
FR
8
217
240
195
216
202
193
1263
1311
210.5
25
Alan Tone
CA
18
182
223
193
240
188
173
1199
1307
199.8
26
Erwin Groen
NL
6
207
199
224
204
246
189
1269
1305
211.5
27
Yvon Lassal
FR
19
194
205
257
174
145
216
1191
1305
198.5
28
Harald Punessen
DE
4
248
211
203
182
227
208
1279
1303
213.2
29
Ron Van Den Bogaard
NL
5
203
236
189
191
199
255
1273
1303
212.2
30
Yves Strobbe
FR
6
236
254
169
182
194
232
1267
1303
211.2
31
Marcel Deudon
FR
10
196
203
213
182
223
222
1239
1299
206.5
32
Didier Marmion
FR
16
215
196
191
192
213
187
1194
1290
199.0
33
Yves Delafonteyne
BE
3
233
212
195
218
186
224
1268
1286
211.3
34
Steve Coates
UK
6
173
192
233
194
218
240
1250
1286
208.3
35
Norbert Rondelez
BE
9
215
193
205
181
184
245
1223
1277
203.8
36
Frédéric Goron
FR
16
187
205
155
216
200
218
1181
1277
196.8
37
Uwe Tscharke
DE
5
210
168
176
253
245
192
1244
1274
207.3
38
Auke Broekhuizen
NL
6
207
200
185
279
213
154
1238
1274
206.3
39
Dominique De Nolf
BE
11
183
162
259
177
198
227
1206
1272
201.0
40
Frank Stander
UK
37
187
174
174
152
171
191
1049
1271
174.8
41
Michel Ligier
FR
12
194
227
170
225
186
192
1194
1266
199.0
42
Gérard Lettree
FR
20
200
168
198
204
172
204
1146
1266
191.0
43
Mike Halliwell
UK
6
210
248
234
179
174
184
1229
1265
204.8
44
Eric Dingreville
FR
6
201
218
213
213
211
173
1229
1265
204.8
45
Luciano Casagrande
BE
2
214
210
153
216
224
232
1249
1261
208.2
46
Eric Poux
FR
6
223
246
168
203
177
206
1223
1259
203.8
47
Klaus Lischka
DE
8
188
194
194
231
210
192
1209
1257
201.5
48
Patrice Sustar
FR
16
173
191
182
209
233
172
1160
1256
193.3
49
Jean Marc Marin
FR
5
202
247
173
202
199
201
1224
1254
204.0
50
Etienne Couvent
BE
11
181
216
212
178
199
202
1188
1254
198.0
51
Manuel Petit
FR
9
179
187
197
225
213
193
1194
1248
199.0
52
Mick Ince
UK
17
172
168
210
167
192
236
1145
1247
190.8
53
Frank Lindsay
UK
17
171
212
191
170
193
204
1141
1243
190.2
54
Stéphane Gromadzik
FR
1
189
183
245
180
257
180
1234
1240
205.7
55
Pierre Prou
FR
18
180
196
190
203
161
198
1128
1236
188.0
56
Dany Delforge
FR
16
157
237
190
213
171
171
1139
1235
189.8
57
Les Grant
UK
23
177
154
169
198
182
216
1096
1234
182.7
58
Patrick Berthomiere
FR
3
213
211
234
167
189
196
1210
1228
201.7
59
Rene Gooyers
NL
13
196
242
188
165
197
162
1150
1228
191.7
60
Jurgen Laermans
BE
2
207
195
196
243
204
170
1215
1227
202.5
61
Maarten In 'T Veld
NL
19
197
192
171
165
166
213
1104
1218
184.0
62
Sandro Danesi
FR
1
163
192
194
254
183
224
1210
1216
201.7
63
Ralph Hughes
UK
8
148
210
247
180
183
195
1163
1211
193.8
64
Yvan Augustin
FR
10
205
207
193
187
186
170
1148
1208
191.3
65
Ralph-Yves Genillard
FR
8
188
154
242
192
179
202
1157
1205
192.8
66
Joel Rost
FR
9
157
192
213
147
225
217
1151
1205
191.8
67
Jean-Louis Mercalli
FR
7
161
185
201
212
197
204
1160
1202
193.3
68
Jacques Morel
FR
13
170
170
215
211
190
164
1120
1198
186.7
69
Bruno Perez
FR
5
190
190
226
189
181
187
1163
1193
193.8
70
Jean-Philippe Rossire
CH
15
192
161
171
186
194
199
1103
1193
183.8
71
Dominique Wallet
FR
2
215
194
153
226
221
169
1178
1190
196.3
72
Jean Jacques Dairay
FR
18
179
203
159
192
185
158
1076
1184
179.3
73
Dave Goodwin
UK
17
192
178
203
173
180
138
1064
1166
177.3
74
Mike Pray
UK
18
222
150
160
177
172
177
1058
1166
176.3
75
Yves Hantson
FR
29
145
169
173
173
183
148
991
1165
165.2
76
Philippe Piel
FR
6
186
161
199
188
193
200
1127
1163
187.8
77
Jean Claude Fruit
FR
9
181
167
182
180
195
204
1109
1163
184.8
78
Ad Van Der Jagt
NL
21
164
171
169
231
152
148
1035
1161
172.5
79
Paul Lamon
BE
13
156
191
171
136
212
215
1081
1159
180.2
80
Éric Beaujot
FR
10
160
180
176
172
219
184
1091
1151
181.8
81
Bertrand Bertiaux
FR
0
146
187
205
172
171
268
1149
1149
191.5
82
Philippe Delpit
FR
11
185
183
192
220
159
138
1077
1143
179.5
83
Martial Petit
FR
14
201
180
160
170
156
190
1057
1141
176.2
84
Daniel Dubart
FR
11
158
214
184
156
156
193
1061
1127
176.8
85
Bruno Merlen
FR
8
206
167
196
175
145
177
1066
1114
177.7
86
Vincent Prangère
FR
7
160
167
202
178
156
201
1064
1106
177.3
87
Leone Luigi
FR
19
177
159
180
153
163
147
979
1093
163.2
88
Greg Jerome
UK
11
172
141
160
160
211
173
1017
1083
169.5
89
Steven Coates
UK
6
137
189
183
164
166
166
1005
1041
167.5
Ladies
Final Round 2
Pos
Name
 
Age Bonus
Game 1
Game 2
Game 3
Game 4
Scratch
Total
Total
Average
1
Lynne Walker
UK
0
257
187
257
214
915
915
228.8
2
Angie Brown
UK
9
150
231
225
247
853
889
213.3
3
Martina Beckel
DE
8
247
181
217
193
838
870
209.5
4
Pépita Jacques
FR
8
218
192
203
145
758
790
189.5
5
Bianca Völkl-Brandt
DE
2
190
200
197
191
778
786
194.5
6
Nadia Goron
FR
9
182
194
170
190
736
772
184.0
7
Liliane Vintens
BE
10
196
157
172
184
709
749
177.3
8
Karin Lischka
DE
7
149
183
185
178
695
723
173.8
Final Round 1
Pos
Name
 
Age Bonus
Game 1
Game 2
Game 3
Game 4
Scratch
Total
Total
Average
1
Karin Lischka
DE
7
179
180
209
214
782
810
195.5
2
Angie Brown
UK
9
192
231
167
167
757
793
189.3
3
Pépita Jacques
FR
8
193
182
182
182
739
771
184.8
4
Lynne Walker
UK
0
192
169
191
186
738
738
184.5
5
Odile Verlinde
FR
3
154
173
188
186
701
713
175.3
6
Claribel Muis
NL
9
159
170
185
156
670
706
167.5
7
Nadine Robert
FR
15
188
157
153
146
644
704
161.0
8
Corinne Poux
FR
4
156
185
169
177
687
703
171.8
Qualifying
Pos
Name
 
Age Bonus
Game 1
Game 2
Game 3
Game 4
Game 5
Game 6
Scratch
Total
Total
Average
1
Bianca Völkl-Brandt
DE
2
245
189
207
209
214
178
1242
1254
207.0
2
Liliane Vintens
BE
10
189
225
182
138
202
256
1192
1252
198.7
3
Martina Beckel
DE
8
194
176
210
224
205
182
1191
1239
198.5
4
Nadia Goron
FR
9
237
204
196
212
168
165
1182
1236
197.0
5
Angie Brown
UK
9
204
228
212
207
133
178
1162
1216
193.7
6
Claribel Muis
NL
9
219
233
187
206
140
167
1152
1206
192.0
7
Pépita Jacques
FR
8
160
216
194
194
192
194
1150
1198
191.7
8
Karin Lischka
DE
7
201
192
170
168
215
205
1151
1193
191.8
9
Nadine Robert
FR
15
169
226
190
193
159
149
1086
1176
181.0
10
Corinne Poux
FR
4
200
172
202
213
156
188
1131
1155
188.5
11
Monique Weisemburge
FR
11
207
175
192
155
198
156
1083
1149
180.5
12
Chantal Vanbesien
FR
13
150
190
213
171
178
155
1057
1135
176.2
13
Lynne Walker
UK
0
146
227
206
174
188
188
1129
1129
188.2
14
Leone Annie
FR
10
182
190
169
169
160
181
1051
1111
175.2
15
Francoise Augustin
FR
9
159
152
181
179
196
186
1053
1107
175.5
16
Vezzu Patricia
BE
8
195
156
200
179
132
191
1053
1101
175.5
17
Sylvette Lassal
FR
17
173
179
145
134
174
193
998
1100
166.3
18
Linda Pray
UK
15
158
139
184
158
169
195
1003
1093
167.2
19
Inge Hazeleger
NL
3
160
191
182
212
125
193
1063
1081
177.2
20
Ruth Stander
UK
33
148
157
137
118
151
167
878
1076
146.3
21
Odile Verlinde
FR
3
208
161
175
171
160
171
1046
1064
174.3
22
Uschi Diekhoff
DE
16
187
194
148
133
141
164
967
1063
161.2
23
Françoise Sustar
FR
17
122
173
172
154
170
160
951
1053
158.5
24
Isabelle Chevet
FR
3
175
154
183
181
182
143
1018
1036
169.7
25
Nadine Prangère
FR
4
184
149
172
125
125
143
898
922
149.7