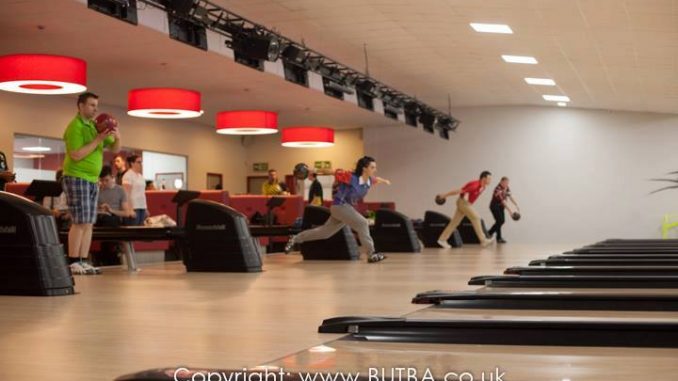 The final event of the BUTBA season is the invitational masters event. It is run over three divisions (mens scratch, ladies scratch and handicap) pitting the best of the students against the best graduates who played on tour in the current season. Unfortunately none of last year's winners were able to defend their titles so it was all up for grabs this year.
The mens scratch division had 11 vying for the title, 9 were fighting it out with handicap while just four ladies were competing in the scratch division. Qualifying consisted of 6 games on a modified Brunswick Crown Jewel pattern before cutting to the top 6 for the mens scratch and top 4 for the handicap division, where qualifiers would play a round robin final. The ladies would play a stepladder final so the qualification would determine their seeding.
Tom Chuter claimed an early lead with the only deuce (242) in game 1, with several 190 games from Sarah Hood, Pete Thornley, Mark Hodds and Abdullah Al-Tamimi. Meanwhile in the handicap Anthoney Gathercole was setting the bar at 278 with only 1 bowler under par once handicaps were added. By game 2 Sarah Hood had warmed up and shot 245 giving her nearly 90 pins over the other scratch ladies and there was no shortage of big scores from the scratch bowlers with Mark Hodds scoring 244 in game 3 and Paul Marks also hitting 244 in game 4! The handicap bowlers were also enjoying the challenge from Crown Jewel with high games of 289 from Faadil Fawzy, 287 from Lizzi Wilson and a 266 from Emma Liddington.
Tom Chuter stamped his authority all over the squad qualifying in top spot 167 over par, leaving the others to battle it out for the remaining 5 spaces in the round robin final. After 5 games James Larkin was holding onto 6th place with 49 pins to spare but Louis Voltattorni had others ideas scoring 254 to put him clear in 6th by 44 pins. The scratch ladies were fighting hard for a bye in the stepladder with only 31 pins separating 2nd and 4th! The only student in the competition, Laura Elliott was holding the bye, 11 pins in front of Kirsty Ralph but a 153 from the Birmingham student cost her as Kirsty hit 166 qualifying in 2nd place by 2 pins and earning a bye in the stepladder. Sarah Hood earned 2 byes with a qualifying set of 1286. It was also close in the handicap division with Muhammad Al-Thaqif holding 4th place on 1183, with 5th and 6th place less than 40 pins behind. Muhammed finished with 231, as did 6th place Emma Liddington. However 5th place Tom Hutchinson played a blinder for 283 and an 18 pin advantage on Muhammad therefore stealing 4th place.
In the ladies stepladder Laura Elliott managed to convincingly beat ex-student Nikki Stam 181 v 150, affording her the chance to play Kirsty Ralph. As you may expect with both having qualified with only 2 pins difference the match was to and fro with both starting well and staying clean. However a couple of errant shots from Kirsty towards the end of the game gave away the advantage and Laura progressed again winning 177 v 163. However nerves may well have gotten the better of her as she faced Sarah Hood in the final match, having to settle for second place (132 v 201).
In the handicap round robin top qualifier Anthoney Gathercole started well against Faadil Fawzy (244 v 235) earning him 50 bonus pins, while Lizzi Wilson claimed the bonus in her match against Tom Hutchinson (248 v 224). Anthoney went on to claim another bonus defeating Tom by just 1 pin (243 v 242) while Lizzi lost to Faadil 278 v 240). Going into the final match Anthoney was on 587 in first, followed by Faadil (563) and Lizzi (538). Lizzi put in a convincing game to beat Anthoney (245 v 211) taking away his chances of taking the title, so it was now up to Faadil to muster 270 pins including bonus to take the title for himself. Faadil rose to the challenge shooting 253 to Tom's 232 which with bonus gave him the win with 33 pins to spare.
The scratch men however had a gruelling 5 games to play before the result would be known. Top qualifier Tom Chuter won his first match scoring well below his qualifying average (164 v 146) giving him 214 with win bonus. Meanwhile Louis who qualified with a big last game wasn't liking the fresh oil and lost 167 v 139 to Abdullah Al-Tamimi. The third pairing was certainly high scoring with Mark Hodds defeating Paul Marks 246 v 226. Tom and Mark both went on to win their second matches giving them an early lead, however they faced each other in the third match with Tom victorious 248 v 177. This put Tom clear infront with Mark, Pete Thornley and Abdullah Al-Tamimi chasing with 2 wins each. In the fourth game Louis Voltattorni and Paul Marks got their first wins with Louis winning against Tom 143 v 134. A costly game for the leader as Mark beat Abdullah 155 v 131 to give him 3 wins, and a 38 pin lead over Tom. Paul Marks was in third, seemly unaffected by having only won one match so far! In the final round Louis defeated Paul (188 v 167); Tom defeated Abdullah (171 v 149) however it wasn't enough as Mark beat Pete Thornley 184 v 148 meaning Mark Hodds took the title by 51 pins.
Congratulations to all those who've taken part in the 2016/17 BUTBA tour and thank you from the committee for your continued support.
The full list of winners:
1st Place (Scratch Male) – Mark Hodds
2nd Place (Scratch Male) – Tom Chuter
1st Place (Scratch Female) – Sarah Hood
1st Place (Handicap) – Faadil Fawzy
2nd Place (Handicap) – Lizzi Wilson
High Game (Scratch Male) – Louis Voltattorni
High Game (Scratch Female) – Laura Elliot
High Game (Handicap) – Tom Hutchinson
At the End of Season Meeting, held after the masters, ranking table awards were also presented as follows:
Combined Scratch Male Winner – Faris Sharifuddin
Combined Scratch Female Winner – Louise Parker
Combined Handicap Winner – Richard Bilton
Student Scratch Male Winner – Faris Sharifuddin
Student Handicap Winner – Richard Bilton
Student Scratch Female Winner – Laura Elliott
Ex-Student Scratch Male Winner – Damian Gray
Ex-Student Scratch Female Winner – Sarah Hood
Ex-Student Handicap Winner – Tom Hutchinson
University Winner – University of Nottingham
British Universities Tenpin Bowling Association
The main aims of BUTBA are to promote the sport of Tenpin Bowling, to increase participation at student level across the country and to provide an environment in which bowlers studying in higher education can compete fairly and safely.
The first 17/18 season event for students is the freshers trios at Nottingham on 28th October
BUTBA also provide a playing environment for those who have graduated, with recent (or not so recent) alumni being eligible to compete in the ex-student bowling tour, which runs alongside the student one. You do not need to have competed as a student, or have studied at a university with a current student team to take part in the ex-student tour.
For full details of the 17/18 calender for both students and ex-students, please visit the website (http://butba.co.uk/) or email committee@butba.co.uk to be added to the mailing list.