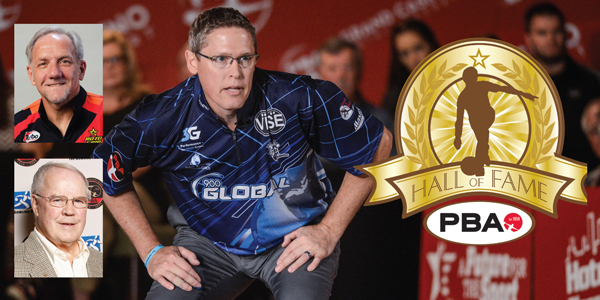 Inductions set for February 17 during Go Bowling! PBA 60th Anniversary Celebration in Indianapolis
CHICAGO (Oct. 18, 2017) – Eighteen-time PBA Tour champion Chris Barnes of Double Oak, Texas; two-time PBA50 Player of the Year Ron Mohr of North Las Vegas, and the late Don Mitchell, a renowned bowling center owner and PBA host from Indianapolis, have been elected to the Professional Bowlers Association Hall of Fame.
They will be inducted into the PBA Hall of Fame on Saturday, Feb. 17, at the Marriott North in Indianapolis as part of the Go Bowling! PBA 60th Anniversary Celebration.
Barnes, 47, is one of five players to win both PBA Rookie and Player of the Year honors. He is one of six players to complete the PBA Triple Crown (2005 U.S. Open, 2006 PBA Tournament of Champions and 2011 PBA World Championship), and he ranked among the top 10 in PBA earnings for 16 consecutive seasons. He surpassed the $1 million milestone in career earnings in 170 events (2005), at the time the fewest events any player needed to achieve that milestone, and he won $200,000 "winner take all" prizes in Motel 6 Roll to Riches special events in 2005 and 2006.
He was a late-comer to PBA competition after four years as a member of the Wichita State University bowling team, a starring role with Team USA and a prolific nine-year career as a "professional amateur." After joining the PBA just before his 28th birthday, he won PBA Rookie of the Year honors and added PBA Player of the Year honors 10 years later, joining Mike Aulby and Tommy Jones – at the time – as the third player to win both of those honors.
In 379 PBA Tour tournaments, Barnes finished in the top five 91 times (an impressive 24 percent of the time) and cashed in 296 (78.1 percent of tournaments entered).
All of that came years after a surprising performance in the Coca-Cola National Youth Championships as a youngster diverted his attentions away from a promising future as a basketball player growing up in Topeka, Kan.
"In high school, I was 100 pins behind Lonnie Waliczek in the state Coca-Cola Youth Championship qualifier, Barnes said of his future fellow PBA competitor. "I figured I was the fourth-best bowler in Kansas, but I bowled Lonnie in the next to last game and won. And then I won the championship, so I got to go to the national finals. That's where I found out how good the other guys in Kansas were."
He then joined Waliczek on the powerful Wichita State team – founded by Lonnie's father, Paul – and was the last player selected to make the roster in his freshman year.
"Between that and calculus class in the morning, I was re-thinking my decision to not play basketball," Barnes said.
But he began to apply his four-hours-a-day basketball practice regimen to bowling. At 19, he qualified for the nationally-televised Brunswick Bowling Shootout, where he competed against Mark Roth, Marshall Holman and women's star Lisa Wagner, he launched a profitable "megabucks" career and he began a string of 15 berths on Team USA – most of those at a time when pros were not allowed to bowl in international competition.
In 1998, Barnes decided "it was time to take on the best of the best and find out where I could fit in."
Looking back, Barnes said, "after my late start, you realistically don't know what's possible. I didn't know if I could win out there; I just wanted to find out how well I could bowl against those guys.
"Then it took me awhile to learn how to win on TV," he added. "I knew I was never going to match Walter Ray (Williams Jr.) or (Mark) Roth. I knew I wasn't going to be the best of all-time, but I wanted to be the best of THIS time."
After he got his call from PBA CEO and Commissioner Tom Clark, the reality began to set in.
"It's pretty cool to have my name next to the guys I've idolized," Barnes said. "I got to bowl against Dick Weber. I've been lucky to be able to play a game for a living, and make more money than a kid from Topeka ever imagined.
"It's a pretty cool thing."
Mohr, who has established one of the most successful track records in PBA50 Tour history (ranking among the top 10 in every key statistical category every year he has competed as a "senior" player), took a more indirect path to the hall of fame.
After growing up in Fort Wayne, Ind., Mohr moved to Alaska at age 23 where his brother was serving in the U.S. Air Force. A 170-average bowler back in Indiana, he got a job in a bowling center in Anchorage, and that's when he found out timing is everything. He was dating a girl whose father worked for the Federal Aviation Administration at the time President Ronald Reagan fired all of the striking air traffic controllers who refused his order to return to work. Mohr was encouraged to apply for a position and, after training, wound up working as an air traffic controller in Alaska for 25 years.
He also had advanced his bowling skills and knowledge during his time at the Anchorage bowling center, and got serious about the game. In 1988, he shocked himself by earning a berth on Team USA.
"That's when my game really started to develop, mentally as well as physically," Mohr said. "It convinced me even more that I could be competitive. As a Team USA member, we got seeded spots into some tournaments (the U.S. Open and USBC Masters among them); it was incredible just to be exposed to that level of competition. That's when I began to dream that I might be competitive one day. I knew I had a lot to learn, but decided if FAA gave me the time off, I'd become the best bowler I could be."
What Mohr also found out was that having a physical edge on the competition would serve him well.
"I found out probably in my 30s, not many bowlers were doing that sort of thing," he said of his daily fitness regimen. "It could help me physically, but also mentally because I knew not many others were doing that sort of thing. It became a habit, relaxed me, and I've kind of continued that.
"I keep a log, just to amuse myself. I'm at about 2.7 million sit ups over the last 18 years. I've done just a little over a million pushups. Lord knows how many miles on my bike…"
Today, Mohr said, "I couldn't hardly be any better. By no means did I think (getting elected to the PBA Hall of Fame) was a foregone conclusion. I kept my fingers crossed and it turned out just right. I couldn't be happier."
Other than his opportunities as a Team USA member, Mohr had never bowled in PBA-level competition. But when he retired from his air traffic controller position in 2008, he decided to try the PBA50 Tour.
"I bowled the first two as a non-member because I didn't know if I'd be competitive, and I bowled okay," he said. "So I joined and promptly failed to cash in the next one.
"Finding out I could be competitive was quite an epiphany," he continued, "and to win PBA50 Player of the Year the next year was beyond rewarding."
In his breakout season in 2009, Mohr won three of his nine career titles en route to his first POY award (he won again in 2011). In nine full seasons as a "senior" bowler, he has finished in the top 10 in earnings and averages each year. He has never had a season averaging below 220.
In the 103 PBA50 Tour events he has entered, Mohr has cashed an impressive 97 times (94.1 percent success rate) and has finished in the top five 34 times, one in every three tournaments entered.
He also suffered through one of those frustrating streaks where he had 17 top five finishes without winning a title between 2012 and 2017, but in the two years since reaching age 60, he earned PBA60 Player of the Year in both years.
The PBA50/Senior division of the PBA Hall of Fame was established in 2009 to recognize players for their accomplishments after reaching the age of 50.
Mitchell, who succumbed to cancer in 2012 at the age of 80, went from managing a small bowling center in Indianapolis to developing the Royal Pin Leisure Centers chain, which has hosted dozens of showcase events at all levels of bowling. Its centerpiece – Woodland Lanes on Indianapolis' north side – has hosted every major championship the PBA has offered, and in 2018 will again be the focal point of the PBA Tour when it hosts the Go Bowling! PBA 60th Anniversary Classic, Feb. 13-18.
"Oh my gosh, what a great honor," said Mitchell's daughter, Donna Leimgruber, on behalf of her brothers, David and Craig Mitchell. "He would have been thrilled. He was such a good guy. I cannot express to you what this honor would mean to him.
"He always wanted to stay in the background. He might have been embarrassed with the recognition, but I can tell you he would be glowing with pride if he was still here. Bowling was my dad's life and he lived it to the fullest."
Maybe one of Mitchell's closest admirers was his close friend, PBA Hall of Famer Mike Aulby, who Mitchell sponsored on tour for most of Aulby's career.
"Don was one of the great bowling people," said Aulby. "He loved the industry and the people in it. Don knew the importance of the Tour and its promotional value for the sport as a whole—he was very innovative."
Mitchell's bowling center empire grew from one center in 1974 to multiple centers with more than 300 lanes and five pro shops. He was a vocal advocate for the PBA as the sport's most prominent promotional vehicle, and he put his money behind his passions. He was equally enthusiastic as a bowler, competing in 50 USBC Open Championships.
Mitchell, who becomes the first bowling proprietor elected to the PBA Hall of Fame exclusively because of his role as a bowling center owner, has previously been inducted into the Indianapolis and Indiana Bowling Halls of Fame. Upon his death, the Indiana Bowling Centers Association created the Don Mitchell Meritorious Medal Award in his honor.
About the PBA
The Professional Bowlers Association (PBA) is an organization of more than 3,000 of the best bowlers from 27 countries who compete in PBA Tour, PBA International Tour, PBA Regional Tour, PBA Women's Regional and PBA50 Tour events. The PBA is in its 58th consecutive year of nationally-televised competition, reaching bowling fans around the world who follow PBA activities through the PBA Network which includes Xtra Frame, the PBA's exclusive online bowling channel, ESPN and CBS Sports Network, and the PBA on Facebook, Twitter and YouTube. PBA sponsors include Barbasol, Brunswick, Ebonite International, GEICO, GoBowling.com, HotelPlanner.com, MOTIV, 900 Global, PBA Bowling Challenge Mobile Game, Storm Products and the United States Bowling Congress, among others. For more information, log on to www.pba.com.
2017 PBA HALL OF FAME SUPERIOR PERFORMANCE BIOS
(Statistics as of September 30, 2017)
CHRIS  BARNES
Double Oak, Texas
Birth date: 2/25/70
PBA member since: 1998
Touring Pro/Exempt: 1998-present
Career money to date: $2,287,093
PBA TOUR
Bowled in 379 PBA Tour tournaments
Top five finishes: 91
PBA Tour titles: 18
Cashes: 296 (78.1% of tournaments entered)
PBA REGIONAL TOUR
Bowled in 132 Regional tournaments
PBA Regional titles: 27
PBA TOUR STATS
Top 10 on money list (16 consecutive years):
3rd in 2015 ($117,565)
5th in 2014 ($96,958)
8th in 2012-13 ($105,364)
8th in 2011-12 ($60,280)
2nd in 2010-11 ($133,260)
4th in 2009-10 ($116,510)
6th in 2008-09 ($156,780)
5th in 2007-08 ($142,410)
5th in 2006-07 ($127,407)
5th in 2005-06 ($174,700)
3rd in 2004-05 ($194,300)
4th in 2003-04 ($191,550)
2nd in 2002-03 ($183,930)
7th in 2001-02 ($143,165)
5th in 2000 ($103,900)
3rd in 1999 ($123,885)
PBA Tour Scoring Average:
2000 George Young High Average award winner (220.93)
Career scoring average 221.8671 for 9,175 games
PBA TOUR STANDARD TITLES (15) 
1999 – Flagship Open, Erie, Pa.
1999 – Oregon Open, Portland, Ore.
2001 – Gr. Nashville Open, Hendersonville, Tenn.
2003 – Days Inn Open, Dallas, Texas
2004 – Japan Cup, Tokyo, Japan
2007 – GEICO Classic, Irving, Texas
2008 – Bayer Classic, El Paso, Texas
2008 – Don Johnson Buckeye State Classic, Columbus, Ohio
2009 – Don Johnson Buckeye State Eliminator, Columbus, Ohio
2009 – Go RVing Match Play Championship, Norwich, Conn.
2012 – Columbia 300 Vienna Open, Vienna, Austria
2013 – Lucas Oil Milwaukee Open, Milwaukee, Wis.
2013 – Viper Open, Viper Open, Las Vegas
2014 – H.H. Emir Cup, Doha, Qatar
2015 – DHC PBA Japan Invitational, Tokyo, Japan
PBA TOUR MAJOR TITLES (3)
2005 – 62nd U.S. Open, N. Brunswick, N.J.
2006 – PBA Tournament of Champions, Uncasville, Conn.
2011 – PBA World Championship, Las Vegas (became sixth player to complete PBA Triple Crown)
PBA AWARDS
1998 – PBA Rookie of the Year
2000 – George Young High Average Award (220.93)
2000, 2008-09, 2010-11 – Harry Smith Point Leader Award
2008 – PBA Player of the Year (became the third player to win ROY and POY awards; currently five have accomplished that feat)
2015 – Inducted into PBA Southwest Region Hall of Fame
OTHER ACHIEVEMENTS
● 15-time member of Team USA
Named United States Olympic Committee's Athlete of the Year for Bowling in 1994, '96 and '97
Won 2012 World Bowling Tour Men's Finals (non-PBA title event), Las Vegas
Won 2014 Qubica AMF Bowling World Cup, Wroclaw, Poland (joined wife Lynda [2005] as first husband and wife duo to win World Cup titles).
Won 2015 SamHo Korea Cup
Team USA medals include: 2015 PABCON silver medals in teams, trios and singles… gold medals at the American Zone Championships in the Dominican Republic in 1997…gold in trios and team, and bronze in Masters in 2011 PABCON…won 2014 Team USA Trials…team silver in 2014 WBA Men's World Bowling Championships… gold in doubles, silver in Masters, team, all events and bronze in trios in 2013 WTBA World Championships
Conducts annual Barnes Thanksgiving Classic scholarship tournament with wife Lynda (13 years and $200,000 in scholarships as of 2017) and annual Strike Out Diabetes tournament to raise funds for Juvenile Diabetes Research Foundation (8 years and $375,000 as of 2016).
1992 graduate, Wichita State (1992 Collegiate Player of the Year; 1990, 1992 first team All-American).
Member of two-time PBA League champion Silver Lake Atom Splitters (2014, '15).
Bowled 22nd nationally-televised 300 in 2011 Shark Open, Las Vegas
Became the fastest player to earn $1 million in 2005 (170 events – since broken), fastest to earn $2 million (319 Tour events).
Won national amateur qualifying event at age 19 to bowl against Mark Roth, Marshall Holman and Lisa Wagner in the 1989 Brunswick Bowling Shootout.
Won $200,000 winner-take-all prizes in Motel 6 Roll to Riches in 2005, 2006.
RON MOHR
North Las Vegas, Nevada
Birth date: 2/16/1956
PBA member since: 2008
Touring Pro/Exempt: n.a.
Career money to date: PBA Tour – $6,100; PBA50 – $245,655.
PBA TOUR
Bowled in 25 PBA Tour tournaments
Top five finishes: 1
PBA Tour titles: 0
Cashes: 4
PBA REGIONAL TOUR
Bowled in 3 Regional tournaments
PBA Regional Tour titles: 0
PBA50 TOUR
Bowled in 103 PBA50 Tour events
Top five finishes: 34
PBA50 Tour titles: 9
Cashes: 97 (94.1% of tournaments entered)
PBA50 REGIONAL TOUR
Bowled in 69 PBA50 Regional tournament
PBA50 Regional titles: 19
PBA50 TOUR STATS (Top 20 finishes)
2017 – 4th in earnings ($28,660), 10th in average (221.62)
2016 – 4th in earnings ($29,970), 6th in average (224.40)
2015 – 8th in earnings ($16,550), 6th in average (223.22)
2014 – 9th in earnings ($18,842), 13th in average (224.95)
2013 – 6th in earnings ($22,088), 6th in average (221.28)
2012 – 5th in earnings ($19,900), 10th in average (223.39)
2011 – 1st in earnings ($56,100), 2nd in average (225.98)
2010 – 7th in earnings ($13,409), 2nd in average (223.15)
2009 – 2nd in earnings ($41,600), 2nd in average (223.14)
PBA50 TOUR STANDARD TITLES (8)
2009 PBA Senior Jackson Open, Jackson, Mich.
2009 PBA Senior Dayton Open, Dayton, Ohio
2009 PBA Senior Dick Weber Open, Lansing, Mich.
2011 PBA Senior Miller High Life Classic, Mooresville, N.C.
2011 PBA Senior Northern California Classic, Brentwood, Calif.
2011 PBA Senior Jackson Open, Jackson, Mich.
2012 PBA Senior Decatur Open, Decatur, Ill.
2017 PBA50 South Shore Open, Hammond, Ind.
PBA60 TOUR TITLES
2017 Super Senior Classic, Las Vegas
PBA50 TOUR MAJOR TITLES (1)
2011 Senior U.S. Open, Las Vegas
OTHER PBA AWARDS
2009, 2011 – PBA50 Player of the Year
2016, 2017 – PBA60 Player of the Year
OTHER ACHIEVEMENTS
Three-time Team USA member (1989, '91, '98)
Three-time Senior Team USA member (2013, '15, '17)
Holds PBA50 eight-game (2,160) and 16-game (4,243) qualifying records; tied PBA50 record for most 300s in one event (3) in the same event in Columbus, Ohio
PBA50 Tour career scoring average 222.28 for 1,135 games
Had 17 top five finishes without winning a title between 2012 and 2017.
Former air traffic controller from Kodiak, Alaska; bowled in his first PBA events in 2008, cashed in seven of eight PBA50 Tour events, made match play in six of the eight.