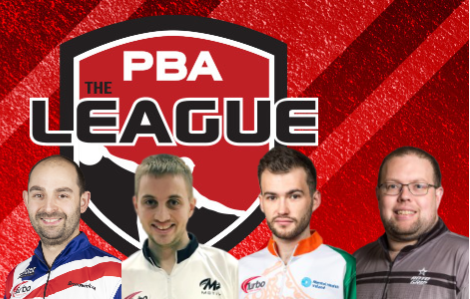 Three English and one Irish made the PBA League Draft held virtually live of the web this week. Richard Teece was dafted by Amleto Monacelli for the new Las Vegas High Rollers team with Chris Sloan becoming the first Irishman in the league and drafted by Marshall Holman for the new Brew City Ballers.
England's Dominic Barrett was retained by manager Jason Couch for the Philadelphia Hitmen and Stuart Williams retained by Andrew Cain for L.A. X.
Other Europeans selected for the league include Thomas Larsen (Denmark), Jesper Svensson (Sweden), Osku Palermaa (Finland) and Martin Larsen (Sweden).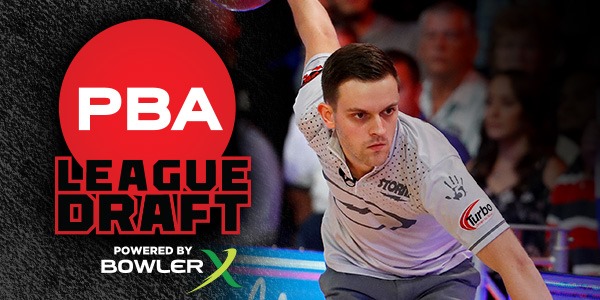 (May 18, 2020) – The expansion Las Vegas High Rollers selected two-time US Open champion Francois Lavoie with the first pick of the PBA League Draft powered by BowlerX Sunday, which was conducted virtually, live on FloBowling.
The Draft, originally scheduled for March 15 in Las Vegas at the PBA WSOB, was postponed due to COVID-19.
A highlight of the Draft was the complete 5-player construction of two expansion teams, the High Rollers and Brew City Ballers.
In all, 26 players were drafted to the 10 League teams, as eight of the original clubs were able to protect three players from their 2019 rosters. Fifty-two players were eligible to be drafted based on their points standing in PBA Tour competition over the past two years.
Of note, nine of the 26 players selected during Tuesday's Draft are international PBA players, increasing the number to 13 of the 50 players on 2020 rosters.
All 10 PBA League team managers made their selections remotely to the FloBowling audience, with PBA League Commissioner Tom Clark presiding over the draft from his home in Wisconsin. Most players selected appeared via Zoom to comment on being chosen.
The defending champion Portland Lumberjacks manager Tim Mack filled his roster with Sweden's Martin Larsen and two-handed lefty Packy Hanrahan, joining Kyle Troup, Kris Prather and 2019 Mark Roth MVP Award winner Wes Malott.
The PBA League Elias Cup tournament, originally scheduled for July at Bayside Bowl in Portland, ME, was postponed due to COVID-19 and will be rescheduled back in Maine, for later this year.
Below is order selected, followed by 2020 full rosters:
2020 PBA League Draft selections in order
1. Francois Lavoie, Las Vegas
2. Sean Rash, Brew City
3. Ryan Ciminelli, Brew City
4. Andrew Anderson, Las Vegas
5. AJ Johnson, Las Vegas
6. Dick Allen, Brew City
7. Jason Sterner, Philadelphia
8. BJ Moore, Brooklyn
9. Mitch Hupe, Motown
10. Chris Via, Silver Lake
11. Darren Tang, NYC
12. Brad Miller, Dallas
13. Patrick Girard, L.A.
14. Martin Larsen, Portland
15. Packy Hanrahan, Portland
16. Anthony Lavery-Spahr, L.A.
17. Nick Pate, Dallas
18. Osku Palermaa, NYC
19. AJ Chapman, Silver Lake
20. Matt McNiel, Motown
21. Thomas Larsen, Brooklyn
22. Matt Ogle, Philadelphia
23. Christopher Sloan, Brew City
24. Richie Teece, Las Vegas
25. Ildemaro Ruiz, Las Vegas
26. Zeke Bayt, Brew City
2020 PBA League Rosters
Las Vegas High Rollers
Manager: Amleto Monacelli
Francois Lavoie
Andrew Anderson
AJ Johnson
Richie Teece
Ildemaro Ruiz
Brew City Ballers
Manager: Marshall Holman
Sean Rash
Ryan Ciminelli
Dick Allen
Christopher Sloan
Zeke Bayt
Philadelphia Hitmen
Manager: Jason Couch
Dom Barrett
Tom Smallwood
Shawn Maldonado
Jason Sterner
Matt Ogle
Brooklyn Styles
Manager: Johnny Petraglia
Walter Ray Williams Jr.
Brad Angelo
Rhino Page
BJ Moore
Thomas Larsen
Motown Muscle
Manager: Del Ballard
EJ Tackett
Anthony Simonsen
Josh Blanchard
Mitch Hupe
Matt McNiel
Silver Lake Atom Splitters
Manager: Mark Baker
Chris Barnes
Jesper Svensson
Tom Daugherty
Chris Via
AJ Chapman
NYC KingPins
Manager: Carolyn Dorin-Ballard
Pete Weber
Marshall Kent
Kyle Sherman
Darren Tang
Osku Palermaa
Dallas Strikers
Manager: Norm Duke
Norm Duke
Tommy Jones
Bill O'Neill
Brad Miller
Nick Pate
L.A. X
Manager: Andrew Cain
Jason Belmonte
Jakob Butturff
Stu Williams
Patrick Girard
Anthony Lavery-Spahr
Portland Lumberjacks
Manager: Tim Mack
Wes Malott
Kyle Troup
Kris Prather
Martin Larsen
Packy Hanrahan