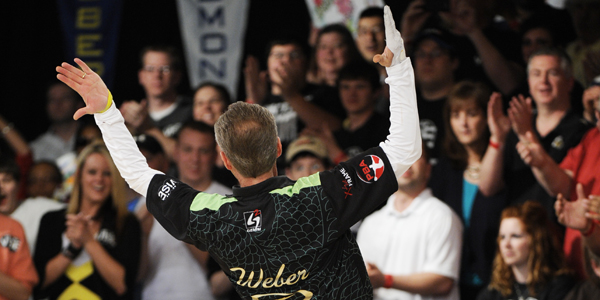 Woodland Bowl in Indianapolis to Host GoBowling! PBA 60th Anniversary Classic
Historic PBA celebration to include special celebration dinner and Hall of Fame ceremonies
CHICAGO (September 7, 2017) –
Woodland Bowl in Indianapolis, the only bowling center in America that has hosted every Professional Bowlers Association major championship tournament over the years, has been selected as the site for a new event that will celebrate the organization's 60-year history: the GoBowling! PBA 60th Anniversary Classic.
The new tournament, which will be open to all PBA members, will be held between Tuesday, Feb. 13, and Sunday, Feb. 18, when ESPN will televise the stepladder finals live at 1 p.m. EDT. As part of the festive week, the PBA's 60th Anniversary Celebration Dinner will include its 2018 PBA Hall of Fame induction ceremonies on Saturday, Feb. 17, at the Marriott North in Indianapolis.
The GoBowling! PBA 60th Anniversary Classic is the second leg of "Big February" portion of the 2018 GoBowling! PBA Tour schedule that includes two major events concluding with live coverage on ESPN: the return of the PBA Tournament of Champions to long-time host AMF Riviera Lanes in Fairlawn, Ohio, Feb. 6-11, and the Barbasol PBA Players Championship at Wayne Webb's Columbus Bowl in Columbus, Ohio, Feb. 21-25. February's ESPN schedule will also include a special Super Bowl Sunday presentation, the CP3 PBA Celebrity Invitational, and the Mark Roth/Marshall Holman PBA Doubles Championship that will be held in conjunction with the Players Championship in Columbus.
"Woodland Bowl has been the scene of many of the PBA's most historic moments," said PBA CEO and Commissioner Tom Clark. "As we began planning for our 60th anniversary celebration, we wanted to bring it to a location that has been important to the PBA throughout its 60-year history."
Woodland Bowl is the only bowling center to host every PBA major championship, at one time or another. The 70-lane center on Indianapolis' north side has hosted the PBA Tournament of Champions, PBA Touring Players Championship, U.S. Open, USBC Masters and PBA World Championship.
"We are honored at Royal Pin Entertainment to have our Woodland location chosen to host this very meaningful event," said Jim Doty, Royal Pin Entertainment's General Manager. "Our long association with the Professional Bowlers Association has been a labor of love that brings back memories of past events that include many hall of fame members who have competed at our Woodland Bowl location.
We sincerely thank the PBA for honoring us to serve as the host center for the GoBowling! PBA 60th Anniversary Classic."
Additional details about the GoBowling! PBA 60th Anniversary Classic and the PBA 60th Anniversary Celebration Dinner will be announced later.
About the PBA
The Professional Bowlers Association (PBA) is an organization of more than 3,000 of the best bowlers from 27 countries who compete in PBA Tour, PBA International Tour, PBA Regional Tour, PBA Women's Regional and PBA50 Tour events. The PBA is in its 58th consecutive year of nationally-televised competition, reaching bowling fans around the world who follow PBA activities through the PBA Network which includes Xtra Frame, the PBA's exclusive online bowling channel, ESPN and CBS Sports Network, and the PBA on Facebook, Twitter and YouTube. PBA sponsors include Barbasol, Brunswick, Ebonite International, GEICO, GoBowling.com, HotelPlanner.com, MOTIV, 900 Global, PBA Bowling Challenge Mobile Game, Storm Products and the United States Bowling Congress, among others. For more information, log on to
www.pba.com
.