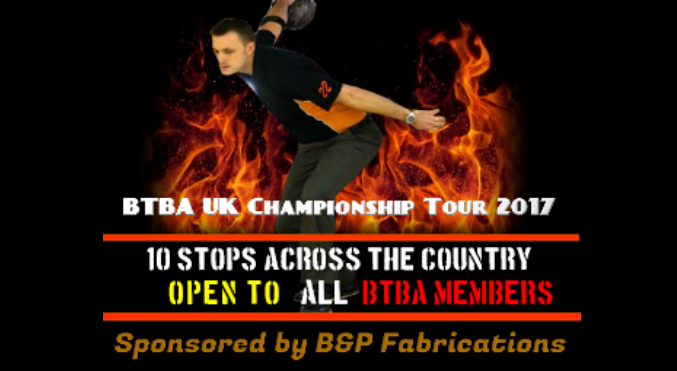 The 8th Stop on the BTBA Tour was the Bedfordshire Mixed Trios played at Gobowling, Dunstable. It was a concentrated effort by Tour manager Dan "basher" Bonfield to get more women out playing a tournament and experiencing the BTBA Tour. A decent entry with 23 teams (46 men and 23 ladies) took to the lanes. The format was a simple one, a straight 7 games, the teams who knocked over the most pins won.
There were two squads, one Saturday afternoon and the other on Sunday Morning. 9 teams took to the lanes in the Saturday squad. Scoring was high, especially amongst the ladies. Tracey Stocks-Wallace averaging 231, Sarah Hood with a 226 average, Fiona Hallam 219 and Laura Marcham 218. Top men were the slim downed Rob Thurlby, even though he is only half the man he used to be he still shot a 236 average for his 7 games. Chris Oates averaged 226 and Lee Cocker 224.
With all of their bowlers at the top of the averages, it was no surprise that the team of Tracey Stocks-Wallce, Rob Thurlby and Lee cocker (Cockers Knockers) were top shooting a 230 team average, 2nd was a team of England Internationals – Chris Oates, Laura Macrch and Sam Rose (I aint afraid of no oates) who were averaging 218
All BTBA tour events have a Handicap division, and that was being won by The R.A.F team (Matt Hall, Fiona Hallam and James Baker) with a team average of 222
Onto the Sunday squad… again some high scoring. Bedfordshire bowler Brett Armer rolled what was to be surprisingly the only tournament 300 in game 3. And James Tidd was tearing the lanes apart averaging 270 for his first 4 games, including a 299 in game 2. In the ladies, Tour leader Samantha Hannan shot a 256, 265 in games 2 and 3 for a +131 total to finish 4th. And after that start James Tidd won the men's with +385 with Northampton's Dylan Maciuk with +272 and Rob from the Saturday squad in 3rd.
On to the team results – The scratch team event's prize fund was boosted by Tour Sponsor B&P Fabrications and the winners were "Cockers Knockers" (Lee Cocker, Rob Thurbly, Tracey Stocks-Wallce) and the Handicap team winners were the "Put it In" team (Darren Michaels, Ton Langley and Jackie Wyatt)
Handicap Team Winners "Put it In" – Tom Langley, Jackie Wyatt and Darren Michaels
Track Bowling gave a ball away to the winner of the ladies scratch overall. Which was won by Tracey Stocks Wallace. The ball she chose was a Mako Attack. There were prizes from Striking Shirts. They donated two exclusive BTBA Tour Shirts to the two ladies with the highest overall handicap scores. The winners were Sarah Hood and Fiona Hallam.
Overall a very successful tour tournament, and it was fantastic to see so many ladies, who had at one time represented England either at junior, YAC, or adult level come back and play a competitive tournament. Hopefully the tour can achieve one of its objectives and bridge that gap between league bowling and Team England trials and get more ladies bowling tournaments then stepping up to try out for the National Team.
The final two tour tournaments are the Northants Open on October 23rd at Wellingborough and the Generation doubles on November 19th at Stroud.
Team
 
 
Scratch Winners 
 
 
Handicap Winners
 
 
 
 
Game 1
Game 2
Game 3
Game 4
Game 5
Game 6
Game 7
Scratch Tot
Tot HCP 
TOTAL 
 
Cockers Knockers
670
676
761
691
639
726
674
4837
91
4928
1st
Put IT in
655
579
600
651
604
665
665
4419
329
4748
1st
Numb Nuts & no nuts
579
654
727
575
600
579
631
4345
378
4723
2nd
Team Classics
611
663
722
640
698
569
649
4552
168
4720
3rd
Robbo's Pro Shop 2
622
678
758
691
559
680
653
4641
77
4718
2nd
I aint afraid of no oates
599
717
620
695
672
706
570
4579
120
4699
3rd
Turkey Time
662
697
620
629
547
562
685
4402
280
4682
4th
THE R.A.F
608
611
619
653
689
626
625
4431
245
4676
Barrak O'bowlers
526
651
699
641
634
613
517
4281
343
4624
Robbo's Pro Shop 1
659
671
596
668
544
608
518
4264
350
4614
Totally Twisted Trio
652
652
615
595
529
631
710
4384
224
4608
Against the Odds
562
575
576
583
615
647
681
4239
294
4533
We've got nothing left
598
569
639
584
581
663
657
4291
238
4529
odds and sods
542
574
485
521
581
532
499
3734
791
4525
Just Good friends
603
566
529
603
519
615
635
4070
427
4497
The young, The Old, The homeless
508
555
541
504
521
549
584
3762
728
4490
Fresh off the Bus
679
585
550
635
604
591
633
4277
203
4480
Crash Test Dummies
647
588
586
582
637
557
517
4114
329
4443
The Giddies
623
637
616
519
590
553
536
4074
336
4410
pindemonium
542
588
518
592
522
385
565
3712
679
4391
Headpin Hunters
555
480
542
601
506
614
653
3951
420
4371
2 and a half men
570
531
540
561
620
552
639
4013
322
4335
SMB
533
604
719
526
591
556
538
4067
96
4163
Ladies
| | | | | | | | | | |
| --- | --- | --- | --- | --- | --- | --- | --- | --- | --- |
|   | Game 1 | Game 2 | Game 3 | Game 4 | Game 5 | Game 6 | Game 7 | Total  | Average |
| tracey Stocks wallace | 227 | 193 | 247 | 227 | 248 | 247 | 226 | 1615 | 231 |
| Sarah Hood | 258 | 180 | 231 | 198 | 197 | 256 | 263 | 1583 | 226 |
| Fiona Hallam | 216 | 200 | 217 | 236 | 221 | 236 | 209 | 1535 | 219 |
| Sam Hannan | 210 | 269 | 255 | 205 | 185 | 213 | 194 | 1531 | 219 |
| Laura Marcham | 199 | 266 | 192 | 213 | 256 | 236 | 163 | 1525 | 218 |
| Nicky Donowski | 153 | 276 | 200 | 235 | 221 | 138 | 214 | 1437 | 205 |
| Ann Marie Williams | 242 | 182 | 178 | 203 | 150 | 236 | 232 | 1423 | 203 |
| Alison Taylor | 201 | 205 | 225 | 171 | 216 | 185 | 205 | 1408 | 201 |
| Jackie Wyatt | 196 | 182 | 188 | 197 | 198 | 208 | 234 | 1403 | 200 |
| Evie Giddens | 210 | 214 | 220 | 191 | 204 | 180 | 181 | 1400 | 200 |
| Kayla Knight | 144 | 235 | 244 | 179 | 201 | 174 | 195 | 1372 | 196 |
| Jules Tomason | 172 | 178 | 226 | 238 | 152 | 170 | 232 | 1368 | 195 |
| steph Tilson | 184 | 174 | 249 | 166 | 209 | 172 | 180 | 1334 | 191 |
| Rachel Cox | 167 | 203 | 180 | 201 | 196 | 204 | 173 | 1324 | 189 |
| Laura Shelton | 205 | 189 | 201 | 179 | 174 | 164 | 212 | 1324 | 189 |
| Maisie Howarth | 195 | 193 | 206 | 147 | 192 | 204 | 164 | 1301 | 186 |
| Jo Green | 187 | 150 | 131 | 223 | 179 | 171 | 255 | 1296 | 185 |
| Kat Allen | 209 | 179 | 135 | 191 | 147 | 198 | 204 | 1263 | 180 |
| Kirstie Fruen | 163 | 160 | 183 | 201 | 163 | 179 | 205 | 1254 | 179 |
| Louise Parker | 212 | 163 | 181 | 179 | 180 | 159 | 171 | 1245 | 178 |
| chontelle moore | 164 | 149 | 144 | 144 | 190 | 153 | 149 | 1093 | 156 |
| Eva Rynolds | 129 | 157 | 149 | 132 | 110 | 165 | 158 | 1000 | 143 |
| Sam Collins | 141 | 168 | 134 | 143 | 146 | 104 | 137 | 973 | 139 |
Men
| | | | | | | | | | |
| --- | --- | --- | --- | --- | --- | --- | --- | --- | --- |
|   | Game 1 | Game 2 | Game 3 | Game 4 | Game 5 | Game 6 | Game 7 | Total | Average |
| James Tidd | 257 | 299 | 257 | 269 | 244 | 212 | 247 | 1785 | 255 |
| Dylan Maciuk | 243 | 226 | 245 | 239 | 224 | 230 | 265 | 1672 | 239 |
| Rob Thurlby | 236 | 259 | 248 | 259 | 181 | 255 | 217 | 1655 | 236 |
| Glen Bailey | 238 | 210 | 268 | 228 | 236 | 213 | 224 | 1617 | 231 |
| Chris Oates | 191 | 235 | 245 | 256 | 214 | 237 | 228 | 1606 | 229 |
| Craig Ellis | 212 | 243 | 267 | 202 | 224 | 223 | 224 | 1595 | 228 |
| Lee Cocker | 207 | 224 | 266 | 205 | 210 | 224 | 231 | 1567 | 224 |
| Tom Langley | 234 | 194 | 198 | 208 | 230 | 267 | 214 | 1545 | 221 |
| Daniel Davies | 259 | 234 | 231 | 243 | 180 | 182 | 207 | 1536 | 219 |
| Richard Balaam | 202 | 214 | 224 | 253 | 247 | 233 | 157 | 1530 | 219 |
| Jon Herbert | 202 | 176 | 166 | 210 | 221 | 267 | 278 | 1520 | 217 |
| Gavin Cox | 235 | 234 | 212 | 232 | 177 | 220 | 190 | 1500 | 214 |
| Neil Highgate | 220 | 182 | 190 | 213 | 242 | 214 | 235 | 1496 | 214 |
| Gary Christopher | 174 | 199 | 235 | 258 | 138 | 254 | 235 | 1493 | 213 |
| Phil Manning | 242 | 247 | 176 | 201 | 174 | 229 | 219 | 1488 | 213 |
| Lee Burrows | 181 | 223 | 237 | 203 | 235 | 214 | 194 | 1487 | 212 |
| Joe Crook | 267 | 174 | 244 | 193 | 152 | 195 | 252 | 1477 | 211 |
| Darren Michaels | 225 | 203 | 214 | 246 | 176 | 190 | 209 | 1463 | 209 |
| Dan Bonfield | 190 | 183 | 201 | 187 | 200 | 232 | 266 | 1459 | 208 |
| Selwyn Morgan | 181 | 193 | 209 | 246 | 213 | 231 | 184 | 1457 | 208 |
| James Baker | 194 | 191 | 210 | 211 | 247 | 202 | 195 | 1450 | 207 |
| Sam Rose | 209 | 216 | 183 | 226 | 202 | 233 | 179 | 1448 | 207 |
| Matt Hall | 198 | 220 | 192 | 206 | 221 | 188 | 221 | 1446 | 207 |
| Craig Barratt | 233 | 201 | 188 | 169 | 245 | 238 | 171 | 1445 | 206 |
| Jamie O'dwyer | 233 | 235 | 241 | 182 | 186 | 179 | 186 | 1442 | 206 |
| Matt Fruen | 257 | 234 | 204 | 235 | 171 | 184 | 155 | 1440 | 206 |
| Peter rogers | 254 | 202 | 168 | 200 | 222 | 184 | 205 | 1435 | 205 |
| Johnny Whittaker | 170 | 190 | 216 | 205 | 245 | 185 | 222 | 1433 | 205 |
| Glen Richardson | 207 | 181 | 213 | 226 | 165 | 246 | 186 | 1424 | 203 |
| Sukky Gill | 203 | 247 | 189 | 192 | 172 | 200 | 220 | 1423 | 203 |
| Brett Armer | 150 | 202 | 300 | 206 | 207 | 167 | 191 | 1423 | 203 |
| Trevor Nell | 155 | 210 | 209 | 194 | 220 | 216 | 216 | 1420 | 203 |
| Chris collins | 203 | 258 | 158 | 212 | 188 | 146 | 245 | 1410 | 201 |
| Kieron Patel | 195 | 233 | 234 | 135 | 224 | 186 | 175 | 1382 | 197 |
| Martin Townsend | 180 | 202 | 231 | 209 | 186 | 206 | 165 | 1379 | 197 |
| Reece Parker | 191 | 225 | 195 | 205 | 160 | 175 | 227 | 1378 | 197 |
| Steven Groom | 188 | 209 | 213 | 173 | 192 | 204 | 183 | 1362 | 195 |
| Dave Conner | 213 | 194 | 185 | 166 | 159 | 186 | 247 | 1350 | 193 |
| Harald Grau | 198 | 162 | 226 | 237 | 188 | 135 | 183 | 1329 | 190 |
| dave rutherford | 199 | 210 | 174 | 202 | 178 | 218 | 148 | 1329 | 190 |
| ben bizley | 190 | 215 | 167 | 175 | 213 | 161 | 202 | 1323 | 189 |
| Bert Hales | 131 | 174 | 197 | 207 | 174 | 189 | 193 | 1265 | 181 |
| Daren Knightsbridge | 187 | 189 | 167 | 147 | 215 | 159 | 199 | 1263 | 180 |
| Bob Poore | 182 | 124 | 167 | 191 | 182 | 189 | 204 | 1239 | 177 |
| Steve Giddens | 180 | 188 | 155 | 146 | 200 | 194 | 169 | 1232 | 176 |
| Trever Reynolds | 136 | 172 | 147 | 131 | 187 | 154 | 161 | 1088 | 155 |