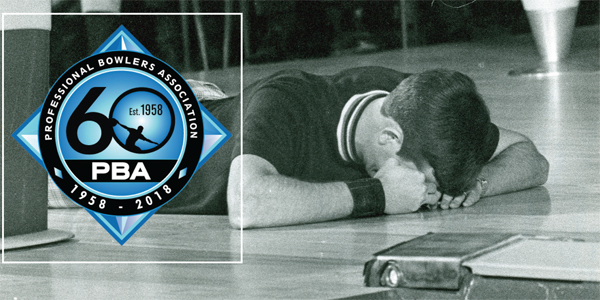 PBA to celebrate its 60th anniversary season with return to historic bowling center filled with memories
CHICAGO (September 6, 2017) –
The Professional Bowlers Association will return to historic AMF Riviera Lanes in suburban Akron, Ohio, for the 2018 PBA Tournament of Champions, February 5-11, as part of the organization's 60th anniversary celebration, PBA CEO and Commissioner Tom Clark announced today.
Riviera Lanes, the home of PBA's TOC from 1966 through 1994, provided the setting for many of the most memorable tournaments in PBA history. The 40-lane center in Fairlawn, Ohio, hosted the Tournament of Champions for 28 years, with Norm Duke winning Riviera's final event.
Akron also was the home of PBA headquarters from its founding in 1958 through 2000.
"As the PBA makes plans to celebrate its 60th anniversary, returning to one of the most famous settings for PBA competition was more than a goal. It was a dream come true," Clark said. "We greatly appreciate Bowlmor AMF's support in making our return to Riviera Lanes possible."
Among the expected field of 96 PBA champions will be defending champion EJ Tackett of Huntington, Ind., who was not quite 2 years old when Riviera last hosted the TOC.  He will be among the national tour title holders who will have first option to enter the event. PBA50 and regional winners will be given the opportunity to fill any vacancies. Entry details will be announced later.
"We are thrilled to be hosting the 2018 Tournament of Champions at our iconic AMF Riviera Lanes. It is an honor to be a part of this historic event and we look forward to seeing it played out at the venue where the Firestone PBA Tournament of Champions began," said Colie Edison, Chief Customer Officer for Bowlmor AMF, the owner of the Riviera Lanes.
The first PBA Tournament of Champions was held in Indianapolis in 1962, but was discontinued until 1965 when it returned as the Firestone PBA Tournament of Champions, in the first year of PBA's long-standing "Pro Bowlers Tour" series on ABC-TV. The 1965 event was the first nationally-televised sports event to include a corporate sponsor as part of its title, launching what has since become a multi-billion-dollar sports marketing industry.
The 2018 P
BA
Tournament of Champions will conclude on Sunday, Feb. 11, with the live ESPN stepladder finals. Additional information about the event will be announced soon.
About the PBA
The Professional Bowlers Association (PBA) is an organization of more than 3,000 of the best bowlers from 27 countries who compete in PBA Tour, PBA International Tour, PBA Regional Tour, PBA Women's Regional and PBA50 Tour events. The PBA is in its 58th consecutive year of nationally-televised competition, reaching bowling fans around the world who follow PBA activities through the PBA Network which includes Xtra Frame, the PBA's exclusive online bowling channel, ESPN and CBS Sports Network, and the PBA on Facebook, Twitter and YouTube. PBA sponsors include Barbasol, Brunswick, Ebonite International, GEICO, GoBowling.com, HotelPlanner.com, MOTIV, 900 Global, PBA Bowling Challenge Mobile Game, Storm Products and the United States Bowling Congress, among others. For more information, log on to
www.pba.com
.