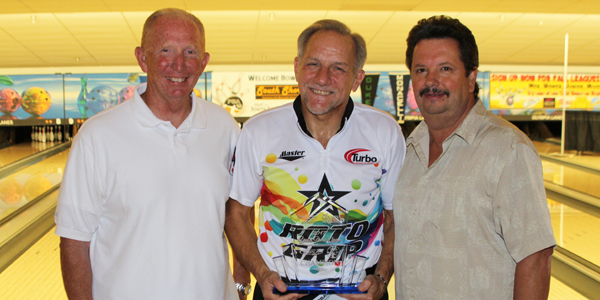 Two-time PBA50 Player of the Year wins ninth career title in Hammond
HAMMOND, Ind. (July 27, 2017)
– Ron Mohr of Las Vegas, a two-time PBA50 Tour Player of the Year, ended a five-year title drought Thursday, winning the PBA50 South Shore Open presented by DV8 at Olympia Lanes for his ninth career PBA50 Tour title with a 213-194 victory over Bob Learn of Erie, Pa.
Mohr, now a 61-year-old "super senior," threw five strikes on his first six attempts to build a 41-pin lead over Learn and he held on despite leaving a 4-6-7-10 split in the ninth frame. Learn's inability to put two strikes together until the final two frames gave Mohr a big cushion, and he sealed the win with a strike on his first attempt in the 10th frame.
"That's nine titles, and it's nine more than I expected when I came out here to bowl," said Mohr, who retired from his career as an air traffic controller in Alaska to try his hand in professional bowling. "It's great to win, but when it's over, you still have to go home and mow the lawn and pick up dog poop. It's not life changing to win out here, but it sure is nice."
The turning point in Mohr's title quest actually came in the semifinal match, when it looked like PBA Hall of Famer Norm Duke of Clermont, Fla., was going to extend Mohr's frustrating streak of 15 championship round appearances in the past two years without a title. Needing a strike in the 10th frame to complete a comeback victory against Mohr, Duke left a pocket 7-10 split, handing Mohr a 210-200 victory and a berth in the championship match.
"You never expect that from Norm," Mohr said. "If all Norm needs is a mark to win, he'll never miss. He was by far the best bowler in the tournament this week, but I guess it was my turn. To get past Norm was a real blessing. He just got a really bad break, but I've been on that side myself."
In the opening match, PBA50 rookie Gary Faulkner of Norfolk, Va., a two-time PBA Regional title winner bowling in his sixth event as a "senior" player, struck on eight of his first nine shots (leaving a pocket 7-10 split on his only non-strike shot). But a 4-7-10 split in the 10th frame gave Venezuela's Amleto Monacelli a chance to win with two strikes in his 10th frame. Monacelli, who was trying for his ninth PBA50 Tour title and second of the year, got the first strike, but left his fourth 10 pin of the game in a 229-225 loss to Faulkner.
Duke ended Faulkner's title hopes in the second game, 278-247, throwing nine strikes before leaving a 10 pin on his first shot in the 10th frame. Faulkner didn't miss the pocket on his first nine shots, but a pair of single pins prevented him from keeping pace the 38-time PBA Tour title winner.
The tour's next stop is the PBA50 Dave Small's Championship Lanes Classic presented by Roto Grip in Anderson, Ind., beginning Sunday and concluding on Wednesday, Aug. 2. The PBA50 Tour will then complete its season with the DeHayes Insurance Group Championship presented by Pro Bowl West and Ebonite Aug. 6-8. The final senior event of the year will be the PBA60 Dick Weber Championship for players 60 and older Aug. 10-12 at Pro Bowl West.
All three events will be covered from start to finish live, exclusively on PBA's online bowling channel. Xtra Frame. For subscription information, visit xtraframe.tv.
PBA50 SOUTH SHORE OPEN
presented by DV8
Olympia Lanes, Hammond, Ind., Thursday
Final Standings:
1,
ss-Ron Mohr, Las Vegas,
$7,500.
2,
Bob Learn Jr., Erie, Pa.,
$4,000.
3,
Norm Duke, Clermont, Fla.,
$2,500.
4,
Gary Faulkner, Norfolk, Va.,
$2,000.
5,
Amleto Monacelli, Venezuela,
$1,750.
Stepladder Results:
Match One – Faulkner def. Monacelli, 229-225.
Match Two – Duke def. Faulkner, 278-.
Semifinal Match – Mohr def. Duke, 210-200.
Championship Match – Mohr def. Learn, 213-.
Modified Match Play Round 2 (after six games, including match play bonus pins:
1, Learn, 4-2, 1,662.

2, Mohr, 5-1, 1,646.

3, Duke, 5-1, 1,630.

4, Monacelli, 5-1, 1,593.

5, Faulkner, 3-3, 1,561.

6, Walter Ray Williams Jr., Oxford, Fla., 3-3, 1,531, $1,500.

7, Eddie Graham, Centerville, Ohio, 5-1, 1,528, $1,500.

8, Doug Kent, Newark, N.Y., 3-3, 1,520, $1,500.

9, Harry Sullins, Chesterfield Twp., Mich., 2-4, 1,499, $1,300.

10, Parker Bohn III, Jackson, N.J., 3-2-1, 1,445, $1,300.

11, Brian Kretzer, Dayton, Ohio, 2-3-1, 1,399, $1,300.

12, ss-Paul McCordic, Sugar Land, Texas, 2-4, 1,376, $1,300.

13, Pete Weber, St. Ann, Mo., 2-4, 1,361, $1,300.

14, ss-Ted Staikoff, Black Hawk, S.D., 2-4, 1,276, $1,300.

15, Brian LeClair, Delmar, N.Y., 1-5, 1,264, $1,300.

16, ss-Bill Henson, Westerville, Ohio, 0-6, 1,173, $1,300.
Modified Match Play Round 1 (other cashers after five games, including match play bonus pins):
17, ss-Warren Nelson, Hemet, Calif., 3-2, 1,199, $1,100.

18, ss-Tom Baker, King, N.C., 2-3, 1,192, $1,100.

19, ss-Darryl Bower, Middletown, Pa., 3-2, 1,191, $1,100.

20, Keith Lesko, Chicago, 2-3, 1,151, $1,100.

21, Gary Schluchter, Fremont, Ohio, 2-3, 1,144, $1,100.

22 (tie), Mark Sullivan, Indianapolis, 2-3, and Lennie Boresch Jr., Kenosha, Wis., 2-3, 1,116, $1,100.

24, Sammy Ventura, Syracuse, N.Y., 2-3, 1,102, $1,100.
Other Cashers (after five-game cashers' round, $1,000 each):
25, ss-n-Leroy Johnson, Chicago, 1,005.

26, ss-James Storts, Westfield, Ind., 958.

27, ss-Gary Kammes, Winfield, Ill., 954.

28, ss-Emilio Mora Sr, Defiance, Ohio, 950.

29, ss-Steven Jansson, Barnes, Wis., 943.

30, Billy Froberg, St Joseph, Mich., 942.

31, ss-Kenny Parks, Hammond, Ind., 937.

32, ss-Ed Silva, Manteca, Calif., 904.
300 Games: Pete Weber, Brian LeClair, Gary Faulkner, Eddie Graham.