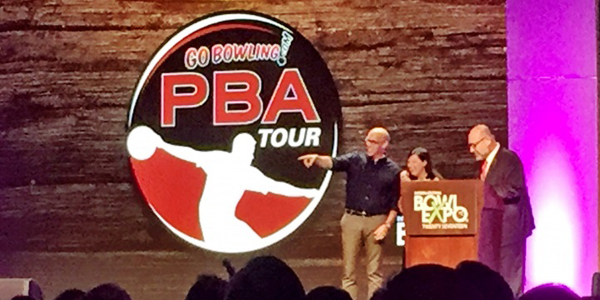 Historic bowling industry partnership begins with GEICO PBA World Series of Bowling IX in December
NASHVILLE, Tenn. (June 22, 2017)
— In a landmark partnership between bowling organizations, the Professional Bowlers Association and Bowling Proprietors' Association of America have announced that GoBowling.com will be the umbrella sponsor of the Go Bowling! PBA Tour between December 2017 and July 2018, with an option to renew for an additional year.
The partnership was announced by BPAA Executive Director Frank DeSocio, BPAA President Nancy Schenk and PBA CEO and Commissioner Tom Clark during International Bowl Expo in Nashville, Tenn.
As part of the partnership agreement, The Go Bowling! PBA Tour will be showcased on 18 ESPN telecasts, beginning with programming from the GEICO PBA World Series of Bowling IV in Reno in December, and extending through July 2018 to include five CBS Sports Network telecasts. Additionally, The Go Bowling! PBA Tour will have a significant presence on at least eight PBA Xtra Frame Tour events in 2018, all of which will be live-streamed exclusively via PBA's online bowling channel.
"This partnership gives GoBowling.com a full-year marketing platform to talk to bowlers and non-bowlers through the PBA Tour," DeSocio said.
"The more people who go bowling, the more we all benefit," Schenk added. "That's what we're looking to achieve."
GoBowling.com, created by BPAA as the go-to website for millions of Americans looking for a place to go bowling, has been recently revamped to provide an even stronger connection between bowlers young and old, novice or professional, worldwide, providing news, tips, videos, contests and promotional offers as well as the sport's most comprehensive guide to help people find information about more than 1,800 BPAA-member bowling centers across America.
"Working together with GoBowling.com, Strike Ten Entertainment and BPAA bowling centers to promote the PBA is great for the game and illustrates positive bowling industry unity," Clark said.  "We appreciate BPAA Executive Director Frank DeSocio, BPAA President Nancy Schenk and the entire board's shared vision that investing in the PBA and promoting the sport together will make for a spectacular year.
"The PBA is experiencing an electrifying surge of young talent while the greats of the game continue to contend from event to event, making for interesting events and historic accomplishments on the lanes, Clark added. "We can't wait to get started."
As part of the partnership, the Go Bowling! message will receive a wide variety of additional benefits, including:
            ● Commercial spots, billboards and signage during PBA telecasts and on all Xtra Frame events;
            ● Title sponsorship for two PBA Tour events to be determined, plus presenting sponsorship of the 2018 Chris Paul CP3 Celebrity Invitational;
            ● Sponsorship of a PBA League team;
            ● Logo identification on six top PBA Tour players;
            ● Introduction of a new Go Bowling! fan engagement segment during each telecast;
            ● Extensive exposure to mainstream news media and PBA's global social media audience through all aspects of the PBA Network.
Another special benefit will be subscriptions to PBA's Xtra Frame online video subscription service to any BPAA-member bowling center that requests a subscription, courtesy of Strike Ten Entertainment. The pre-paid subscriptions will allow participating bowling centers to provide their customers with hundreds of hours of exclusive programming, including preliminary rounds of all PBA and PWBA Tour events, start-to-finish coverage of the PBA50 Tour and PBA Xtra Frame Tour tournaments, and much more.
At BPAA's option, the Go Bowling! PBA Tour program may be renewed for an additional year.
About GoBowling.com
GoBowling.com
is the destination for bowling fans and enthusiasts seeking news and information about one of America's favorite pastimes and the nation's number one participatory sport.  With more than 67 million people taking to the lanes every year, GoBowling.com is a one-stop location where people of all ages can go to satisfy their love of bowling. Consumers turn to GoBowling.com every day to find bowling fun – discovering new bowling centers, tips and tricks to use on the lanes, event news and great deals at more than 1,800+ family-friendly bowling centers across the country.
About BPAA

Founded in 1932, the mission of Bowling Proprietors' Association of America (BPAA) is to enhance the profitability of its members.  Headquartered in Arlington, Texas at the International Bowling Campus, the BPAA provides it's over 3,500 member centers with group purchasing programs, business and educational seminars, legislative representation and proactively promotes the association and bowling industry.  For additional information please visit
www.bpaa.com
or call 1-800-343-1329.
About the PBA
The Professional Bowlers Association (PBA) is an organization of more than 3,000 of the best bowlers from 27 countries who compete in PBA Tour, PBA International Tour, PBA Regional Tour, PBA Women's Regional and PBA50 Tour events. The PBA is in its 58th consecutive year of nationally-televised competition, reaching bowling fans around the world who follow PBA activities through the PBA Network which includes Xtra Frame, the PBA's exclusive online bowling channel, ESPN and CBS Sports Network, and the PBA on Facebook, Twitter and YouTube. PBA sponsors include Barbasol, Brunswick, Ebonite International, GEICO, GoBowling.com, Grand Casino Hotel and Resort, HotelPlanner.com, Main Event Entertainment, MOTIV, 900 Global, PBA Bowling Challenge Mobile Game, Storm Products and the United States Bowling Congress, among others. For more information, log on to
www.pba.com
.