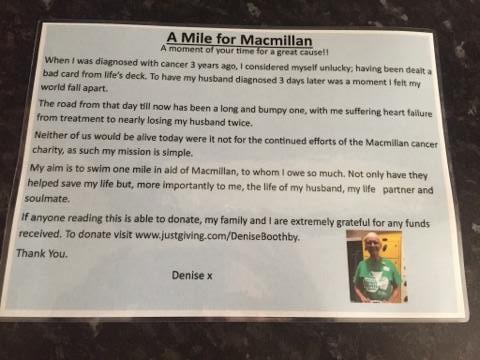 Talktenpin viewer and Bowling Fan Simon Boothby alerted us to this fantastic effort by his mum who is a former league bowler at AMF Margate.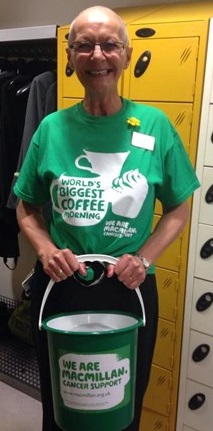 So….. here is my story.
3 and a half years ago I was diagnosed with stage 4 (aggressive) Breast Cancer. 3 days after my diagnosis, my husband was also diagnosed with Mantle Cell Lymphoma……Our world had just fallen apart.
I duly had surgery, chemotherapy, radiotherapy and 12 treatments of a drug called Herceptin. I got to number 8 of 12 and had to stop due to "Clinical Heart Failure", and the fact I'd also suffered a stroke (I knew there were risks involved….. I was just unfortunate). I also had to have an operation to treat a hernia which had developed during my chemotherapy.
I AM NOW IN REMISSION !!!
As for my husband we were told we had to wait and watch for his cancer to worsen and become more aggressive , in order for the treatment to take effect….So we waited, visiting hospital on a regular basis. In October 2016, the cancer had spread to his tonsils resulting in a tonsillectomy. His Chemotherapy followed in January 2017 and finished in May. In June he was in UCLH having his own cells harvested in preparation for a stem cell transplant , which he duly received in July.
He is not out of the woods yet by any means……. but at least we have him at home for now.
So….. here I am forever grateful to those responsible for giving both myself and my husband a second chance ….. because neither of us would be here today without them .
This leads me to my challenge :
Like most kids at the age of 13 I got my 1/2 a mile (32 lengths) swimming certificate….. that and once in my 20's was the only time I've achieved this feat. I am now 60 and have been through the mill a bit. I am going to attempt to swim 1 mile (64 lengths) raising money for Macmillan.
It ain't gonna be easy…….. but I'll give it my best shot .
🙂