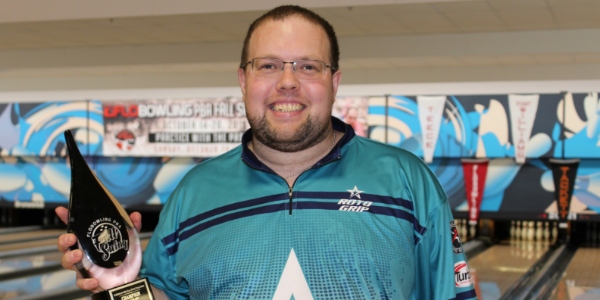 Williams wins four matches and beats Andrew Anderson in the title match, 237-215, for first win since 2012

OWASSO, Okla. (Oct. 20, 2018) –  Stuart Williams of England won all four matches and averaged 251 in the stepladder finals to win the FloBowling PBA Tulsa Open Saturday, the pinnacle event of the FloBowling PBA Fall Swing at The Lanes at Coffee Creek.
In a stepladder final that featured a dual lane condition pattern –  PBA 39-foot Bear condition on the left lane and 33-foot Wolf condition on the right lane – Williams beat two-time Go Bowling! PBA Tour winner and finals top qualifier Andrew Anderson of Holly, Mich., 237-215, in the title match for his second career title and the $30,000 first prize.
Williams, the No. 4 qualifier for the finals, was in control from the start when Anderson, the 2018 USBC Masters champion, opened in the first two frames after leaving splits.
"Bowling on two different conditions in the finals it was important to go with ball choices that I felt the most confident in and commit to those choices,"  the 37-year-old Williams said. "I was fortunate that I was able to stay with the same balls and game plan for all four matches and that really confirmed I made the right decisions.
"On the longer condition I wanted to throw slower and use a release where my hand came more around the ball. For the shorter condition, I concentrated on keeping my ball speed up and getting the ball to roll more end over end."
The win was William's first title since winning the 2012 PBA Viper Open. This season he has had best finishes of second in the WBT/PBA World Bowling Tour Thailand and fourth in the Brunswick Euro Challenge.
"It's nice to get another win here in the States," Williams said. "It almost seems worse having one title than none. There's a kind of validation when you win your second title, especially when you win in a tournament as difficult as this one is. It gets kind of frustrating when people say 'your time will come' and you're still hanging there with one win."
Live streamed on Xtra Frame on FloBowling, Williams started the stepladder finals with a 236-227 win over No. 5 qualifier Kris Prather of Plainfield, Ill., who finished third in the Wolf and Bear Opens earlier in the Fall Swing. Williams then beat Wolf Open winner 2016 PBA Player of the Year EJ Tackett of Bluffton, Ind., 245-212, in the second match to advance to the semifinal.
In the semifinal, Williams beat fellow Englander Richie Teece, who was trying for his second tour win, 288-203, to advance to the title match against Anderson. In the 288 game, Williams fired the first 10 strikes before leaving the 6-10 on the 11th shot.
In the two other Fall Swing events, Williams finished 31st in the Wolf Open and second in the Bear Open which led up to the Tulsa Open.
Tackett's win in the Bear Open made him the season's first three-time winner and a leading contender for PBA Player of the Year going into the U.S. Open at Northrock Lanes in Wichita, Kan. Oct. 24-31, which concludes the season.
It was also a productive week for Anderson, another player of the year candidate, finishing fourth in the Bear Open and second in the Wolf Open in addition to his runner-up finish in the Tulsa Open. Teece finished fifth in the Bear Open and 43rd in the Wolf Open.
To get the Tulsa Open stepladder finals, the players had to first make the top 18 after 24 games of qualifying in the Wolf and Bear events and then compete in three six-game rounds of round robin match play which also used the dual lane condition.
FLOBOWLING PBA TULSA OPEN
The Lanes at Coffee Creek, Owasso, Okla., Saturday
Final Standings
1,  Stuart Williams, England, $30,000
2,  Andrew Anderson, Holly, Mich., $15,000
3,  Richie Teece, England, $10,000
4,  EJ Tackett, Bluffton, Ind., $8,000.
5,  Kris Prather, Plainfield, Ill., $7,000.
Stepladder Results
Match One – Williams def. Prather, 236-227.
Match Two – Williams def. Tackett, 245-212.
Semifinal – Williams def. Teece, 288-203.
Final –  Williams def. Anderson, 237-215.
FINAL MATCH PLAY STANDINGS
(Includes match play record and 42-game pinfall total including bonus pins. Top five advance to stepladder finals)
1, Andrew Anderson, Holly, Mich., 10-8, 9,680.
2, Richie Teece, England, 11-7, 9,659.
3, EJ Tackett, Bluffton, Ind., 10-8, 9,629.
4, Stuart Williams, England, 12-5-1, 9,605.
5, Kristopher Prather, Plainfield, Ill., 8-10, 9,551.
6, Jason Belmonte, Australia, 10-8, 9,424, $5,000.
7, Josh Blanchard, Mesa, Ariz., 10-8, 9,416, $4,500.
8, Bill O'Neill, Langhorne, Pa., 9-8-1, 9,382, $4,000.
9, Chris Via, Springfield, Ohio, 9-9, 9,356, $3,800.
10, Wes Malott, Pflugerville, Texas, 8-9-1, 9,343, $3,600.
11, Dom Barrett, England, 12-6, 9,311, $3,400.
12, Anthony Simonsen, Austin, Texas, 10-8, 9,308, $3,200.
13, Michael Tang, San Francisco, 9-8-1, 9,287, $3,000.
14, Greg Ostrander, Freehold, N.J., 8-10, 9,244, $2,900.
15, Darren Tang, San Francisco, 7-11, 9,220, $2,800.
16, Francois Lavoie, Canada, 8-10, 9,208, $2,700.
17, AJ Johnson, Oswego, Ill., 5-13, 9,113, $2,600.
18, Sean Rash, Montgomery, Ill., 4-14, 9,085, $2,500.