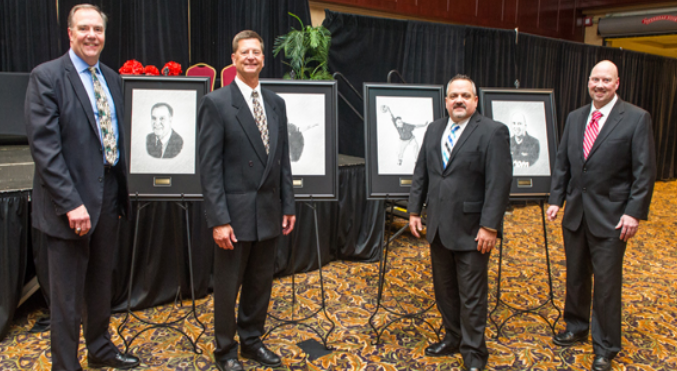 2016 PBA award winners also recognized during banquet to kick off PBA Tournament of Champions week
SHAWNEE, Okla. (Feb. 13, 2017)
– The Professional Bowlers Association's FireLake PBA Tournament of Champions week got off to a memorable start Monday when a ballroom filled with players and special guests welcomed former PBA Commissioner Mark Gerberich and standout players Bryan Goebel, Steve Hoskins and Mike Scroggins into the PBA Hall of Fame.
Also recognized during the dinner were 2016 GEICO Chris Schenkel PBA Player of the Year EJ Tackett of Huntington, Ind.; Harry Golden PBA Rookie of the Year Francois Lavoie of Quebec City, Quebec; Steve Nagy Sportsmanship Award winner Tom Smallwood of Saginaw, Mich., and Tony Reyes Community Service Award winner Rhino Page of Orlando, Fla.
PBA Hall of Famer and long-time ABC-TV color analyst Nelson Burton Jr., who emceed the event, noted millions of people have bowled, trying to be good enough just to qualify for PBA competition, and among the thousands who have joined the PBA, only a handful have ever bowled well enough to earn admission to the hall of fame.
"This group dwells in rarified air," Burton said.
Gerberich, who served as commissioner from 1995-2000 when the organization was sold to ex-Microsoft executives Chris Peters, Mike Slade and Rob Glaser, rose from an entry-level job as PBA membership services director in 1983 to Commissioner 13 years later, was introduced by his long-time friend and former Deputy Commissioner Kevin Shippy.
"This is a long, long overdue induction," Shippy said. "It was Mark's commitment to working with the new owners that kept the organization alive."
Shippy noted that Gerberich was at the helm when ABC-TV dramatically reduced its rights fees payments to the PBA, and eventually dropped the PBA from its network lineup, but he kept the organization operating despite the hardships.
"Throughout his tenure, no one accomplished more with less than Mark did," Shippy said.
Gerberich, in his response, deflected a lot of credit to the groundwork Shippy did and he noted PBA founder Eddie Elias "was one of the greatest innovators ever."
Speaking of himself, he said, "It's really, really cool to even be considered."
"I'm proud of what we accomplished," he added. "In 1991, we got $200,000 a show which went into the prize funds. A year later, we got $50,000. In 1997, we were paying $150,000 to stay on TV, so I understand exactly the difficulties the PBA faces."
The intervention of Peters and his partners, Gerberich said, "was a godsend. Without them there wouldn't be a PBA today."
Goebel, a 10-time PBA Tour winner with the 1998 Brunswick World Tournament of Champions included in his résumé, had his best season in 1994 when he won three titles.
"In 1988, I had been a pro bowler for eight years and I didn't have a title," Goebel said. "I quit my job and decided it if I was ever going to be a pro, I had to do it now. I missed a cut and came home whining. My wife Kelly said, 'well, you quit your job; you'd better go out and bowl better.'"
And he did. He jokingly thanked fellow inductee Hoskins for "letting" him win his Tournament of Champions title, and he thanked fellow hall of famer Danny Wiseman for letting him win his 10th title, which made him hall of fame-eligible.
"I'm up here by myself, but it took a lot of people to help me get here," Goebel added. "I have the greatest circle of family and friends a person could possibly have.
"I thank the PBA for providing the stage, the playground for me to go out and live out my dream," Goebel said. "I honestly don't know if I'm deserving when I think about the great players who are in the hall, but I thank you for putting me in with them."
Hoskins was a colorful, high-backswing power player who rolled onto the scene in 1989, winning PBA Rookie of the Year honors which led into a 12-year, 10-title career that included a pair of major championships in the 1997 and 1999 Bayer/Brunswick Touring Players Championships. He also was the 11th player in PBA history to bowl a nationally-televised 300 game (in the 1997 Ebonite Challenge).
"This is a day I've looked forward to for quite some time," Hoskins said. "It's the greatest honor I ever could have expected.
"Most people who are asked if they expect to get into the hall of fame give the politically correct answer. Not me," Hoskins said. "I had dreams and, damn it, I was going to fulfill them. I tell my kids, it you have dreams, follow them because you might get there.
"No one gets here without a great support system and I certainly had one," he added. "I owe the people who helped me a debt I can never repay."
Scroggins, who has bowled extensively at every level of PBA competition and won at all of them as well, earned his hall of fame nod after winning eight PBA Tour titles including a pair of majors in the 2005 USBC Masters and 2009 U.S. Open.
"It's a dream come true. When I got the phone call from (PBA CEO and Commissioner) Tom Clark, a wave of emotions came over me," Scroggins said. "I just sat there and cried for about an hour, thinking about my whole career. I went to the website and looked at the list of hall of famers, and it was just amazing to realize the group I'm joining.
"I wondered if those guys had a defining moment in my career," he continued. "I had one in 1992. I had just filled out an application for a job at the post office. I needed a real job to get on with my life, but the post office wasn't' hiring for another month. So my father told me to go bowl another month. I didn't cash the first week, and the second week in Las Vegas I wasn't bowling well. I called my dad and told him I was going to quit and come home. He told me to not quit for the wrong reason, to go ahead and bowl the last two weeks.
"I was in Vegas so I decided to play black jack. I was dealt a black jack…and I beat the dealer, who had 20. I thought 'this is fate,' so I went to the next PBA event and won, and the rest is history. So I can thank one hand of black jack for my career."
Scroggins also thanked his travelling roommates for their roles in his career.
"You know the saying, 'If it doesn't kill you, it'll make you stronger?' That applied to my first group of roommates," Scroggins said.
"I'm so proud to be a PBA Hall of Famer," he concluded. "I never thought I'd be standing up here."
The FireLake PBA Tournament of Champions will get underway Wednesday. The live ESPN-televised finals will be held Sunday at 1 p.m. ET.
Xtra Frame, which provided live streaming coverage of the PBA Hall of Fame ceremonies Monday, will continue its Tournament of Champions preliminary-round coverage Wednesday and continue through Saturday's final qualifying round. For subscription information and the current schedule of broadcast times, visit pba.com and xtraframe.tv.